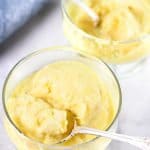 Print Recipe
Fresh Pineapple Sorbet Recipe
Fresh pineapple sorbet makes a light and refreshing dessert or afternoon treat! Made without any added sugar, this is a sorbet recipe everyone will enjoy!
Arrange the oven rack to the next to the highest space in oven. Turn on the broiler.

Arrange the pineapple chunks onto a rimmed baking sheet. Place into the oven and broil until the juices begin to release from the pineapple and the pineapple begins to turn golden brown, about 8 minutes.

Remove the pan from the oven and pour into a blender container. Turn the blender onto low speed until the pineapple begins puree, then increase the speed to medium or medium-high speed until the pineapple is pureed and smooth.

Pour the pineapple puree into the container of a 2-quart ice cream maker and process according to the ice cream maker instructions. Alternately if you do not have an ice cream maker, you can pour into a metal pan with a tight fitting lid and place into the freezer until frozen throughout, about 3 hours.