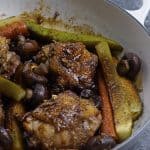 Print Recipe
Balsamic Chicken and Vegetables Recipe
Balsamic Chicken and Vegetables Recipe - This quick and easy one pan balsamic chicken recipe is perfect for weeknight supper or easy entertaining! Ready and on the table in less than 30 minutes!
In a 2-cup measuring cup, mix together balsamic vinegar, Worcestershire sauce, soy sauce or aminos, honey, red pepper flakes, and garlic. Set aside.

Add olive oil to 12-inch skillet over medium heat. Place chicken thighs in the skillet and cook until both sides are browned, about 5 minutes per side.

Add vegetables to skillet. Pour balsamic mixture over the chicken and vegetables. Cover and cook on medium to medium low until thighs reach a temperature of 165º F, about 15 minutes.

Add salt and pepper to taste and serve.