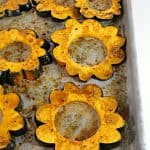 Print Recipe
Maple Roasted Acorn Squash Recipe
Maple Roasted Acorn Squash makes a quick, delicious, and beautiful side dish. Made of acorn squash, maple syrup, and a sprinkling of spices.
Preheat oven to 400º F.

Cut center pulpy portion of acorn squash from each slice, removing pulp and seeds. Set aside for another use or discard. Arrange acorn squash slices on rimmed sheet pan. Drizzle olive oil and maple syrup over acorn squash slices. Sprinkle with brown sugar, salt and pepper.

Roast until fork-tender and fragrant, about 25 minutes. Remove from oven and serve warm.