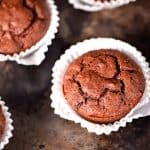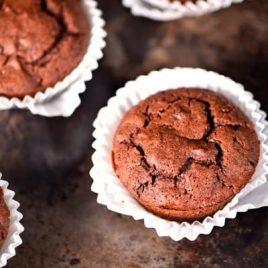 Print Recipe
Pumpkin Chocolate Chocolate Chip Muffins Recipe
Pumpkin Chocolate Chocolate Chip Muffins make a special treat for breakfast, brunch or an afternoon snack! These are a definite fall favorite!
Preheat oven to 375º F. Prepare muffin tin with liners or by spraying with nonstick baking spray. Sift together flour, cocoa powder, baking powder, and salt into a large bowl. Set aside.

Cream together pumpkin puree and brown sugar until light and fluffy, about 3 minutes. Add in eggs, being sure to incorporate well. Add flour mixture about ½ cup at a time, stirring to combine. Add vanilla extract and buttermilk. Fold in chocolate chips.

Spoon muffin batter into prepared muffins tins, filling about ¾ full. Place in preheated oven and bake until the lightly spring back to the touch and a toothpick comes out clean when inserted in the center, about 12 minutes for mini-muffins and 25-30 minutes for full-size muffins. Allow to cool slightly before serving.