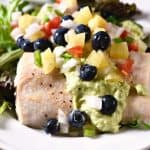 Print Recipe
Baked Mahi Mahi with Pineapple Blueberry Salsa Recipe
Baked Mahi Mahi with Pineapple Blueberry Salsa makes a delicious, quick and easy meal perfect for a weeknight supper or entertaining!
For the avocado crema
1

medium avocado

cut in half, pitted and peeled

1/4

cup

sour cream or Greek yogurt

1/2

teaspoon

Kosher salt
For the pineapple blueberry salsa
For the mahi mahi:
Preheat oven to 350º F. Drizzle olive oil onto rimmed sheet pan and arrange mahi mahi filets on pan. Drizzle top of mahi mahi with additional olive oil and then sprinkle with salt and pepper. Cover with a sheet of parchment paper and place into the oven to bake for 20 minutes or until this fish is completely opaque and flakey.
For the avocado crema:
Place avocado, sour cream and salt into a blender. Pulse until creamy. Pour into a glass container and place plastic wrap tightly onto the surface of the crema if not using immediately. Refrigerate for up to 2 hours.
For the pineapple blueberry salsa:
Add pineapple, blueberries, onion, jalapeno, lime juice and salt to a small bowl. Mix together until well-combined. Store in an airtight container in the refrigerator up to 2 days.
To serve mahi mahi with pineapple blueberry salsa: