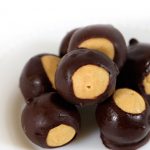 Print Recipe
Buckeyes Recipe
Buckeyes makes a favorite peanut butter and chocolate candy. Named for the nut of the same name, buckeyes are loved through the holidays and all year.
Line rimmed baking sheet with parchment paper. Set aside.

Mix together peanut butter, confectioner's sugar, butter, vanilla extract and salt with an electric mixer until well combined. Using a 1 teaspoon cookie scoop (or two teaspoons), scoop individual balls and place onto the parchment paper. Place in freezer for 15 minutes to harden.

Melt chocolate chips and shortening or coconut oil together in microwave for 1 1/2 - 2 minutes at 50 % power.

Dip each hardened peanut butter ball into the melted chocolate using a spoon and then place back onto the parchment paper lined baking sheet to dry.

Store in an airtight container in the refrigerator for up to a 2 days or in the freezer for up to 3 months.