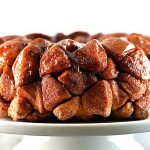 Print Recipe
Salted Caramel Monkey Bread Recipe
Monkey Bread makes a favorite sweet treat. A perfect recipe to make with children, this monkey bread includes a salted caramel sauce for a delicious twist on the classic recipe!
Preheat to 350º F. Grease bottom and sides of bundt pan. Set aside.

Mix granulated sugar and cinnamon in small bowl. Cut each biscuit into quarters. Toss each piece in the cinnamon-sugar mixture to coat. Place coated biscuits in bundt pan. Set aside.

Add brown sugar to a heavy-bottomed 3-quart saucepan or Dutch oven over medium to medium-high heat. Stir with a wooden spoon or silicone spatula until sugar has begun to melt and begins to clump together. Lower heat to low and add butter pieces, stirring constantly until melted and the sugar and butter are smooth.

Remove from heat and gently stir in cream and salt. Stir until caramel is smooth and glossy. Drizzle 1/2 cup of caramel sauce over biscuits.

Bake 30 to 35 minutes until golden brown. Allow to cool about 15 minutes, then turn out onto cake plate. Serve with additional salted caramel sauce, if desired.