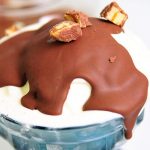 Print Recipe
Homemade Magic Shell Recipe
Homemade Magic Shell makes the perfect topping for ice cream or frozen yogurt. Get this simple, two ingredient homemade magic shell recipe for a family-favorite treat!
Add chocolate chips and coconut oil to a microwave-safe bowl. Stir together and then microwave in 30-second increments until the chocolate chips have completely softened. Remove from microwave and stir together until smooth.

Spoon or pour over ice cream or frozen yogurt.