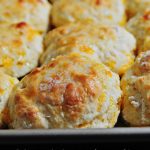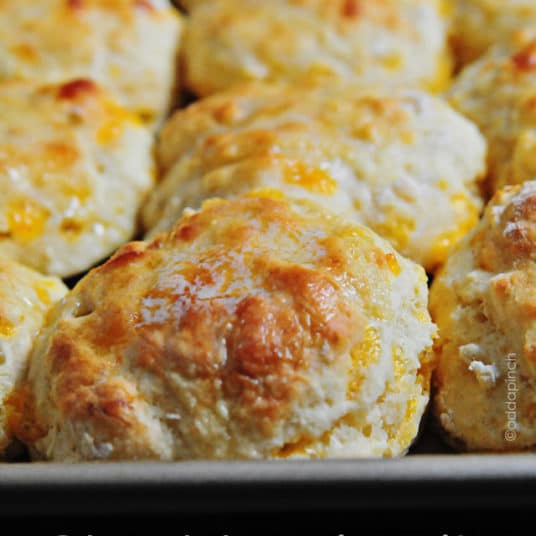 Print Recipe
Cheddar Biscuits Recipe
Cheddar biscuits make a great addition to any meal! Full of grated cheddar cheese and a crisp bottom, these cheddar biscuits are a family favorite!
Preheat oven to 475 degrees F.

Cut shortening and very cold butter into dry ingredients of flour, salt and sugar.

Slowly pour milk into your dry ingredients. Mix lightly. Fold in grated cheddar cheese

Pour dough onto a lightly floured surface and gently pat into a round disc about 1/2 inch thick. Cut dough with a sharp metal or glass cutter.

Add about 2 tablespoons of shortening to your baking pan and place into oven to melt, about 2 or 3 minutes. Once melted, remove from oven and tilt pan to make sure the bottom of the baking pan is well-coated.

Carefully place each biscuit into the hot grease on the baking pan. You'll hear a bit of a sizzle as the bottom of the biscuit fries a bit in the hot grease. Place the baking pan into the oven and bake until the biscuits have risen and are lightly browned, about 10 - 12 minutes. Remove from oven and brush with melted butter.

Serve warm.