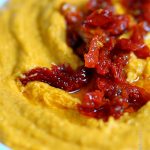 Print Recipe
Sun Dried Tomato Hummus Recipe
Sun Dried Tomato Hummus makes a wonderful addition to any get together or as a sandwich spread or snack. Get this simple, family favorite hummus recipe.
Add lemon juice, tahini and olive oil to the container of a blender or food processor. Blend until smooth, about 40 seconds. Scrape down sides and add sundried tomatoes, garlic, cumin, salt, and 3/4 of the can of chickpeas. Blend until smooth, about 1 minute. Scrape down sides and blend again for another minute until even smoother. Add remaining chickpeas and blend for about 20 seconds or until the hummus has reached the creaminess you desire.

Pour into a serving bowl and drizzle with additional olive oil and top with more sundried tomatoes.

Keep in an airtight container for up to one week in the refrigerator.