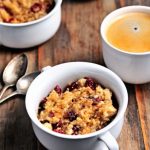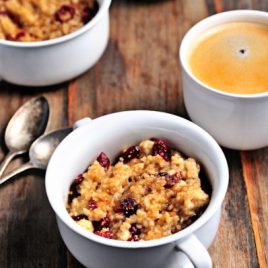 Print Recipe
Bruleed Cherry Oatmeal Recipe
This Bruleed Cherry Oatmeal recipe is a great recipe to make your morning bowl of oatmeal even more special. Get this easy cherry oatmeal recipe you are sure to fall in love with.
4

cups

water

1

cup

steel cut oats

pinch

salt

1/2

cup

dried cherries

4

tablespoons

brown sugar

2

tablespoons

granulated sugar
Bring water to a boil in a medium, heavy bottomed sauce pan. Stir in oats and add a pinch of salt. Reduce heat to low and allow to simmer uncovered for about 30 minutes, stirring occasionally to prevent sticking. Remove from heat.

Stir in dried cherries and spoon into individual ramekins or bowls.

If you prefer your bruleed oatmeal to have the look of creme brulee, then press the oatmeal into the bowl with the back of your spoon until flattened on top.

If you prefer your bruleed oatmeal to have a fuller look, then skip the above step.

Sprinkle 1 tablespoon of brown sugar and 1/2 tablespoon of granulated sugar on top of each serving.

Using a kitchen torch, brulee the sugars on top of the oatmeal and serve. If you do not have a kitchen torch, simply place your bowls of oatmeal in your oven and broil until the sugars have melted and hardened, about 2-4 minutes. Watch carefully to prevent burning.