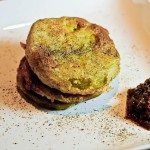 Print Recipe
Southern Fried Green Tomatoes
Fried Green Tomatoes are a classic southern favorite. Get this Southern Fried Green Tomatoes recipe perfect for serving as an appetizer or side dish!
4

large green tomatoes

1/2

cup

buttermilk

2

eggs

1/2

cup

cornmeal

1

cup

flour

2-3

tablespoons

bacon grease

oil for frying

salt and pepper
Slice tomatoes into 1/2 inch thick slices.

Whisk together buttermilk and eggs in a dish.

Mix together cornmeal and flour in another dish.

Pour oil to 1/4" deep in skillet over medium heat.

Add bacon grease.

Place a few tomato slices at a time into buttermilk mixture.

Then place each slice into cornmeal mixture.

Make sure that both sides of the tomato are well coated with the cornmeal mixture.

Using a fork or tongs, place tomatoes into skillet and cook until lightly browned on one side. Flip to fry the other side until lightly browned.

Remove to platter lined with paper towels or brown paper sack to drain.

Sprinkle with salt and pepper while hot.

Allow to cool for a minute or so and serve warm.