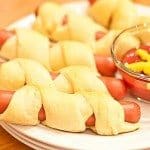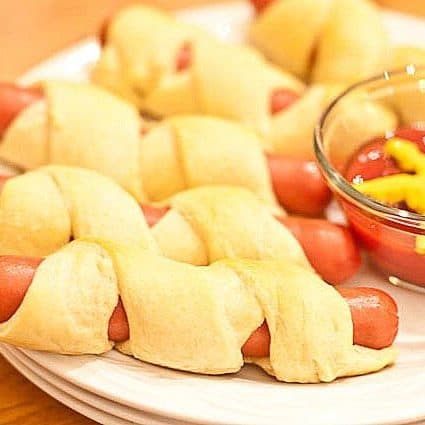 Print Recipe
Halloween Mummy Dogs
A perfect meal for Halloween that children will adore.
1

package

hotdogs

1

roll

Pillsbury Crescent Rolls
Preheat oven to 350 degrees.

Unroll package of crescent rolls on parchment paper.

At the horizontal perforation, tear the rolls apart. .

Do not tear the individual triangles apart.

Press these seems together to form a rectangle.

Cut 1/4 inch strips.

Wrap one piece around one hotdog from top to bottom, leaving about 1/4 inch of hotdog between each wrap of the crescent strip.

On a regular sized hotdog, it should wrap the hotdog 1 1/2 times.

Now, take another strip of crescent in the other direction around the hotdog, joining the end pieces together.

Bake in oven for 15 minutes or until crescent rolls are browned.

Serve with ketchup and mustard.