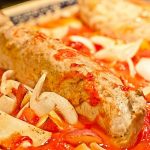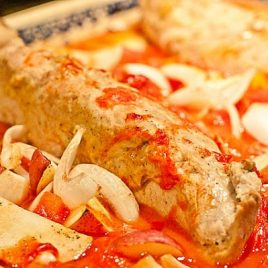 Print Recipe
Sweet and Spicy Roasted Pork Tenderloin
Kick your pork tenderloin up a notch with this recipe for sweet and spicy roasted pork
3

pounds

pork tenderloin

1 1/2

quart

water

1/2

cup

brown sugar

1 1/2

teaspoon

black pepper

1 1/2

teaspoon

salt

1/3

cup

flour

1

quart

tomatoes

1

small onion

sliced

5

medium potatoes

quartered

1/3

cup

ketchup
Preheat oven to 350 degrees.

Cook pork tenderloin in 1 1/2 quarts water until tender.

Remove from broth and place in baking dish or roasting pan.

Reserve 2 cups of the broth.

Roll tenderloin in mixture of brown sugar, pepper, salt and flour.

Add tomatoes, onion, potatoes, 2 cups broth, and ketchup.

Bake for one hour at 350 degrees, or until mixture thickens slightly.

Remove from oven and allow to cool for 3 minutes before slicing.