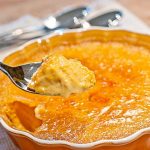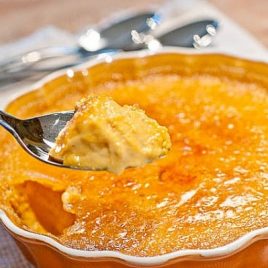 Print Recipe
Pumpkin Creme Brulee Recipe
Pumpkin Creme Brulee is a delicious seasonal update on the classic creme brulee recipe. Get this family-favorite pumpkin creme brulee recipe for your next fall party!
Preheat oven to 300 degrees

Prepare ramekins by placing in a roasting pan large enough to hold all ramekins or dishes. Boil water to pour around ramekins in the roasting pan for bain marie cooking.

Heat cream, sugar and pumpkin in a medium saucepan over medium to low heat.

Scrape vanilla bean and add beans and pod into the cream mixture.

Heat until sides of cream begin to bubble in saucepan.

Do not allow to reach a boiling stage.

Whisk egg yolks and temper with heated cream.

Once tempered, slowly pour eggs into the cream mixture, whisking to combine the entire time. Add in salt and stir.

Pour into prepared ramekins, pour boiling water in roasting pan to mid-way up the ramekin and place in oven.

Cook for 40 minutes until ramekin contents do not excessively move when touched.

Remove from oven and allow to cool completely.

Wrap with plastic wrap and chill for 2 hours up to 2 days.

Remove from refrigerator, sprinkle with sugar, and caramelize your sugar right before serving.