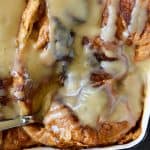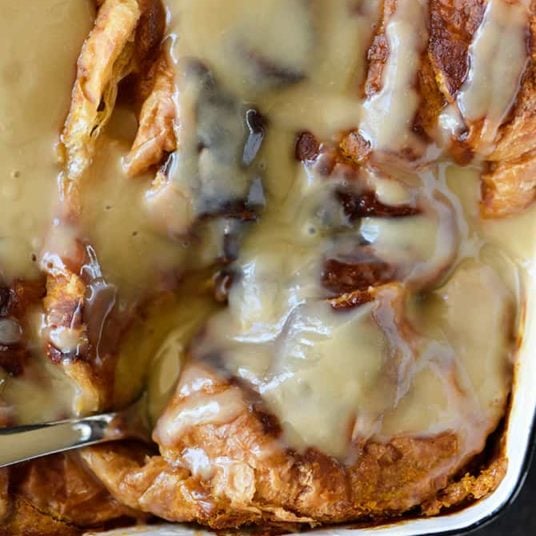 Print Recipe
Pumpkin Bread Pudding Recipe with Maple Cream Sauce
Pumpkin Bread Pudding Recipe with Maple Cream Sauce - Imagine if pumpkin pie and bread pudding came together for the most epic fall recipe! Perfect for the holidays and entertaining!
Maple Cream Sauce
1 1/2

cups

heavy cream

1/2

cup

maple syrup

2

tablespoons

butter
Preheat the oven to 350º F. Coat the bottom and sides of a 9x13 baking dish with softened butter to prevent the bread pudding from sticking.

Arrange croissant slices in the prepared baking dish and place into the preheated oven for 5 minutes. As the croissants are in the oven, whisk together the pumpkin puree, milk, heavy cream, eggs, brown sugar, salt, cinnamon, and vanilla until smooth. Remove the baking dish from the oven and pour the pumpkin mixture over the croissants, making sure to pour evenly over the croissants.

Return the baking dish to the oven and bake until set, 45 minutes.

While the pumpkin bread pudding is baking, prepare the maple cream sauce. Heat the maple syrup and butter in a small saucepan over medium heat, stirring until butter melts. Stir in heavy cream and cook until sauce has thickened, about 15 minutes. Remove from the heat.

Pour the warm maple cream sauce over the pumpkin bread pudding and serve warm.