Pumpkin Bread Pudding Recipe with Maple Cream Sauce – Imagine if pumpkin pie and bread pudding came together for the most epic fall recipe! Perfect for the holidays and entertaining!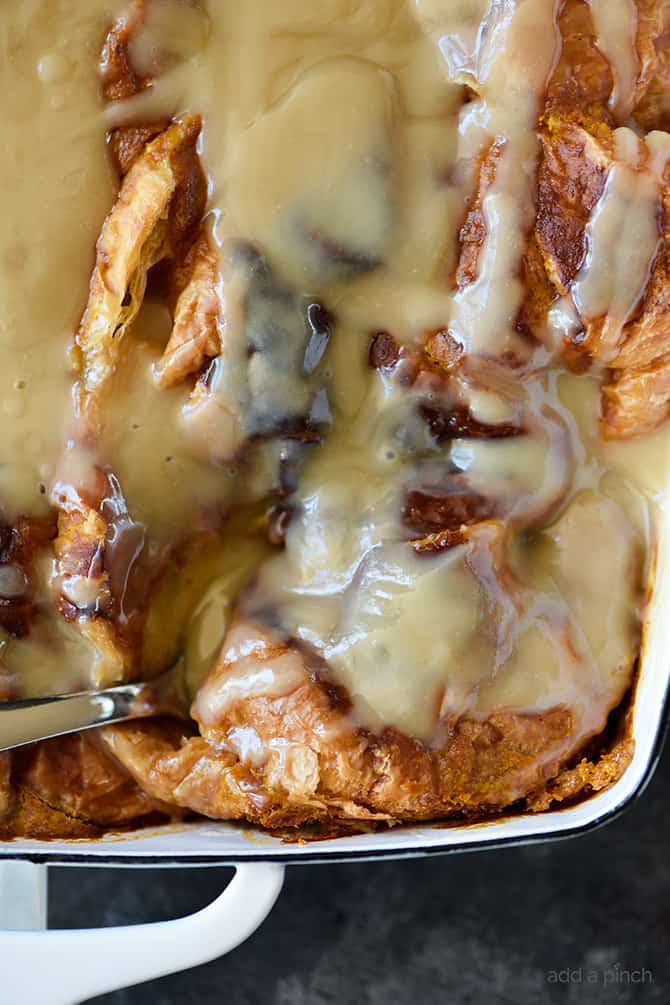 Can we just pause for a minute and take in the glory of the idea of pumpkin bread pudding with maple cream sauce for just a second? Like seriously, if you are needing a cozy, delicious recipe for the weekend or the holidays that is about as easy as they come, this is for you!
I blame it on Sam.
You see, a few weeks ago we were in the grocery store together and he picked up a small package of croissants from the bakery. He devoured them within two days. So, the other day when I was back in the grocery store, I saw an even bigger package of croissants in the bakery and thought, "hey, if he loved the pack of three, he'll just adore all of these this week!"
Umm, no.
He ate one and that was that.
So, I decided that bread pudding was in order.
But not just any bread pudding, this bread pudding.
And you guys, I'm kinda glad he didn't eat them all. 🙂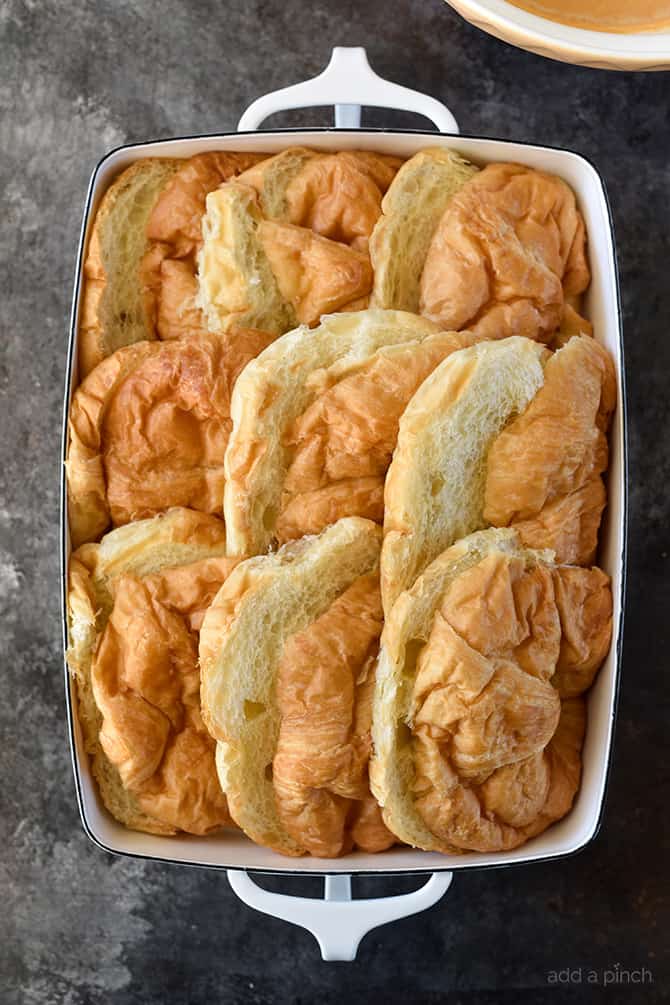 I took each of the croissants and cut them in half lengthwise and placed them into my baking dish as shown above. I basically just overlapped each of the croissant halves until I had all nine arranged in the baking dish. If you have smaller croissants, it may take more to make sure that the dish is filled.
Then, I popped the baking dish into the oven for about 5 minutes to dry out the bread as much as possible.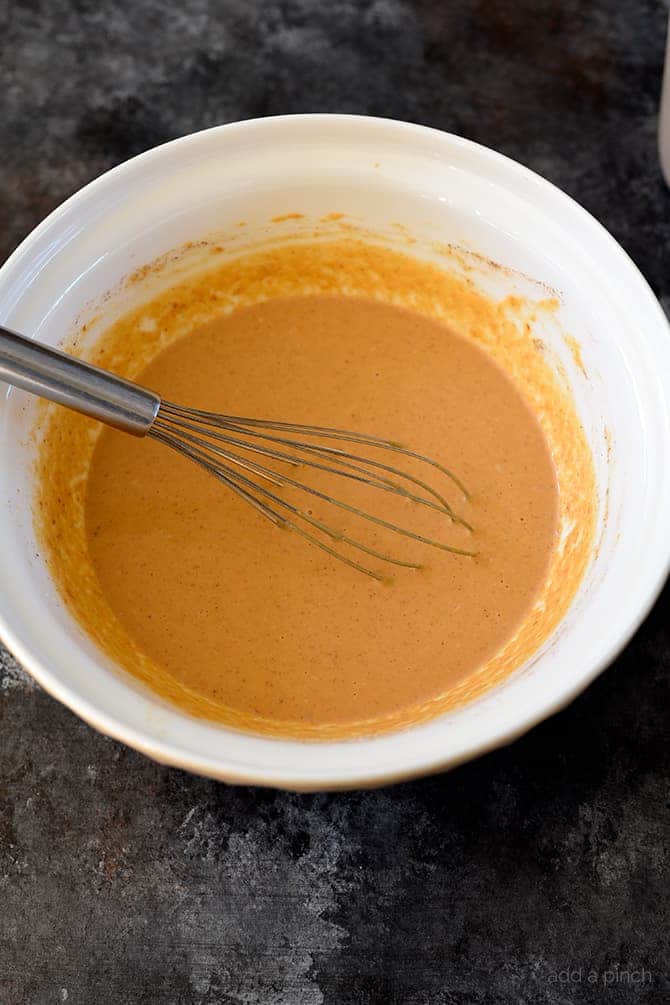 While the croissants were in the oven, I whisked together my pumpkin puree, milk, cream, eggs, sugar, salt, vanilla, and cinnamon.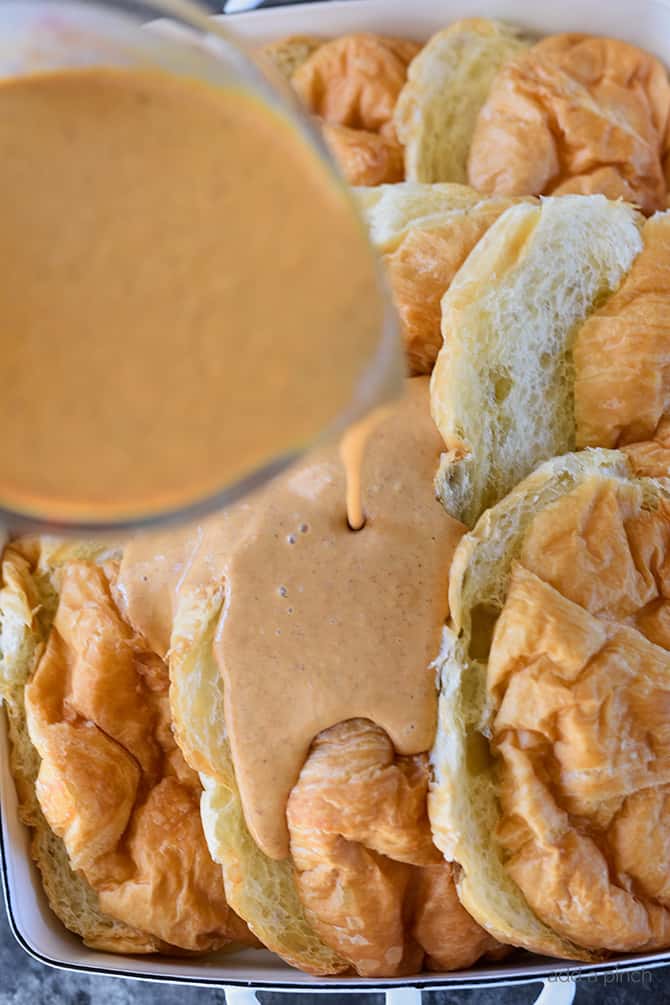 And then, once the croissants had finished in the oven, I poured the pumpkin mixture over them.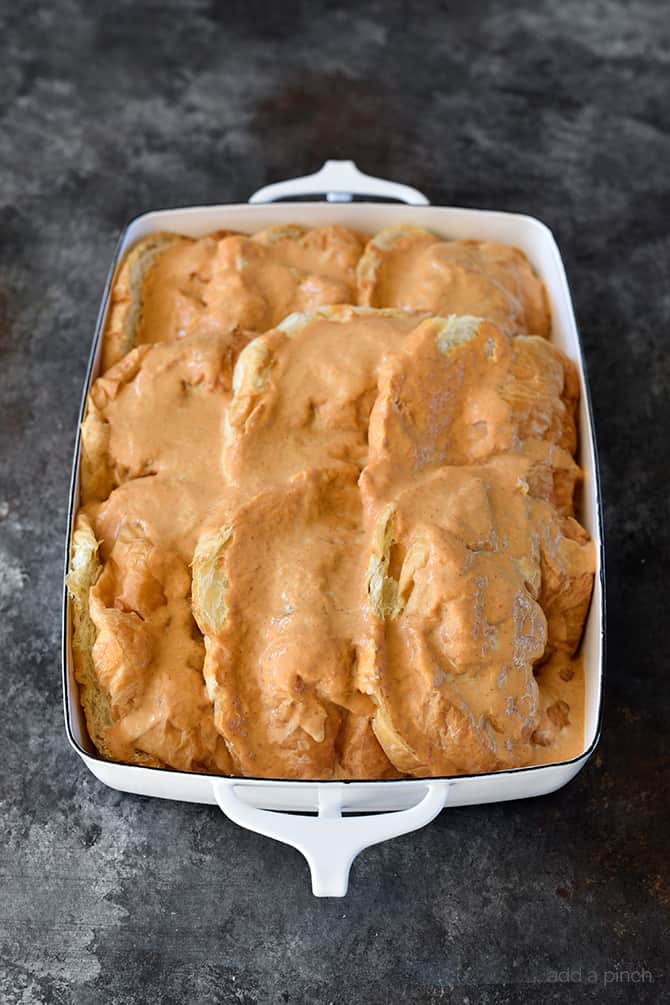 You want to make sure that you distribute the pumpkin mixture all over the croissants so that every single bite is filled with that deliciousness! You certainly don't want anyone to feel like they've been shortchanged when you serve it!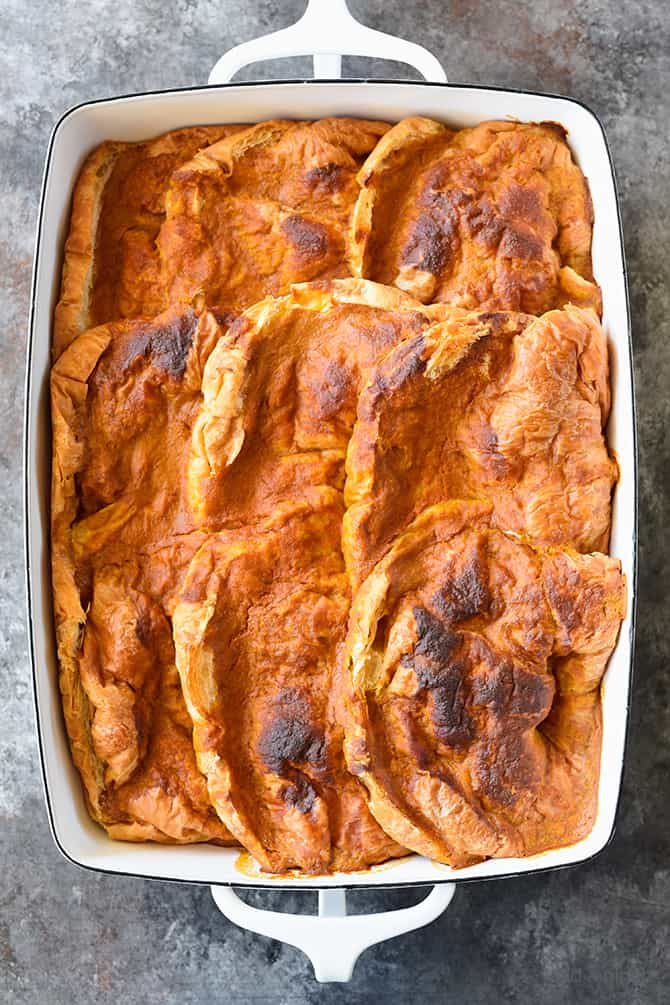 Then, you pop your baking sheet back into the oven and let the pumpkin bread pudding bake for 45 minutes.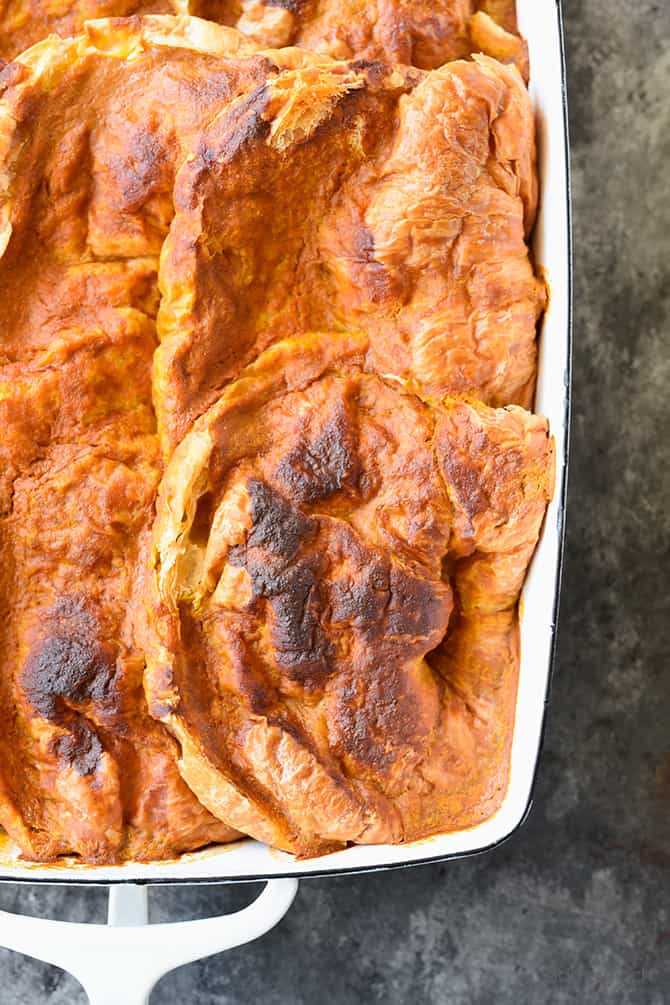 Now guys, you could stop right here and it would really be just fine to do so. But, why would you want to when you know that the maple cream sauce sure would make it even more special?!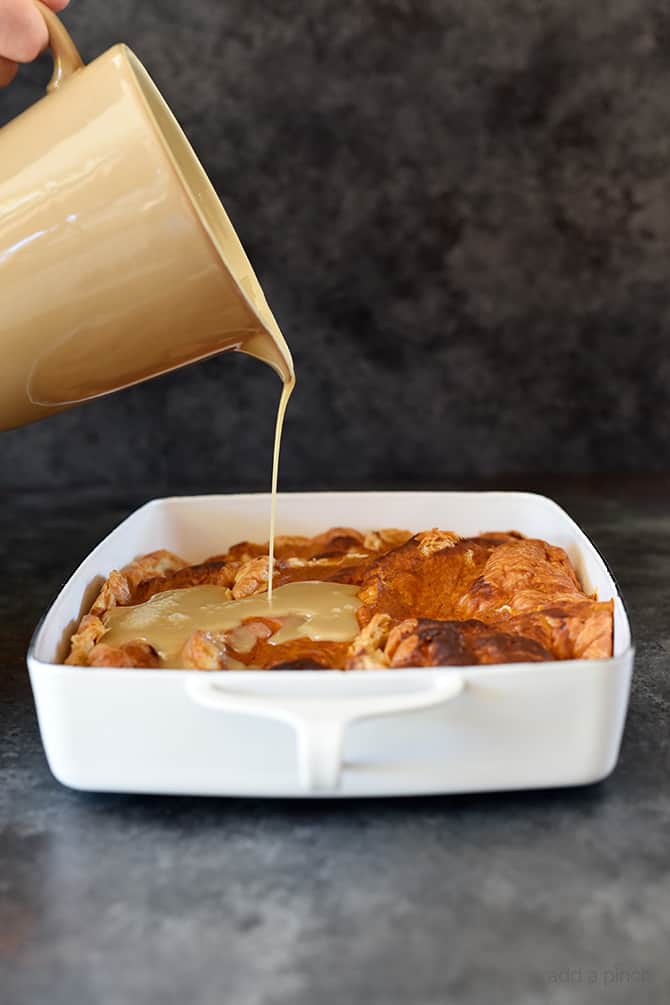 I like to go ahead and make my maple cream sauce when the pumpkin bread pudding has about 15 minutes left in baking time so that the maple cream sauce is finished right about the time the bread pudding is coming out of the oven.
Just look at that! (Gulp!)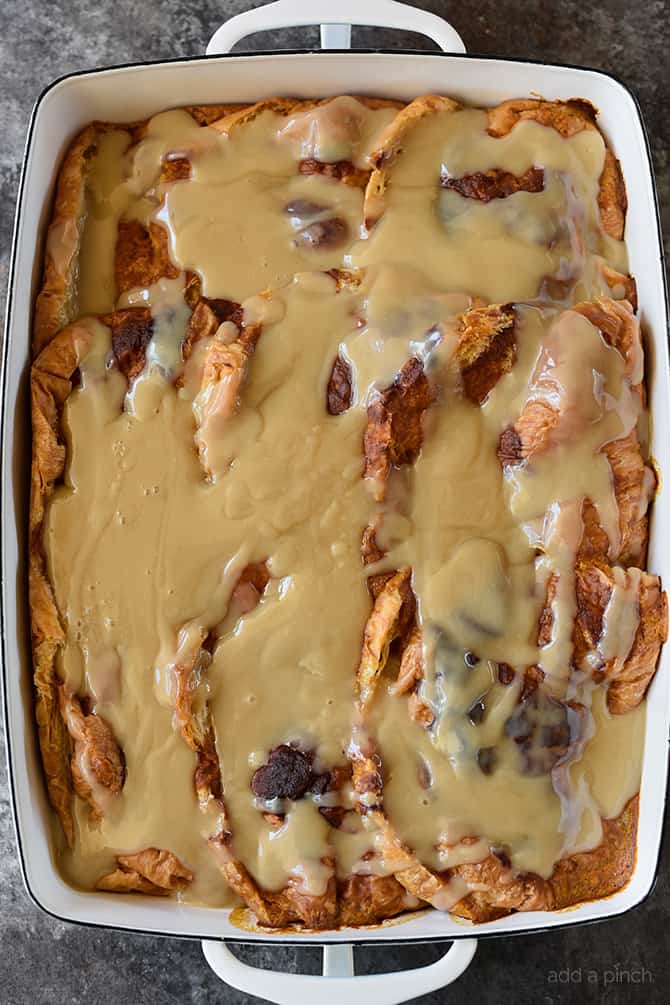 If you had any doubts or reservations, maybe this photograph will seal the deal for you! 🙂
As I made it, I thought of all the times that it would be perfect for serving. Not only would this be great as a traditional dessert throughout the holidays, it would also make a wonderful addition to a brunch, office potluck, or even to take to a friend as a little something special for them to celebrate the season.
Who am I kidding?
I can't think of a time that this wouldn't be perfect!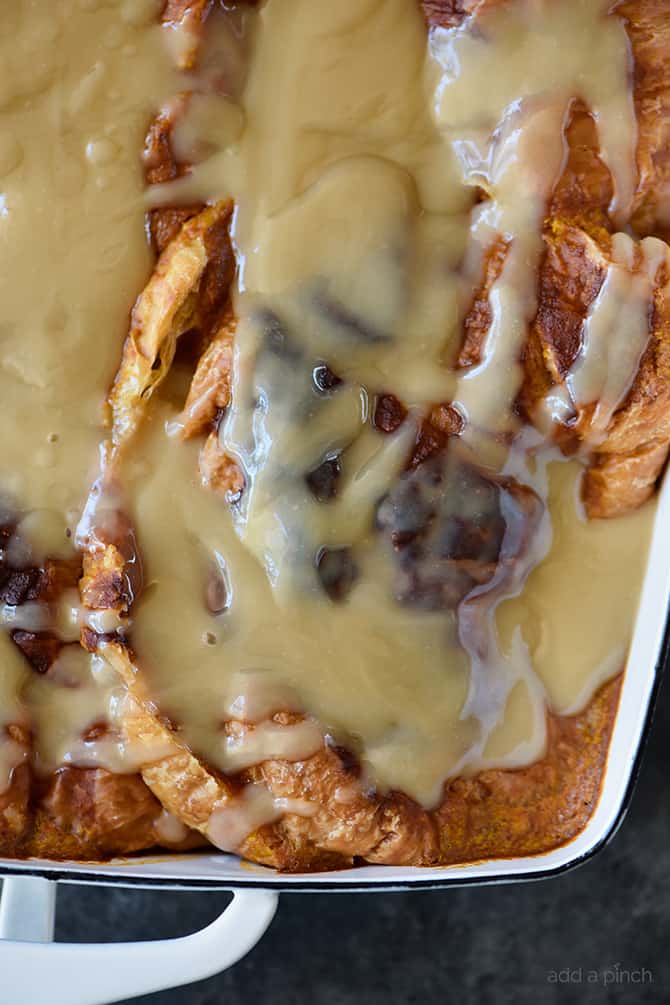 But in all honesty, you better be ready to make it often if you start making it and sharing with friends and family!
It is that amazing!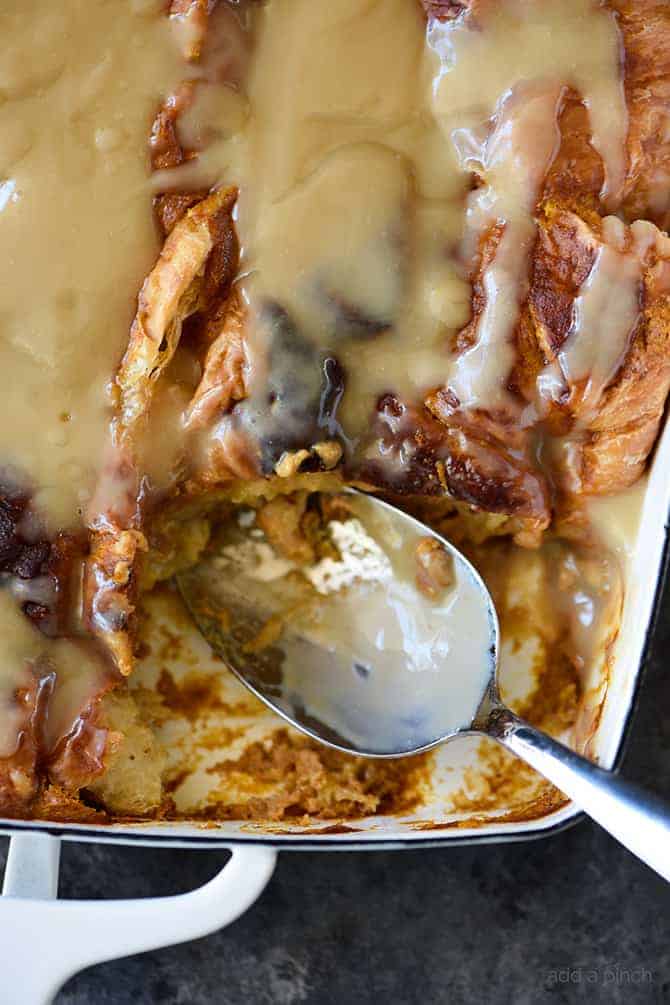 Here's my Pumpkin Bread Pudding Recipe with Maple Cream Sauce. Make it soon, you won't be sorry! 🙂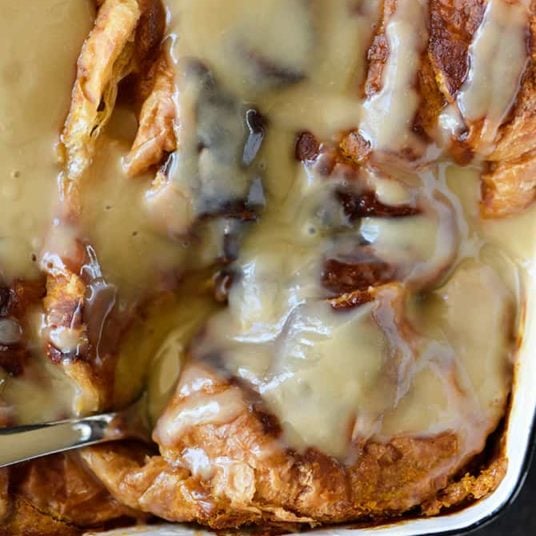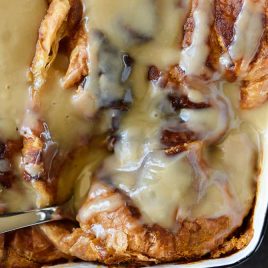 Pumpkin Bread Pudding Recipe with Maple Cream Sauce
Pumpkin Bread Pudding Recipe with Maple Cream Sauce - Imagine if pumpkin pie and bread pudding came together for the most epic fall recipe! Perfect for the holidays and entertaining!
Ingredients
2

tablespoons

butter

softened

9

large croissants

cut in half lengthwise

2

cups

pumpkin puree or 1

15-ounce can pumpkin puree

1

cup

whole milk

1

cup

heavy cream

2

large eggs

6

tablespoons

dark brown sugar

1

teaspoon

vanilla extract

1/2

teaspoon

kosher salt

1

teaspoon

ground cinnamon
Maple Cream Sauce
1 1/2

cups

heavy cream

1/2

cup

maple syrup

2

tablespoons

butter
Instructions
Preheat the oven to 350º F. Coat the bottom and sides of a 9x13 baking dish with softened butter to prevent the bread pudding from sticking.

Arrange croissant slices in the prepared baking dish and place into the preheated oven for 5 minutes. As the croissants are in the oven, whisk together the pumpkin puree, milk, heavy cream, eggs, brown sugar, salt, cinnamon, and vanilla until smooth. Remove the baking dish from the oven and pour the pumpkin mixture over the croissants, making sure to pour evenly over the croissants.

Return the baking dish to the oven and bake until set, 45 minutes.

While the pumpkin bread pudding is baking, prepare the maple cream sauce. Heat the maple syrup and butter in a small saucepan over medium heat, stirring until butter melts. Stir in heavy cream and cook until sauce has thickened, about 15 minutes. Remove from the heat.

Pour the warm maple cream sauce over the pumpkin bread pudding and serve warm.
Enjoy!
Robyn xo