Make the Perfect Whipped Cream recipe every time with these steps and tips! With just three ingredients, it's so easy to make it fresh any time for the best desserts!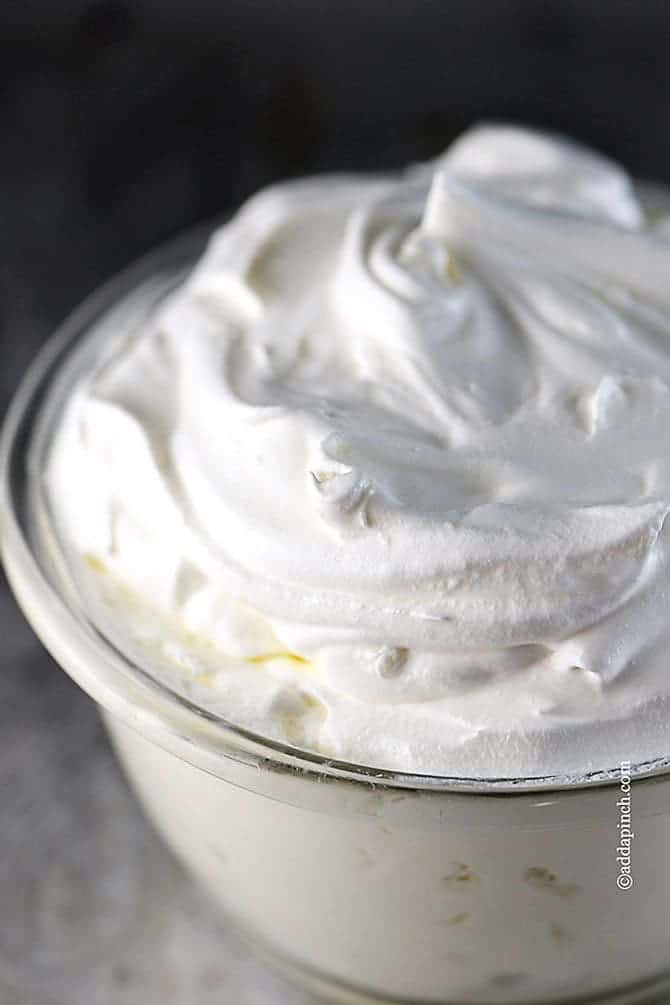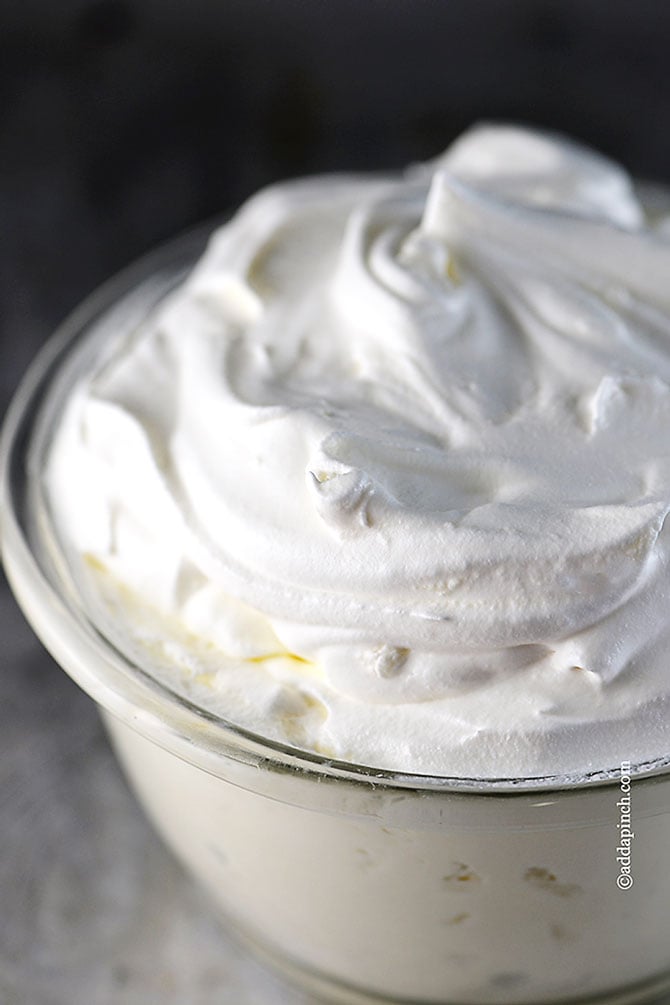 How to Make Whipped Cream
I can't even begin to tell you how many times a year I make whipped cream. It is really one of those recipes that I turn to time and again and could practically make with my eyes closed. A basic recipe, yet it's the best and it only takes a few minutes to make. It has just three ingredients, but yet there is one essential step for getting the perfect whipped cream recipe every single time.
But first, let's start with the basics.
To make it, you'll need just three ingredients. You'll need:
heavy whipping cream – I prefer to use heavy whipping cream vs. whipping cream as I find that it holds its shape longer and produces as creamier result. It also works well if you plan to pipe your whipped cream or to use to fill pastries.
sweetener – you are able to choose your favorite sweetener to use. I generally use confectioner's sugar or honey or maple syrup. Confectioner's sugar provides the most classic and flavor neutral sweetener of this list.
flavorings – the options for flavoring are endless! My go-to for classic whipped cream is to use vanilla extract. You can also flavor with liquors, other extracts, and spices.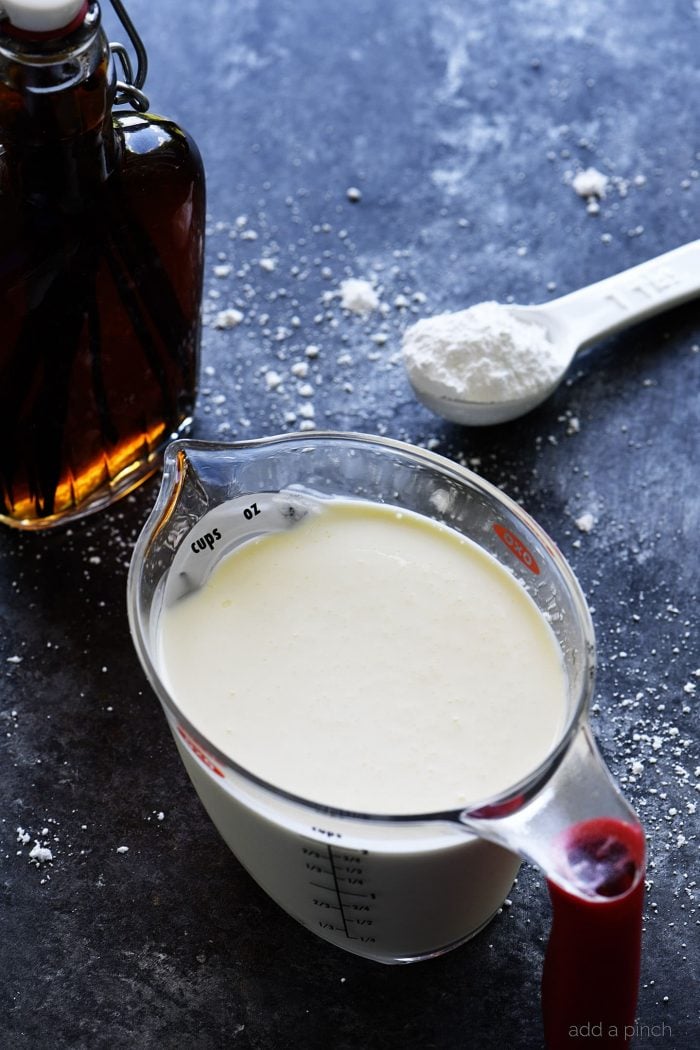 Essential Tip
To make it perfect every single time, you must start cold. Then go high.
That's it. That's the trick. It's sounds simple, but it's oh so important.
Start Cold
You begin by putting your mixing bowl and whisk, (yes, even those to your electric mixer) in the freezer for about 20 minutes to get as cold as possible. You'll also want to make sure that your heavy whipping cream is as cold as possible, too.
Go High
Then, you pour all of your ingredients into your super chilled mixing bowl and whisk together on high speed for about a minute until stiff peaks form. And, you are done!
No fussing about with it, no testing. You're done!
How to Make Flavored Whipped Cream
If you'd like to add another flavor to your recipe, you can switch it out with the vanilla extract, taste it and add a bit more if you think it is needed. Coconut rum and bourbon immediately come to mind as substitutes that people frequently use as well.
You can also use honey or maple syrup in place of the sugar which also adds their own flavor where you may decide that you don't need to add anything else. Believe me, it tastes out of this world with both of those exchanges.
If you do add more liquid to the recipe, you may need to whip a bit longer than one minute to reach the stiff peak stage. However, take care to not over beat as it can quickly become butter.
Coconut Rum – Replace vanilla extract with the same amount coconut rum
Bourbon – Replace vanilla extract with the same amount bourbon
Honey – Replace the sugar with honey
Maple – Replace the sugar with maple syrup
Cinnamon – Add 1/2 teaspoon ground cinnamon
How to Make Stabilized Whipped Cream
Yes! To make stabilized homemade whipped cream, you will want to use an additional ingredient to help it last longer in the refrigerator. I like to use cream of tartar if I know that I will be making mine well in advance of serving. While it is best served immediately, by adding a little cream of tartar to your heavy whipping cream, it will generally last much longer in the refrigerator.
For each cup of heavy whipping cream, add 1/4 teaspoon of cream of tartar along with the confectioner's sugar when whipping.
What to Serve it With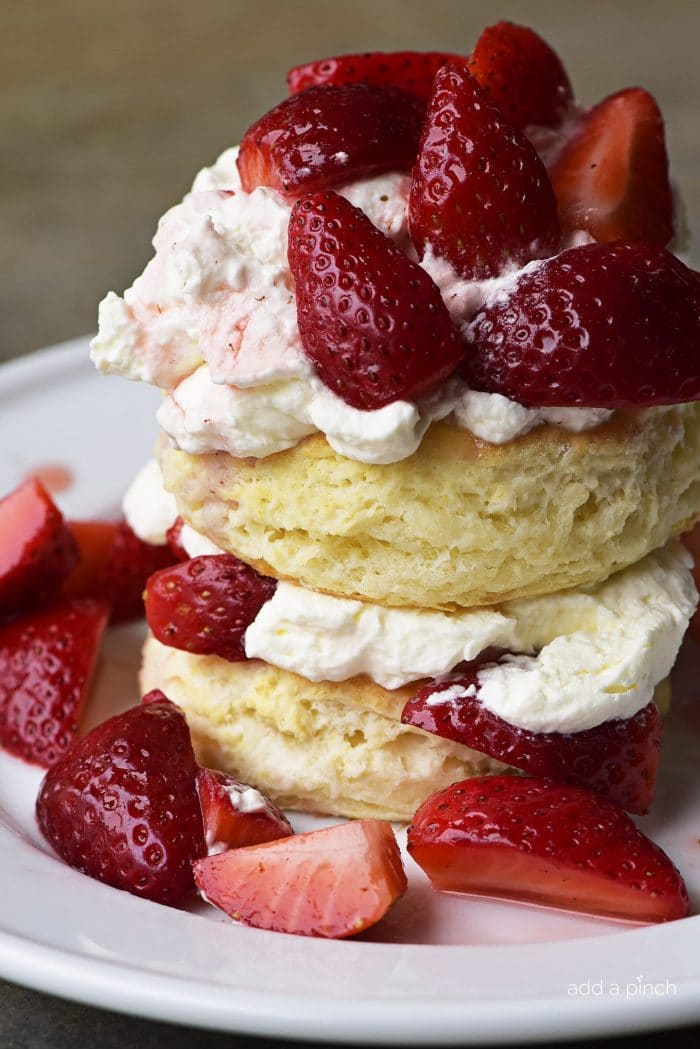 Here's my Perfect Whipped Cream recipe. I hope you love it! It's a great topping on fresh fruit, desserts (think strawberry shortcakes, pumpkin pie and so much more!) and so much more!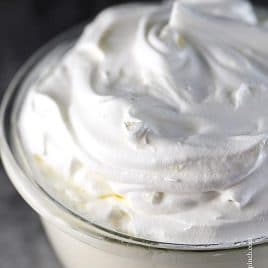 Perfect Whipped Cream Recipe
Perfect whipped cream recipe is one of those essential recipes you need. This recipe gives all the steps you need to make perfect whipped cream every time.
Ingredients
1

cup

cold heavy whipping cream

2

tablespoons

sugar, honey, or maple syrup

1/2

teaspoon

vanilla or other flavorings or liquors
Instructions
Place mixer bowl and whisk in freezer for at least 20 minutes to chill.

Pour heavy whipping cream, sugar and vanilla into the cold bowl and whisk on high speed until medium to stiff peaks form, about 1 minute.

Do not over beat.
Notes
For stabilized whipped cream that will hold longer in the refrigerator, add 1/4 teaspoon of cream of tartar to your fresh whipping cream along with the confectioner's sugar. 
Nutrition Information
Serving:
2
tbsp
|
Calories:
57
kcal
|
Carbohydrates:
1
g
|
Fat:
5
g
|
Saturated Fat:
3
g
|
Cholesterol:
20
mg
|
Sodium:
5
mg
|
Potassium:
11
mg
|
Sugar:
1
g
|
Vitamin A:
220
IU
|
Vitamin C:
0.1
mg
|
Calcium:
10
mg
Enjoy!
Robyn xo