We're a few days into our advent activities and luckily, yesterday's activity was to bake Christmas cookies. I knew hot chocolate would be required, it always is at the end of an afternoon of Christmas cookie baking while we sample our efforts. But little did my Little Buddy know that I had THIS in mind when planning out our hot chocolate and cookie eating afternoon. This over the top hot chocolate!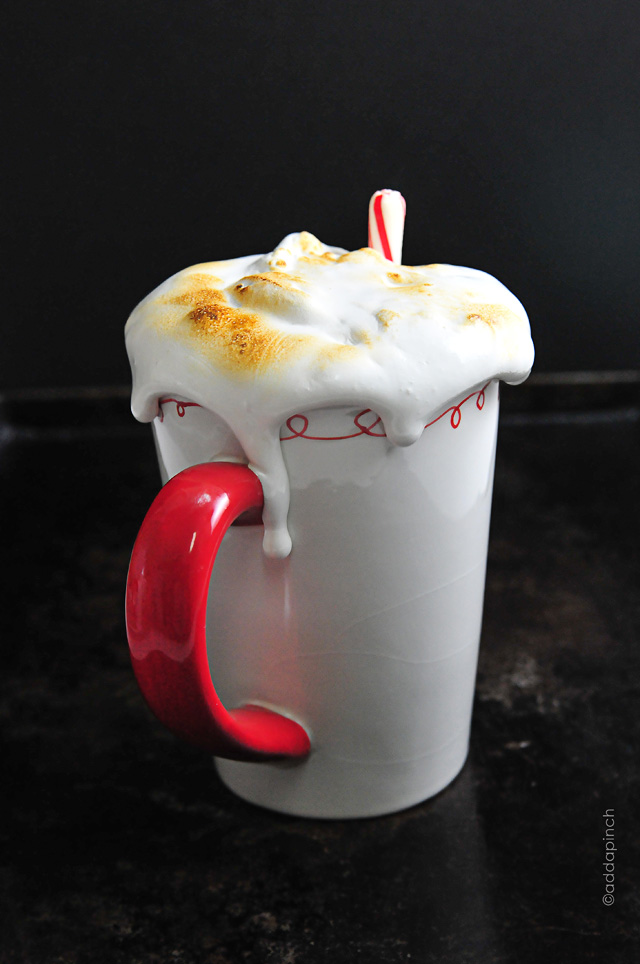 And oh boy – is it over the top!

I truly don't believe any other hot chocolate with plain ol' marshmallows will do from this point forward.
His eyes became as big as saucers when I carried the tray of mugs and cookies to the living room as he organized a stack of Christmas movies in the order he wanted to watch them.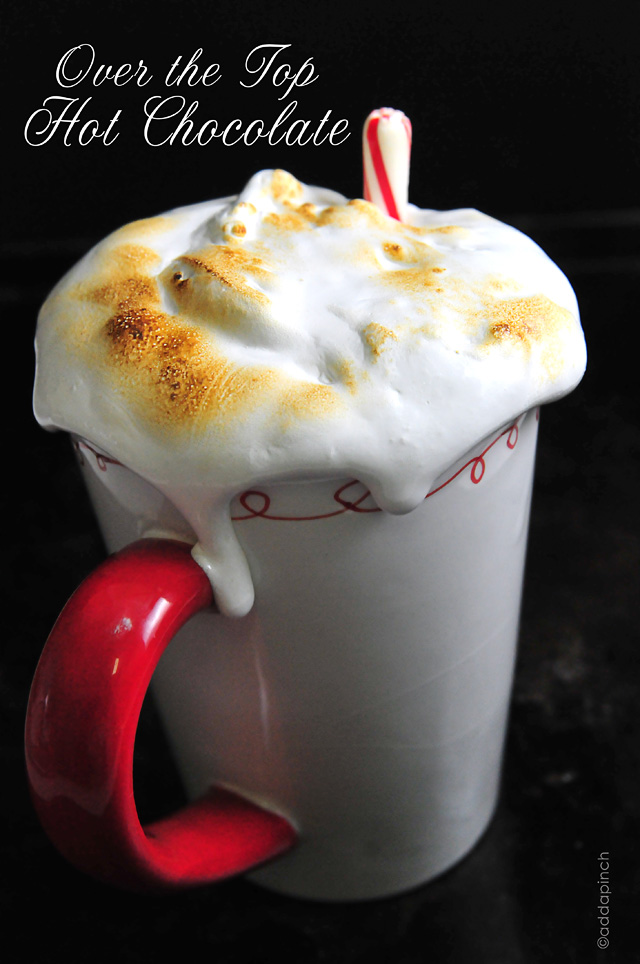 I used my trusty recipe for hot chocolate mix since we keep it on hand all the time, popped in candy canes as stir sticks, and then topped each of our mugs with a couple of tablespoons of marshmallow fluff. Then, using the back of the spoon, I spread the marshmallow fluff until it reached the edges of the mug. Then, using my little kitchen torch that I use for creme brulee and whatnot, I toasted the the marshmallow fluff until it looked just right.
In about 3 minutes, I had created a magical concoction that he's soon not to forget.
Not to be disrespectful, but I really don't think Mrs. Claus has anything on me with these.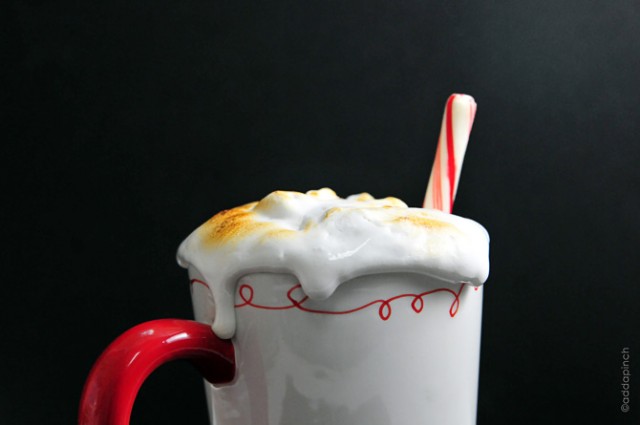 Rather than using the candy cane in these, you may want to use a straw – a red and white stripey one would be fun! While the candy cane works perfectly for making a peppermint flavored hot chocolate, you'll definitely want a straw to sip through all of that toasted marshmallow fluff topping. Of course, you can always have both! This is over the top, right?
If you don't have a kitchen torch to toast your marshmallow topping, you can line a baking sheet with parchment paper and place a grouping of large marshmallows together for the number of cups of hot chocolate you are serving. Then, toast the marshmallows under the broiler for just a little bit to get a little brown on them and melt together a bit. Now, carefully with a spatula, transfer the toasted marshmallows "cloud" onto the top of your hot chocolate mug.
Here's the recipe, if you can call it that, for my Over the Top Hot Chocolate. Be sure to let me know if you make it and what you think!
Over the Top Hot Chocolate Recipe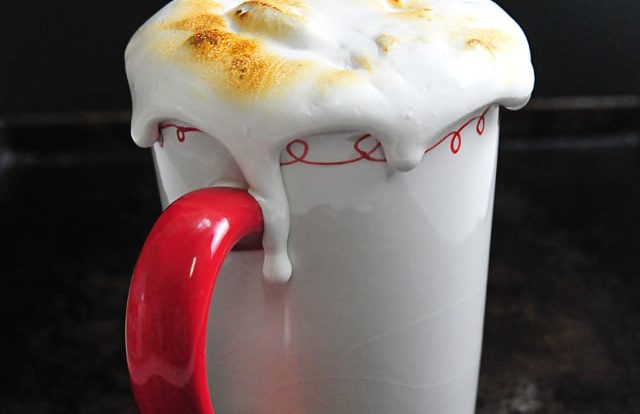 Hot Chocolate reaches a whole new level with this Over the Top Hot Chocolate.
Ingredients
1

cup

whole milk

2

tablespoons

Hot Cocoa Mix Recipe

2

tablespoons

marshmallow fluff

candy cane

optional
Instructions
Heat one cup of whole milk and mix in homemade hot chocolate mix. Stir until well-dissolved. Top mug with marshmallow fluff, spreading to the edges of the mug with the back of a spoon.

Carefully toast the marshmallow fluff with a kitchen torch (optional)

Insert a straw and/ or candy cane (optional) for serving
Nutritional Information
Calories:
220
kcal
|
Carbohydrates:
30
g
|
Protein:
9
g
|
Fat:
9
g
|
Saturated Fat:
5
g
|
Polyunsaturated Fat:
1
g
|
Monounsaturated Fat:
2
g
|
Cholesterol:
24
mg
|
Sodium:
186
mg
|
Potassium:
355
mg
|
Sugar:
27
g
|
Vitamin A:
408
IU
|
Calcium:
280
mg
|
Iron:
1
mg
Merry Christmas!
Robyn xo