As Southern as Sweet Tea
"Say something else," requested the lady at the table behind us. My drawled reply of "Ma'am?" brought hysterical laughter followed by, "I've never heard a little girl speak with such a Southern dialect before."
We were traveling that summer to visit family well beyond the Mason-Dixon line where my manner of speaking was obviously somewhat entertaining. I remember feeling the heat in my cheeks and my father patting my hand. I looked up to see his eyes greeting mine with a quick wink, a signal he'd heard.
I've since grown into my drawl and have been known to pour it on just a little thicker than normal on occasion – especially when I'm reminded of the wildly laughing lady from the restaurant of my youth. And on those days, I embrace afternoons hot and heavy with the smell of gardenia, evenings watching my son hugging his Mason jar as he chases fireflies, and porches filled with loved ones sipping sweet Southern nectar.
You never know, you might just develop a bit of a drawl, too.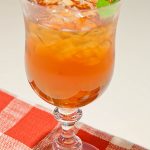 Print Recipe
As Southern as Sweet Tea
Southern sweet tea is the elixir to the south.
Prep Time10 mins
Total Time10 mins
Servings: 1 gallon
Ingredients
5 family size tea bags
1 1/2 - 2 cups sugar
water
Instructions
Fill a tea kettle or small sauce pan with water and place over medium-high heat until it reaches a boiling point. Remove from heat and add tea bags. Allow to steep for about 5 minutes. Do not allow the tea to become cold.

In a gallon pitcher, add sugar and cover with hot water until the sugar has completely dissolved. Pour in the brewed tea, being careful not to drop in tea bags.

Fill the pitcher with cold water and serve over ice. Great with a wedge of lemon, lime, orange or a sprig of mint.