Where To Buy | Reviews | Press | Events
ADD A PINCH: EASIER, FASTER, FRESHER SOUTHERN CLASSICS
Pre-Order Available Now, In Stores 3/28/2017!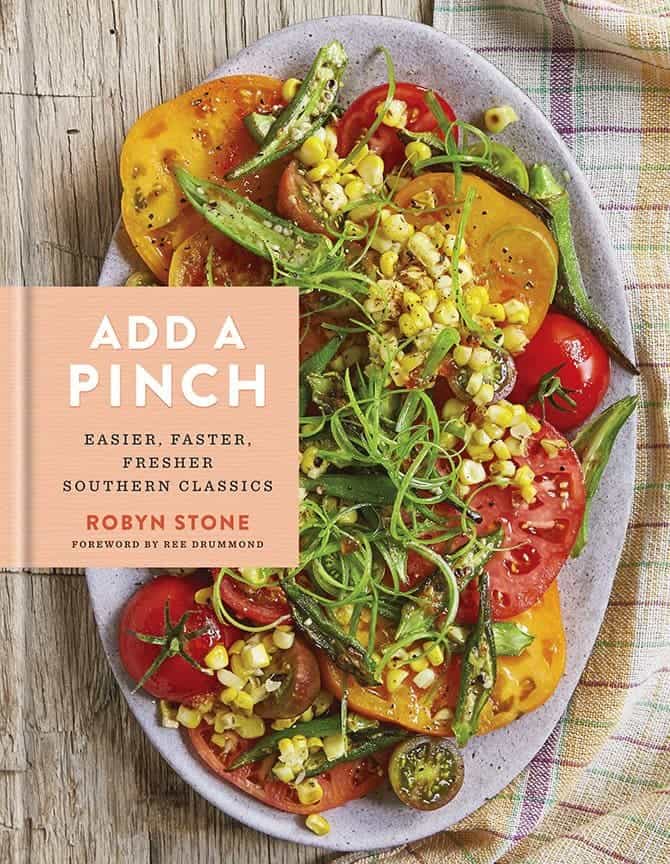 The book is filled with family-friendly recipes that solve the dilemma of what's for supper! You'll find that the recipes are indeed easier, faster and fresher Southern classics with tips on sharing dishes with others and entertaining, how to recreate leftovers into another meal your family will love, tips on how to make recipes even easier, and a few simple swaps to lighten up many of those favorite Southern dishes.
The book also includes handy icons to guide you to recipes with 10 ingredients or fewer, that can be prepared in 30 minutes or less, meals that are freezer friendly and slow cooker favorites! In short, it is the cookbook that I've wanted in my own cookbook collection for years and that I hope you'll find useful and as a valued resource!

Love ya!
Robyn xo
Where to Buy
I am thrilled to share that my cookbook,  Add a Pinch, is officially available for pre–order now from these online sellers:
Amazon | Barnes & Noble |  Indiebound | Walmart | Target | QVC [sold out]
Pre-order Bonus Meal Plan
If you've pre-ordered the cookbook (by March 28, 2017), I've created a free bonus meal plan to go along with the cookbook for you. Just head over here to enter your pre-order information to receive the meal plans for download. The first 500 pre-order entries will also receive a signed book plate for your book!
Reviews
"This cookbook is a delicious extension of Robyn's blog, and a perfect reflection of her love and appreciation for the significance of food in a person's life. It's also very clear that she cooks in the real world, for real people, in a real family."
—Ree Drummond, New York Times bestselling author and Food Network host
"I love a woman who knows her way around a slow cooker! Robyn Stone is an inspiration to anyone trying to get a handle on weeknight dinners. Her delicious recipes—all from family tradition and with great Southern flavors—are crowd-pleasing, fresh, and practical. I'm excited to have this cookbook on my shelf!"
—Gina Homolka, author of New York Times bestselling The Skinnytaste Cookbook and Skinnytaste Fast and Slow
"There sure is some good-looking food in this book! No one lays out a spread like Robyn does, and Add a Pinch is full of gorgeous, delicious fare. Pull up a chair and spend some time in Robyn's Southern kitchen!"
—Christy Jordan, author of Sweetness, Come Home to Supper, and Southern Plate
"We have yet to try something from Add a Pinch that we haven't absolutely loved. The photos are beautiful and the recipes are delicious!"
—The sisters of Six Sisters' Stuff
"This gorgeous cookbook is a celebration of family and fellowship. And even if you didn't grow up eating pimento cheese biscuits, chocolate pie, and field peas with snaps, Add A Pinch's warm, engaging voice and simple from-scratch recipes will make you feel right at home."
—Lisa Fain, author of The Homesick Texan's Family Table
 
"I love Robyn Stone's fresh take on Southern cooking! Her recipes are simple enough for the busy home cook, while still staying true to form with straight-from-the-farm ingredients and classic scratch cooking methods."
—Elise Bauer, founder of SimplyRecipes.com
Press
Publisher's Weekly says "Stone shows how a Southern cook balances traditional with modern, making her own cream of chicken soup to be deployed instead of the canned version. Vegetables include the gratifyingly regional, such as butter beans, okra, and collard greens, in approachable preparations, and a classic condiment whose time might finally have arrived: suitable-for-canning, authentic chow chow." 12/19/2016
Robyn made heart-shaped cinnamon rolls on Today in Nashville. Miss it? You can watch it here.
Robyn visited with David Venable on QVC for pre-sale of the cookbook. Did you miss it? You can watch the segment here. 3/5/2017
Southern Seasons says "Robyn Stone offers a modern spin on Southern favorites…" [pdf]

Robyn was on The Joan Hamburg Show (WABC, New York)
Events
Thursday, April 27, 2017, 3 PM to 5 PM
As part of the Arkansas Literary Festival, Robyn will be demonstrating how to make the Strawberry Shortcakes with Sweet Cream Cheese Biscuits from the cookbook. There will also be a book signing. Limited Seating. [This is a ticketed event]