This Chicken Salad with Grapes Recipe makes a quick, delicious meal! It also has roasted nuts for the best chicken salad recipe and makes a great chicken salad sandwich too!
Chicken salad has to be one of the most perfect dishes for an easy meal at home or to take to a picnic or potluck. This recipe is absolutely full of amazing flavor, is simple to make and is positively the best chicken salad I've ever eaten!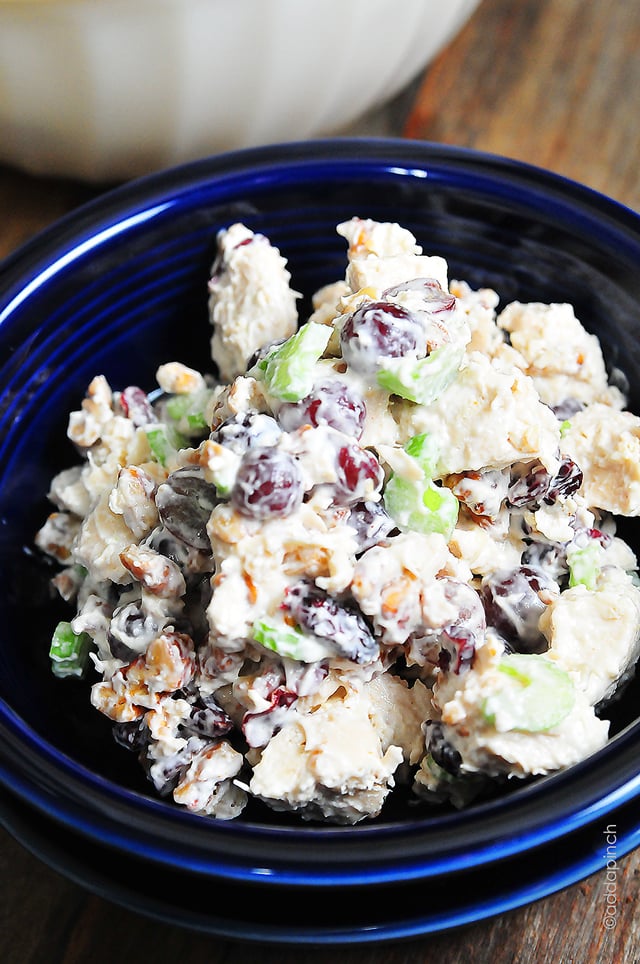 I think this chicken salad recipe is such a delicious one because the generous amount of chicken is combined with fruit and toasted pecans for a savory crunch and flavor that's a hit every time! It's a recipe that I turn to time and time again for family meals, picnics, and parties. And you just have to try this for the best chicken salad sandwich ever!
Chicken Salad with Grapes Recipe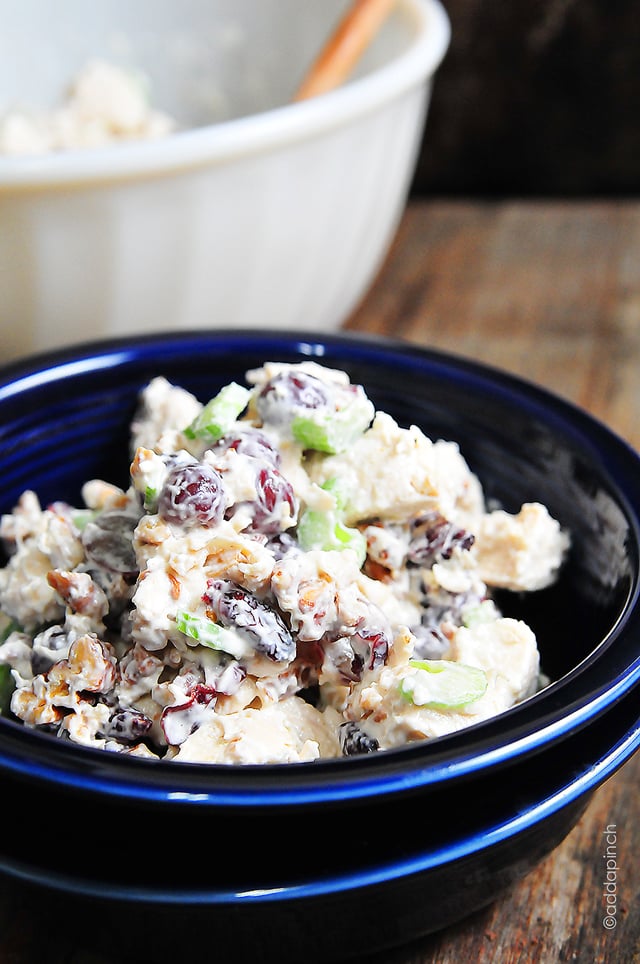 This makes a great salad for lunch, a light supper, and takes hardly any time to mix all together. I love to keep a container of it in the refrigerator for super quick lunches. It's great on its own and makes the best sandwich and is delicious to fill wraps. I also love to make it to serve large gatherings of people at potlucks, picnics, or even tailgating! It is always a hit!
I think everyone enjoys this recipe because of the addition of the fresh grapes. They add a burst of sweetness to the salad for the perfect blend of savory and sweet!
How to Make the Best Chicken Salad
Ingredients you'll need to make this delicious salad:
Chicken. You'll need four cups of cooked chicken that you shred or chop, depending on the texture that you prefer. You can easily shred the chicken in your stand mixer or with an electric hand mixer if you want. Shredding with two forks also works great.
For the chicken, you can use baked chicken that you cook ahead or make Instant Pot chicken. You can even use rotisserie chicken if you wish.
Celery. Chopped celery adds the perfect amount of crunch and freshness.
Grapes. Halved seedless grapes add a touch of sweetness. I love to use red seedless grapes as they add another bit of color to the salad.
Dried Cranberries. Sweet and yet a little tart, the dried cranberries are a delicious addition as well.
Roasted Pecans. Chopped roasted pecans are a great addition. Omit them if allergic to nuts or if you are serving at an event and do not know if there are nut allergies.
Mayonnaise or Greek Yogurt. You can use all mayo or all Greek Yogurt in your salad or even a little bit of each. Greek Yogurt will help to lighten up the recipe, but it is definitely a matter of preference.
Seasonings. Salt and pepper are the perfect seasonings for it.
Celery leaves. Chopped celery leaves add so much flavor, but if you don't have them just omit.
How Long Does Chicken Salad Last?
In the Refrigerator? This recipe keeps well in the refrigerator for up to 3 days. Simply store in an airtight container. Refrigerate right after serving.
Left Out at Room Temperature? For food safety, I like to stick to what the FDA advises… "the two-hour rule"….which applies since this recipe has chicken and mayonnaise, you should not leave this out at room temperature for any longer than two hours.
Left Out at Picnic or Potluck? If you are serving this at a summer event and the temperature is warmer, you should be extra careful to refrigerate as soon as possible. Again, I look to the FDA for their safety rule. If the outside temperature is above 90 degrees, the "two-hour rule" becomes ONE hour.

How to Serve:
Wrap. Stuff and slice in half for a simple wrap.
Croissant. Toast a croissant and then fill.
Bibb Lettuce. Make a lettuce cups by washing and drying leaves of Bibb lettuce and placing onto a plate. Then fill with scoops and serve.
How Much to Serve Per Person:
If you are making for serving a large group, at a party or event, you'll want to increase the amount that you make. Here is the rule of thumb that I use for how much to prepare per person.
Sandwiches and wraps = 4 – 6 ounces per person
Lettuce cups = 4 – 6 ounces per person
Main dish = 8 ounces per person
Other Chicken Salad Recipes We Love:
To say that we enjoy chicken salad in our family is an understatement! My husband is especially a fan – from this all-time favorite and other recipes listed – it's always a hit around my house!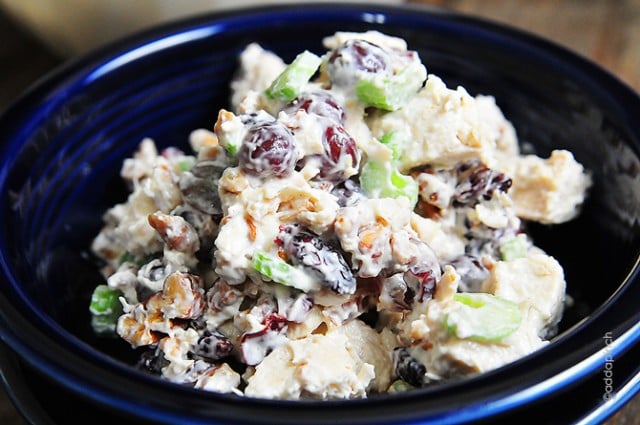 Here's my recipe for Chicken Salad with Grapes that I think you'll love.
Chicken Salad with Grapes Recipe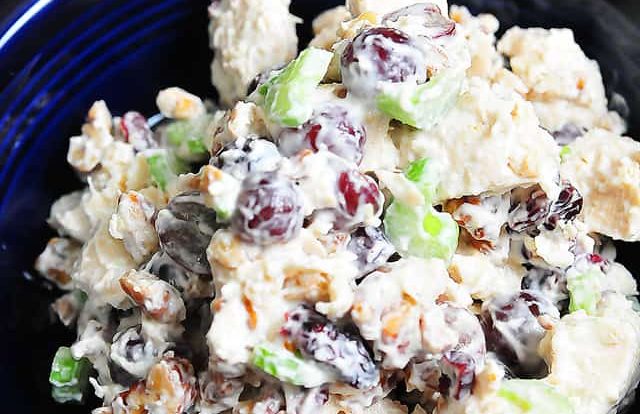 Chicken Salad with Grapes Recipe – This chicken salad recipe makes a delicious, quick meal. Made with chicken, grapes, and roasted nuts, it is always a favorite!
Ingredients
4

cups

cooked, chopped chicken

1

cup

chopped celery

1

cup

red seedless grapes

halved

1/2

cup

dried cranberries

1/2

cup

roasted pecans

chopped

1

cup

mayonnaise

or Greek Yogurt

1/2

teaspoon

salt

1/2

teaspoon

ground black pepper

celery leaves

chopped (optional)
Instructions
Add chopped chicken to a large bowl along with celery, grapes, dried cranberries, chopped pecans, mayonnaise, salt and pepper. If using chopped celery leaves, add these as well. Stir together until just combined.
Notes
Lighten Up!
To lighten up the recipe, you can use Greek yogurt in place of the mayonnaise. 
I used plain Greek Yogurt for the nutrition calculations. 
Nutritional Information
Calories:
262
kcal
|
Carbohydrates:
11
g
|
Protein:
40
g
|
Fat:
6
g
|
Saturated Fat:
1
g
|
Cholesterol:
106
mg
|
Sodium:
279
mg
|
Potassium:
129
mg
|
Fiber:
2
g
|
Sugar:
8
g
|
Vitamin A:
355
IU
|
Vitamin C:
1.7
mg
|
Calcium:
48
mg
|
Iron:
0.6
mg
Enjoy!
Robyn xo