Jump to Recipe • Print Recipe
This Chicken Fajita recipe makes a quick, delicious meal perfect for a busy weeknight supper or a fun weekend meal! Chicken fajitas are always a crowd pleaser!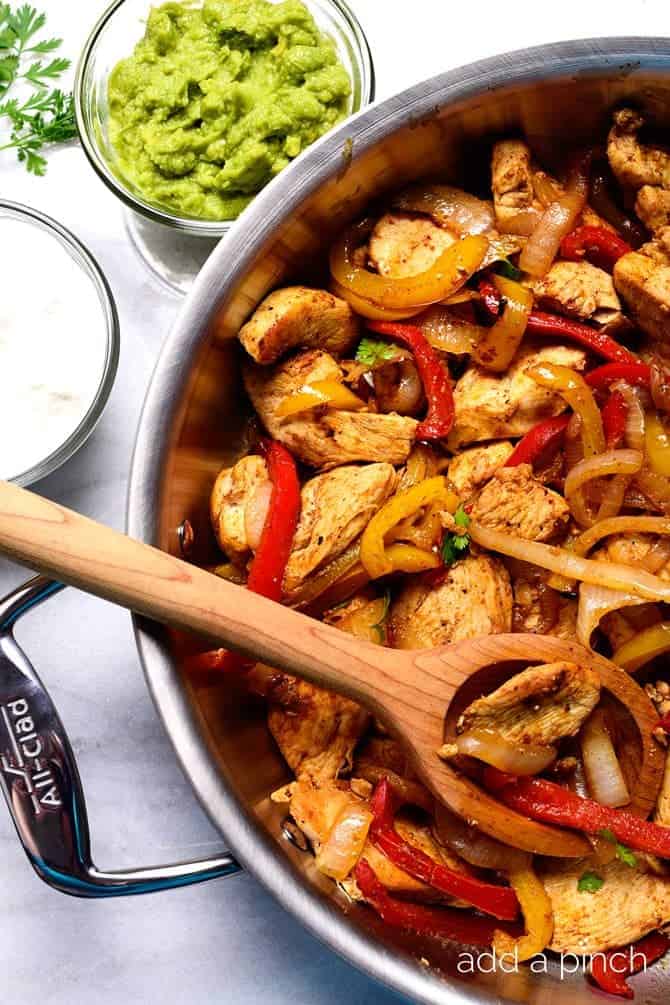 You guys know by this point that I am all about quick, simple, easy weeknight suppers. Right?
Hopefully, many of you like the same kinds of meals. You know, those kind of suppers where you rush into the kitchen late in the afternoons from work, ball practice or games, Scouts, or one of the other million activities it seems like your family is involved and you have about 30 minutes to have supper on the table and your family fed before it's time for them to dive into homework and other responsibilities before bedtime. Whew!
If any of that sounds the least bit familiar, then you might want to save this recipe for just those sorts of weeks!
While it comes together super quickly, I want to share with you how I like to prep the night before to make it go even smoother on the busiest of nights!
Ready?
I slice my chicken and vegetables the night before and place them into two separate zip top bags – one for the chicken and another for the vegetables. Then, I mix together the marinade for the meat in a jar with a screw top lid and pour 1/3 of the mixture over the chicken, 1/3 over the vegetables, and secure the lid tightly so that I can use it on the fajitas as they cook the next day.
Then, the next night, I simply heat my skillet and saute the vegetables, remove them to a plate and then cook them chicken in the same skillet. As the chicken is almost cooked through, I add the vegetables back to the skillet and add the remaining marinade to them. Then, I serve the chicken fajitas with tortillas, sour cream, avocado slices, and salsa.
Let me just tell you, my whole family loves this meal and it makes me feel like the most organized person in the universe when I put it on the table!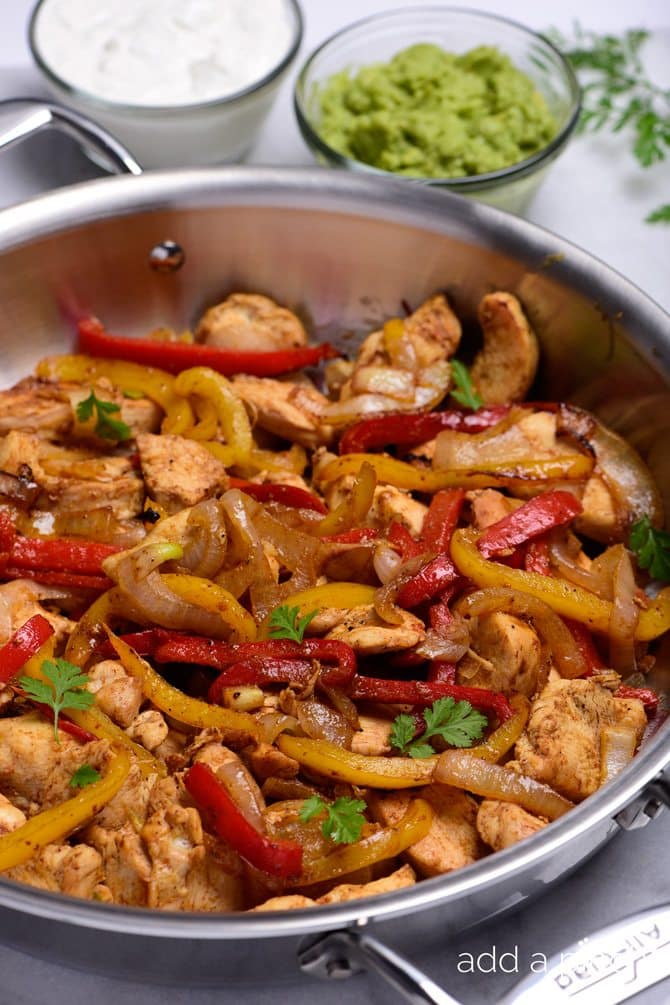 Here's my Chicken Fajitas recipe. Make them soon!

Chicken Fajita Recipe
This Chicken Fajita recipe makes a quick, delicious meal perfect for a busy weeknight supper or a fun weekend meal!
Author:
Robyn Stone | Add a Pinch
Ingredients
2 pounds skinless, boneless chicken breasts, sliced into thin strips
1 red pepper, deseeded and sliced into thin strips
1 green or yellow pepper, deseeded and sliced into thin strips
1 medium onion, peeled and sliced into thin strips
3 tablespoons olive oil
1 tablespoon lemon juice
½ teaspoon chili powder
1 teaspoon ground cumin
pinch cayenne pepper
½ teaspoon Kosher salt
½ teaspoon fresh black pepper
2 cloves garlic, minced
6-8 tortillas, warmed
Optional Garnish:
sour cream
sliced avocado or guacamole
salsa
Instructions
Place the chicken into a sealable bag. Place the peppers and onion into a separate sealable bag. Add the olive oil, lemon juice, chili powder, ground cumin, cayenne pepper, salt, pepper, and garlic to a jar with a screw top or tight fitting lid. Shake until well combined. Pour ⅓ over chicken, ⅓ over vegetables and reserve the remainder in the jar for using when cooking the chicken fajitas. Seal the bags tightly and refrigerate for one hour to overnight.
When ready to cook, heat a large skillet over medium-high heat. Pour vegetable bag into the skillet and cook until just tender crisp, about 5 minutes. Remove the vegetables from the skillet to a plate and add chicken strips to the same skillet. When the chicken is cooked throughout, add vegetables back to the skillet along with the reserved marinade.
Serve with tortilla and optional garnishes.
Enjoy!
Robyn xo

From the Add a Pinch recipe archives. Originally published 2015.