Guacamole Recipe – This simple guacamole comes together in less than 5 minutes and is full of fresh ingredients! Delicious dip and topping to so many dishes!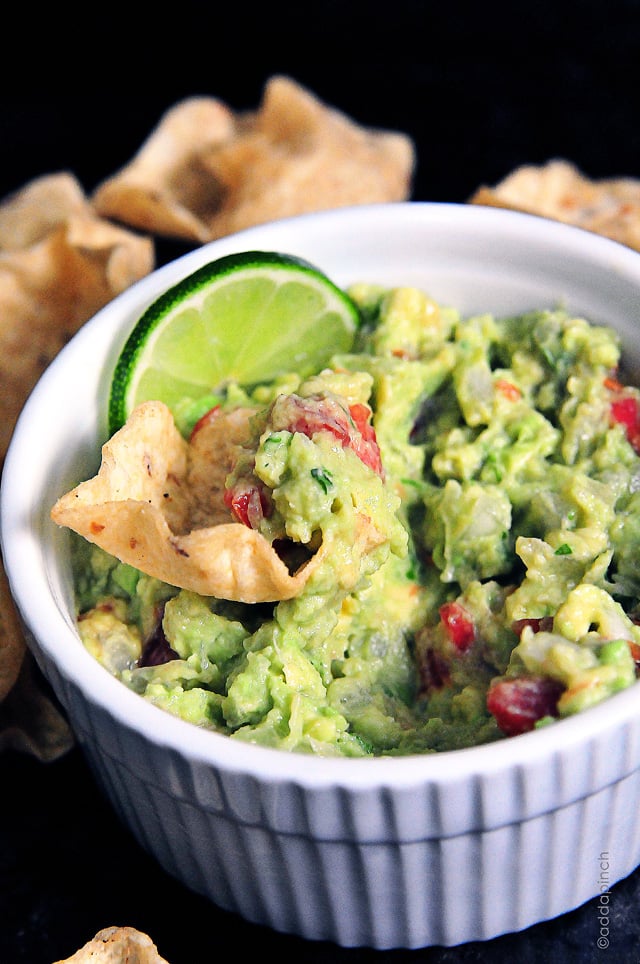 Guacamole is one of my favorite things in the entire world. I love it as a dip, atop grilled chicken, along with any number of recipes, or even as a topping on a simple salad. 
I love to go to restaurants where they make it fresh right at your table side. The entire area is immediately perfumed with the scent of all the fresh ingredients and you know exactly what is going into your guacamole! In just a few minutes, you are served a bowl of fresh, bright and delicious guacamole along with crispy chips or other items to dip into your guacamole.
But you know, guacamole is just as easy and delicious to make at home with this simple recipe!

Guacamole Recipe
You only need a few simple ingredients and in less than five minutes, you've created one of the best guacamole recipes I've ever tasted.
How to Pick the Best Avocado
One of the keys to great guacamole, is to pick the best avocados. When avocados were first becoming standard fare at our local grocery store, I asked the produce manager to help me select the very best ones during a shopping trip. Here's how he taught me to pick the best avocados, no matter the variety.
• Check the Navel – the navel of the avocado is where the avocado separates from the stem of the avocado plant. When the avocado is ripe, the covering of the navel will easily pop off of the avocado just by lifting it gently with your thumb. If you have resistance when trying to check the navel, then the avocado isn't ripe. Move along to another.
• Feel it – Place the avocado in the palm of your hand and then gently feel the avocado with the other hand. If the skin feels as if it has pulled away from the fruit of the avocado, then the avocado is most likely overripe. If the skin feels hard and doesn't have any give, then the avocado is most likely green or underripe. A ripe avocado will have a slight give to the fruit and then skin will feel supple.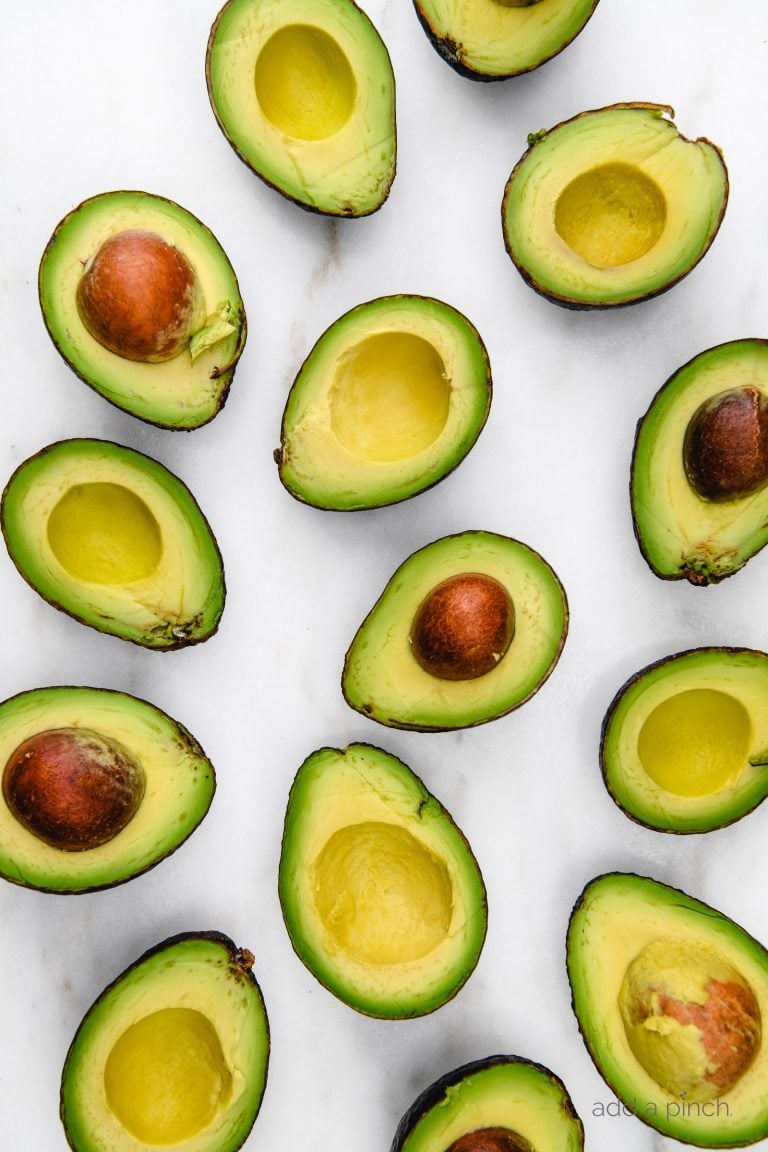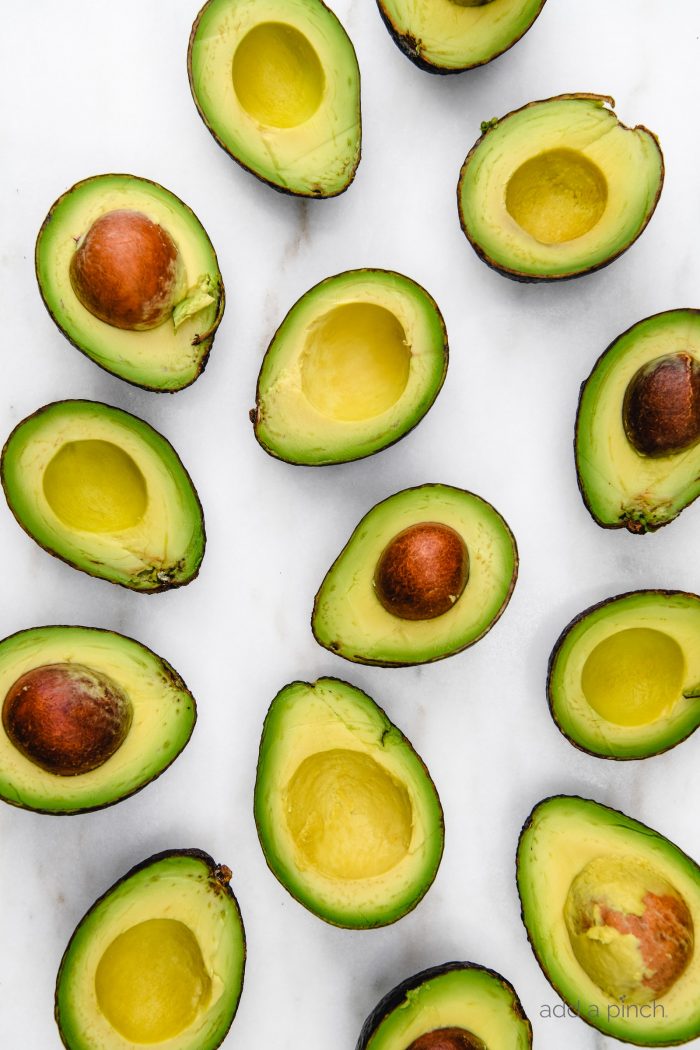 How to Make the Easiest Guacamole Recipe
To make the easiest guacamole recipe, you'll only need a few ingredients.
• Avocados – see my tutorial on How to Pick the Best Avocado above.
• Lime Juice – I love to use fresh lime juice to help the avocados keep their bright green coloring as well as to add a splash of acid to the recipe to brighten the flavors.
• Stone House Seasoning – Previously, I would include salt, fresh garlic and black pepper. Since I keep my Stone House Seasoning on hand, I've found that it is much easier to add in my guacamole. If you prefer to use fresh garlic, just substitute 1/2 teaspoon of salt, 1 clove of fresh garlic, minced, and 1/4 teaspoon of black pepper.
• Tomatoes – I like to use Roma tomatoes that have been deseeded and diced. The easiest way I've found to deseed them is to cut the tomatoes in half lengthwise and then use a spoon and scrape out the inside of the tomato.
• Onion – a finely diced small onion adds just the right amount of crunch to this creamy dip.
• Cilantro – chopped fresh cilantro adds so much flavor and freshness to guacamole.
• Cumin – I love to add a sprinkle of ground cumin. It is optional, but it deepens the flavor and makes it even more delicious!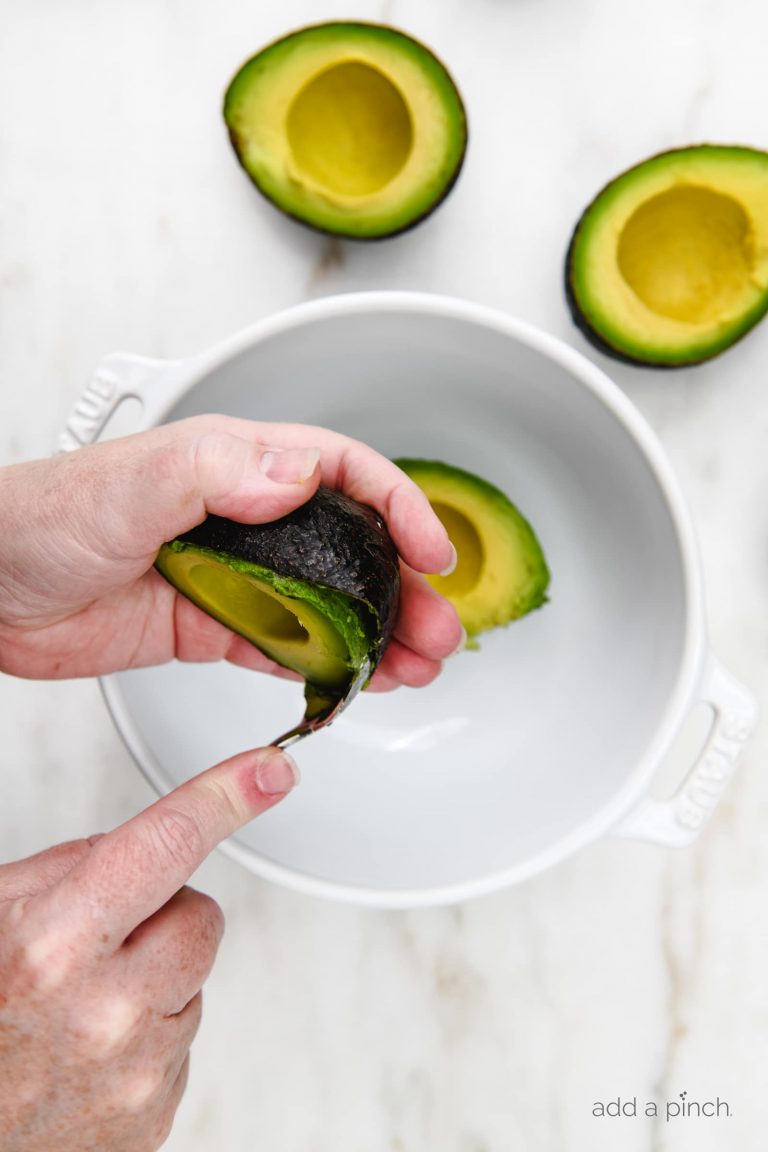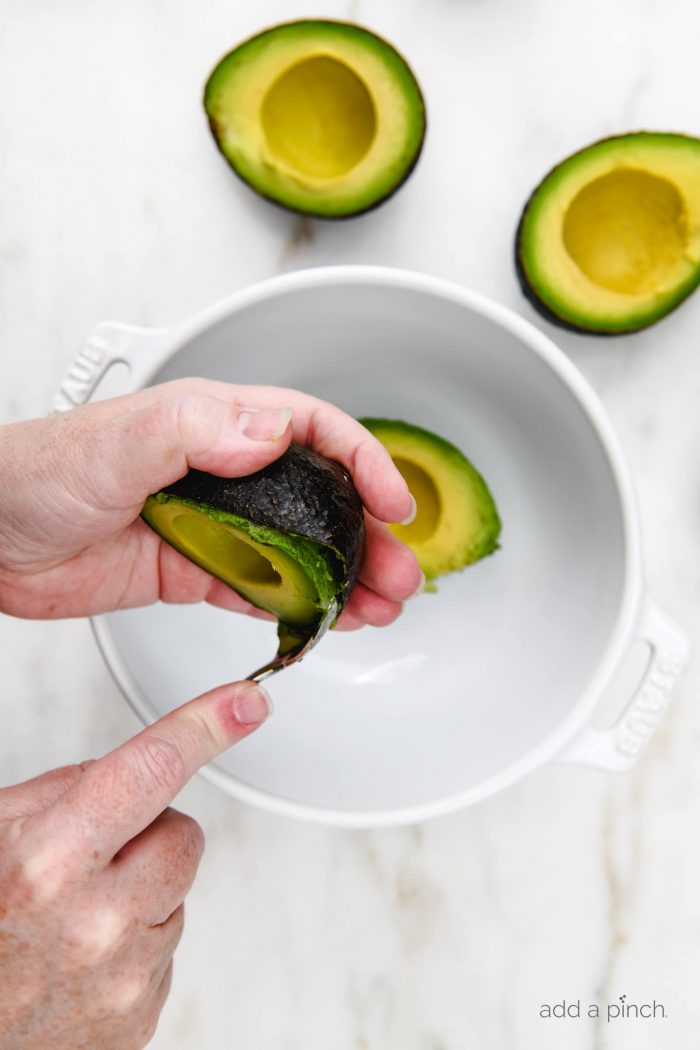 We all know that there is some big event or gathering coming up soon for many of us. It can even just be a weekend with friends coming over to watch a movie. With that comes the absolute need for great easy recipes you can make and share with family and friends no matter the season or event. Guac is just one of those appetizers that most people enjoy!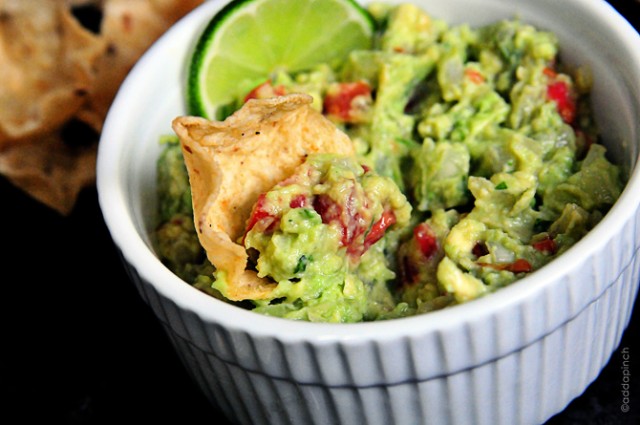 Additional Guacamole Options
With this simple recipe, you can then add so many other variations.
• Grilled corn sliced off of the cob and stirred into the guacamole adds a touch of sweetness.
• Diced Jalapeños or Serano chilis add heat to the dip and if you grill them, they add a whole new level to the flavor of this guacamole.
• Orange Juice adds a bit of sweetness to the dip.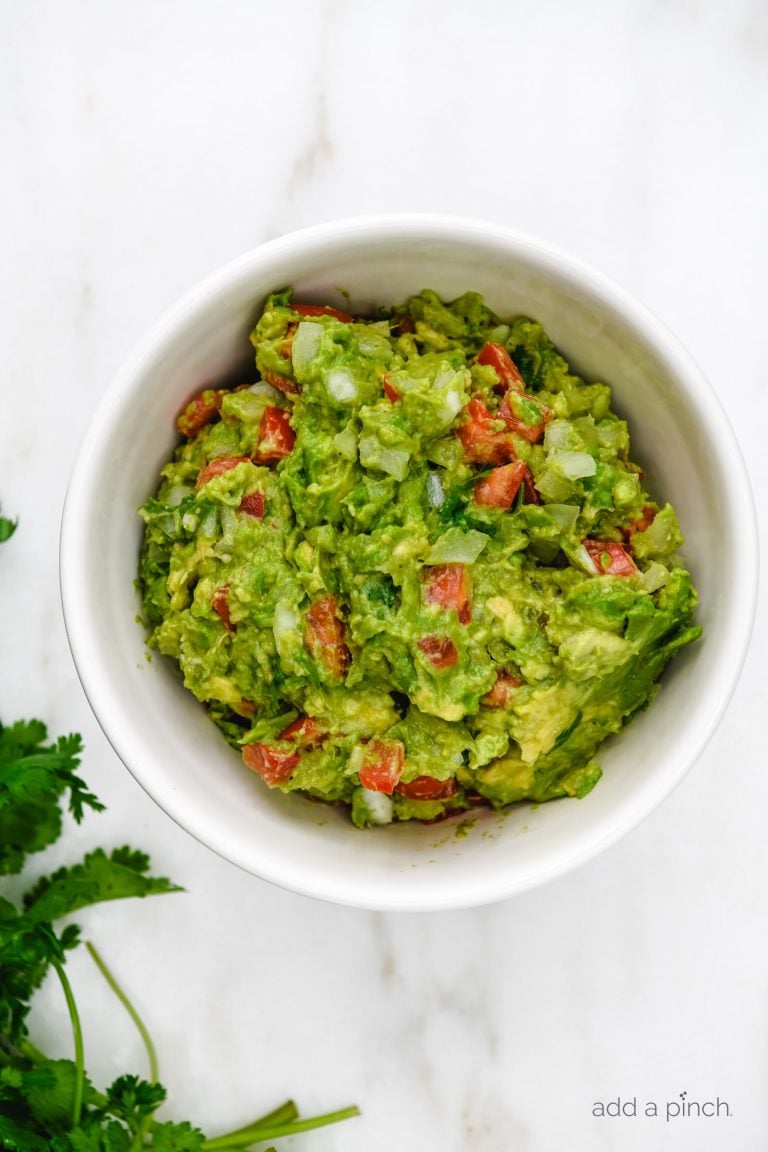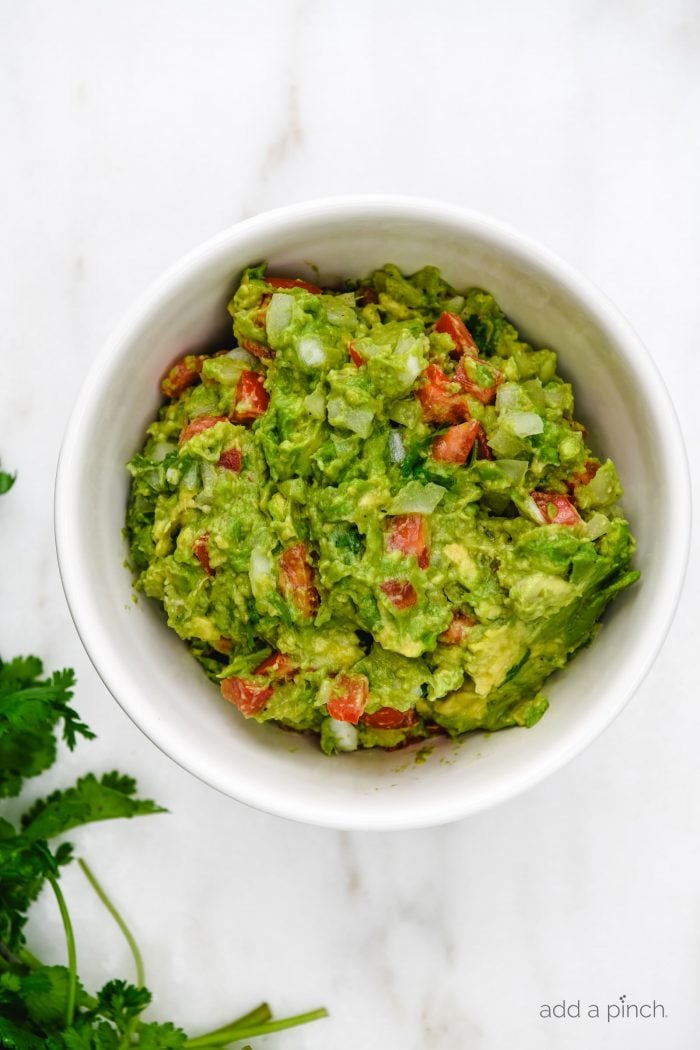 Another easy recipe I love to make in addition to my guacamole is my Restaurant Style Salsa. Add some tortilla chips and these two recipes to any gathering and you have some happy guests around the chip bowl!
Here's my Guacamole Recipe. I hope you give it a try and continue to enjoy it as much as my family and I do!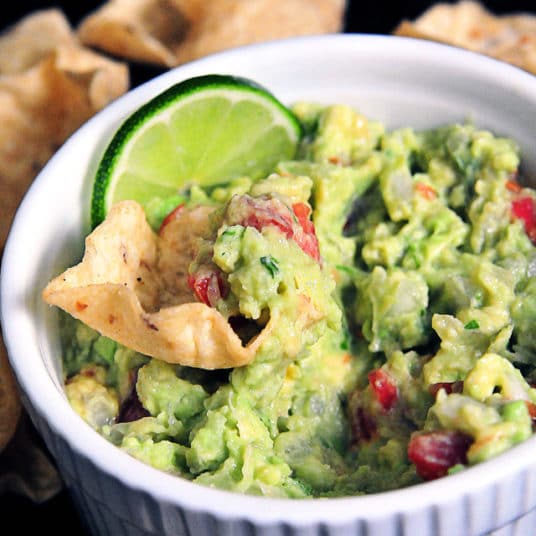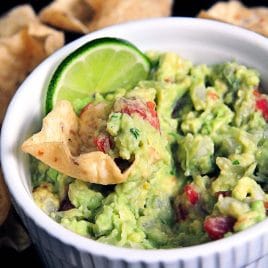 Guacamole Recipe
Guacamole makes a fresh, delicious dip as well as addition to so many dishes. This guacamole recipe is ready in less than 5 minutes!
Ingredients
2

avocados

halved, seeded, and peeled

1

tablespoon

fresh lime juice

1/2

teaspoon

sea salt

1

clove

garlic

minced

2

Roma tomatoes

seeded and diced

1

small onion

diced

1

tablespoon

chopped cilantro

pinch

ground cumin

optional
Instructions
Mash avocado with a fork or potato masher in a bowl until the consistency you prefer. Add lime juice and salt and mix well with fork. Stir in tomatoes, onion, and chopped cilantro. If using cumin, add at this point.

Pour into a serving bowl and serve.
Notes
To help keep guacamole fresh, return pit of the avocado to the prepared guacamole, cover with plastic wrap, making sure to press the plastic wrap onto the guacamole to keep as much air as possible away from the guacamole. Refrigerate until ready to serve.
Nutrition Information
Calories:
112
kcal
|
Carbohydrates:
7
g
|
Protein:
2
g
|
Fat:
10
g
|
Saturated Fat:
1
g
|
Sodium:
200
mg
|
Potassium:
374
mg
|
Fiber:
5
g
|
Sugar:
1
g
|
Vitamin A:
270
IU
|
Vitamin C:
10
mg
|
Calcium:
10
mg
|
Iron:
1
mg
Enjoy!
Robyn xo