Guacamole Recipe
Guacamole Recipe – This simple guacamole comes together in less than 5 minutes and is full of fresh ingredients! Delicious dip and topping to many foods!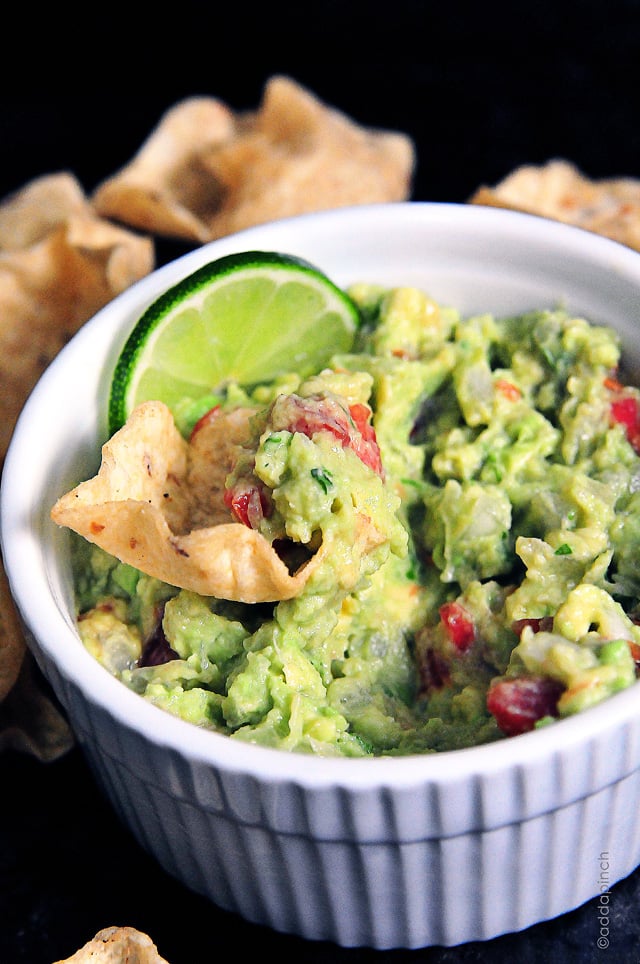 Guacamole is one of my favorite things in the entire world. I love it as a dip, atop grilled chicken, along with any number of recipes, or even as a topping on a simple salad. 
I love to go to restaurants where they make it fresh right at your table side. The entire area is immediately perfumed with the scent of all the fresh ingredients and you know exactly what is going into your guacamole! In just a few minutes, you are served a bowl of fresh, bright and delicious guacamole along with crispy chips or other items to dip into your guacamole.
But you know, guacamole is just as easy and delicious to make at home with this simple recipe!

You only need a few simple ingredients and in less than five minutes, you've created one of the best guacamole recipes I've ever tasted. And you didn't even have to change out of your yoga pants.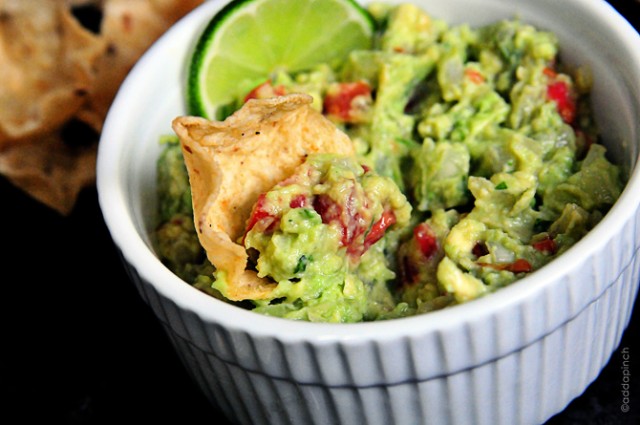 We all know that there is some big event or gathering coming up soon for many of us. It can even just be a weekend with friends coming over to watch a movie. With that comes the absolute need for great easy recipes you can make and share with family and friends no matter the season or event. Guac is just one of those appetizers that most people enjoy!
So do me a favor and go ahead and add this guacamole to your recipe list for entertaining.
You'll be so glad you did!
With this simple recipe, you can then add so many other variations. Grilled corn makes a great touch as does grilled jalapenos or Serano chilis. The addition of the fire-roasted ingredients adds a whole new level to the flavor of this guacamole. You can also add a touch of fresh orange juice for a remarkable flavor.
Another easy recipe I love to make in addition to my guacamole is my Restaurant Style Salsa. Add some tortilla chips and these two recipes to any gathering and you have some happy guests around the chip bowl!
Here's my Guacamole Recipe. I hope you give it a try and continue to enjoy it as much as my family and I do!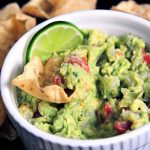 Print Recipe
Guacamole Recipe
Guacamole makes a fresh, delicious dip as well as addition to so many dishes. This guacamole recipe is ready in less than 5 minutes!
Prep Time5 mins
Total Time5 mins
Servings: 6
Ingredients
2 avocados halved, seeded, and peeled
1 tablespoon fresh lime juice
1/2 teaspoon sea salt
1 clove garlic minced
2 Roma tomatoes seeded and diced
1 small onion diced
1 tablespoon chopped cilantro
pinch ground cumin optional
Instructions
Mash avocado with a fork or potato masher in a bowl until the consistency you prefer. Add lime juice and salt and mix well with fork. Stir in tomatoes, onion, and chopped cilantro. If using cumin, add at this point.

Pour into a serving bowl and serve.
Notes
To help keep guacamole fresh, return pit of the avocado to the prepared guacamole, cover with plastic wrap, making sure to press the plastic wrap onto the guacamole to keep as much air as possible away from the guacamole. Refrigerate until ready to serve.
Enjoy!
Robyn xo