This Caprese Salad recipe is a classic salad made with just five ingredients – tomatoes, mozzarella, olive oil, basil, and balsamic glaze!
Fresh tomatoes and basil along with creamy mozzarella, drizzled with the extra virgin olive oil s one of my favorite salads or side dishes in the summer. But, I also love to add a sprinkle of salt and a bit of balsamic vinegar or my balsamic glaze to make it even more delicious! The flavor combination and presentation make this such a favorite dish!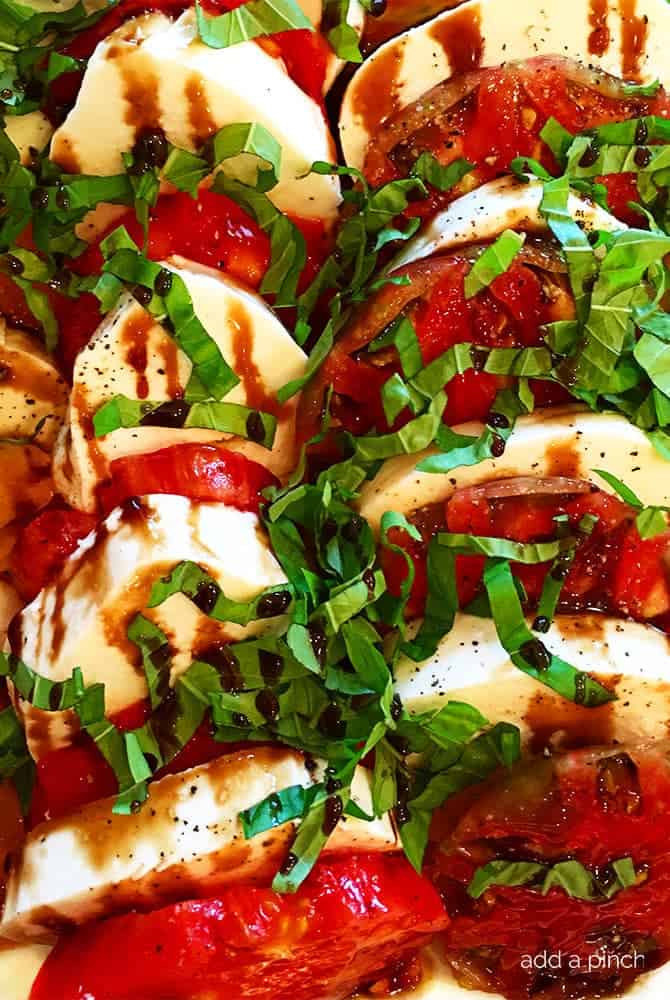 So, let's talk more about this Caprese salad.
Ingredients Needed to Make Caprese Salad
You'll only need a few ingredients to make this amazing salad.
Tomatoes
Tomatoes are the star of this show. The better the tomatoes, the better the salad! Choose the freshest, fully ripe tomatoes that you can and then slice into 1/2-inch slices.
What Type of Tomatoes is Best for Caprese salad?
The best tomatoes for a Caprese salad is really subjective – from Roma tomatoes, beefsteak tomatoes, cherry tomatoes, or grape tomatoes (like I use in my caprese salad skewers) and so many more. But, in my opinion, heirloom tomatoes that are grown locally, whether in your own garden or from a local CSA or farmer, have the most flavor.
How to Store Fresh Tomatoes
Tomatoes are best when they are stored at room temperature.
Mozzarella
I love to use a traditional mozzarella (Fior di latte) in my Caprese salad. The texture of this cheese holds up well to beefsteak tomatoes without becoming watery. Fior di latte mozzarella is traditionally made of fresh, whole cow's milk and has a lightly sweet taste. The texture is creamy, while still having a bit of chew.
If you are making with cherry tomatoes or grape tomatoes, you will want to look for mozzarella balls or to cut your mozzarella into chunks so that they are relatively close in size to the tomato used.
If I am serving with Roma tomatoes, I enjoy using Burrata cheese from time to time. Burrata cheese is part of the mozzarella cheese family. It is a "pouch" of mozzarella cheese filled with shreds of mozzarella cheese and fresh cream. It has a looser texture than the traditional mozzarella mentioned above and a richer flavor.
Tip! How to Slice Fresh Mozzarella
Traditional Mozzarella slices easiest when firm and straight from the refrigerator. Use the sharpest knife possible or even dental floss for cutting your mozzarella into beautiful slices. Once sliced, your mozzarella is perfect for layering.
Basil
I prefer to use fresh basil straight from my herb garden in my Caprese Salad. It just tastes so fresh!
How to Store Fresh Basil
If you do use basil from the farmer's market or even from the produce stand at the grocer, make sure that you store your basil stems at room temperature in fresh water so that they stay as fresh as possible. Do not refrigerate your basil.
How to Chiffonade Fresh Basil
For thin ribbons of basil, you neatly stack the basil leaves together and roll the stack of leaves from one end to the other to form a tight cylinder. Then, using a sharp knife, slice the basil into thin ribbons.
Olive Oil
A drizzle of olive oil adds to the flavor of the salad. I prefer to use an organic extra-virgin olive oil.
Balsamic Vinegar or Balsamic Glaze
Added to the traditional four ingredients for Caprese salad is balsamic vinegar or balsamic glaze.
Balsamic Vinegar
Balsamic vinegar is a dark, slightly sweet vinegar that is used in many sauces, dressings, and marinades. It adds acidity to the Caprese salad which helps to round out the flavors. Just a few drops are all that is needed if you use balsamic vinegar.
Balsamic Glaze
I love to reduce balsamic vinegar down to make a homemade balsamic glaze to use on a variety of dishes, including this Caprese salad. It only takes minutes to make and is so delicious, but you can use a favorite store-bought balsamic glaze if you wish. It adds a bit of sweet and tangy flavor to each bite of Caprese salad and enhances the presentation, as well as the deliciousness, of the dish.
How to Make Caprese Salad
Assemble. To start assembling the salad, simply place a slice of tomato onto a platter. Then add a slice of mozzarella, then repeat with another tomato, and so on, repeating until complete.
Top with Basil. Next, chiffonade the basil by rolling it tightly and cutting it into ribbons, then add to the top of tomatoes and mozzarella assembled.
Season. Then drizzle the salad with olive oil. Finally, drizzle with Balsamic Glaze.
Serve. Serve the Caprese Salad immediately for the freshest, most scrumptious flavor. .
Other Favorite Caprese Recipes
Topping On Bart's Best Hamburgers
Caprese Grilled Cheese Sandwich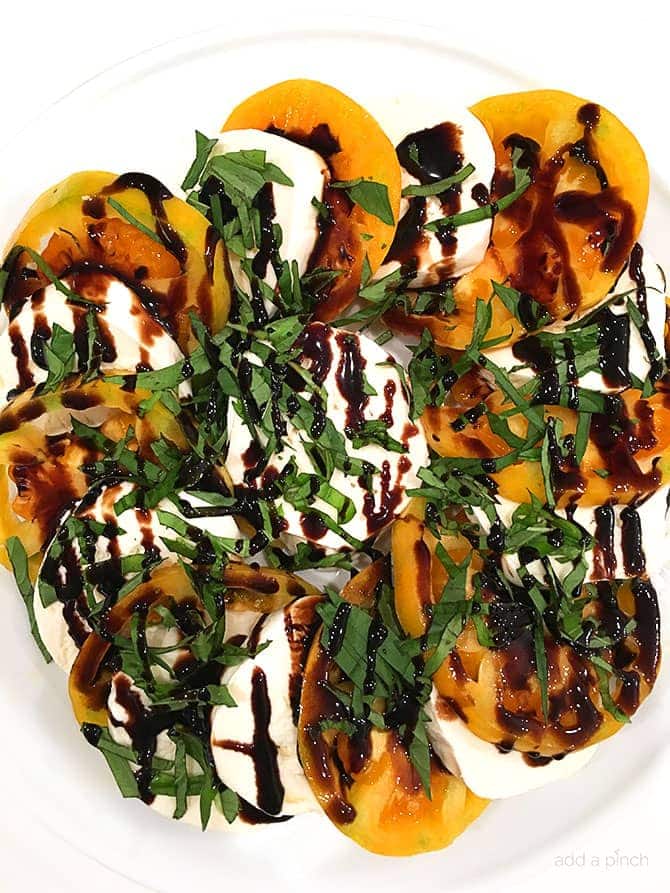 Here's how you make Caprese salad. It's a classic that just works with so many meals or just right by itself on a hot summer day!
Caprese Salad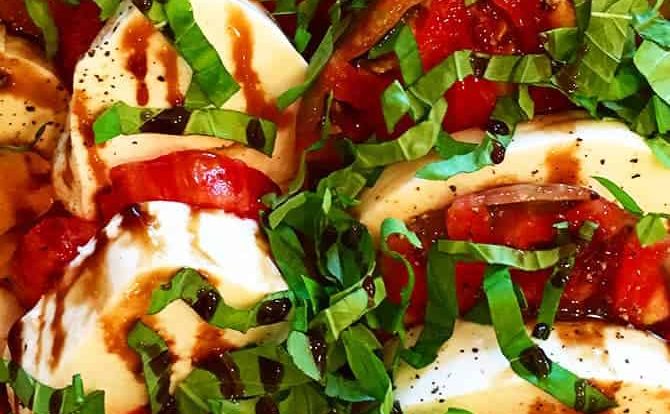 This Caprese Salad recipe is a classic salad made with just five ingredients – tomatoes, mozzarella, olive oil, basil, and balsamic glaze!
Ingredients
2

large

tomatoes

washed and sliced into 1/4-inch slices

12

ounces

Mozzarella cheese

sliced into 1/4-inch slices

1/2

cup

basil leaves

washed, rolled and sliced into thin strips

1

tablespoon

olive oil

1

tablespoon

balsamic glaze

1/2

teaspoon

kosher salt

optional

1/2

teaspoon

freshly ground black pepper

optional
Instructions
Assemble caprese salad by alternating tomato and mozzarella slices on a medium platter. Top the slices with strips of basil and drizzle with olive oil. Drizzle with balsamic glaze.

Serve immediately.
Nutritional Information
Calories:
203
kcal
|
Carbohydrates:
4
g
|
Protein:
13
g
|
Fat:
15
g
|
Saturated Fat:
8
g
|
Polyunsaturated Fat:
1
g
|
Monounsaturated Fat:
5
g
|
Cholesterol:
45
mg
|
Sodium:
552
mg
|
Potassium:
148
mg
|
Fiber:
1
g
|
Sugar:
2
g
|
Vitamin A:
831
IU
|
Vitamin C:
6
mg
|
Calcium:
295
mg
|
Iron:
1
mg
If you love caprese salad as much as I do, you might want to try my caprese salad skewers that are perfect bite-sized appetizers when entertaining or for special occasions.
Enjoy!
Robyn xo

From the Add a Pinch recipe archives. Originally published in 2010.