Simple Caprese Salad Skewers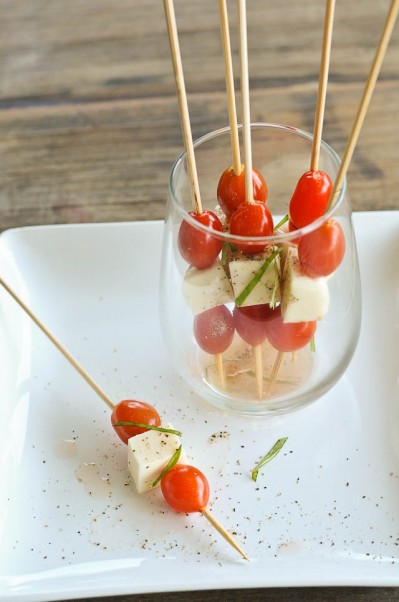 I simple can not believe that I'm starting to pull together my menu and recipes for Labor Day weekend – the unofficial end of summer. Where in the world did the time go? It feels like just yesterday I was listing all of the fun things I wanted to do over the summer. While many of them have yet to be checked off, I will say that this has been a wonderful summer.
We've spent most of it here around the farm just enjoying the break, which has been nice.
We also spent a bit of it in the garden until we took our week long trip to Idaho and came back to an absolute overgrown mess and a constant battle to keep my tomatoes from falling over at the slightest breeze. I'll admit it, I was lazy and didn't dig in there with a bushhog to get rid of all the weeds. I just took what I could from my spring labor and let the deer, squirrels, and turkeys enjoy the rest.
While my large garden went to the animals, my back porch garden still grows beautifully. Basil, strawberry plants, cherry tomatoes, and lots and lots of mint. The hot humid air makes brings out the smell of the plants even more than usual and greets me when I walk outside to clip a sprig of herb or a tomato or two for supper.
One quick appetizer that I've been hopelessly in love with all summer long since sharing about it earlier here, are these simple caprese skewers. They are a must for my Labor Day menu and can easily be made ahead.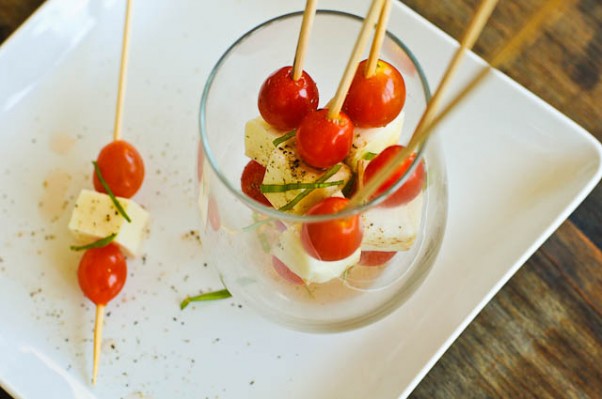 Here's how I make them.

Simple Caprese Salad Skewers
Caprese Salad Skewers make a delicious appetizer to serve when entertaining. Fresh and easy, these caprese salad skewers will become a go-to favorite!
Author: Robyn Stone | Add a Pinch
Serves: 12
Ingredients
1 pint grape tomatoes
1 package mozzarella cheese, cubed
1 bunch basil
2 tablespoons red wine vinegar
salt and pepper
Instructions
Place 1 grape tomato on end of skewer followed by cube of mozzarella cheese and another tomato.
Repeat until all skewers have been assembled. Place on serving tray.
Thinly slice basil leaves and sprinkle over skewers of tomato and cheese.
Sprinkle with red wine vinegar, salt and pepper.
To make ahead : assemble skewers earlier in the day before your party and keep them in your refrigerator in a zip top bag until just before serving. Then place them on the serving tray and add the basil, vinegar and salt and pepper.
What are you planning for Labor Day? I'd love to know.