Southern Pimento Cheese
My grandmother made her pimento cheese the old fashioned way. She had a dedicated meat grinder she used to grind her cheese. It was a process definitely worth watching as a little girl. And it resulted in the most delicious pimento cheese I've ever tasted.
Not having my grandmother's meat grinder, I quickly shred cheese and add it to a few other ingredients to make the quickest, simplest, delicious pimento cheese. And, it includes my grandmother's other secret ingredient (cream cheese).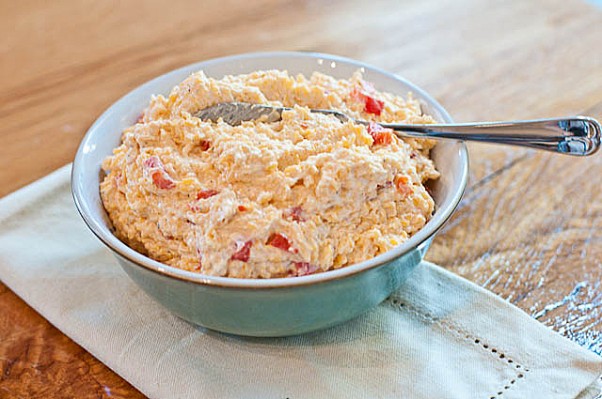 Here's how I make it.

Southern Pimento Cheese
A quick recipe for southern pimento cheese
Author: Robyn Stone | Add a Pinch
Serves: 12
Ingredients
8-ounce package cream cheese
8 ounces sharp cheddar cheese, shredded
8 ounces mild cheddar cheese, shredded
¼ cup pimentos
pinch of salt and pepper
2-3 tablespoons mayonnaise (optional)
Instructions
Cream together cheeses.
Stir in pimentos and salt and pepper.
If you prefer your pimento cheese to be a bit thinner for spreading, add in optional mayonnaise to preference.
Makes the perfect dip with pretzels or crackers or for sandwiches. Be ready to make more, pimento cheese is gobbled up in a hurry.
Enjoy!