These Buttermilk Biscuits are soft, flaky, layers of the most fluffy delicious biscuits ever! Loved for generations, this heirloom southern biscuit recipe only takes three ingredients is simple to make!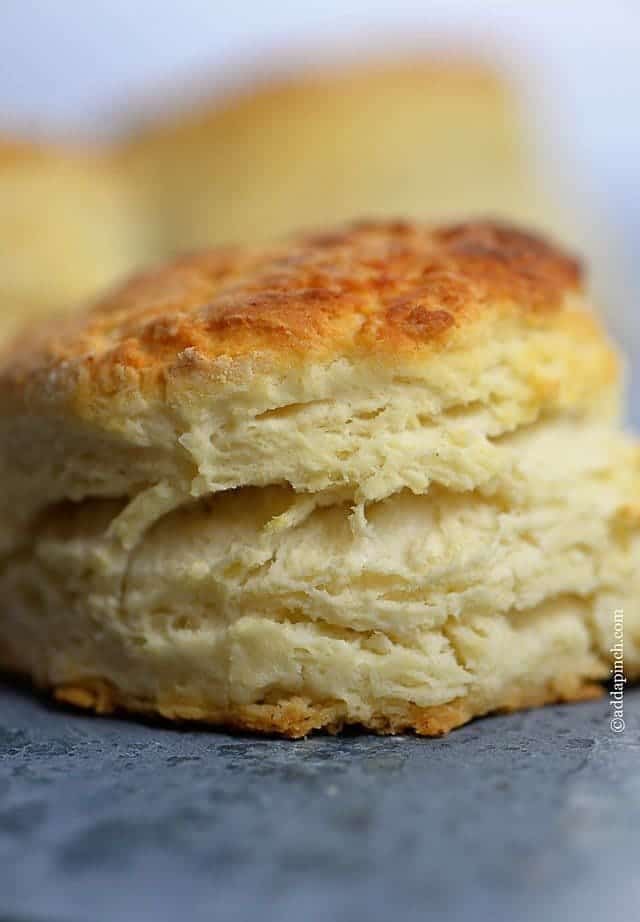 Hot, fluffy big buttermilk biscuits fresh from the oven. Sometimes, there's absolutely nothing better! And believe it or not, these could not be any easier to make. Three ingredients, my time-tested biscuit making tips and a little tender loving care…that's really all it takes to make these iconic southern favorite biscuits. I think it is one of those essential biscuit recipes that most cooks will enjoy having in their recipe collection. And people won't believe you at first when you to tell them how easy they are to make.
Buttermilk Biscuits
These are the biscuits that I watched my Mama and Grandmother make thousands of times growing up and have made hundreds more times myself. Making these are second nature to me after making them for so many years and the process is super simple, and honestly very relaxing. So I hope some of my tips can help you in your own biscuit-making journey!
Now, while I'm going on and on about how easy they are to make, the ingredients are what really make the magic happen. You will not get the same results if you change the ingredients, in my opinion. So, let's talk about these simple, yet magical ingredients for just a sec.
The Three Ingredient Buttermilk Biscuit:
Flour (Self-Rising)
Shortening
Buttermilk
The Flour I Use for My Buttermilk Biscuits
For my biscuits, I prefer to use White Lily® flour. Made of soft winter wheat, this flour is a fine, silky flour that yields a very soft and tender biscuit. I also like it for my homemade pie crust and other baked goods. My grandmother swore by this brand of flour for her baking. I'll admit I've tried other brands for my biscuits and baking. I always get best results with this one. You can use any favorite self-rising flour (or make your own self rising flour). This is just my opinion from baking hundreds, if not thousands of baked goods.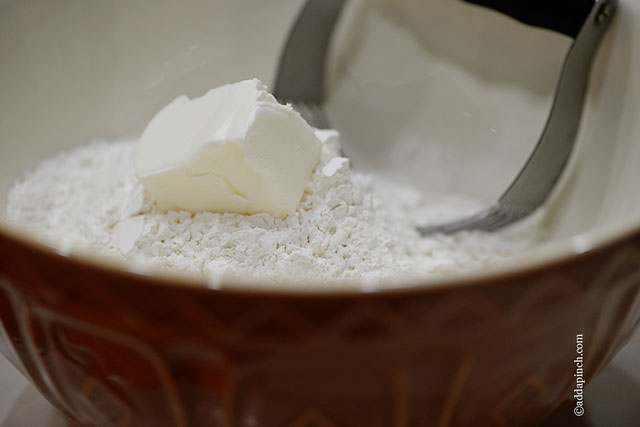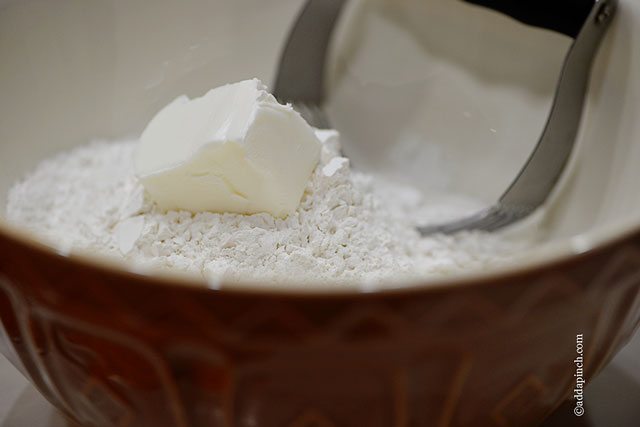 2. Use Shortening
The second ingredient for this magical three ingredient buttermilk biscuit recipe is shortening. Vegetable shortening to be specific.
Shortening lends moisture and flakiness to these buttermilk biscuits that other ingredients just doesn't provide. While I love butter as much as the next girl, you just won't get the same results in these biscuits by replacing the shortening with butter.
You'll cut your shortening into your flour using a pastry blender, two forks or even two knives until the flour and shortening mixture looks like it is coarse meal.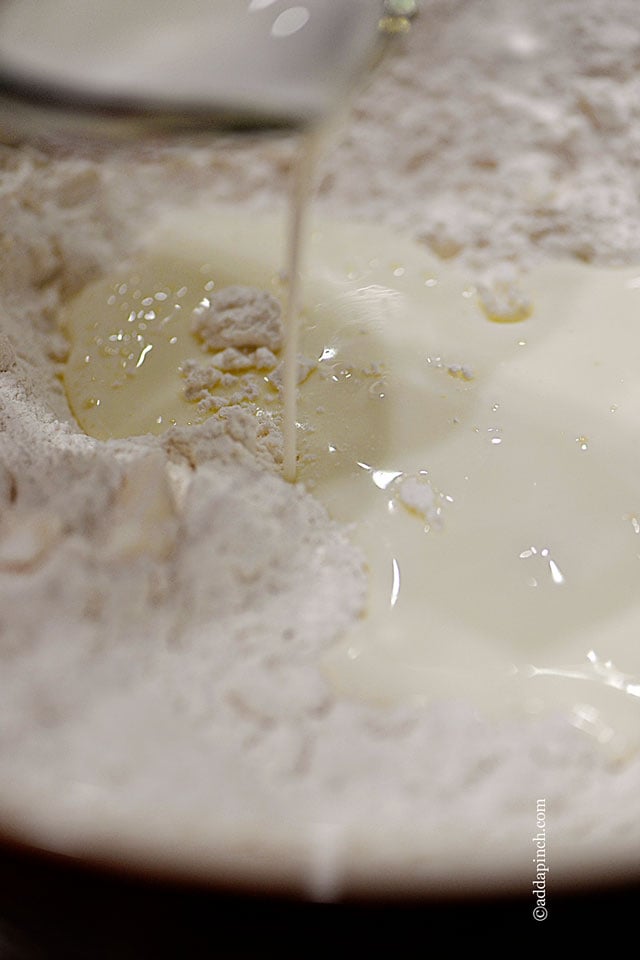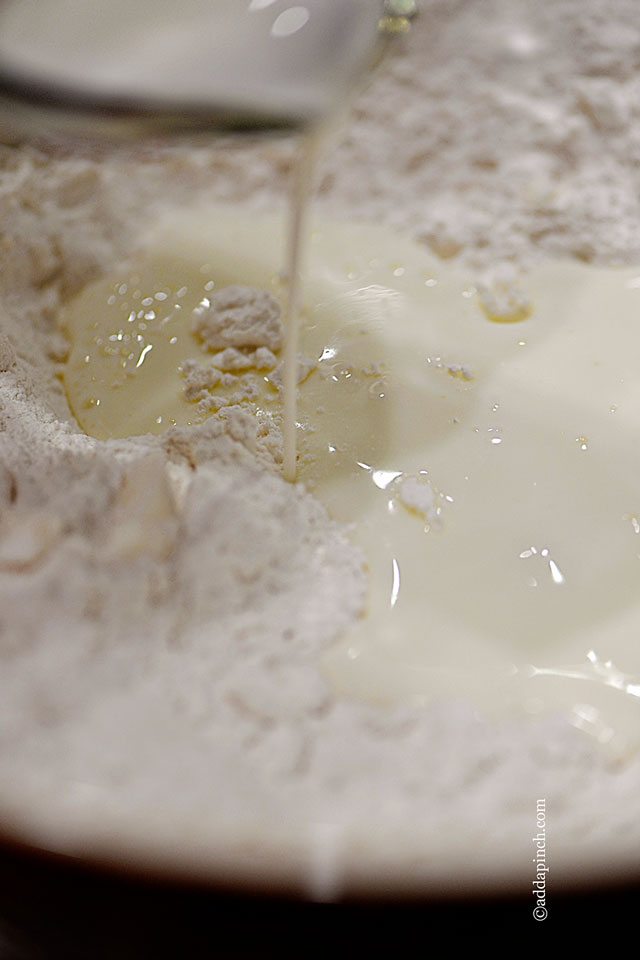 3. Buttermilk
This is the reason these biscuits have the name they do, after all. My Grandmother always taught me to take special care to stir the buttermilk into the flour mixture very gently when making biscuits. Otherwise, if you over-mix your biscuit dough, the result will be tough, dry biscuits and not fluffy, light, and delicious biscuits that we all love.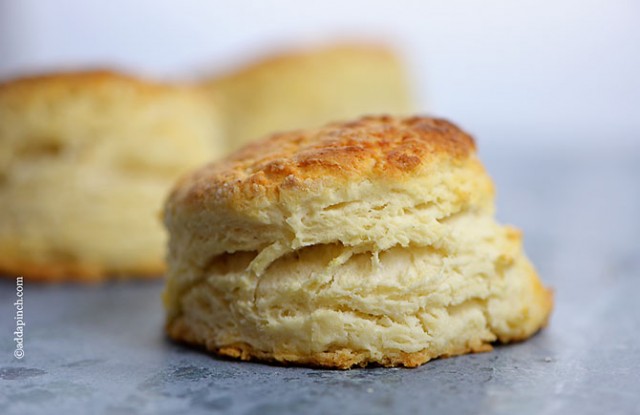 I then pop my biscuits into a super hot oven, which allows them to quickly rise and turn a beautiful golden brown in just a few minutes.
Tips for How to Make the Best Buttermilk Biscuits:
Don't over-mix. I know I said that earlier, but this it deserves mentioning again. Mixing too much can make the biscuit dough tough and and not rise to those beautiful, light biscuits we all love!
Roll and fold. Roll out the dough and fold into layers. Gently mold the edges and slightly flatten into a rectangle.
Sharp and straight. Use a sharp-edge biscuit cutter and cut straight down. Don't twist. Avoid using a cutter with a rounded edge like a glass – it can crimp the dough closed and prevent a good rise.
Touch. If biscuits touch, they rise a bit higher.
Space. If biscuits are spaced a bit apart – they show defined, visible layers.
My best advice, is just get in there and make them! They are so easy to make and are going to be delicious if you follow these simple tips and the recipe. But a little practice will result in getting biscuits with all those beautiful layers. Regardless, these are some of the most delicious biscuits you've ever tasted!
Just take a look at all these flaky, golden layers!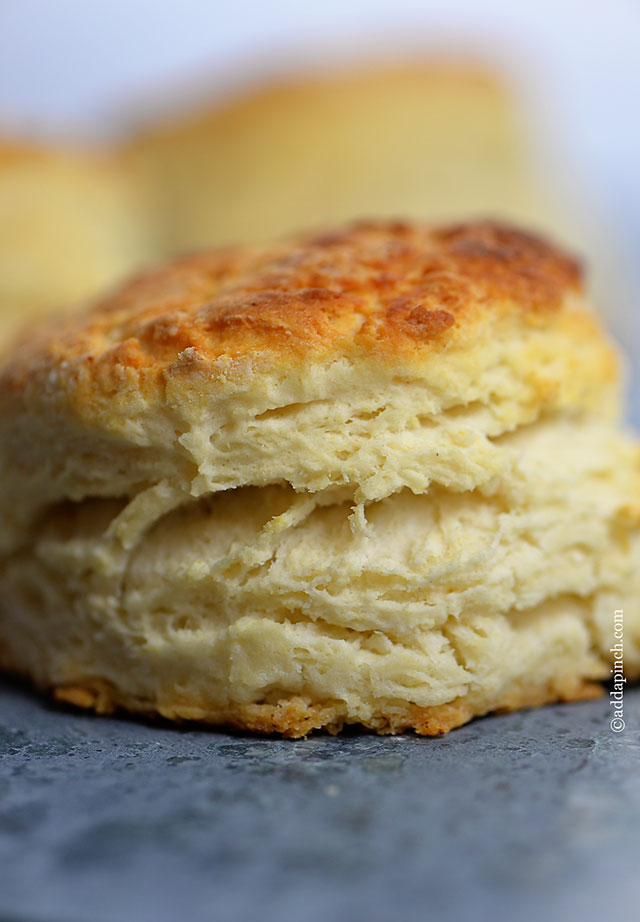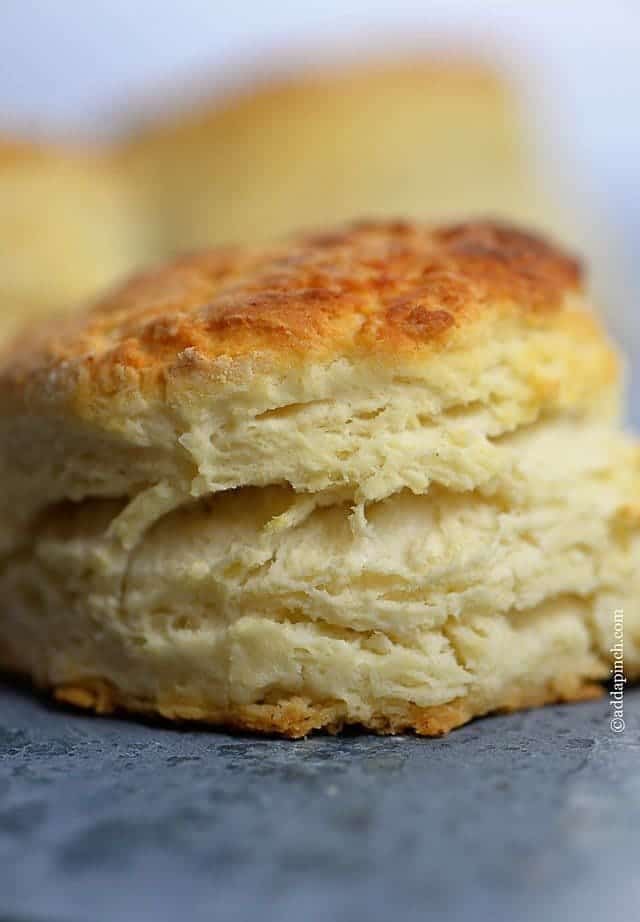 Here's the Three Ingredient Buttermilk Biscuit recipe that is definitely one of those essential recipes I turn to time and again.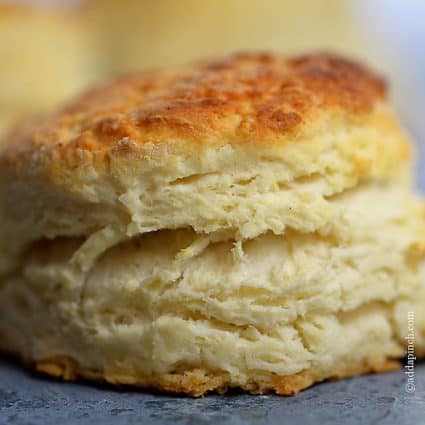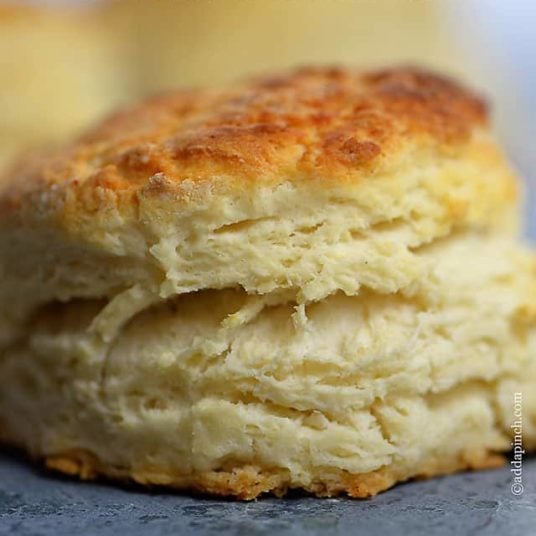 Three Ingredient Buttermilk Biscuit Recipe
Buttermilk Biscuits are an heirloom recipe and this three ingredient buttermilk biscuit recipe is a must-have recipe for any cook.
Ingredients
2

cups

self-rising flour + more for flouring board and cutter

1/4

cup

shortening

3/4

cup

buttermik
Instructions
Preheat oven to 475º F. Lightly coat rimmed baking sheet or cast iron skillet with vegetable shortening. Set aside.

Add flour to a large mixing bowl. Cut in shortening with a pastry blender, two forks, or knives until well-combined. Slowly pour in buttermilk and stir gently until just combined. Do not overmix.

Pour biscuit dough onto a floured pastry cloth, paper towels, or dough board. Gently pat or roll to about 1/2-inch thick. Cut out biscuits using about a 2-inch biscuit cutter. Place biscuits into skillet or on baking sheet pan, leaving about an inch between biscuits to allow them to rise and cook fully. Place in preheated oven and bake about 10-12 minutes. Remove from oven and serve.
Nutrition
Serving:
2
biscuits
|
Calories:
245
kcal
|
Carbohydrates:
32
g
|
Protein:
6
g
|
Fat:
10
g
|
Saturated Fat:
3
g
|
Polyunsaturated Fat:
3
g
|
Monounsaturated Fat:
4
g
|
Trans Fat:
1
g
|
Cholesterol:
3
mg
|
Sodium:
33
mg
|
Potassium:
82
mg
|
Fiber:
1
g
|
Sugar:
2
g
|
Vitamin A:
50
IU
|
Calcium:
41
mg
|
Iron:
1
mg
Nutrition information is automatically calculated, so should only be used as an approximation.
Enjoy!
Robyn xo