Muscadine Jelly
I grew up eating homemade muscadine jelly on hot buttered biscuits in the mornings or even as the J in my peanut butter and jelly sandwiches. Muscadine jelly definitely is delicious. It tastes similar to grape jelly, but with a bit more tartness.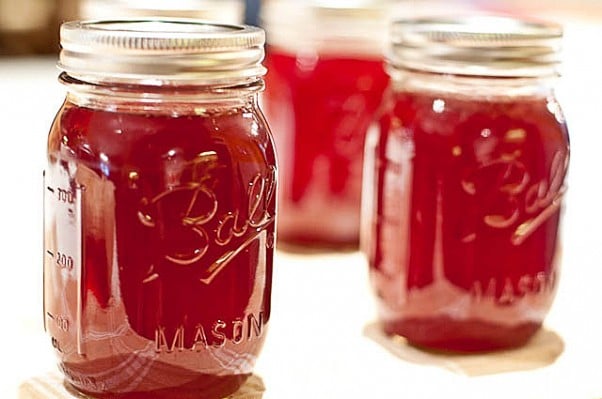 You may want to read about my love of muscadines. Then you'll understand why I'm so picky about my recipe for making jelly.
No wasting these babies.
I really think it may be considered a sin in the south if you don't use your muscadines.
Well, at least it is in my family.
I bet someone would stage an intervention.
But no need. I'm on it. I love them too much to let them waste away.
So here's how we make our muscadine jelly.
Pick through your muscadines and make sure you remove any stems or blemished fruit. Wash them well and then place into a large stockpot. You'll need about 5 pounds of muscadines to produce about 5 cups of juice. Don't make double batches, it just never turns out right.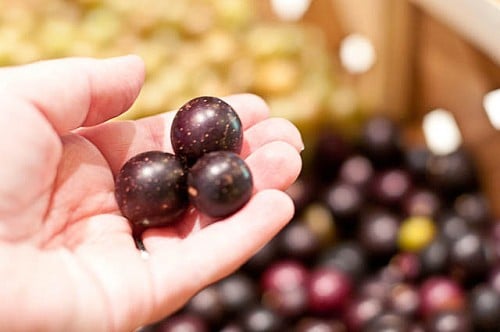 Cover the muscadines with water and place on cooktop.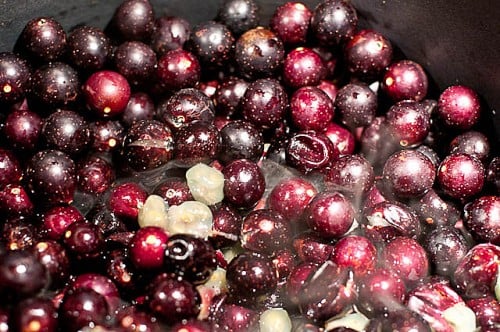 Cover the muscadines with water and place on cooktop.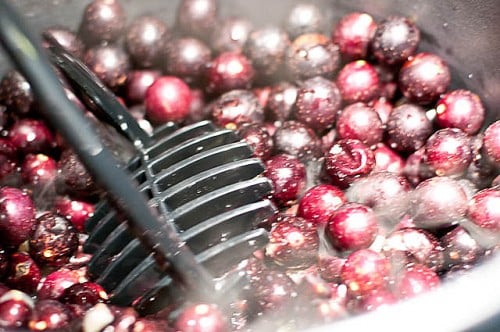 While muscadines are beginning to simmer, mash them with a potato masher. Continue to mash and mash and mash as they cook for about 15 minutes.
This is where you can really work out any frustrations you might have had during the day.
It's like free therapy.
And there is nothing wrong with a little free therapy every now and then.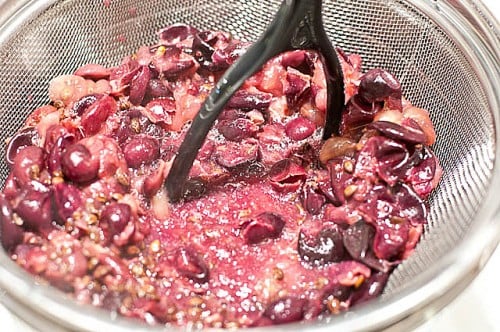 Pour the cooked muscadines through a strainer into another large stockpot. You get to mash it a little bit more to make sure you get all of that yummy juice that you can.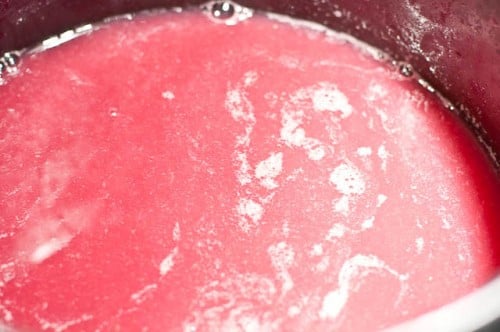 Bring muscadine juice to a rolling boil,  for 5 minutes, then reduce to simmer.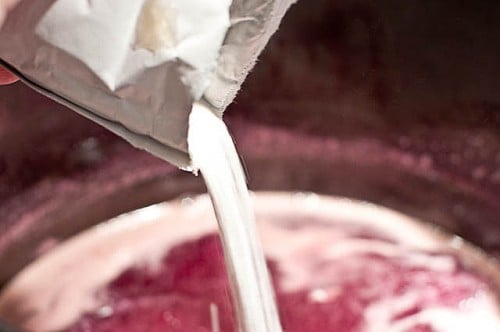 Add pectin to the juice and stir until well-dissolved.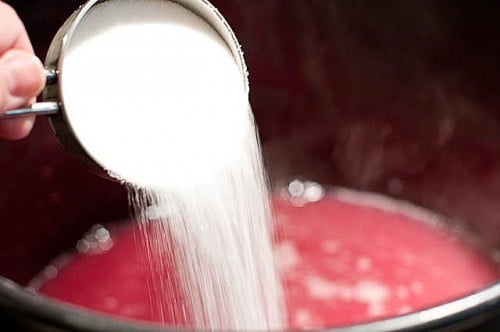 Add sugar when juice reaches a boil. Allow to reach a hard boil, about 220 F, for about 1 minute, stirring to prevent burning. Test to be sure your juice has "jellied" per the pectin packaging directions. If it has not "jellied" add a bit more pectin, stirring constantly to prevent lumping. Normally, I keep another box of pectin on hand just in case I need to add a bit more.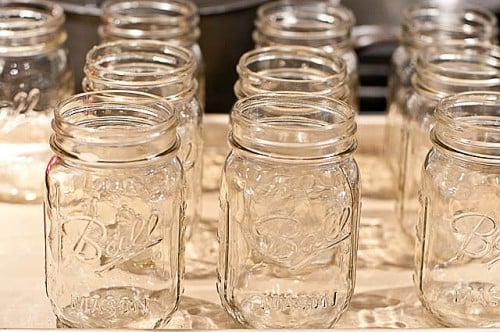 While you are cooking the juice, go ahead sterilize your jars in another pan of water. This takes about 10 minutes.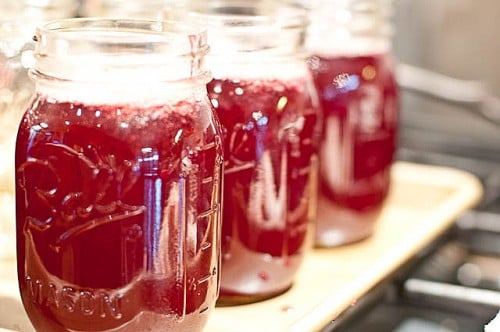 And now skim the film off of the top of your jars.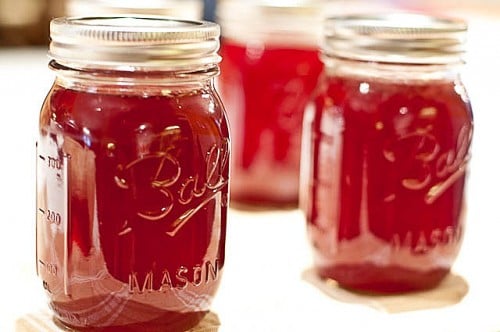 Screw the lid on the jar and place back into a pan of water that covers the top of the jars. Bring to a boil for 15 minutes. Remove from water, dry it off and get ready to enjoy  with some warm buttermilk biscuits in the morning.
You'll need the following when making your jelly.
12 8 ounce jars with lids and rings or 6 pint jars with lids and rings
1 strainer
2 large stockpots
1 potato masher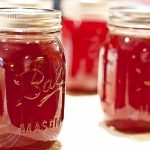 Print Recipe
Muscadine Jelly
A recipe for the Southern classic muscadine jelly.
Prep Time10 mins
Cook Time1 hr
Total Time1 hr 10 mins
Servings: 12 eight ounce jars or 6 pint jars
Calories: 0
Ingredients
5 cups fresh muscadines juice about 5 pounds of muscadines
6 cups sugar
1 1.75 ounce package of pectin or 8 tablespoons if using bulk pectin + 1 spare box, to use if needed
Instructions
Wash muscadines, place in a stockpot and add just enough water to cover the muscadines.

Place over medium heat and bring to a full boil. (As muscadines begin to heat, start mashing them with a potato masher.)

Reduce heat to simmer and cook for 15 minutes, continuing to mash muscadines.

Remove from heat and pour mixture through a strainer into a large stockpot.

Place stockpot over medium heat and bring to a full rolling boil that does not stop bubbling when stirred, about 5 minutes. Reduce to simmer.

When mixture is at simmer level, add pectin to the juice and stir until well dissolved. Bring to full rolling boil and boil for 1 minute.

Add sugar, stirring until dissolved. Bring to a full rolling boil and boil for 1 minute, stirring constantly.

Test to determine if juice has "jellied" according to pectin packaging instructions. If not, add more pectin from spare box, as directed on instructions.

Pour jelly into hot sterilized jars. Skim foam off top of jelly. Screw the lids on jars and place into a prepared water bath canner with enough simmering water to cover 1 to 2 inches above jars. Add boiling water to canner if needed to cover jars.

Bring to a boil and boil for 5 to 15 minutes according to pectin package instructions for your altitude.

Remove from water. Place on towel, leaving about an inch between jars. Do not move the jars for at least 24 hours. Check that each jar has sealed before storing.

Store in pantry, unopened, for up to 1 year. Once opened, store in refrigerator for up to 3 weeks.
Notes
I don't recommend doubling this recipe. The juice will not jell or set as it should.
Muscadine jelly is a definite favorite for my family with biscuits and with pork. I hope you enjoy it!
Enjoy!