Perfect French Toast Recipe
This French toast recipe makes a delicious breakfast or brunch. Make this simple, yet perfect French toast recipe that everyone will love.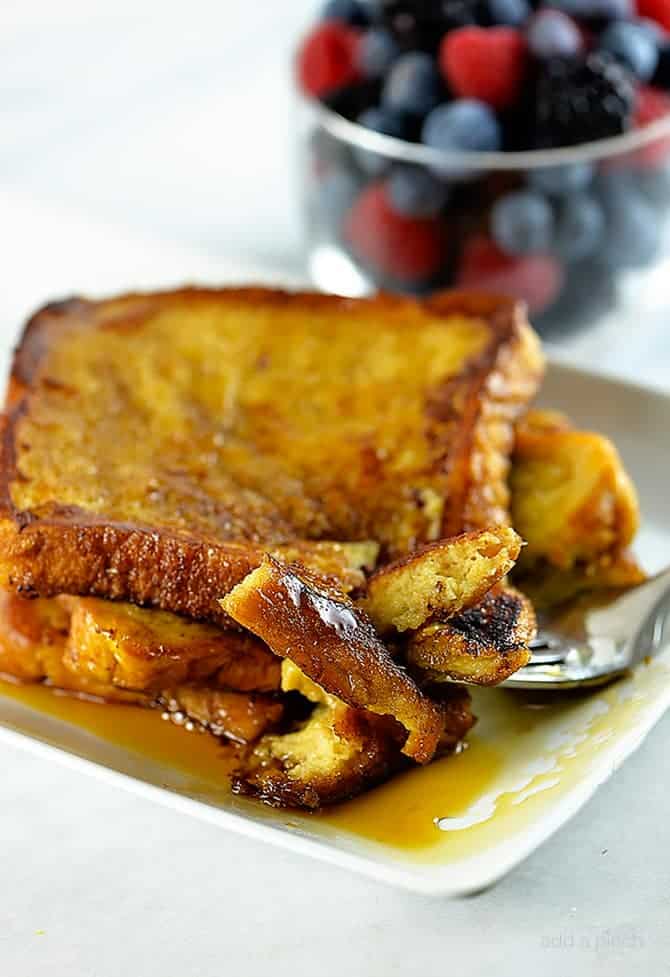 French toast is one of those recipes that I absolutely love. I love to make huge platters of it when we have guests for the weekend or Little Buddy has friends who spent the night. But really, my favorite thing to do is to make this perfect French toast recipe for just the three of us anytime I feel like.
Especially on a lazy weekend morning when I want to make somethingI know everyone will love. French toast just has such a way of starting the morning off like you are giving everyone as much love for their day as possible. Paired with a bowl of fresh fruit, a few slices of bacon, and drizzle of maple syrup, and this will be a meal that will fill their spirits as much as their bodies.
If I know we have a ton of schoolwork or testing in our schedule, this French toast recipe always brightens up the morning. Again, I like to include a bowl of fruit and slices of bacon to round out the meal.
Perfect French Toast Recipe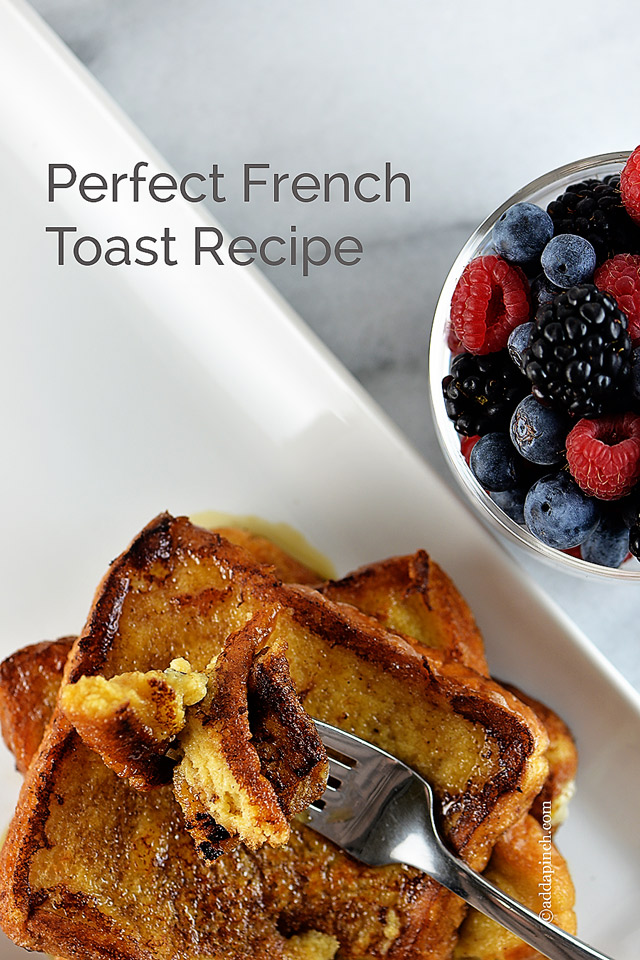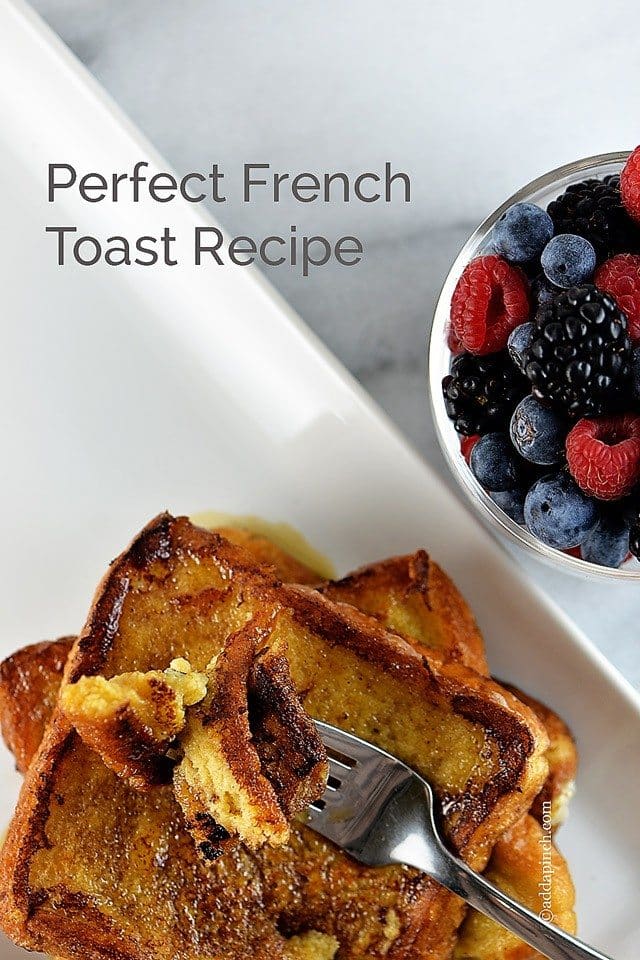 But I have a little secret, even though I love French toast made with challah bread or thick slices of Sally Lunn bread, it is absolutely delicious and so easy with slices of our favorite sandwich bread. Since we always have it on hand, it makes making French toast a whole lot easier than worrying about having to bake bread first or remembering to pick it up at the bakery.
I have another little tip, too. I do love French toast that has been made with heavy cream, but it is just fine made with whatever milk I have the refrigerator, too. For instance, I've used whole milk, skim milk, coconut milk, almond milk, and yes, even buttermilk a time or two. You know what? The flavor might change a tiny bit, but it always turns out perfect.
I also have tested the recipe using various sweeteners with great success. It is delicious using maple syrup, honey, and coconut sugar as well as granulated sugar.
To save on dishes and cleanup, I whisk together the eggs, milk of choice, sweetener, vanilla, and cinnamon right into shallow dish that I'll use to dip my bread in. Once I have it whisked together well, I place my bread slice in on one side and then quickly flip it over to the other side since some sandwich breads will absorb the liquid super quickly. Once both sides of the bread are coated with the liquid, I place them into the skillet with melted butter set over medium heat. They only take a few minutes to cook, about 2 to 3 minutes on each side.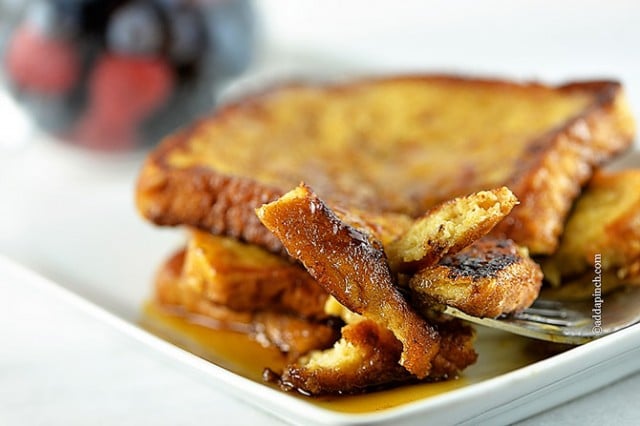 It takes the pressure off of me from thinking that I have to have exact ingredients in my house to be able to make a favorite breakfast or brunch. Because, let's face it, sometimes I wake up and just know that French toast would be a great way to welcome the morning. With just a few basic ingredients that I always have on hand, I know I can whip up perfect French toast that my family will love.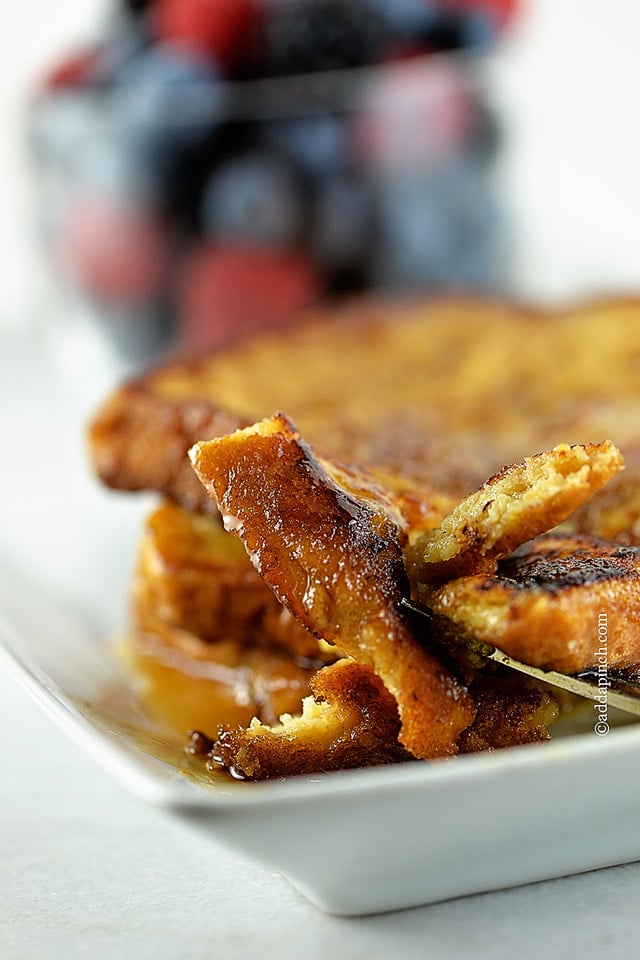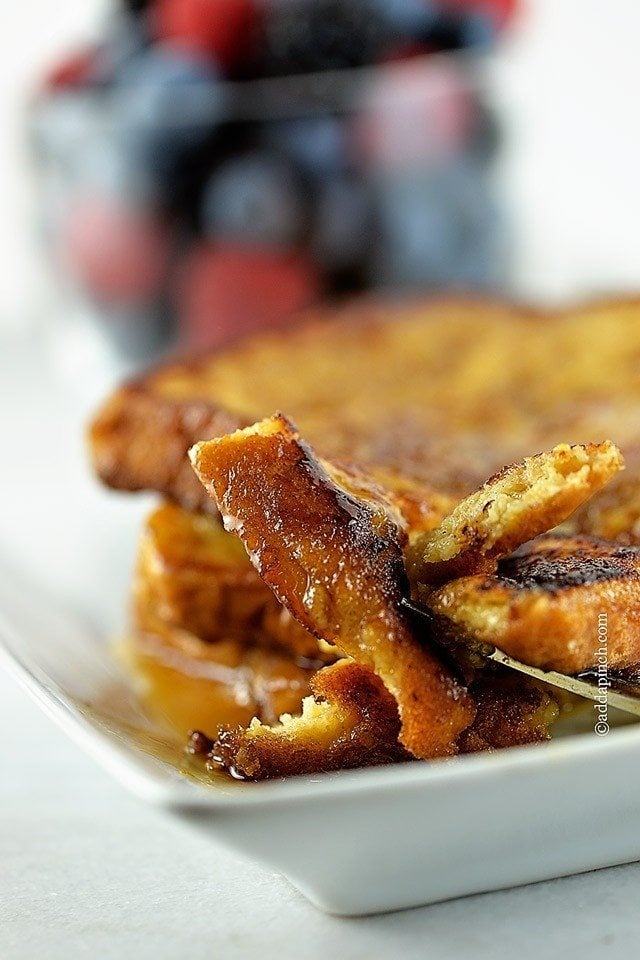 Here's my Perfect French Toast Recipe. I think you'll love it.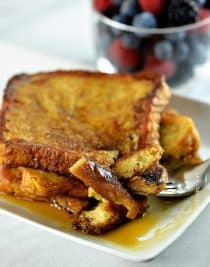 Yield:
4
Course Breakfast
Cuisine American, French
Keyword best french toast, easy french toast, french toast, perfect french toast
Perfect French Toast Recipe
Total Time 10 minutes
Prep Time 5 minutes
Cook Time 5 minutes
This French toast recipe makes a delicious breakfast or brunch. Make this simple, yet perfect French toast recipe that everyone will love.
Ingredients
2 large eggs
1 cup milk, half and half, coconut milk, or almond milk
pinch salt
1 tablespoon granulated sugar, honey or maple syrup
1 teaspoon vanilla extract
1 teaspoon ground cinnamon
8 slices sandwich bread
butter
Directions
Whisk together eggs, milk, salt, sugar, vanilla, and cinnamon in a flat-bottomed pie plate or baking dish. Place bread slices, one or two at a time, into the egg mixture and flip to make sure both sides of bread are well-coated.

Melt butter in a large skillet or on a griddle. Place bread slices in skillet or on griddle and cook on medium heat until golden brown on each side, about 2-3 minutes.

Serve immediately or keep warm in oven until ready to serve, but no longer than about 30 minutes.
Notes
You are simply dipping your bread slices into the egg mixture. If you leave your bread in the mixture for an extended amount of time, it will absorb more liquid and take longer to cook through.
Nutrition Facts
Perfect French Toast Recipe
Amount Per Serving
Calories 225 Calories from Fat 45
% Daily Value*
Total Fat 5g 8%
Saturated Fat 2g 10%
Cholesterol 99mg 33%
Sodium 307mg 13%
Potassium 172mg 5%
Total Carbohydrates 32g 11%
Dietary Fiber 1g 4%
Sugars 10g
Protein 9g 18%
Vitamin A 4.7%
Calcium 21.8%
Iron 12.4%
* Percent Daily Values are based on a 2000 calorie diet.
All images and text © Robyn Stone for Add a Pinch
Enjoy!
Robyn xo


From the Add a Pinch recipe archives, originally published 2014.