This classic French Toast recipe is so delicious, easy to make and perfect for breakfast or brunch! Enjoy the BEST French toast in minutes with this recipe and helpful tips!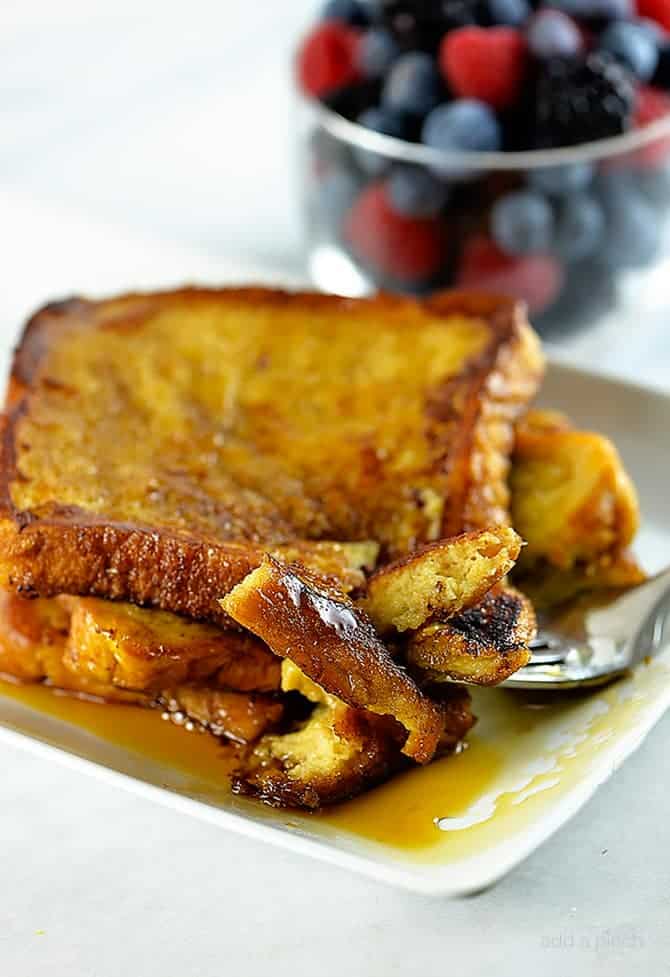 This classic French Toast is a recipe that I absolutely love to make – especially on a lazy weekend morning. There's just something special about this rich and delicious French Toast drizzled with warm maple syrup! And I've been making it for so long that I've perfected the steps so that it is so easy. Whether I'm making it for a crowd of weekend guests or for just the three of us, I can have it on the table in minutes!
French toast just has such a way of starting the morning off in the best way. Paired with a bowl of fresh fruit, a few slices of bacon, and drizzle of maple syrup, and this will be a meal that will fill their spirits as much as their bodies.
Classic French Toast
I've been making this classic French Toast recipe for as long as I can remember. I love that it makes the best French Toast with just a few ingredients that you can customize to your tastes! There are a few basic ingredients that you'll need.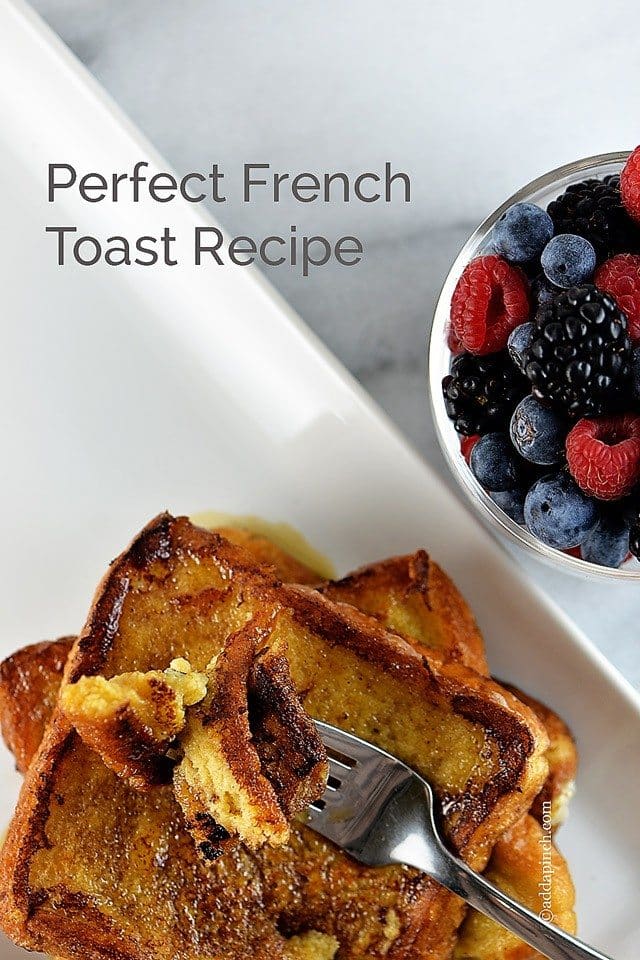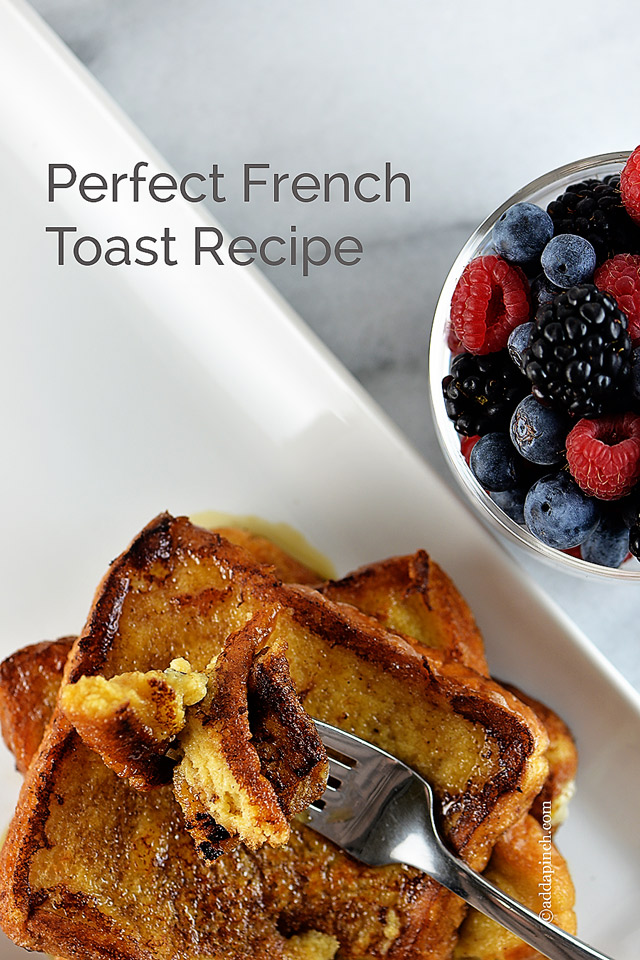 What are the Ingredients for French Toast?
Bread – I provide a few options for our favorite bread to use below.
Eggs – you will need large eggs for this recipe
Milk – you can use your favorite milk or milk alternative in this recipe if you want to make your French toast without milk.
Salt – add a pinch of salt to balance the flavors and sweetness
Sweetener – you definitely have options for the sweetener to use based on your personal preferences.
Flavorings – I love to include vanilla extract and ground cinnamon for a classic French toast flavor. You can omit the cinnamon, if you prefer or add more for a more pronounced cinnamon French Toast.
Butter – melted on the griddle for cooking and then add a pat for serving, if desired.
Maple syrup – real maple syrup is required in our family for the perfect French toast! You can also use a fruit syrup like my blackberry syrup if you prefer.
What is the Best Bread for French Toast?
I have a little secret, even though I love French toast made with challah bread or thick slices of Sally Lunn bread, it is absolutely delicious and so easy with slices of our favorite sandwich bread. Use whatever you have on hand!
Challah bread
Sourdough bread
Sally Lunn bread
Texas Toast
French Bread
Brioche
Sandwich bread
What Milk to Use for French Toast
I have another little tip, too. I do love French toast that has been made with heavy cream, but it is just fine made with whatever milk I have the refrigerator, too.
Heavy Cream
Half and Half
Whole Milk
Skim Milk
You can also use dairy-free milk alternatives for making this French toast recipe. I love to use different ones depending on who I am serving. For instance, one family friend isn't able to have dairy or almonds, so I use oat milk for theirs. They always love it! The flavor may change slightly depending on the milk option that you use.
What Sweeteners to Use for French Toast
I have tested this recipe using various sweeteners with great success. It is delicious using maple syrup, honey, and coconut sugar as well as confectioner's and granulated sugar. The flavor profile will change slightly based on the sweetener that you use. For example, using maple syrup will give a hint of maple flavor to the recipe (which is delicious when served with maple syrup!)
Maple Syrup
Honey
Coconut Sugar
Granulated Sugar
Confectioner's Sugar
How to Make Easy French Toast Recipe
Whisk. To save on dishes and cleanup, I whisk together the eggs, milk of choice, sweetener, vanilla, and cinnamon right into shallow dish that I'll use to dip my bread in.
Dip. Once I have whisked the egg mixture together well, I place my bread slice in on one side and then quickly flip it over to the other side since some sandwich breads will absorb the liquid super quickly. You'll want to be sure that you are dipping your bread and not leaving for any time to soak so that the bread does not absorb too much liquid. Make sure to follow this so that your bread does not get too wet. This will prevent your French toast from becoming soggy.
Cook. Once both sides of the bread are coated with the liquid, I place them into the skillet with melted butter set over medium heat. They only take a few minutes to cook, about 2 to 3 minutes on each side.
Serve. Serve immediately with your syrup of choice. I also love to serve with fruit like blueberries and strawberries.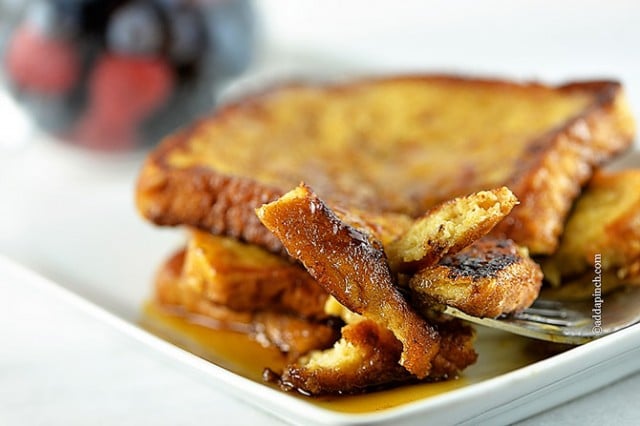 Like I've mentioned, my recipe can be made with simple ingredients that most of you will have on hand. I love that it's this easy! It takes the pressure off of me from thinking that I have to have exact ingredients in my house to be able to make a family favorite breakfast or brunch. Because, let's face it, sometimes I wake up and just know that this delicious breakfast recipe would be a great way to welcome the morning.
With just a few basic ingredients that I always have on hand, I know I can whip up this delicious recipe that my family will love!
Make-Ahead French Toast
You can absolutely make this recipe ahead of time.
Up to 30 Minutes: Prepare the cooked French toast and place in a single layer onto a baking sheet and hold in a 250º F oven for up to 30 minutes.
Up to 24 Hours: Prepare the French toast batter and place into an airtight container in the refrigerator up to 24 hours. When ready to cook, stir the batter to combine well and then proceed with the recipe as written.
Up to 3 Months: See the freezer instructions to follow.
How to Freeze French Toast
Arrange in a single layer on a baking sheet and place into the freezer until firmly frozen, about 30 minutes. Store the slices in a freezer-safe zip top or other airtight container for up to 3 months.
To serve from frozen, you can use either of the following methods to reheat French Toast.
Oven Method. Place in a single layer on a baking sheet and cover with foil. Bake in 350º F oven for 10 minutes until hot.
Toaster Method. Reheat in a toaster oven until heated throughout.
Cinnamon French Toast Recipe
While this recipe already includes cinnamon, to make this recipe as a Cinnamon French Toast, you'll simply increase the amount of cinnamon in the recipe to 1 ½ – 2 teaspoons ground cinnamon.
More Breakfast and Brunch Favorites:
There are many scrumptious breakfast and brunch recipes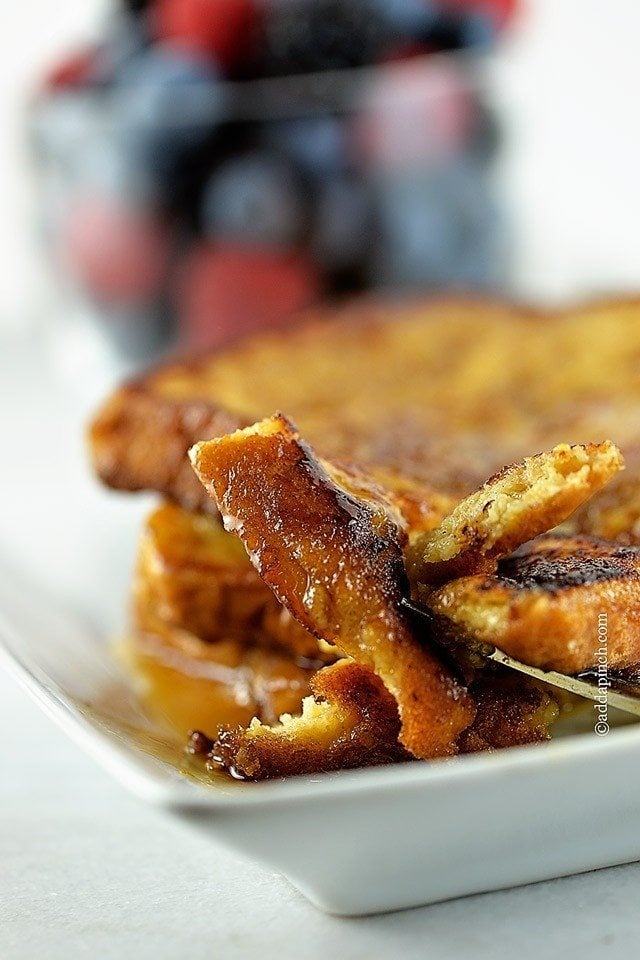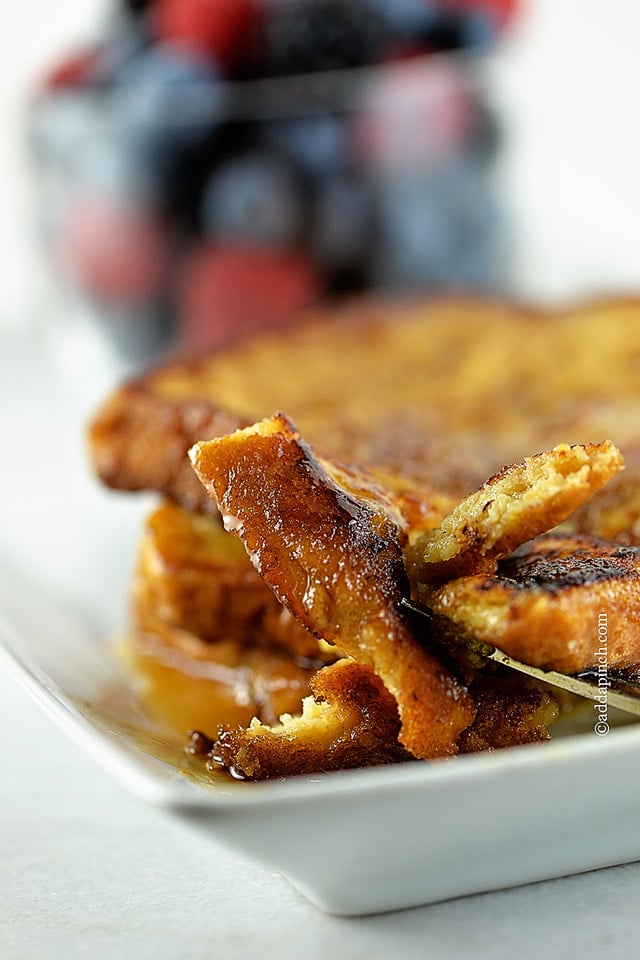 Here's my Best French Toast Recipe. It makes a classic breakfast or brunch recipe that everyone loves! I think you'll love it, too!
Best French Toast Recipe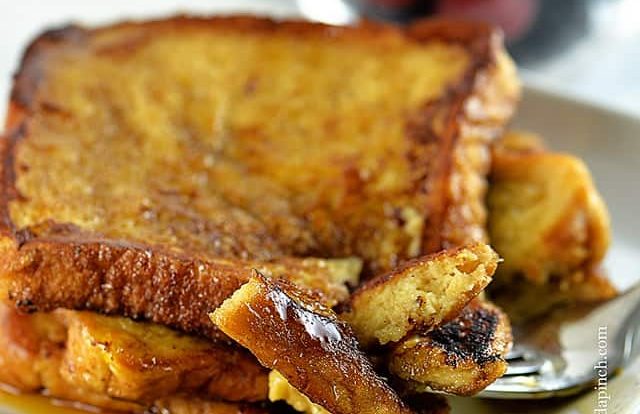 This French toast recipe makes a delicious breakfast or brunch. Make this simple, yet perfect French toast recipe that everyone will love.
Ingredients
2

large

eggs

1

cup

milk, half and half, coconut milk, or almond milk

pinch

salt

1

tablespoon

granulated sugar, honey or maple syrup

1

teaspoon

vanilla extract

1

teaspoon

ground cinnamon

8

slices

sandwich bread

butter
Instructions
Whisk together eggs, milk, salt, sugar, vanilla, and cinnamon in a flat-bottomed pie plate or baking dish. Place bread slices, one or two at a time, into the egg mixture and flip to make sure both sides of bread are well-coated.

Melt butter in a large skillet or on a griddle. Place bread slices in skillet or on griddle and cook on medium heat until golden brown on each side, about 2-3 minutes.

Serve immediately or keep warm in oven until ready to serve, but no longer than about 30 minutes.
Notes
You are simply dipping your bread slices into the egg mixture. If you leave your bread in the mixture for an extended amount of time, it will absorb more liquid and take longer to cook through.
Nutritional Information
Calories:
225
kcal
|
Carbohydrates:
32
g
|
Protein:
9
g
|
Fat:
5
g
|
Saturated Fat:
2
g
|
Cholesterol:
99
mg
|
Sodium:
307
mg
|
Potassium:
172
mg
|
Fiber:
1
g
|
Sugar:
10
g
|
Vitamin A:
235
IU
|
Calcium:
218
mg
|
Iron:
2.2
mg
Enjoy!
Robyn xo


From the Add a Pinch recipe archives, originally published 2014.