Challah Bread is a satisfying and impressive bread to make at home. The dough is wonderful for cinnamon rolls and day old bread makes amazing French toast and bread pudding.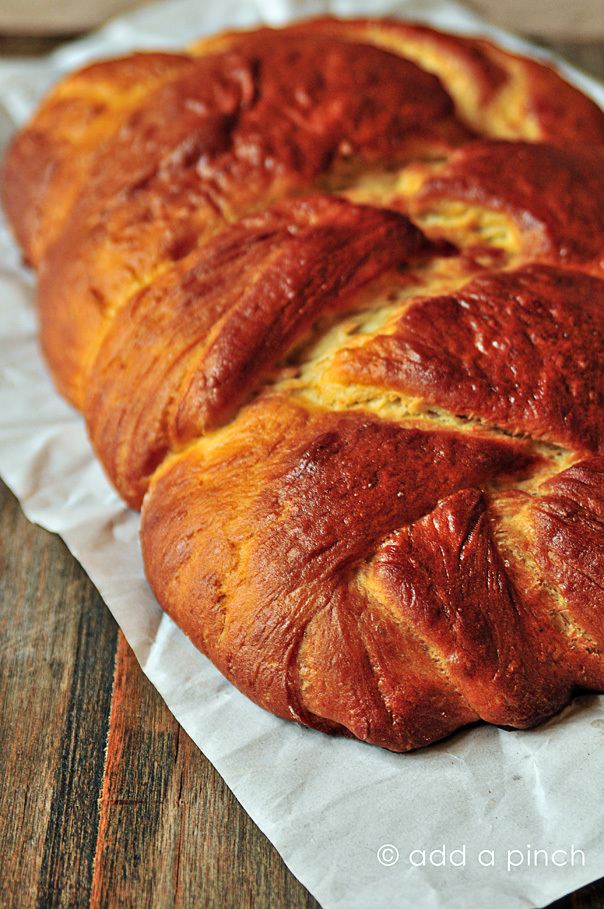 I used to take it for granted. The smell of yeast as it foams in the bowl, gnawing away at the sugar feeding it. It is a smell I've always known, one that would greet me as I walked into either of my Grandmother's kitchens as they prepared loaves of bread for sandwiches or rolls for Sunday meals with the family. And the site of my aunt's green bread bowl gently draped with a crispy pressed flour sack towel sitting by the warm oven is one I won't likely soon forget either.
After I'd married, I was given a fancy bread machine to make homemade bread. It now sits idle in a top cabinet of my kitchen, having been moved from home to home over the past 16 years and only having baked a couple of loaves. After using it, I quickly realized that I enjoyed the process of making bread as much, if not more, than I enjoyed eating the results of the effort. Something was missing in the translation from the ingredients to the finished product for me.
When making bread, I'm right back in the kitchens of the women I grew up admiring. Scuffed floors polished to shine as best they could and counters worn from years of meals made and served on their tops. Just the thought of those kitchens makes my shoulders immediately go slack as I relax in the rhythm of mixing simple ingredients of yeast, water, flour, and eggs together and then later as I roll and knead it on my counter top.
It's a peacefulness that I don't quite feel when making brownies or cookies even.
Biscuits? Maybe.
But the smell and the feel of making yeast bread takes a bit more patience and allows me time to think. I believe you could say it is a therapy of sorts. Maybe I'm trying to learn to be a bit more patient as I grow older. Or maybe I'm just realizing that like fine wine and cheese, there are other things that just get better with time.
Lately, I've noticed that I choose a certain type of bread and then make it over and over for my family. At least one Friday afternoon a month, you will usually find a bowl of my favorite Challah Bread Dough rising on the counter top to ensure French toast, bread pudding, cinnamon rolls, or other tasty treats throughout the weekend. By Sunday afternoon, the loaf has disappeared only to have me thinking of my grandmother's homemade yeast rolls or a sturdy loaf of bread she would bake for the week's sandwiches and such. But the Challah Bread is definitely one of our favorites. Easy to prepare, it most certainly is a versatile dough. In it's true form as a loaf though, each flaky, buttery, eggy bite can not be mistaken.
No heavy mixers or fancy equipment are required to make this Challah Bread. A bowl, a spoon, a few traditional ingredients, a warm oven, and time are all that you need. Well, that and your hands. Maybe that's where the therapy part comes in.
Here's how I make my Challah Bread.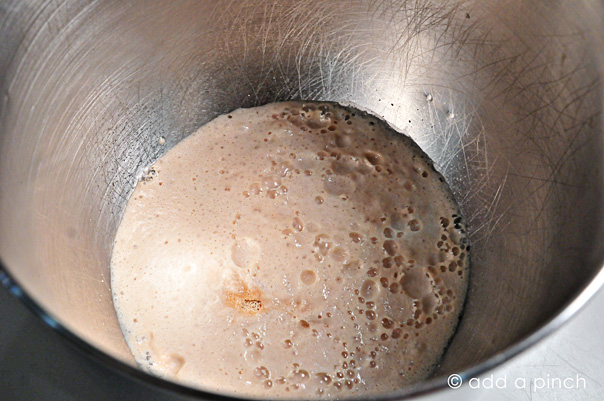 Combine yeast and warm water in a large stainless steel or glass bowl. Add sugar to begin feeding the yeast and allow to sit for about 10 minutes to bubble and foam. If your yeast doesn't bubble and foam, throw it out and make sure you have fresh yeast.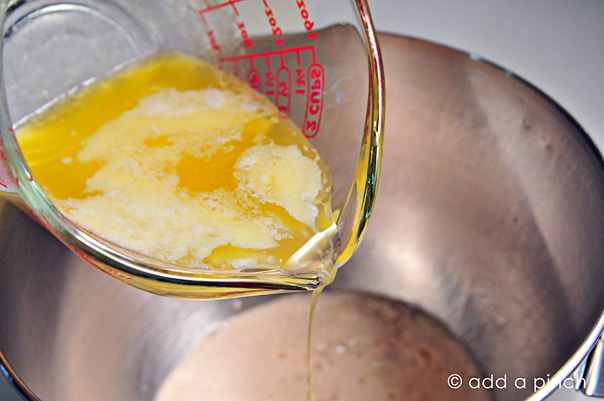 Pour in your melted butter.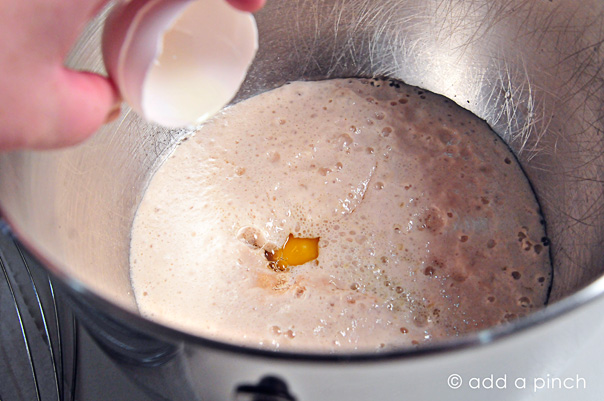 And add your eggs.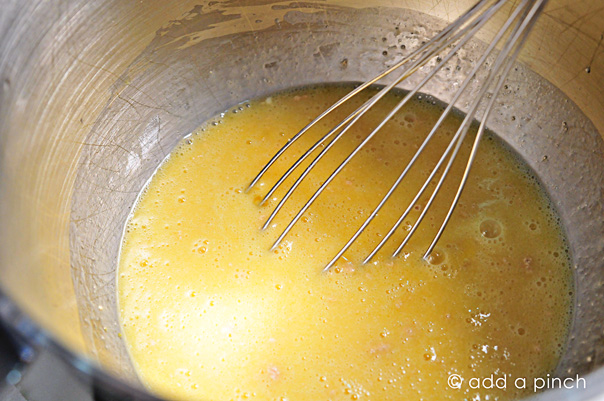 Whisk to combine your wet ingredients with your yeast.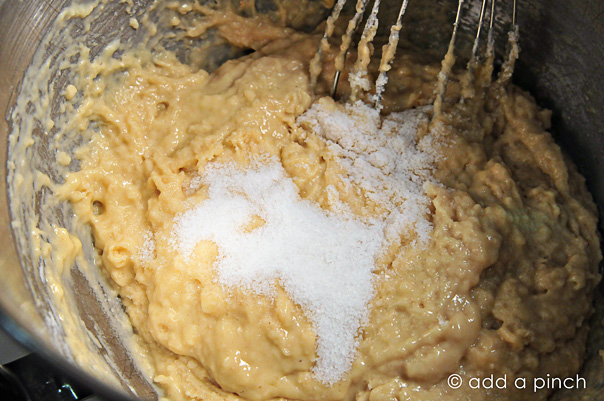 Add flour, one cup at a time, and salt and mix into your wet ingredients to form a dough. Mix well until all ingredients are well combined, but do not overmix your dough. Cover with plastic wrap and sit in a warm place until it has doubled in bulk, about 1-2 hours.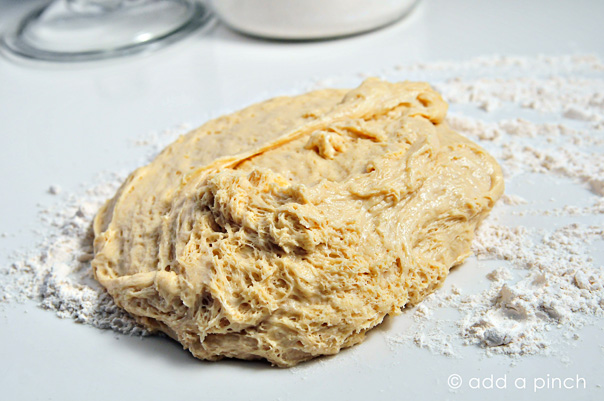 Once dough has doubled in size, pour onto a floured surface and gently knead about a minute.
To shape your dough, cut it into three to four long strips and braid as if you were braiding long strands of a hair or ribbon.
Place the braided dough onto a lightly greased baking sheet, cover with plastic wrap and allow to rise again until has doubled in bulk, at least an hour.
Brush your dough with an egg wash and bake.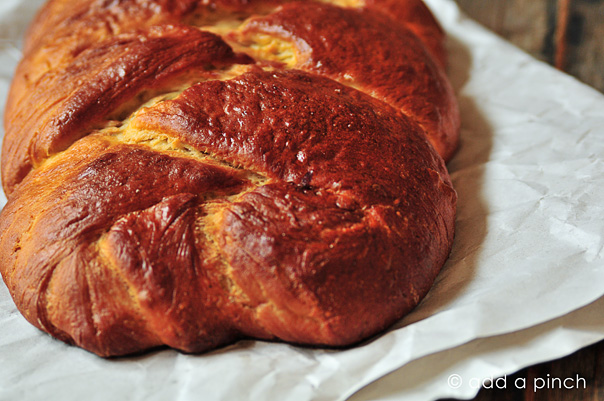 Remove from the oven and allow to cool slightly on a wire rack before slicing or allow to cool completely before using in a bread pudding or French toast recipe.
Regardless of how you use this dough or finished bread, you'll find pride in your ability to make what is sure to become a family-favorite. At least it has in mine.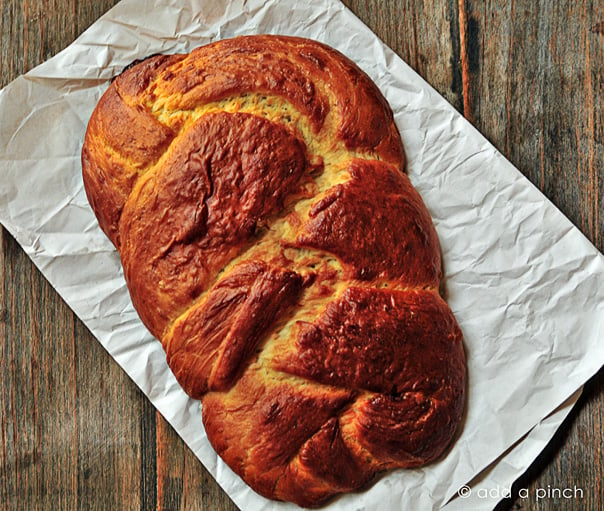 Here is my Challah Bread Recipe. I hope you make it soon!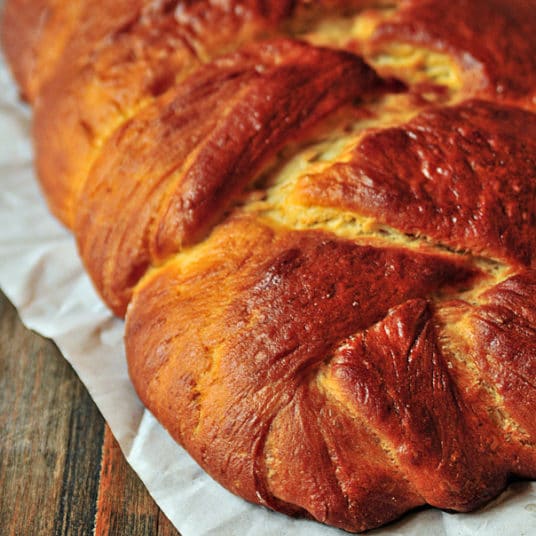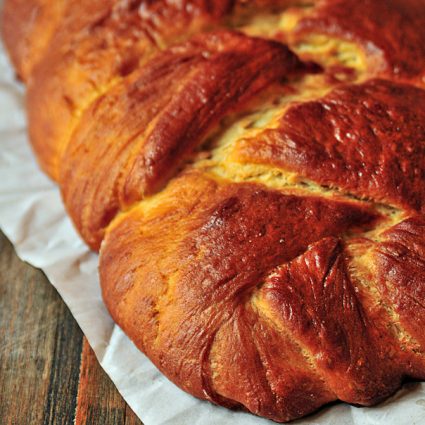 Challah Bread Recipe
Challah Bread is a satisfying and impressive bread to make at home. The dough is wonderful for cinnamon rolls and day old bread makes amazing French toast and bread pudding.
Ingredients
4 1/2

teaspoons

active dry yeast

1

cup

warm water

1/3

cup

sugar

8

tablespoons

melted butter

3

eggs

4 – 4 1/2

cups

all-purpose flour

1

tablespoon

kosher salt
Instructions
Combine yeast and warm water. Add sugar, stir gently and allow to sit for about 10 minutes to bubble and foam.

Add melted butter and eggs to yeast mixture. Whisk together.

Add flour, 1 cup at a time, combining well after each addition.

Add salt and stir well.

Cover bowl with plastic wrap and allow to double in bulk, at least 1-2 hours.

Pour dough onto a lightly floured surface and knead gently. Cut dough into 3-4 strips and braid. Place onto a lightly greased kitchen sheet pan and cover with plastic wrap. Allow to rise again to double in size, at least 1 hour.

Preheat oven to 325º F if using a convection oven and 375º F if standard.

Remove plastic wrap and brush lightly with egg wash made of egg whisked together with water.

If baking in a convection oven, bake for about 35 minutes. If baking in a standard oven, bake for about 45-50 minutes.

Bread will be done when it is nicely browned on top and when tapped on the the bottom, the bread sounds hollow. If checking by thermometer, the internal temperature should read about 200º F on an instant read thermometer.

Cool on a wire rack for about 10 minutes prior to slicing.
Notes
Total time is largely unattended. Time includes first and second rising of dough.
Makes 1 loaf.
Nutrition
Serving:
1
slice
|
Calories:
213
kcal
|
Carbohydrates:
31
g
|
Protein:
5
g
|
Fat:
7
g
|
Saturated Fat:
4
g
|
Polyunsaturated Fat:
1
g
|
Monounsaturated Fat:
2
g
|
Trans Fat:
0.2
g
|
Cholesterol:
56
mg
|
Sodium:
498
mg
|
Potassium:
63
mg
|
Fiber:
1
g
|
Sugar:
4
g
|
Vitamin A:
234
IU
|
Vitamin C:
0.003
mg
|
Calcium:
14
mg
|
Iron:
2
mg
Nutrition information is automatically calculated, so should only be used as an approximation.
Enjoy!
Robyn xo