Jump to Recipe • Print Recipe
Southern buttermilk cornbread makes any meal better and stretches it to serve a crowd. It's a definite go-to recipe when serving smoked beef brisket black bean soup, homemade vegetable soup, or just with butter or honey. My grandfather always loved to make a snack of his cornbread crumbled in a glass of milk. I have to admit, I've enjoyed it a time or two myself growing up.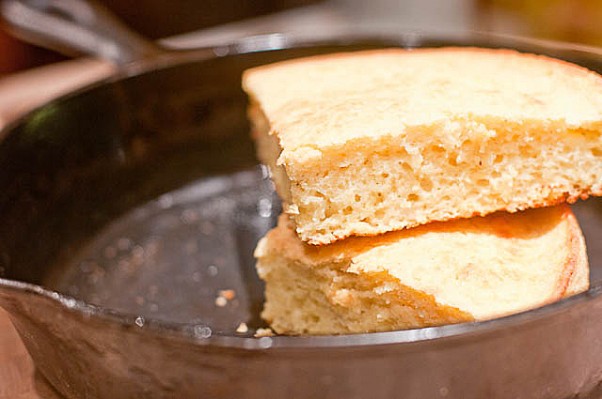 When I was first married, my cornbread just wasn't that delicious. It was too grainy and didn't hold together like it should. I say when I first married, but honestly it took me a while to get my recipe just perfect. I'd strayed too far away from the original way my mother and grandmother taught me how to make it. It finally all came back together – and stayed together – when I went back to the basics.
There's a lot to be said for the basics.
Here's how they taught me to make  my family's Southern Buttermilk Cornbread recipe. It is a treasure!

Southern Buttermilk Cornbread
Southern Buttermilk Cornbread is a staple dish throughout the year. Get this family favorite Southern Buttermilk Cornbread recipe!
Ingredients
vegetable shortening
2 cups cornmeal
1 cup self-rising flour
2 eggs
2 cups buttermilk
½ cup water
Instructions
Preheat oven to 425 degrees.
Coat large skillet with vegetable shortening and place in oven to melt. Remove skillet from oven once melted.
Mix together all ingredients and pour into the hot grease in the skillet. Return to the oven and bake about 10-15 minutes or until bread has risen and center springs to the touch.
Serve directly from skillet or allow to stand about 5 minutes and flip onto a plate for serving.
Enjoy!