Slow Cooker Turnip Greens Recipe
Slow Cooker Turnip Greens makes easy work of a favorite Southern dish. Perfect for busy weeknights or Sunday suppers!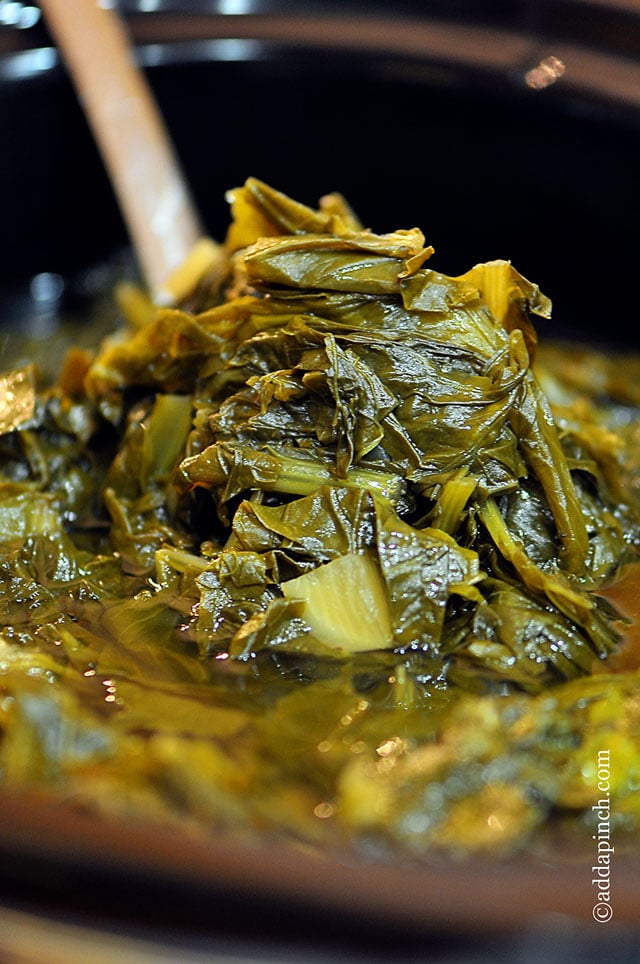 Turnip greens and cool weather go hand in hand, don't they? And slow cooker turnip greens sure do make cooking them even easier!
For Sunday suppers or lunches after church, it is just hard to beat having the slow cooker out on the countertop doing as much of the work for you as possible. As a matter of fact, most Sunday's I'll have more than one just working away to make our day run a whole lot more smoothly. I need all the help I can get!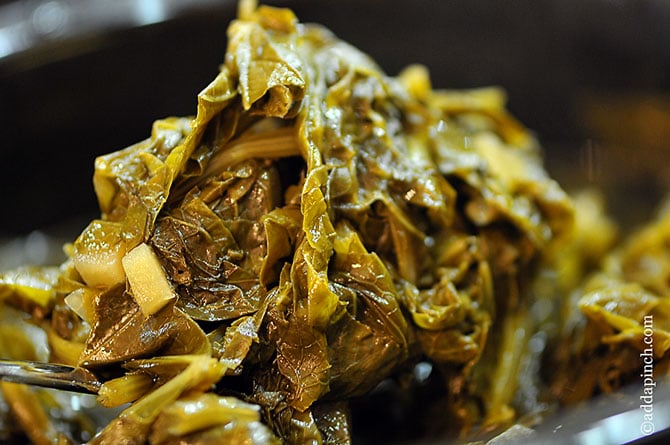 A few years ago, I'd planned to make a traditional Southern Supper one Sunday but knew we were going to be out of the house most of the day with various activities. I knew the turnip greens needed to cook low and slow to produce tons of pot liquor like my husband likes for eating with his cornbread. Otherwise, I could've made quick skillet turnip greens like I've shared before and that we love to make for easy weeknights. But, this Sunday, I wanted the style my Grandmother would've made and cook all day.
So, I decided I'd give them a try in my slow cooker. Heavens to Betsy if they didn't produce some of the best tasting, traditional Southern turnip greens I've ever tasted! The best part, I didn't have to worry with them all day long. I popped them into my slow cooker, added water and seasonings and set the timer. My slow cooker did all the work.
I love it when things come together like that. Don't you?
Here's my Slow Cooker Turnip Greens recipe. Give them a try sometime when you have a hankering for good ol' Southern turnip greens but don't have time to babysit them all day.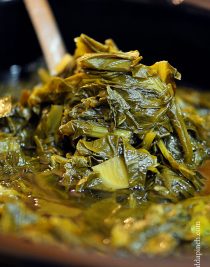 Slow Cooker Turnip Greens Recipe
Total Time 4 hours 30 minutes
Prep Time 30 minutes
Cook Time 4 hours
Turnip Greens are a Southern staple and this slow cooker turnip greens recipe is sure to become a favorite.
Ingredients
8 pounds fresh turnip greens about 2 bunches
3 turnips peeled and cut into quarters
1 1/2 pound ham hock
1 tablespoon granulated sugar
pinch red pepper flakes optional
Directions
Fill clean sink about halfway with lukewarm water. Chop turnip greens and place into the sink to clean. Agitate the water and turnip greens with your hands to dislodge any dirt and grit from the turnip greens. Drain water and repeat once or twice until the greens feel clean and no dirt remains in the bottom of the sink when rinsing.

Spray insert of slow cooker with non-stick cooking spray.

Add half of greens to the slow cooker with about 1 cup of water, peeled and quartered turnips, ham hock, sugar, and optional red pepper flakes.

Cook on low setting for about 1 hour until greens have reduced. Add remaining greens to the slow cooker and set time on low for 4 more hours.

Note: The longer turnip greens cook, the better the flavor, in my opinion.
All images and text © Robyn Stone for Add a Pinch
And remember, never discard your pot liquor from your turnip greens. For many, that is the very best part! You can always add a few more ingredients to left over turnip greens for my Pot Likker Soup or just have a simple meal of turnip greens and cornbread.
Enjoy!
Robyn xo

Originally published 2012.