Cinnamon Rolls Recipe – These easy homemade cinnamon rolls are the best I've ever tasted! They are so soft and delicious with a classic cinnamon swirl and topped with cream cheese frosting! This recipe includes options for making ahead and baking fresh the next morning and freezing them for later!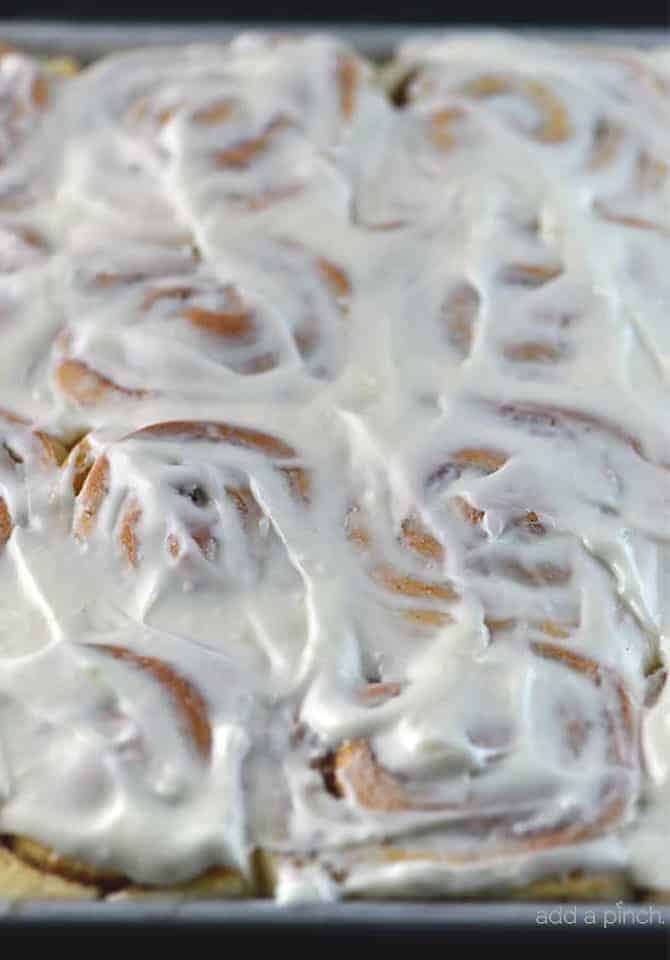 This cinnamon roll recipe is a definite family favorite. It is my husband Bart's recipe. He took his mother's prized cinnamon roll recipe and tweaked it to make the most perfect cinnamon rolls I've ever tasted. They are made from scratch, soft, fluffy, tender, and have the perfect ratio of cinnamon with just the right amount of cream cheese frosting on top!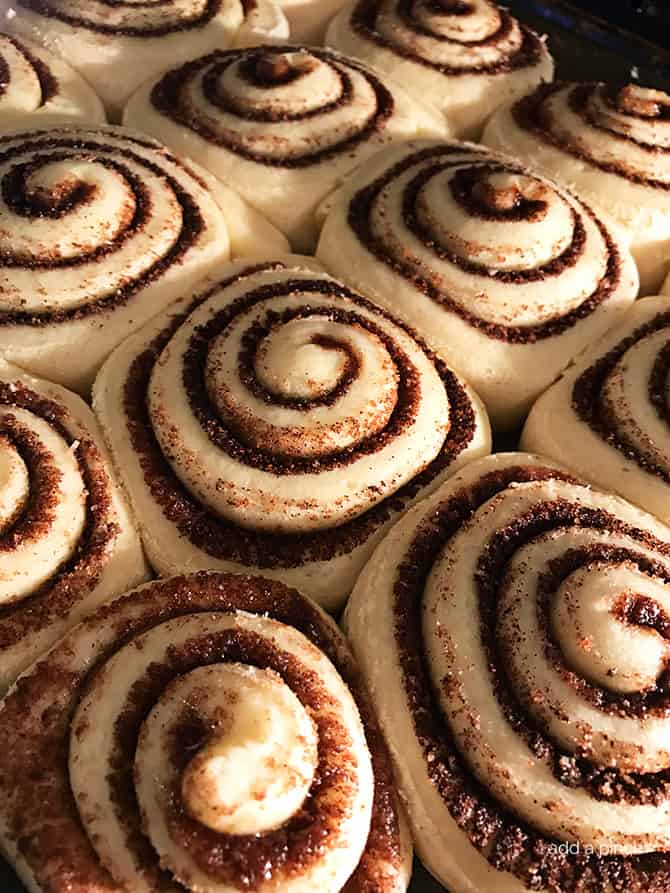 How to Make the Best Cinnamon Rolls
Every time Bart made his cinnamon rolls and shared them with family and friends, he would always get requests for the recipe or for him to start selling them! ♥️ Bart shared his recipe when I first started this website way back in 2010 and it has been loved by many ever since! We've updated some of the photographs, included a video, and added some more tips to help you as you make them as well!
Yeast
So many people have written to say that they have been intimidated about working with yeast. There are a few tips to remove any fear you may have.
Type of yeast. You can use active dry yeast or instant yeast in this recipe. Active dry yeast requires proofing and may take a little longer to rise than instant yeast. Instant yeast has smaller particles and it doesn't require proofing. It can be mixed directly into dry ingredients as well.
Freshness. You'll want to be sure to use fresh yeast for the best rise in your cinnamon rolls. Check the expiration date on your yeast container or packet to make sure that it is in date. I generally like to purchase fresh yeast right before the holiday season so that I know my yeast is as fresh as possible before our Christmas baking begins! 🙂
Temperature. We sprinkle our yeast, along with a little sugar to feed the yeast, over milk that has been heated to 110º F. We like to check the temperature with an instant-read thermometer to make sure that it is at that temperature before adding our yeast. A temperature of more than 110º F will kill yeast.
Proof. If using active dry yeast, you'll proof your yeast. If using instant yeast, skip this step. Once your active dry yeast and sugar are added to the warmed milk, it will begin to bubble and froth. This is proof that your yeast is active and will cause the dough to rise when baked.
Flour
The recipe calls for 4 ½ cups of flour, but you should note that the amount of flour in any yeast dough recipe may need to be adjusted slightly depending on the weather, humidity, etc. We generally use 4 ½ cups of all-purpose flour, but may need to add a bit more, a tablespoon at a time, for the dough to form the perfect yeast dough ball. The dough should be tender, smooth, and resilient.
We use all-purpose flour for our cinnamon rolls. If you substitute the flour with a whole-wheat or other flour combination, the baked cinnamon rolls may be a bit denser and not as tender as with all-purpose.
Mixing the Yeast Dough
You can mix the yeast dough by hand or with a stand mixer. Either method works well.
To mix by hand, which is the method we show in our tutorial video below, simply mix together the melted butter, eggs, and salt. Then, incorporate the flour gradually until it is well combined and forms a soft dough ball.
To use a stand mixer, fit it with a dough hook to mix together the melted butter, salt, eggs, and flour well combined and it forms a soft and sticky dough ball, about 6 – 8 minutes.
Then, turn the dough onto a lightly floured surface and knead by hand until the dough is soft, tender, and resilient.
First Rise
Cinnamon roll dough rises twice. They rise once you mix the dough and then again after you add the cinnamon filling and have cut them and placed into the pan(s).
For the first rise, we butter a glass or metal bowl and then add the dough to the bowl. We lightly cover the dough with a clean kitchen or tea towel and store it in a warm place free from drafts.
Allow the dough to rise until it has doubled in size.
Rolling the Dough
Once the dough has doubled in size, turn it out onto a lightly floured surface and roll the dough into a rectangle until it is about 1/4-inch thick.
To make it easier to handle the dough, you can also divide the dough in half and repeat the steps for each half of the dough.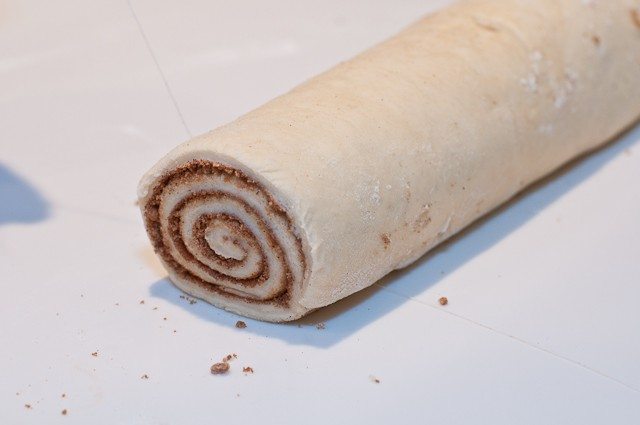 Cinnamon Roll Filling
The delicious filling is the hallmark of a perfect cinnamon roll! It gives it all of the flavor! So, don't skimp on the filling.
Softened Butter – Spread softened butter on your dough. This is one of the most important steps to the BEST cinnamon rolls, I think.
Brown Sugar – We use dark brown sugar for the most flavor in the filling. You can use light or dark brown sugar based on your own personal preference.
Cinnamon – Fresh ground cinnamon adds so much flavor to this recipe. Make sure yours is fresh and fragrant!
Raisins – Raisins are optional for the filling. If you are dividing the dough, it is great to make some with raisins and some without depending on personal preference.
Be sure to spread your filling all the way to the edges of the dough to make sure that every bite is filled with deliciousness!
Be sure to spread your filling all the way to the edges of the dough to make sure that every bite is filled with deliciousness!
Cutting
You'll need about a foot of dental floss (non-coated or flavored) or thread.
Slide the floss or thread under one end of your rolled dough and quickly pull the two ends of the the floss together to cut the dough.
Cut your roll of dough into ¾ to 1-inch slices.
Place into a buttered, rimmed baking sheet or into two buttered 9×13 baking dishes.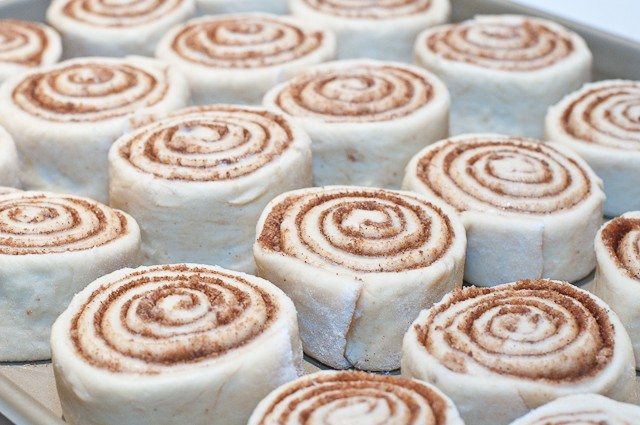 Second Rise
Cover the rolls with a clean kitchen or tea towel and allow the rolls to rise until doubled in size, about 30 minutes.
As your rolls rise, you can preheat the oven for baking.
Baking
Place your cinnamon rolls into the preheated oven and bake until they are slightly golden brown while still soft and tender, about 15-20 minutes. Take care not to overbake your rolls.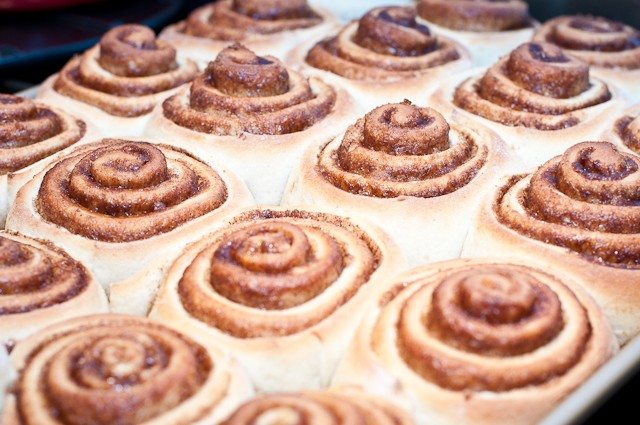 Frosting
For our cinnamon rolls, we prefer cream cheese frosting. For it, you'll need:
Softened Cream Cheese
Softened Butter
Confectioner's Sugar
Vanilla Extract
Salt
Mix together until light and fluffy and then top the slightly warm cinnamon rolls with the frosting. The frosting will seep into the warm rolls to make them absolutely scrumptious!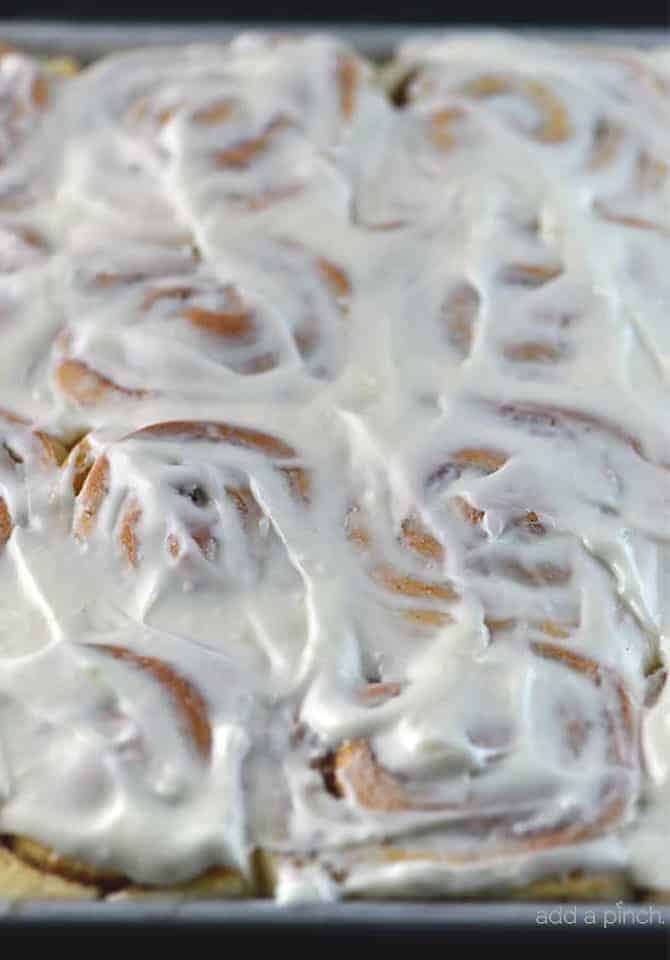 Make Ahead Cinnamon Rolls
I love the idea of make ahead cinnamon rolls! While they aren't difficult to make, it is wonderful to have the make ahead option during the busy holiday season or even for a simple weekend breakfast or brunch!
Baked – These cinnamon rolls keep well on the counter for up to 3 days. Simply cover them and keep in a cool, dry place.
Unbaked – I am often asked if you can keep the unbaked cinnamon rolls in the refrigerator overnight and then bake the next morning. Yes! You sure can! We love to do prepare them on Christmas Eve and then bake them fresh on Christmas morning!
To do this, simply skip the second rise of the dough, cover them tightly and refrigerate. Then bake them fresh when you plan to serve them. They will last in the refrigerator up to 3 days but are best cooked within 48 hours.
When ready to bake, simply remove from the refrigerator as your oven is preheating and then bake, frost and serve!
How to Freeze Cinnamon Rolls
Cinnamon rolls freeze perfectly a couple of different ways.
You can freeze unbaked cinnamon rolls. Place the cut rolls into buttered, freezer-safe pans and cover tightly with plastic wrap followed by foil. Store in the freezer for up to 3 months. When ready to bake, remove from the freezer and place in the refrigerator to thaw. Once defrosted, bake as directed and frost.
You can also freeze baked cinnamon rolls, frosted or unfrosted. Bake as directed. Let them cool completely and store a freezer-safe container or bags. Freeze up to 3 months. To serve, allow to thaw in the refrigerator. Heat the rolls in a 300º F oven or microwave until warmed as desired.
Here's Bart's Cinnamon Roll Recipe. I think you are going to love them!
Cinnamon Roll Recipe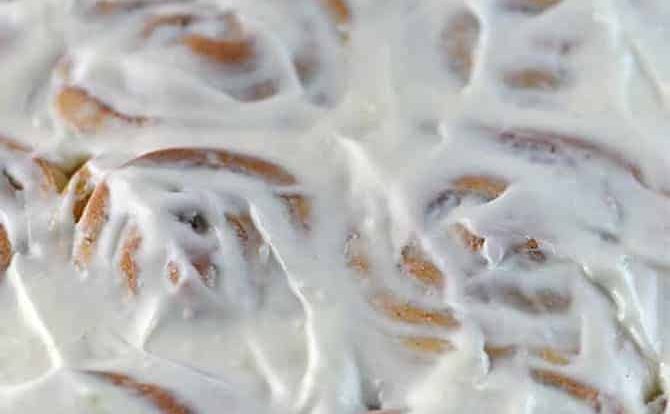 Cinnamon Rolls Recipe – These easy cinnamon rolls are so soft and with a delicious cinnamon swirl and cream cheese frosting!
Ingredients
Cinnamon Roll Dough:
1

cup

warm milk

2 1/4

teaspoons

yeast

(1 yeast packet)

1/2

cup

granulated sugar

1/2

cup

melted butter

2

teaspoons

Kosher salt

2

large

eggs

4 1/2

cups

all-purpose flour + a little for handling

adjust flour as needed for humidity by adding 1 tablespoon at a time as needed for the dough to be soft, tender, and resilient.
Cinnamon Roll Filling:
1

cup

packed brown sugar

2 1/2

tablespoons

cinnamon

1/2

cup

butter
Cinnamon Roll Frosting:
1/2

cup

butter

softened

1 1/2

cup

confectioners sugar

1/4

cup

cream cheese

1/2

tablespoon

vanilla

1/8

teaspoon

Kosher salt
Instructions
Cinnamon Roll Dough:
Add yeast and sugar to warm milk in a large bowl. Stir gently to combine and allow the yeast to foam to proof. Once the yeast has proofed, stir in melted butter, salt, eggs, and flour into yeast mixture. Gently mix until well-combined.

Turn dough onto a lightly floured surface and knead for 10-12 minutes. Form the dough into a large ball and place into a large buttered glass bowl. Cover lightly with plastic or with a tea towel and place in a warm location free of any drafts. Allow to rise so that the dough is doubled in size.
Cinnamon Roll Filling:
Place dough on a large lightly floured surface and roll to a ¼ inch thickness. Spread softened butter over the top of the dough.

Stir together the brown sugar and cinnamon and sprinkle generously all over the buttered dough.

Tightly roll the dough, beginning at the long edge, until a log of dough has been formed.

Cut the dough into 3/4-inch to 1-inch slices and place onto a lightly buttered baking sheet pan or into two buttered 9×13 baking dishes.
Baking and Icing:
Preheat oven to 400º Fahrenheit.

Allow rolls to rise for 30 minutes.

Place rolls into oven and allow to cook until lightly browned and cooked through, but not overcooked, about 15-20 minutes.

While cinnamon rolls are baking, prepare cream cheese frosting by creaming together butter, confectioner's sugar, cream cheese, vanilla and salt.

Remove cinnamon rolls from the oven and allow to cool slightly.

Spread frosting generously over rolls while they are warm.
Notes
Stand Mixer Instructions: Use your stand mixer fitted with the dough hook once the yeast has proofed. Stir in melted butter, salt, eggs, and flour. Gently mix until well-combined. Continue using the dough hook to knead dough in mixer for 6-8 minutes. Continue on with the recipe as instructed.
Enjoy!
Robyn xo


From the Add a Pinch recipe archives. Originally published 2010.