Grape Salad Recipe
 Grape salad makes a delicious cool salad. Slightly sweetened with honey, this grape salad is a favorite!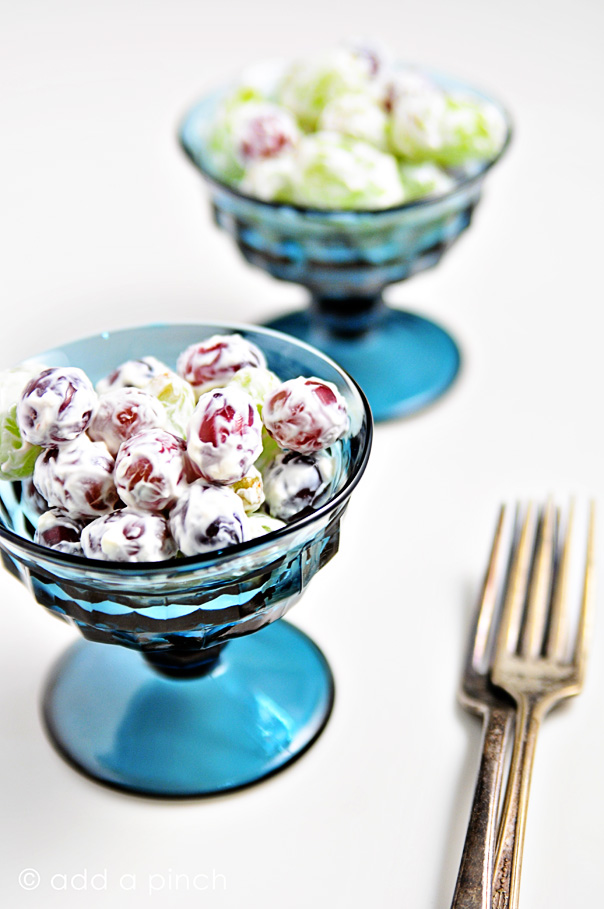 Grape salad is one dish I could always guarantee would be served at our family reunions when I was growing up. Usually, it would be stuck on the backside of the long counter of the church fellowship hall beside the relish trays. But I have to tell you, it was one of the dishes that I looked for every year. I sought it out like my life depended on it.
After running and playing with my cousins for what seemed like hours while we waited on everyone to arrive, I was hot and couldn't wait for the cool, refreshing, sweet burst of flavor from those grapes. It didn't hurt that were coated in the most delicious, creamy concoction. I seriously could have made off with the entire bowl for my lunch and would have been a mighty happy girl at those reunions.
I feel certain that my aunt had no idea how important that one dish she brought each year could seem to a young girl.
From time to time, I make my aunt's grape salad and remember those family reunions that we had in the dead heat of July. But the other day, I decided to change her grape salad recipe for a bit of a lighter coating on the grapes.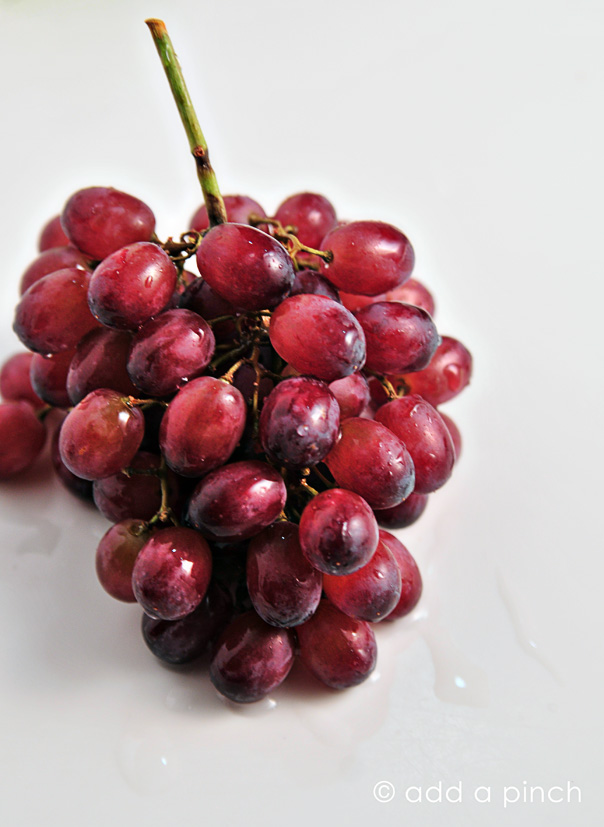 But you know, the real secret to this grape salad is to make sure your grapes are fresh and sweet.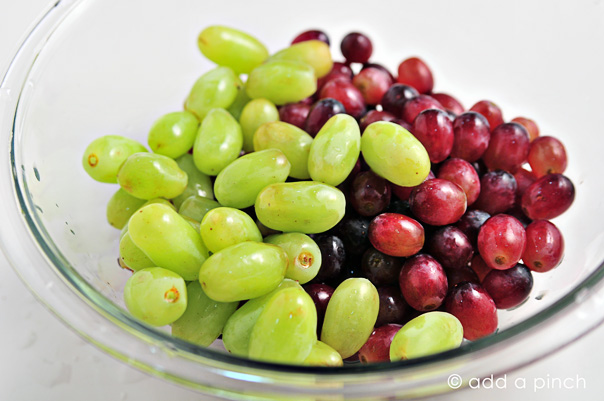 Like my aunt, I use seedless red and green grapes for this recipe.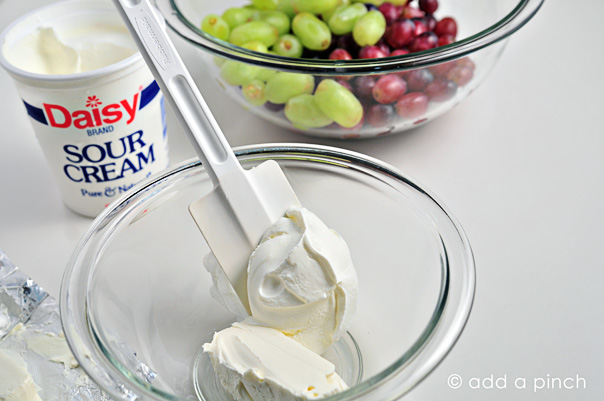 Next, mix together cream cheese and sour cream. I reduced these considerably from her original recipe.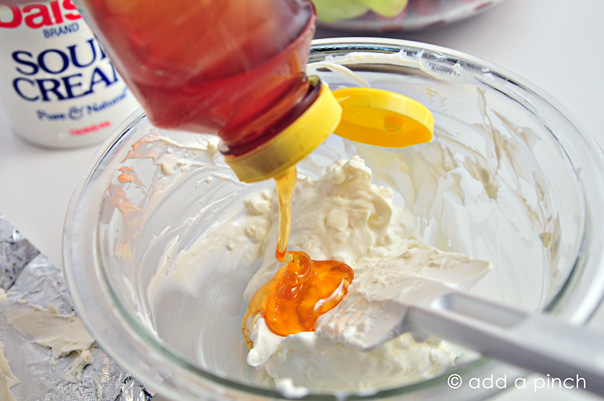 I also decided to use honey rather than the granulated sugar my aunt's grape salad recipe called for. While her grape salad was always perfectly delicious, I personally like the flavor of honey and knew that it would help to thin the "dressing" for the grapes since I'd reduced the amounts of the cream cheese and sour cream so much.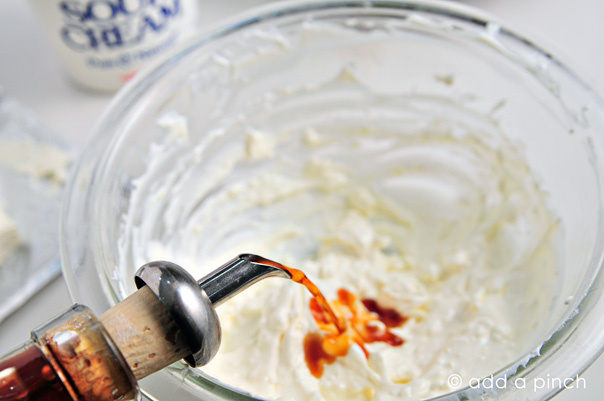 Next, pour in a bit of vanilla. It adds so much flavor!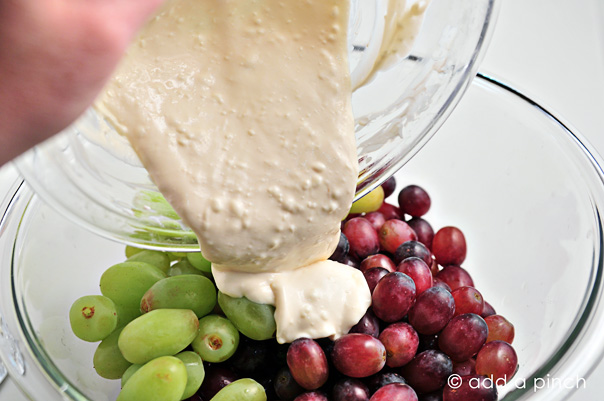 Combine all of the ingredients and then add to your grapes. Mix well to make sure all of your grapes are coated and then cover tightly with plastic wrap and store in the refrigerator for eight hours to chill and set.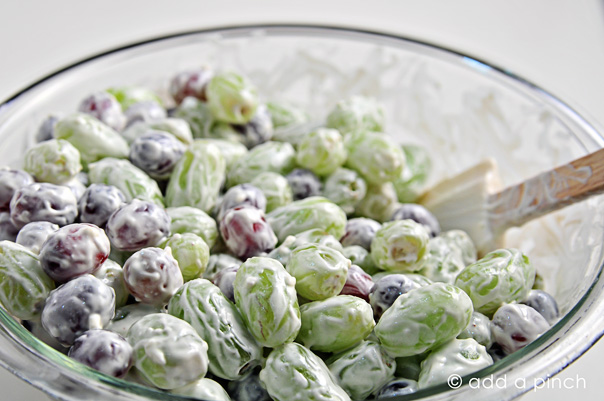 Grape salad is best served cold.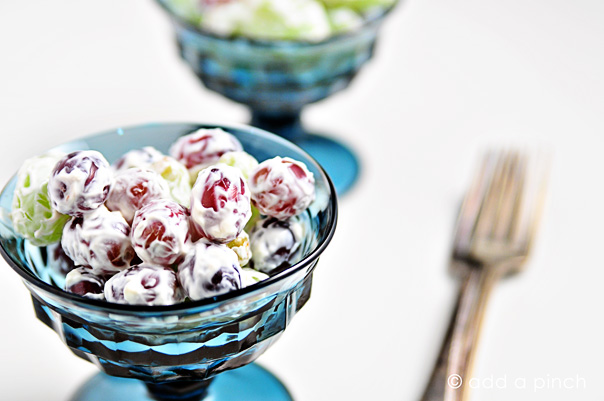 Here's my recipe for Grape Salad. I hope you make it soon! It's perfect for wedding and baby showers, tailgating, picnics, reunions, and everything in between!
Grape Salad Recipe
Grape salad makes a delicious cool salad. Slightly sweetened with honey, this grape salad is a favorite!
Prep Time10 mins
Total Time10 mins
Servings: 10
Ingredients
2 pounds green grapes
2 pounds red grapes
2 ounces cream cheese
2 ounces sour cream
1 1/2 tablespoons honey
1 teaspoon vanilla
Instructions
Add grapes to a large bowl. Mix together cream cheese, sour cream, honey and vanilla. Pour over grapes and stir until well-coated.

Refrigerate for at least 8 hours.

Serve cold.
Notes
Time does not include chilling time prior to serving.
Enjoy!
Robyn xo