Strawberry Pretzel Salad Recipe
Strawberry Pretzel Salad makes a classic, nostalgic recipe. A creamy, fruity recipe made with strawberry gelatin, cream cheese, whipped topping, and pretzels. It is always a favorite.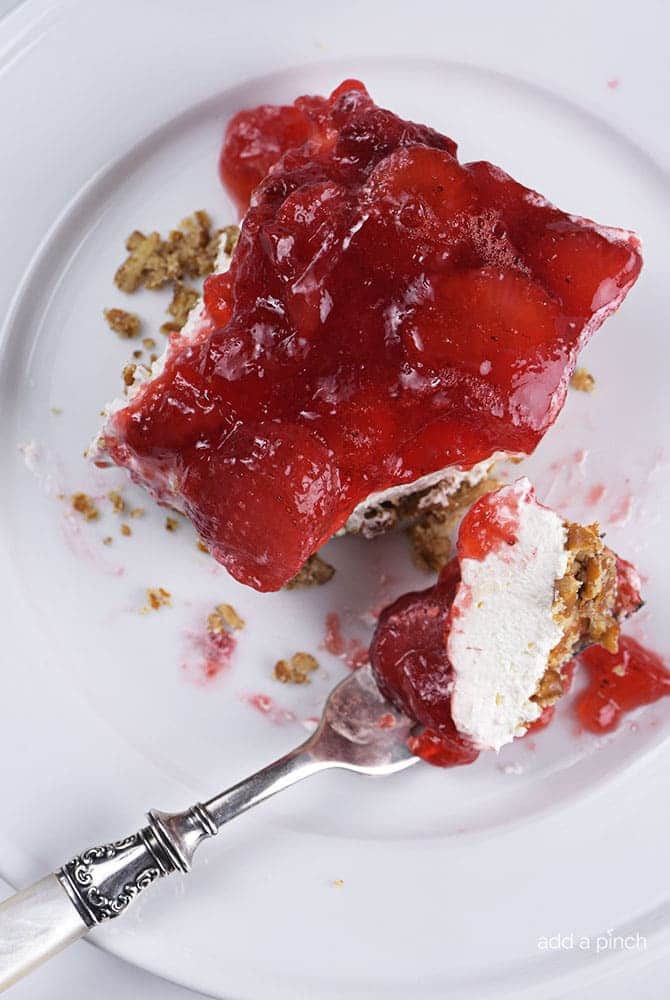 One of my favorite desserts throughout the spring and summer growing up was always this Strawberry Pretzel Salad. It was always a family favorite addition to so many special occasion meals and you'll always find a large casserole dish with it's sparkling red, strawberry filled top on the buffet for Easter, Southern reunions, and all throughout the summer. It is loved by so many and is always one of the first things to disappear.
Sweet, salty, creamy, and crunchy, it has so much going for it that it is always a definite hit!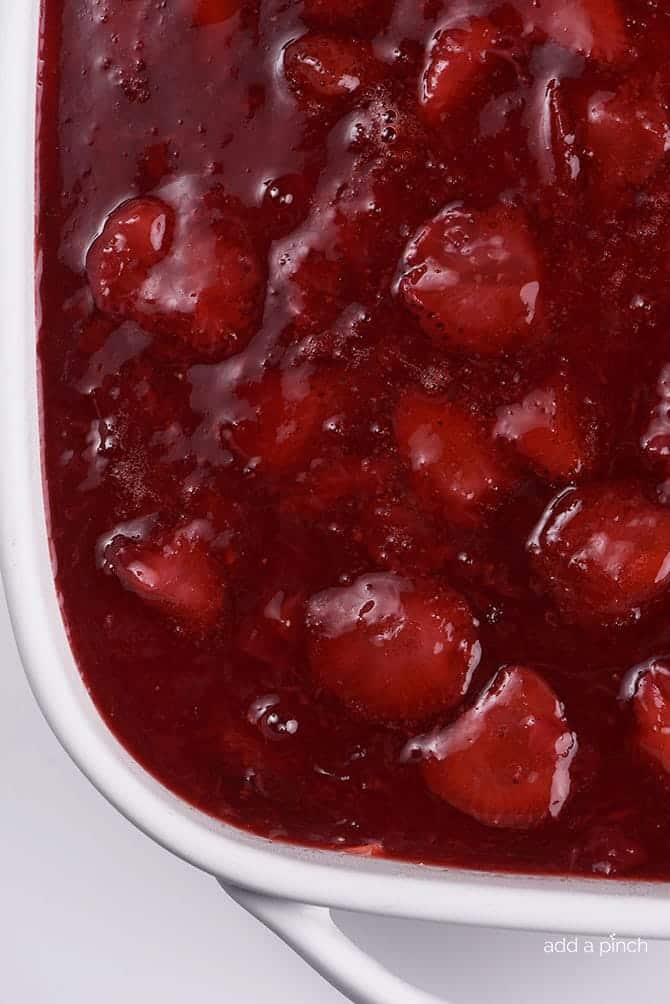 There are so many versions of Strawberry Pretzel Salad served here in the south that I have no idea who invented the first version, but oh my goodness am I ever so thankful! It's one of those dishes that goes with so many meals and works easily on the side – because, you know, it does have "salad" in its name – or as a dessert.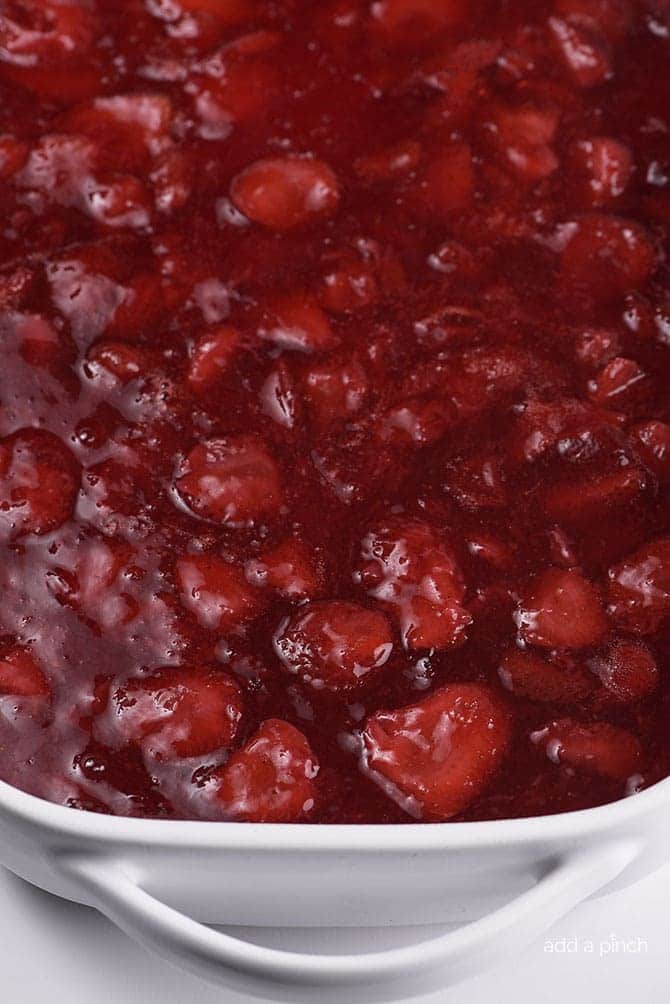 But no matter if you serve it right alongside your chicken salad as a side dish or as part of the dessert buffet offerings, I can just about bet you that it will be well loved by everyone that tries it. And you know, if they are from this neck of the woods, they most likely have been expecting it. 🙂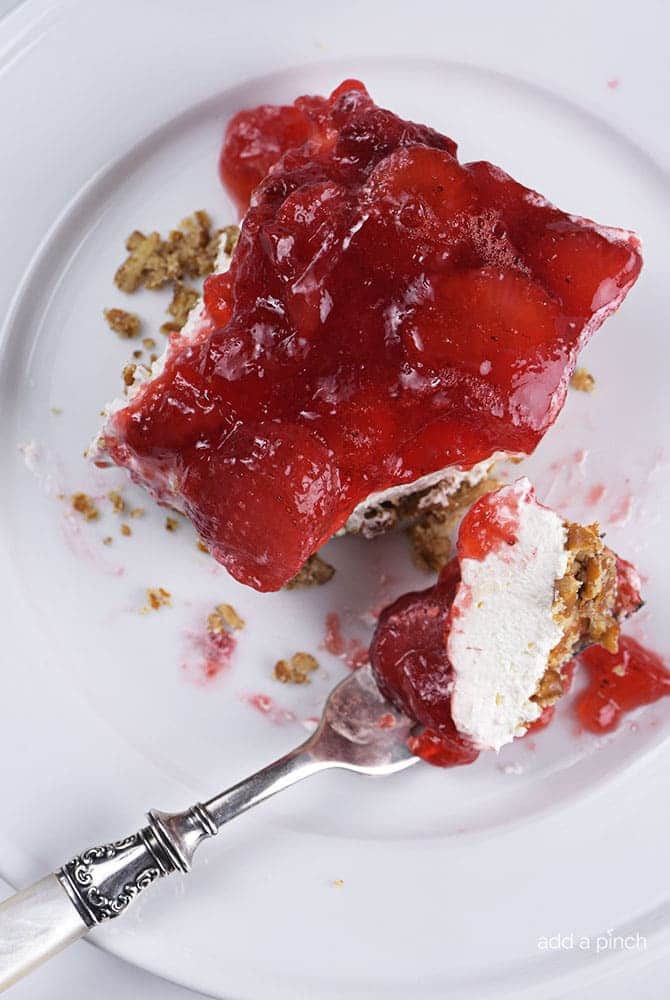 Here's how I make my family's version of Strawberry Pretzel Salad. I hope you enjoy it!
Strawberry Pretzel Salad Recipe
Strawberry Pretzel Salad makes a classic, Southern dish. Cool, creamy and delicious, this strawberry pretzel salad is perfect anytime.
Prep Time15 mins
Cook Time30 mins
Total Time45 mins
Servings: 12
Calories: 209kcal
Ingredients
2 cups pretzels crushed
3/4 cup butter melted
2 tablespoons sugar
1 (8-ounce package) cream cheese
1 8-ounce package frozen whipped topping
3/4 cup sugar
1 ½ cups boiling water
2 (3-ounce) packages strawberry Jell-O
2 (10-ounce) packages frozen strawberries
Instructions
Preheat oven to 400˚.

Mix crushed pretzels with melted butter and 2 tablespoons sugar. Press pretzel mixture into the bottom of 9 x 13-inch casserole dish and bake until set, about 8-10 minutes. Remove from the oven and allow to cool completely.

Mix together cream cheese, 3/4 cup sugar, and whipped topping in a large bowl until smooth. Spread over the cooled crust, making sure to spread completely to the edges.

Dissolve the Jell-O in boiling water and mix in frozen strawberries. Allow to set until the jello and strawberry mixture has slightly thickened and set and then pour over the cream cheese mixture. Chill until firm and serve.
Nutrition
Serving: 0.5cup | Calories: 209kcal | Carbohydrates: 25g | Protein: 1g | Fat: 11g | Saturated Fat: 7g | Cholesterol: 30mg | Sodium: 271mg | Potassium: 21mg | Sugar: 15g | Vitamin A: 7.1% | Vitamin C: 0.1% | Calcium: 0.6% | Iron: 3.9%
Enjoy!
Robyn xo

From the Add a Pinch recipe archives. Originally published 2010.