This deliciously Easy Peach Cobbler is made with just six simple ingredients! The buttery crispy crust bubbles up to top sweet peaches for the perfect dessert.
A classic and scrumptious dessert favorite, this Easy Peach Cobbler can be made at the height of peach season with fresh peaches, or any time of year with canned or frozen peaches!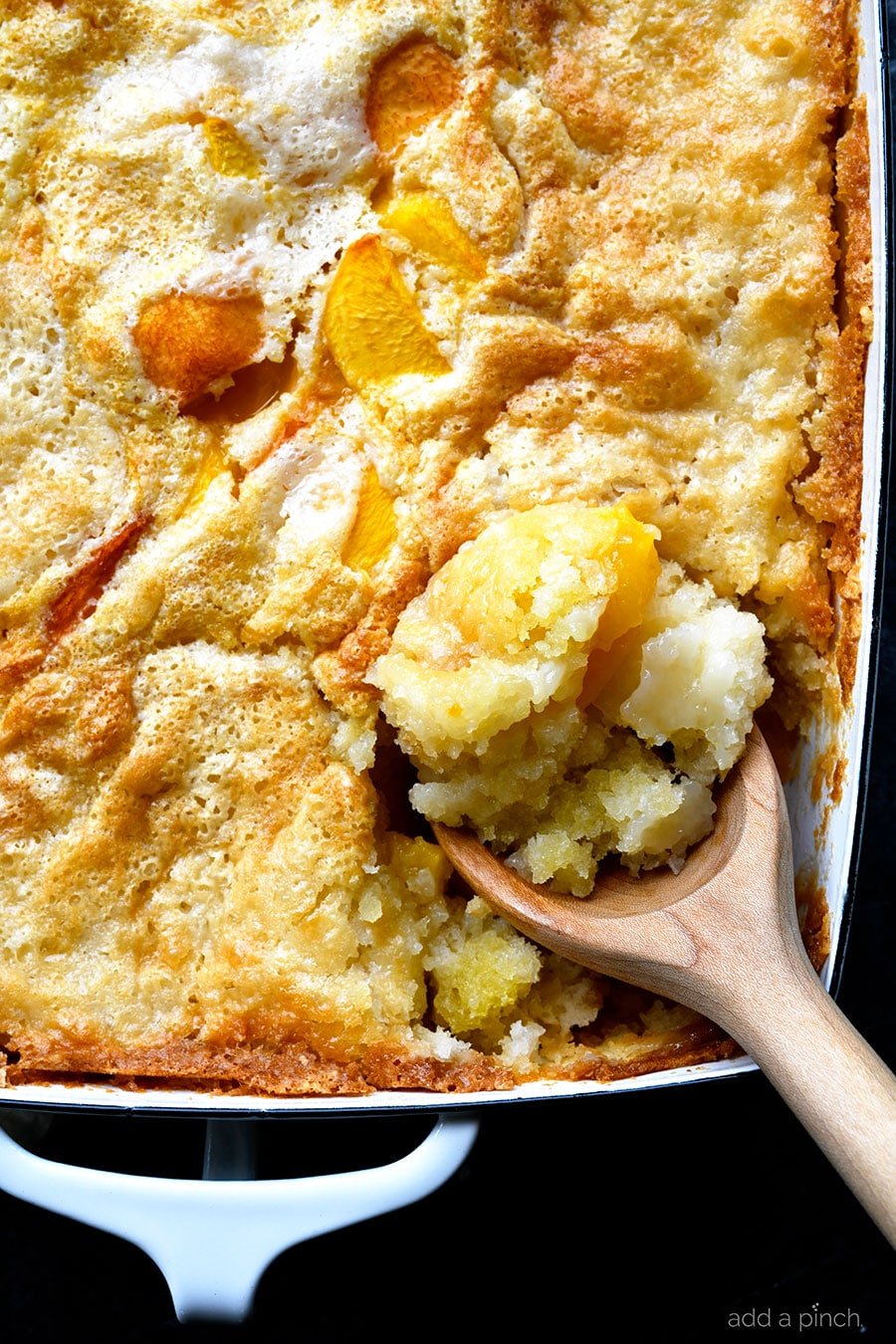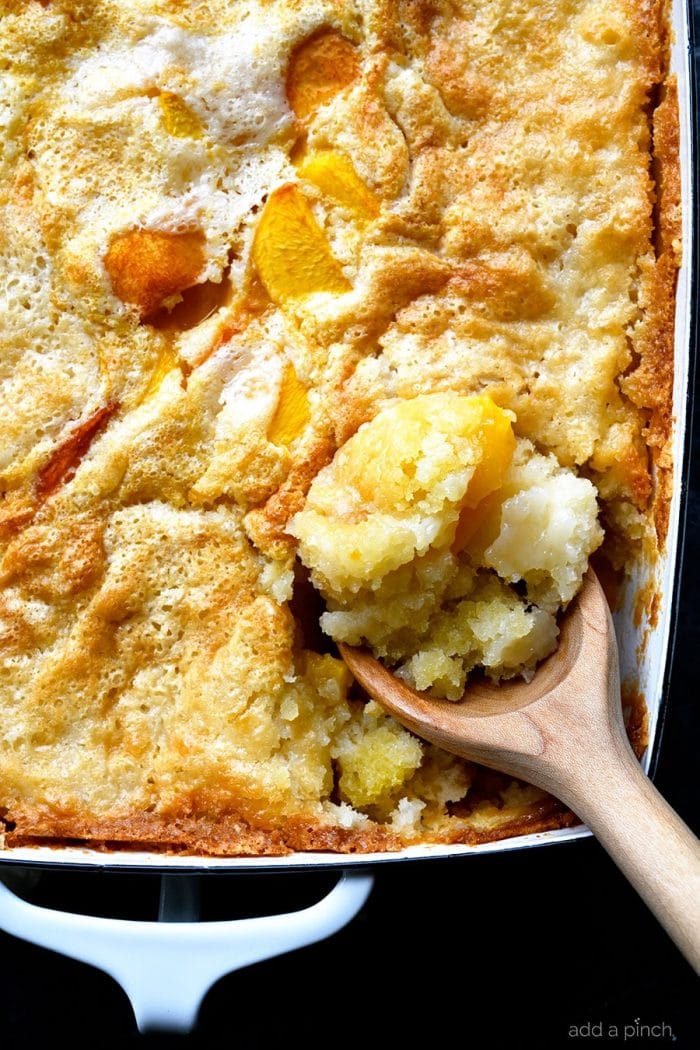 This homemade peach cobbler makes the perfect quick and easy peach dessert that I turn to again and again. It makes a delicious summer dessert with fresh Georgia peaches from my local farmer's market. But one thing that makes this dessert such a winner is the fact that it's just as delicious made in cooler months with frozen or canned peaches so that you can make it any time of year.
It's no secret that cobblers make a favorite dessert. I grew up watching my mama and grandmother make them with fresh fruit often for family suppers. While Grandmother's Old Fashioned Peach Cobbler includes a double crust and dumplings and is absolutely divine, it does take a bit of time to make. While I still love to make that recipe sometimes, I make this Easy Peach Cobbler much more often. Just six simple ingredients, so easy to make even for a last minute dessert and everyone always loves it! It's one of our family favorites!
Easy Peach Cobbler Recipe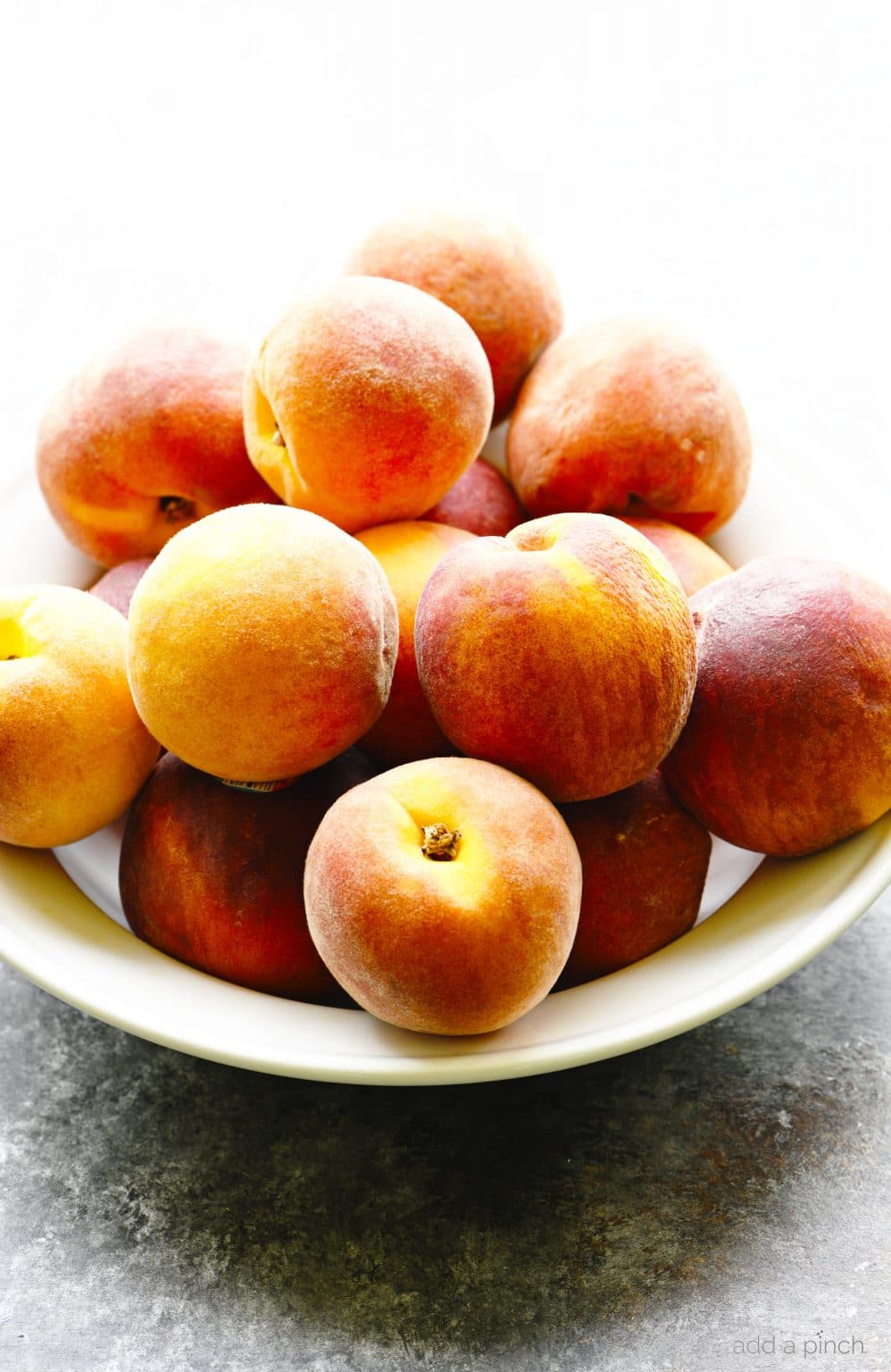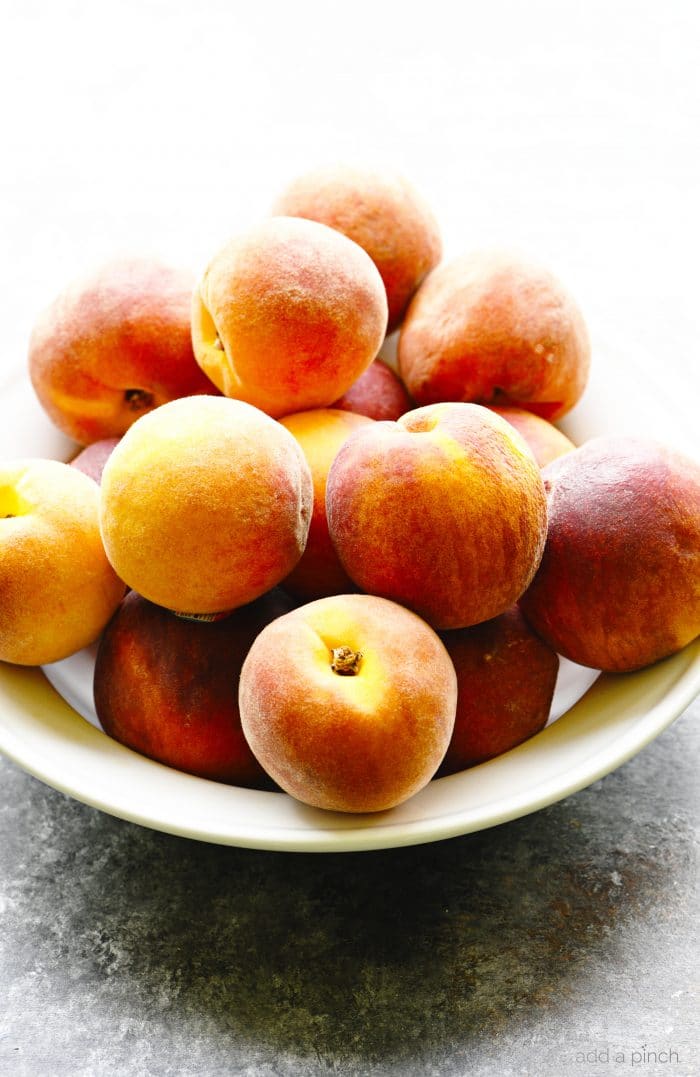 As I mentioned, you can use fresh peaches, canned peaches or frozen peaches that you have thawed in this recipe, making it even easier to make anytime of the year!
Use Fresh, Canned or Frozen Peaches
Fresh Peaches
How Many Fresh Peaches are in a Cup?
It takes 1 ½ medium fresh peaches to equal 1 cup of sliced peaches.
This peach cobbler recipe uses 4 cups of sliced peaches, meaning you'll need 6 medium fresh peaches.
Canned Peaches
If you are using canned peaches, you can substitute with 2 (16-ounce) cans of peaches, with their juices.
Frozen Peaches
If you are using frozen peaches, allow the frozen peaches to thaw and then proceed with the recipe as written.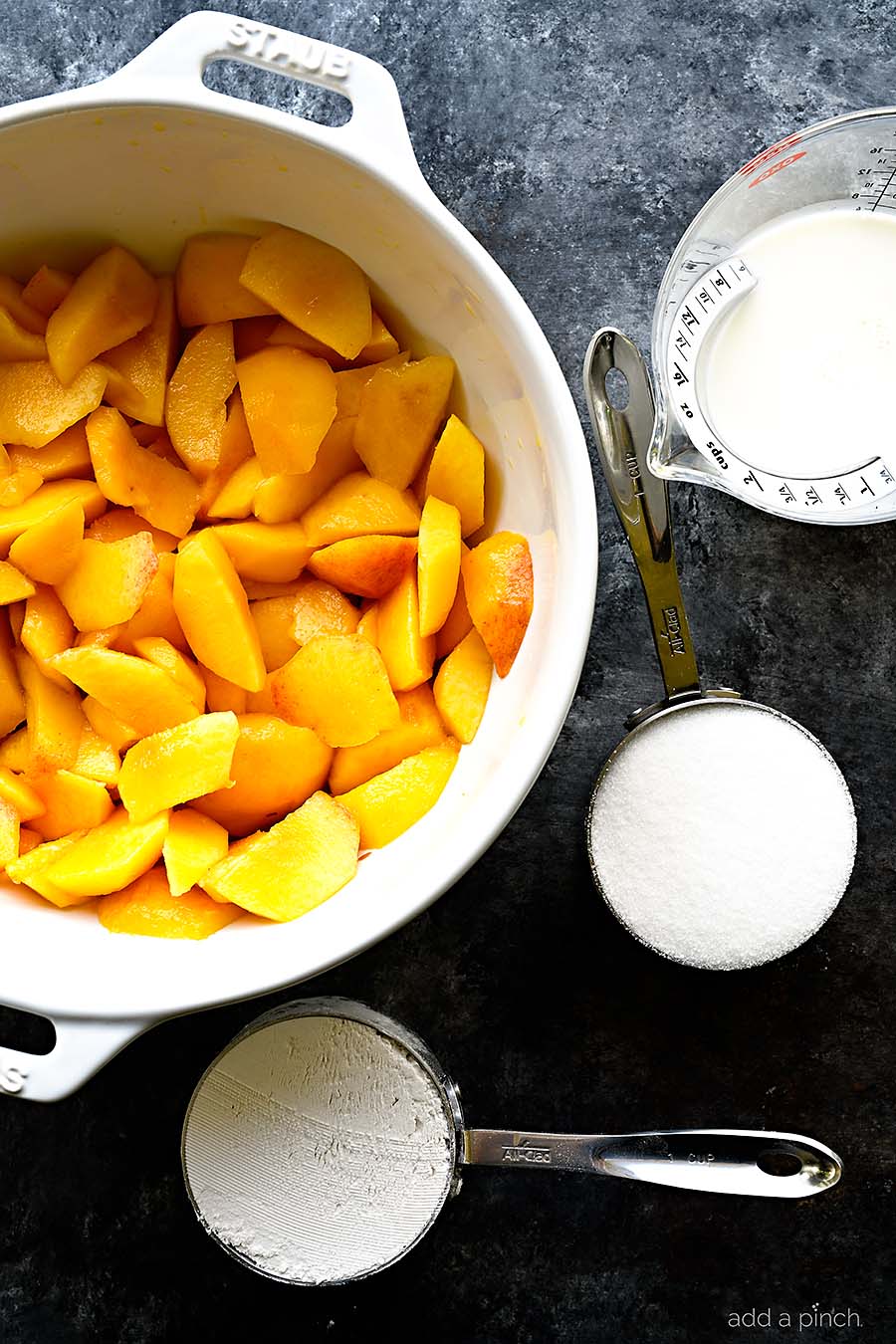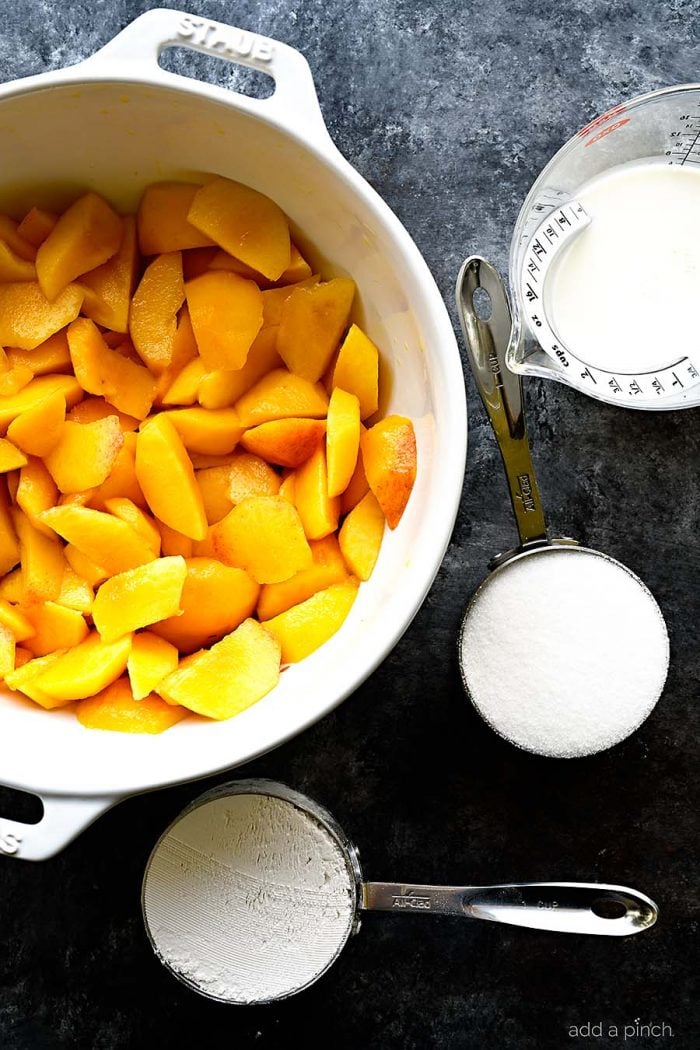 How to Make Easy Peach Cobbler
Making this peach cobbler is an absolute cinch! You'll only need six ingredients and about five minutes hands on time to make this delectable dessert!
Most likely these are ingredients that you already have on hand and can make this to serve for dessert tonight! And if you have strawberries on hand or want to try later, my Strawberry Cobbler is an out of this world favorite too!
Ingredients
You'll just need six ingredients:
peaches – fresh, canned or thawed frozen
sugar – you can use granulated, cane, coconut or the appropriate amount for your preferred sugar substitute.
self-rising flour – If you do not have self-rising flour, you can easily use all-purpose flour and baking powder following my quick and easy tip. [Resource: How to Make Self-Rising Flour]. You can also easily substitute with your favorite gluten-free flour if you desire a gluten-free peach cobbler.
milk – whole, low-fat, buttermilk, oat milk, or another dairy-free milk
butter – I use salted butter, but you can easily use unsalted butter as well.
vanilla extract – it enhances the flavor of this cobbler.
Optional Variation: For a cinnamon flavor in your cobbler, simply add ½ teaspoon ground cinnamon. This is delicious in winter for a cozy dessert recipe.
Step-by-Step Instructions
Add your butter to a 9 x 13 baking dish and allow it to melt in the oven as you preheat the oven.
If using fresh peaches, peel the peaches and slice. Add ½ cup sugar to your peaches in a large bowl. This will allow them to sweeten even more and make them even juicier for the cobbler.
Whisk together the self-rising flour, the rest of your sugar, milk, and vanilla extract until well combined. If you do not have self-rising flour on hand, you can easily make it at home. [Resource: How to Make Self-Rising Flour]
Once the butter has melted in the baking dish, remove it from the oven and pour the batter on top of the butter in the baking dish. Do not stir.
Pour in your peaches (and their juices) on top of the batter. Again, do not stir to combine.
Bake until golden brown and set, about 35 minutes to 40 minutes.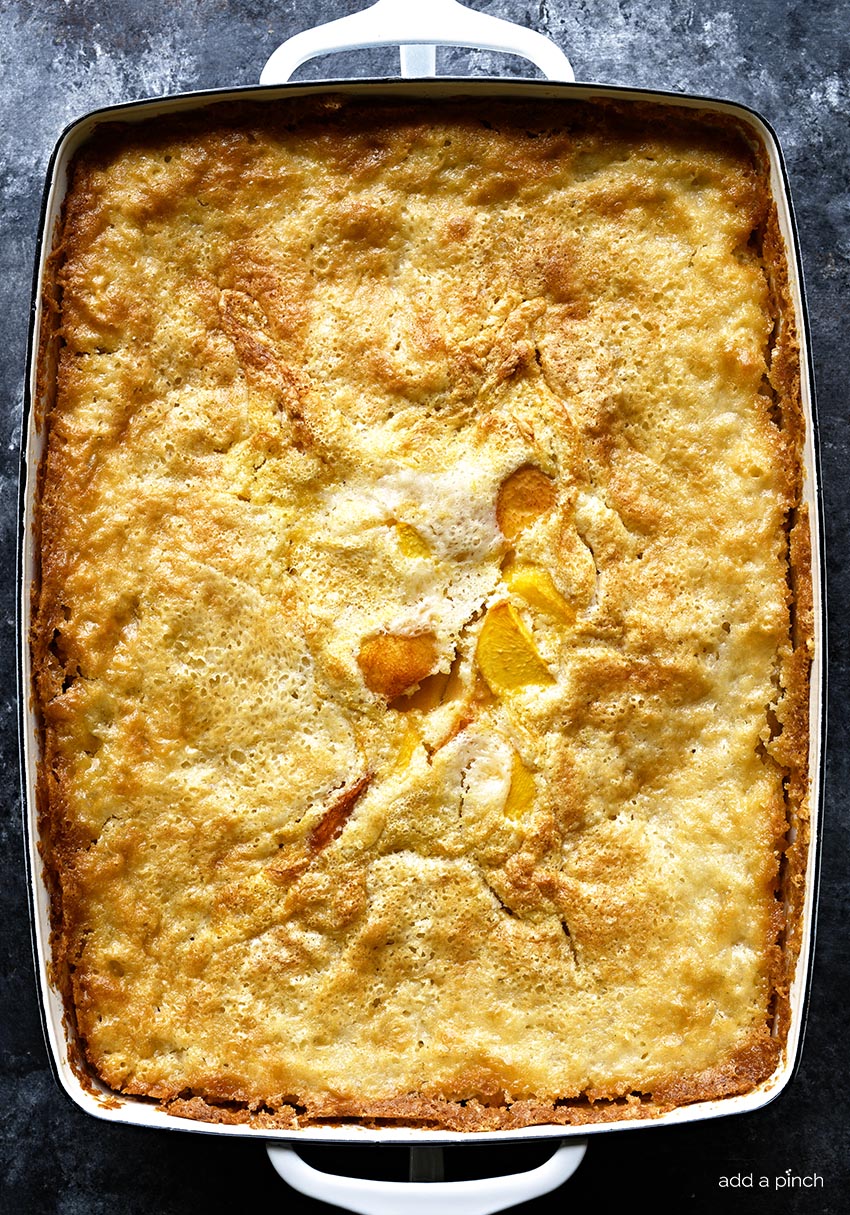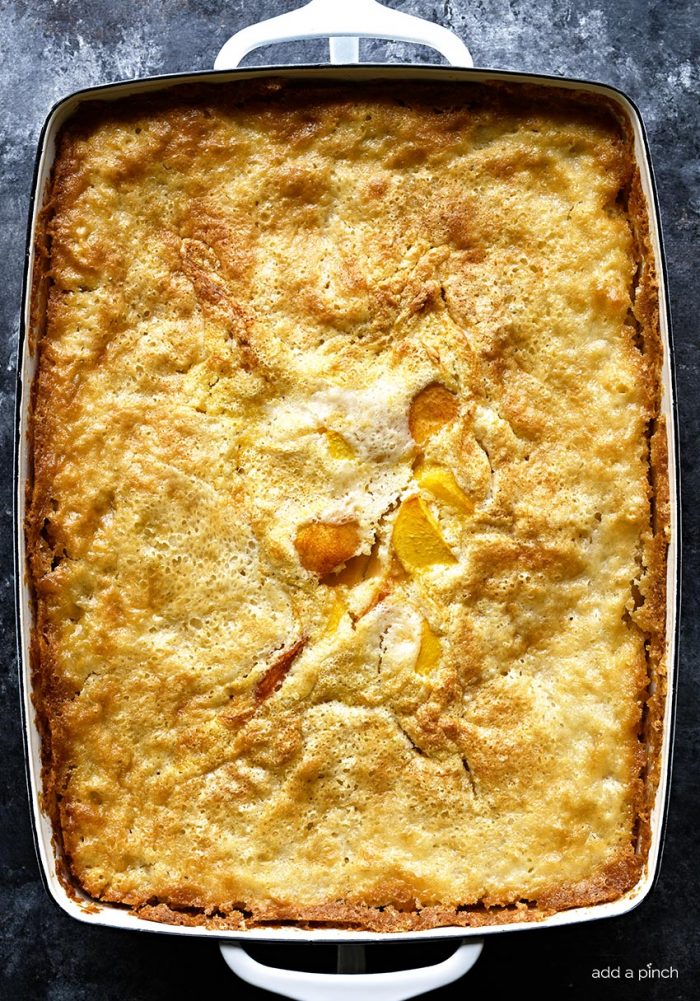 Once your cobbler is done, remove from the oven and serve warm.
I love to top this warm cobbler with a scoop of vanilla ice cream or whipped cream. It takes this scrumptious dessert over the top!
Here's a friendly bit of advice – once you make this cobbler, be ready to make it again as it's sure to be popular and get requests often.
How to Store Peach Cobbler
Store any leftover peach cobbler covered, in the refrigerator for 4-5 days.
To reheat in oven, cover with foil and reheat until heated throughout, about 20 minutes.
You can also easily reheat until warm in the microwave in a microwave safe container.
More Fruit Cobblers to Try
Cobblers make the perfect dessert. Here are some other favorites:
Here's my Easy Peach Cobbler recipe. I hope you love it as much as we do!
Easy Peach Cobbler Recipe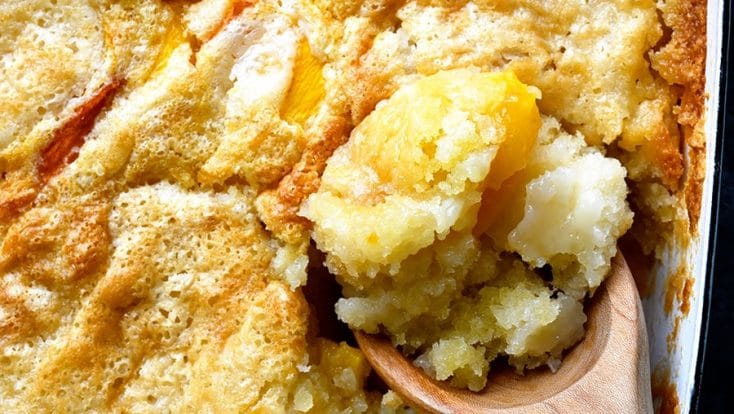 Easy Peach Cobbler Recipe – This easy peach cobbler is made with just six ingredients! The buttery crust bubbles up over sweet peaches for the best peach cobbler!
Instructions
Prep. Add butter to a 9×13 baking dish and place into the oven as it preheats to 375º F. 

Sweetened fresh peaches. Meanwhile, add ½ cup of the sugar to the peaches in a medium bowl and allow to sit while mixing the peach cobbler crust batter. 

Whisk together batter. Whisk together the remaining sugar, the self-rising flour, the milk, and the vanilla. Pour this batter on top of the melted butter and then top with the peaches and their juice. Do not stir. 

Bake. Bake until the cobbler is golden brown, about 35 minutes. Serve warm. 
Notes
If fresh peaches are not available, use 2 (16-ounce) cans of peaches, along with their juice. 
If using frozen peaches, allow to thaw completely and proceed with recipe directions.
Nutritional Information
Calories:
261
kcal
|
Carbohydrates:
43
g
|
Protein:
3
g
|
Fat:
9
g
|
Saturated Fat:
5
g
|
Polyunsaturated Fat:
1
g
|
Monounsaturated Fat:
2
g
|
Trans Fat:
1
g
|
Cholesterol:
23
mg
|
Sodium:
81
mg
|
Potassium:
157
mg
|
Fiber:
1
g
|
Sugar:
31
g
|
Vitamin A:
453
IU
|
Vitamin C:
3
mg
|
Calcium:
42
mg
|
Iron:
1
mg
Enjoy!
Robyn xo