Jump to Recipe • Print Recipe
Peach Cobbler makes the perfect, Southern dessert. This heirloom recipe makes the best peach cobbler that has always been a staple in my family for generations.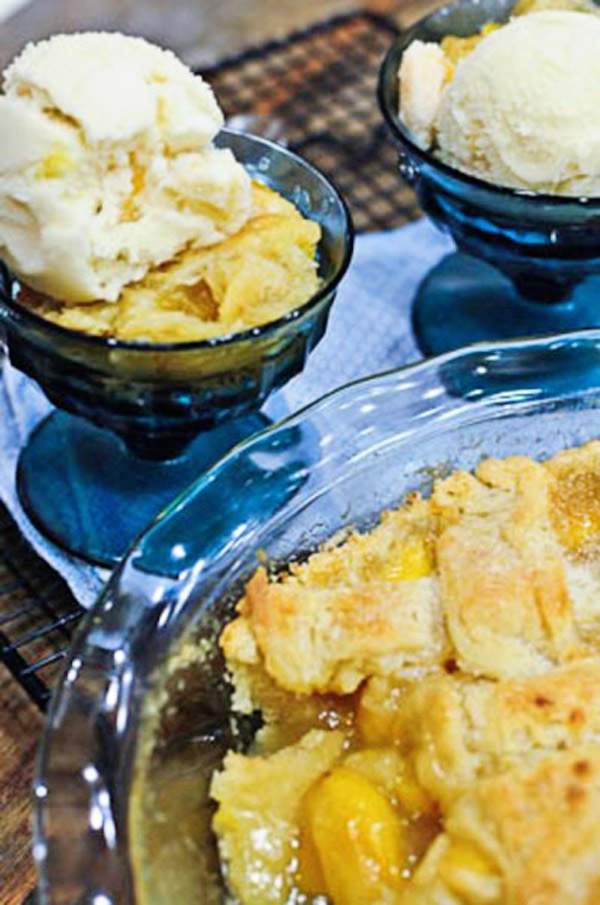 Summers always mean cobblers around our house. It's hard to pick a favorite, but I think fresh peach cobbler probably gets the vote most often when I ask which cobbler my family would like for dessert.
Being from Georgia, we just can't wait for fresh peaches to reach their peak so we can enjoy Grandmother's peach cobbler recipe. Their heady scent completely envelopes you as you walk into the grocery store, the farmer's market, or even up to the back of the farmer's pickup truck alongside the road.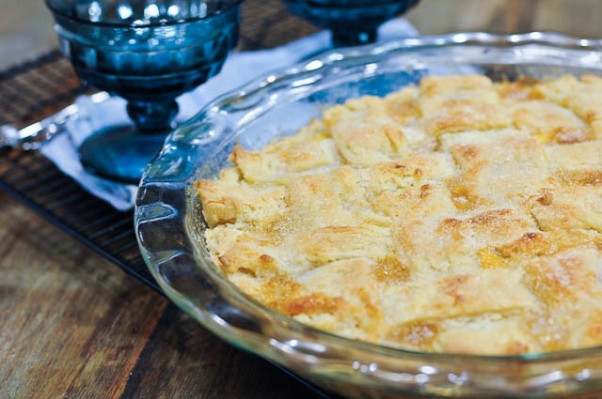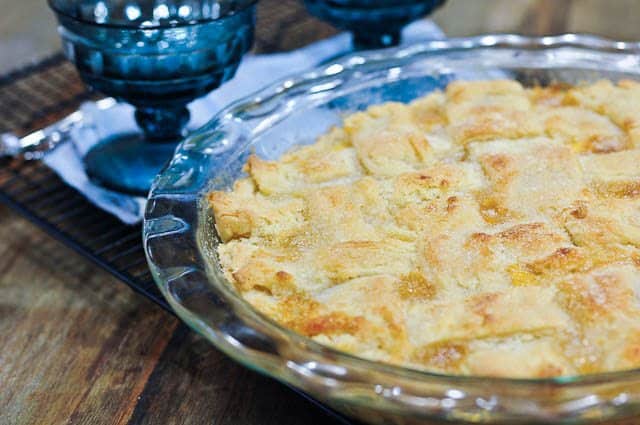 The peaches you find on the back of that farmer's pickup truck are some of the best, ya know. They are usually full, soft, and just bursting with juice as you bite into them. Perfect for any number of peach dishes or just for eating right then and there on the side of the road.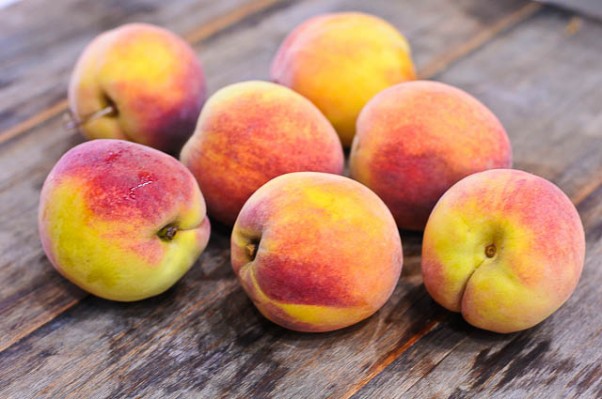 I remember stopping by with my Grandmother as she'd buy baskets and baskets of peaches during the summer. Along with making peach preserves and any number of other peach dishes, she'd always make a fresh peach cobbler for supper. A lattice-topped, double crust sensation filled with rich and buttery peaches.
Southern comfort dessert at its finest.
You'll start with the freshest peaches you can find. However, if you have a craving for peach cobbler when peaches aren't in season, you can always use frozen or canned peaches instead.  You'll just want to be sure that you drain them from any syrup they may have been packaged in since you'll be making the filling for this peach cobbler based on Grandmother's time tested recipe. Otherwise, they might be too sweet.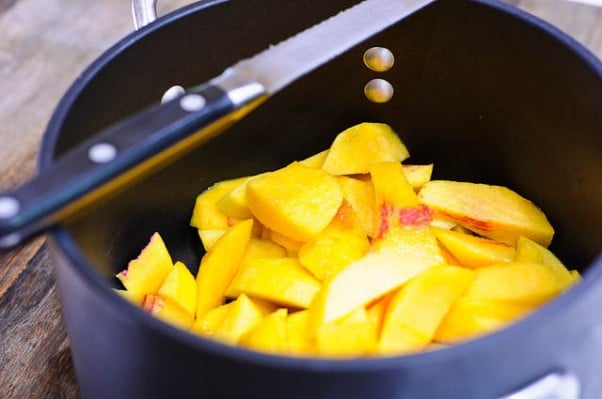 For fresh peaches, you want to peel and slice them and place into a large saucepan.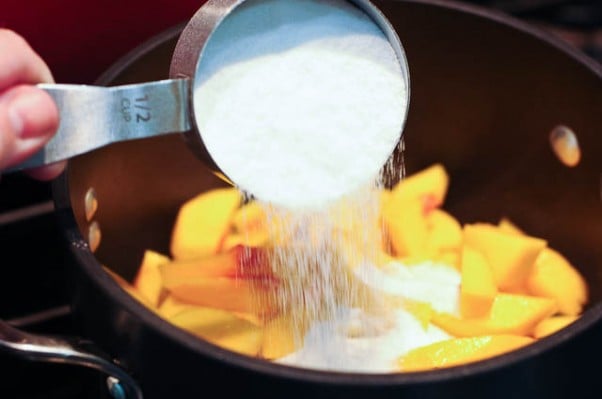 Add your sugar to the peaches in your saucepan.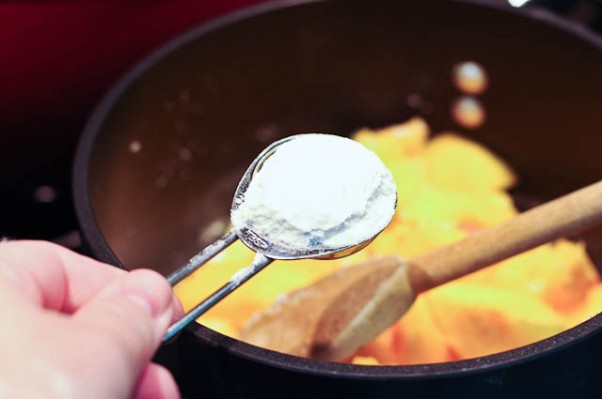 And then you'll add a little flour to thicken up the syrup with the peaches as you cook them.
You'll simmer the peaches over low to medium heat for about 10 minutes.
Set them aside and allow them to cool slightly as you prep your pie crusts. For the pie crusts, I use my favorite pie crust recipe. I double it to make two crusts as this is a lattice topped recipe. If at all possible, don't skip out and just have one crust on your peach cobbler. The perfect peach cobbler, at least in my family, has the perfect portion of peaches to pie crust in every single bite and the bits of crust in the cobbler. And one of the best parts of this whole peach cobbler is that the syrup bubbles a bit as it cooks and makes the top lattice crust out of this world! Seriously. You don't want to miss that part!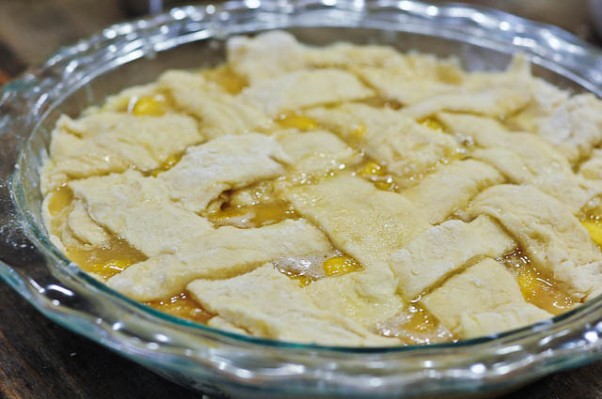 Dot with your remaining butter and sprinkle with sugar.
Place into the oven and bake for about 20 minutes until bubbly and the crust has lightly browned.
Allow to sit for about 5 minutes before serving.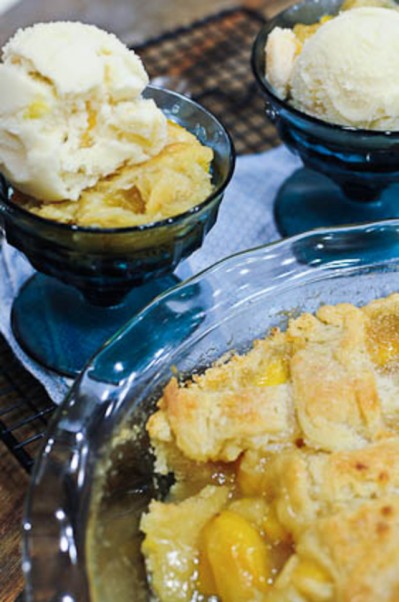 Serve warm with a scoop of ice cream to take it really over the top!
Here's Grandmother's Peach Cobbler Recipe. I think you are going to LOVE it!

Grandmother's Peach Cobbler
Peach Cobbler makes the perfect, Southern dessert. This heirloom recipe makes the best peach cobbler.
Author:
Robyn Stone | Add a Pinch
Ingredients
4 cups sliced peaches
1½ cups sugar + 2 tablespoons for topping
3 tablespoons all-purpose flour
2 tablespoons butter
Instructions
Preheat oven to 425º F.
Prepare two pie crusts according to instructions in the recipe through chilling the pie crust dough.
Place peaches, sugar, and flour in a large saucepan.
Mix well and simmer over low heat for about 10 minutes until a thick syrup has formed. Set aside and allow to cool slightly.
Remove pie crust dough from the freezer and roll one half of dough and place in the bottom of 10 inch pie plate. Pour peaches on top of the bottom dough. Roll second half of dough and cut into ½" thick strips. Arrange on top of peaches in a lattice pattern.
Dot with remaining butter and sprinkle top of cobbler with 2 tablespoons sugar.
Place cobbler into oven and bake for approximately 30 minutes or until lightly browned.
Allow to rest about 5 minutes before serving.
Enjoy!
Robyn xo
If you are looking for a super simple peach cobbler, here is the recipe that we always called a dump simple peach cobbler. Of course you can use any fruit that you prefer in that recipe.