Easy pizza dough recipe for an amazing homemade pizza crust! Perfectly crisp outside, yet chewy inside with incredible flavor!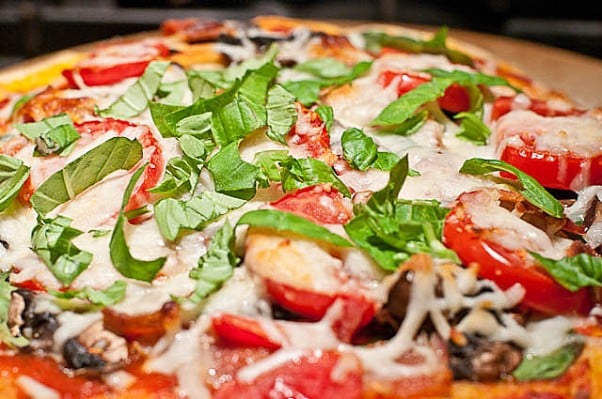 The basic, perfect pizza dough is no longer an elusive mystery. And I have another secret to share with you, it can be ready in minutes rather than the hours many recipes take. And that's a good thing when we decide late in the day we want to enjoy a few movies on the porch.
How you ask? Well, I'm about to show you.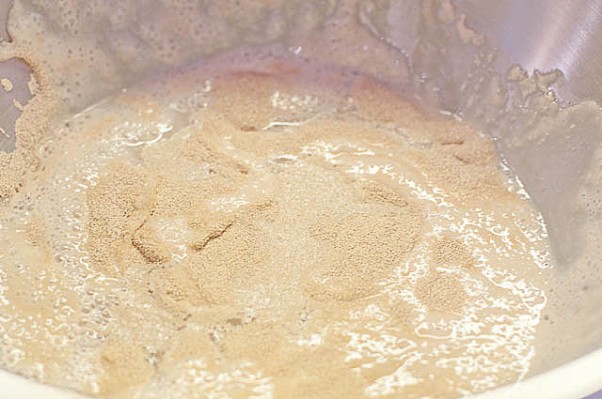 Sprinkle yeast over warm water. Allow to stand while mixing next ingredients.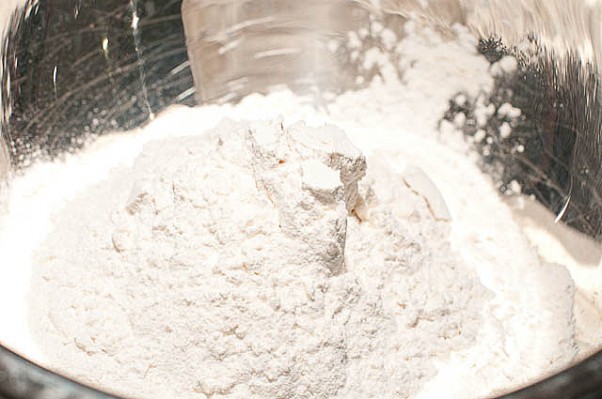 Pour together flour and salt. Lightly run a whisk through the dry ingredients to combine well.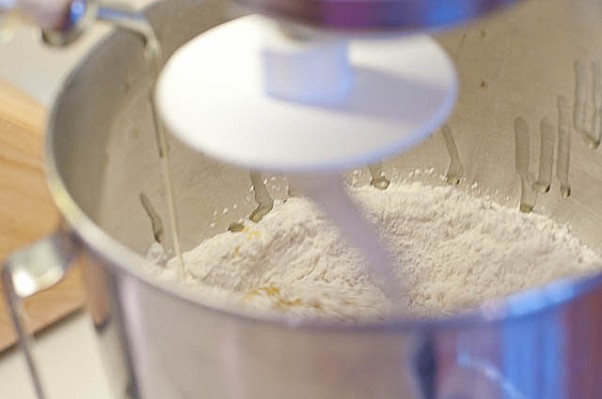 Drizzle olive oil into dry ingredients using the dough hook attachment of your mixer.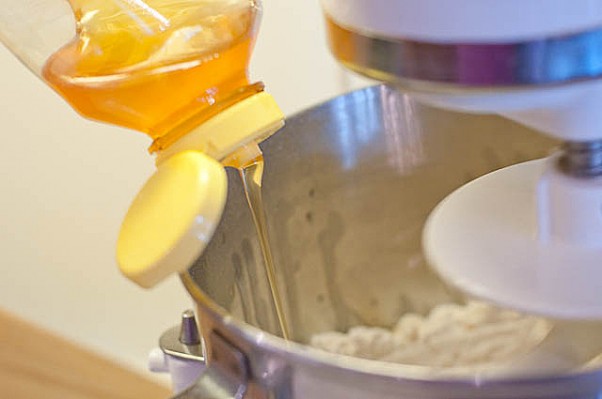 Add in the honey.
Oh yum. Love good honey.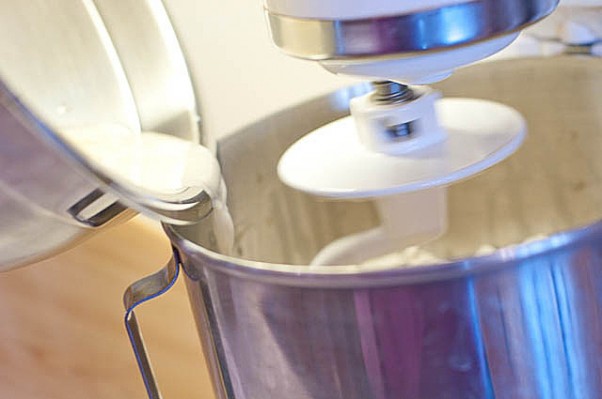 Add in yeast mixture.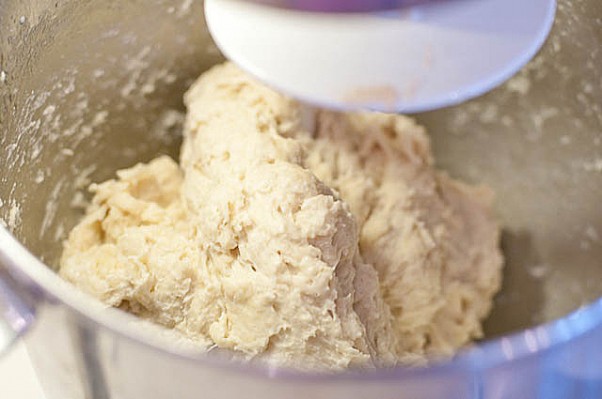 Combine all of the ingredients until a soft ball forms. Do not over mix your dough or it will be tough.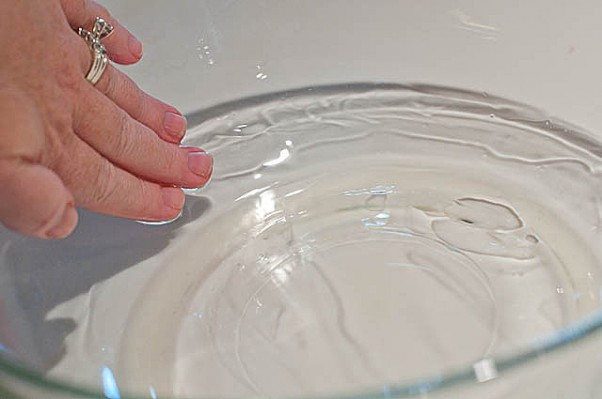 Pour olive oil into glass or stainless steel bowl and make sure all surface area is covered.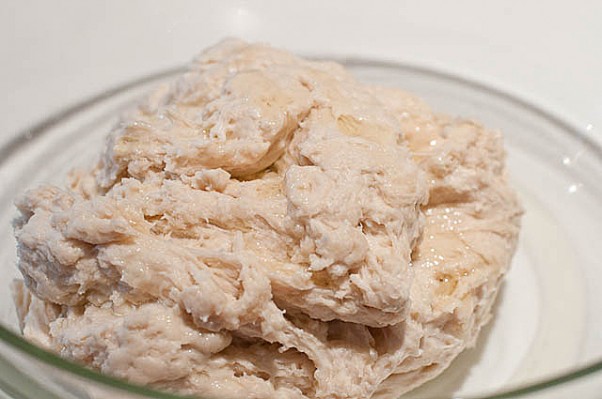 I always add another little drizzle to my dough.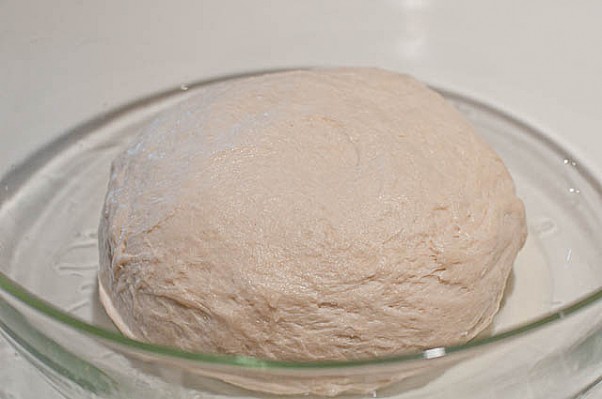 Gently knead the dough and form a ball in the center of your bowl.
Cover bowl with a damp kitchen towel and place into a 175 – 200 degree oven.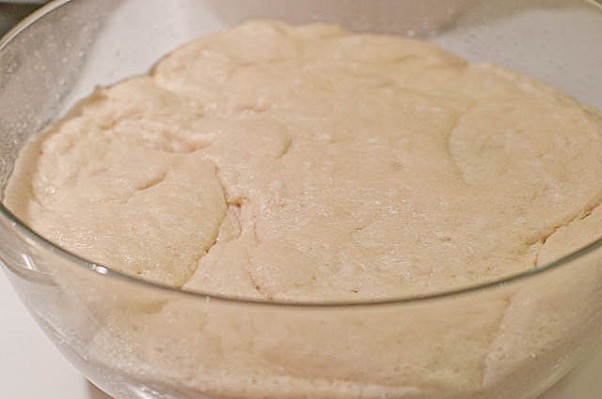 Allow dough to double in bulk. Punch down and return to oven covered with a damp kitchen towel.
Allow to rise again in 200 degree oven.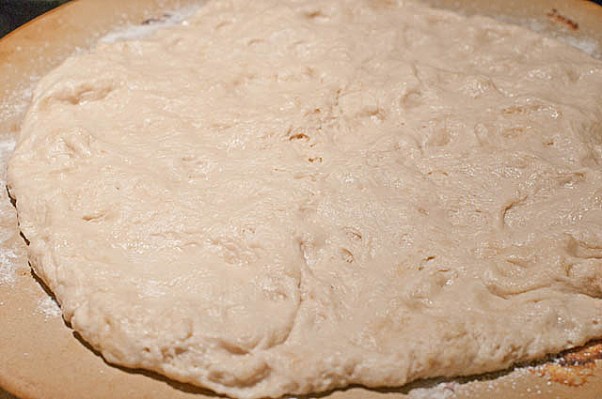 Remove dough from oven when it has again doubled in bulk, about 30 minutes. Place half of dough on a baking pan that has been lightly dusted with corn meal to prevent any sticking.
Top with your favorite pizza sauce and toppings and enjoy.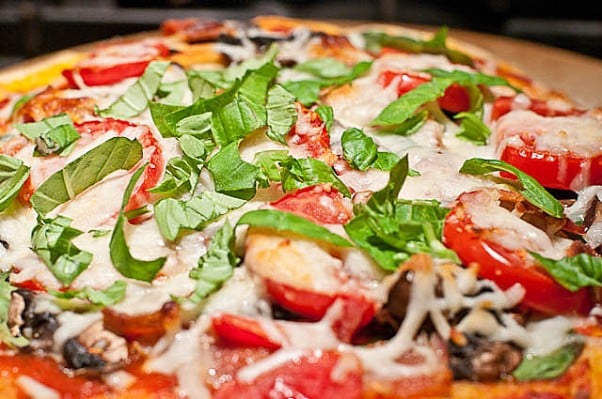 Favorite Pizza Toppings
Pizza Sauce – I absolutely love my quick and easy homemade pizza sauce recipe. It keeps well in the refrigerator or in cubes in the freezer for each weeknight meals!
Alfredo Sauce – Speaking of sauces. Have you ever tried Alfredo Sauce on your pizza? Amazing!
BBQ Sauce – Use BBQ sauce instead of pizza sauce for a pulled pork pizza or BBQ chicken pizza, etc.
Cheese – Our favorite is our Three Cheese White Pizza. It is amazing!
Pepperoni – Always a favorite! I love to make a classic pepperoni pizza with pizza sauce, mozzarella cheese, and pepperoni. So divine!
Chicken – I love to use baked chicken that I have shredded and keep in the refrigerator or freezer for a super quick dinner. If you don't have homemade baked chicken, you can always grab a rotisserie chicken at the grocery store for an easy dinner idea.
Ground Beef – I also love to keep cooked ground beef in the freezer for a quick meal, it works perfectly on this pizza dough!
Pulled Pork – Yum! The flavors are amazing when you have homemade BBQ sauce and pulled pork! Add some cheese and thinly sliced red onion and it is out of this world!
Veggies – I also love a good vegetarian pizza! Load up your pizza dough with your favorite seasonal vegetables for one more delicious dinner!
How Many People Does a 12-14 inch Pizza Serve?
Generally, a 14-inch pizza can be cut into 8 slices and will serve 3-4 people.
Can You Make Pizza Dough Ahead of Time?
Absolutely! Prepare your pizza dough as directed and divide into two portions. Then, form each into a dough ball, coat well with olive oil, and store each in the refrigerator in separate covered containers (such as an oiled glass bowl covered with plastic wrap).
How Long Does Pizza Dough Last in the Refrigerator?
Properly stored, pizza dough will last in the refrigerator for up to 3-4 days.
To store it, form the dough into dough ball(s) (this recipe should make enough pizza dough for two 12-14-inch pizzas). Coat each dough ball in olive oil. Place each coated dough ball into a glass bowl that has also been coated in olive oil. Cover the bowl tightly with plastic wrap and store in the refrigerator for up to 2 week.
This works perfectly for making your pizza dough one night to enjoy the next to make dinner even easier!
Can You Freeze Pizza Dough?
Yes! Pizza dough is great to make-ahead of time. Simply form the dough into a ball, coat it well with olive oil and then store in a freezer-safe zip top bag for up to 3 weeks. To use, remove from the freezer and allow to thaw in the refrigerator. Then, use as normal.
Perfect Pizza Dough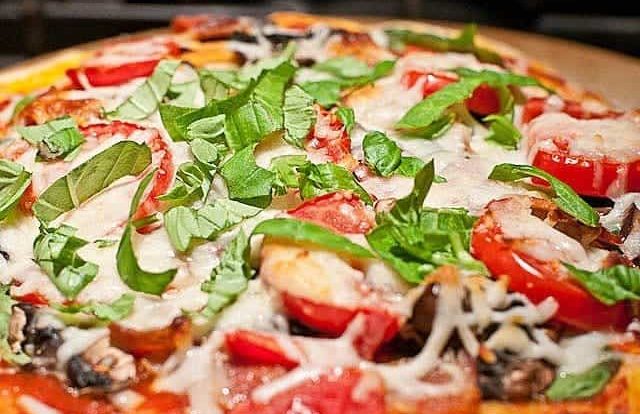 Perfect Pizza Dough is easy to make at home! Get this family favorite pizza dough recipe.
Ingredients
1

cup

warm water

2

tablespoons

yeast, active or rapid rise

3 1/2

cups

all-purpose flour

1/2

teaspoon

sea salt

1 1/2

tablespoons

honey

1/3

cup

olive oil

corn meal

for dusting
Instructions
Sprinkle yeast on top of the warm water. Allow the yeast to sit while you prepare other ingredients.

Combine the flour and sea salt in the bowl of stand mixer or food processor. Slowly drizzle in olive oil, then honey, then yeast and water mixture. Combine until forms a soft ball.

Drizzle olive oil into a glass or metal bowl, being sure to cover the sides of the bowl.

Remove the dough ball from mixer or food processor and place dough into the prepared bowl.

Cover with a damp cloth and place in an oven for about 10 minutes to double in size.

Remove from oven and punch the dough down. Cover again with a damp cloth and return to 200-degree oven.

Allow the dough to rise again, approximately 30 minutes.

Remove the dough from oven and divide in half. Place one-half of the dough onto a pan that has been lightly dusted with corn meal.

Top with favorite pizza toppings and bake in an oven or on the grill for approximately 20 minutes until crust has turned a light golden brown.
Notes
This recipe makes enough pizza dough for two 12-14 inch pizzas.
Generally, a 14-inch pizza serves between 3 and 4 people.
If you do not need to use all of the dough at once, you can easily freeze the remainder of the dough that you do not use. 
Nutritional Information
Calories:
291
kcal
|
Carbohydrates:
45
g
|
Protein:
6
g
|
Fat:
10
g
|
Saturated Fat:
1
g
|
Polyunsaturated Fat:
1
g
|
Monounsaturated Fat:
7
g
|
Sodium:
147
mg
|
Potassium:
61
mg
|
Fiber:
1
g
|
Sugar:
3
g
|
Vitamin C:
1
mg
|
Calcium:
9
mg
|
Iron:
3
mg
Enjoy!
Robyn xo