Homemade BBQ Sauce Recipe
Homemade BBQ Sauce Recipe – Ready in 15 minutes, you'll have the best Homemade Barbecue Sauce that is sweet and tangy and made from scratch!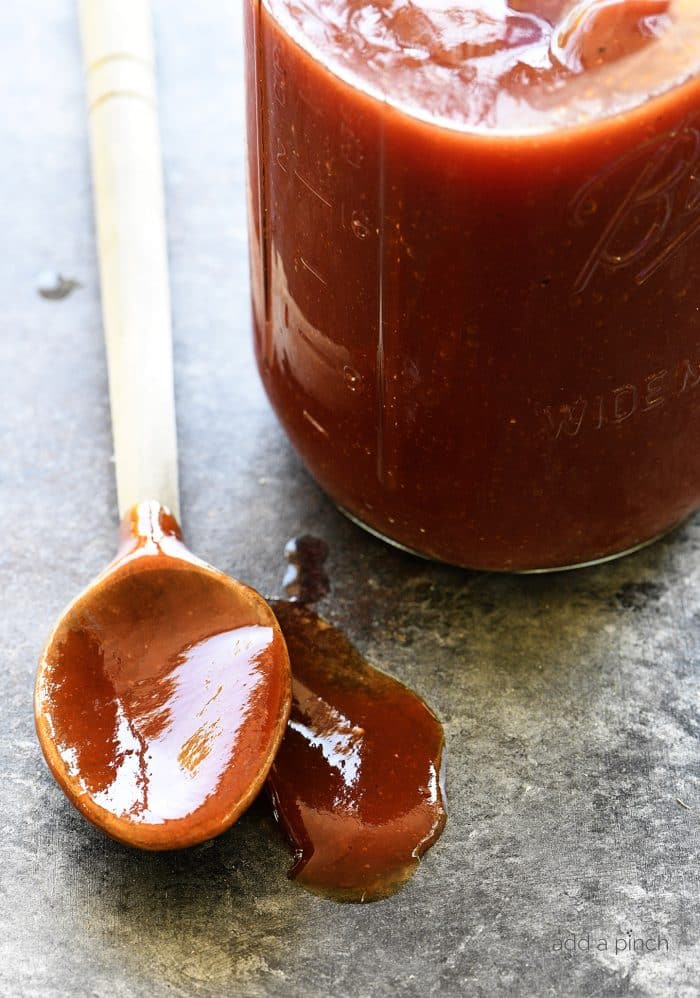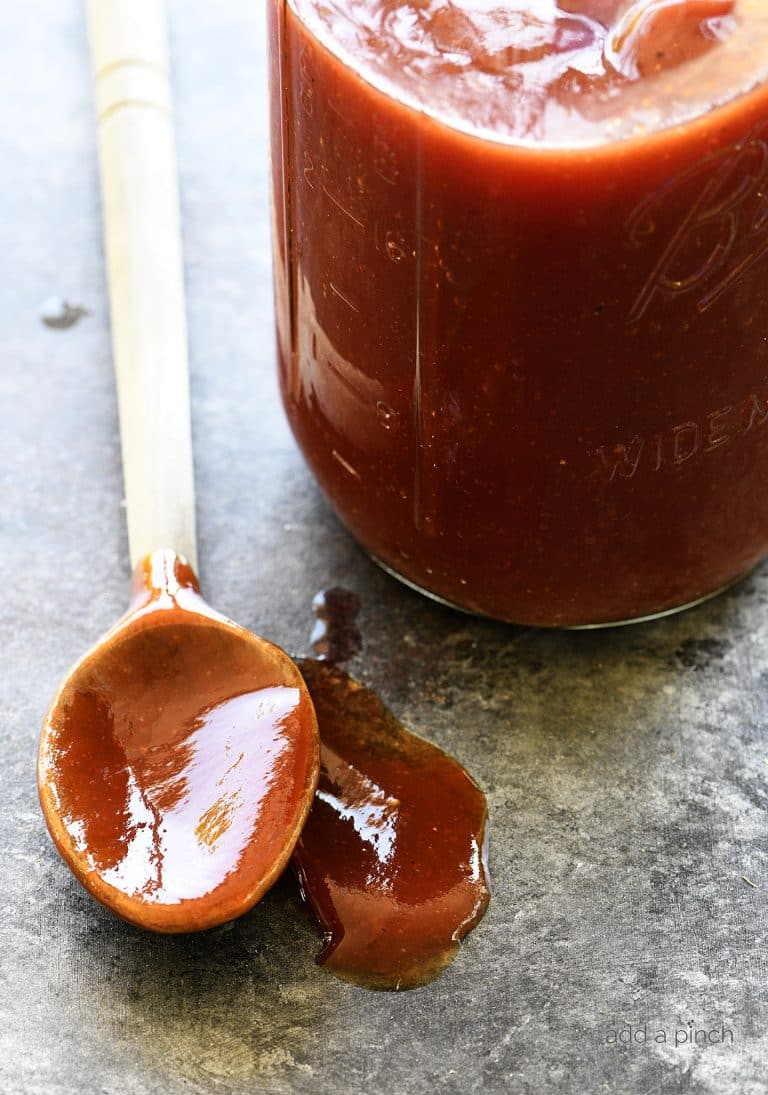 BBQ sauce is one of those topics that people can become really, really passionate about. There are the regional camps of North Carolina style BBQ sauce, Kansas City style BBQ sauce, white Alabama BBQ sauce, and then the Memphis style with no sauce at all (well, maybe just a smidge). Everyone has their personal favorites.
And you know, I really love them all.
I've shared my Mama's Coca Cola BBQ Sauce with you that is the one that I personally grew up with. I've shared our Spicy Mustard BBQ Sauce that we use from time to time, and I've also shared my Peach BBQ Sauce that makes everything taste heavenly.
I've also included our favorite molasses based Sweet and Spicy BBQ Sauce in my cookbook which just takes ribs to a whole new level!
But today friends, I want to share with you this quick and easy, 15 minute BBQ sauce that takes just a handful of ingredients to make and comes out perfect every single time.
We've had friends who call this the best BBQ Sauce they've ever tasted and it's pretty easy to see why!
Homemade BBQ Sauce Recipe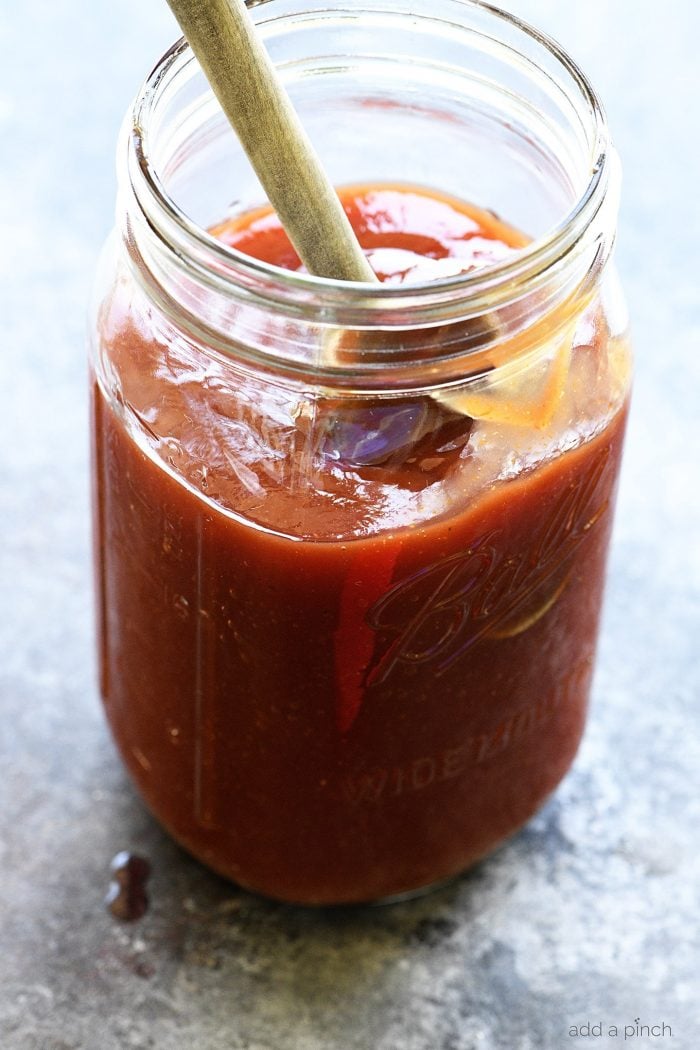 This BBQ Sauce comes together quickly with just a handful of ingredients that I generally have in my refrigerator or my pantry and is one that I think you all will fall in love with as well. I've had friends ask me to please make extra for them to take home and if I'd bottle it, they'd surely buy it. They are the best. 🙂
How to Make the Best BBQ Sauce
For this quick and easy homemade BBQ sauce, I start with ketchup. You can use your favorite ketchup as the base. I generally go for one that includes the fewest ingredients and doesn't include high-fructose corn syrup.
To my BBQ sauce, I whisk in apple cider vinegar, brown sugar, honey, Worcestershire sauce (or coconut aminos if you are sensitive to soy or gluten-free), my favorite Stone House Seasoning, lemon juice, and a dash of hot sauce.
Then, I let my BBQ sauce simmer on low heat for about 10 minutes to deepen the flavors and thicken the sauce.
Then, I remove it from the heat and use it immediately or allow it cool slightly and pour into large jar with tight fitting lids and store in the refrigerator to use on ribs, chicken, pork, salads, and so much more!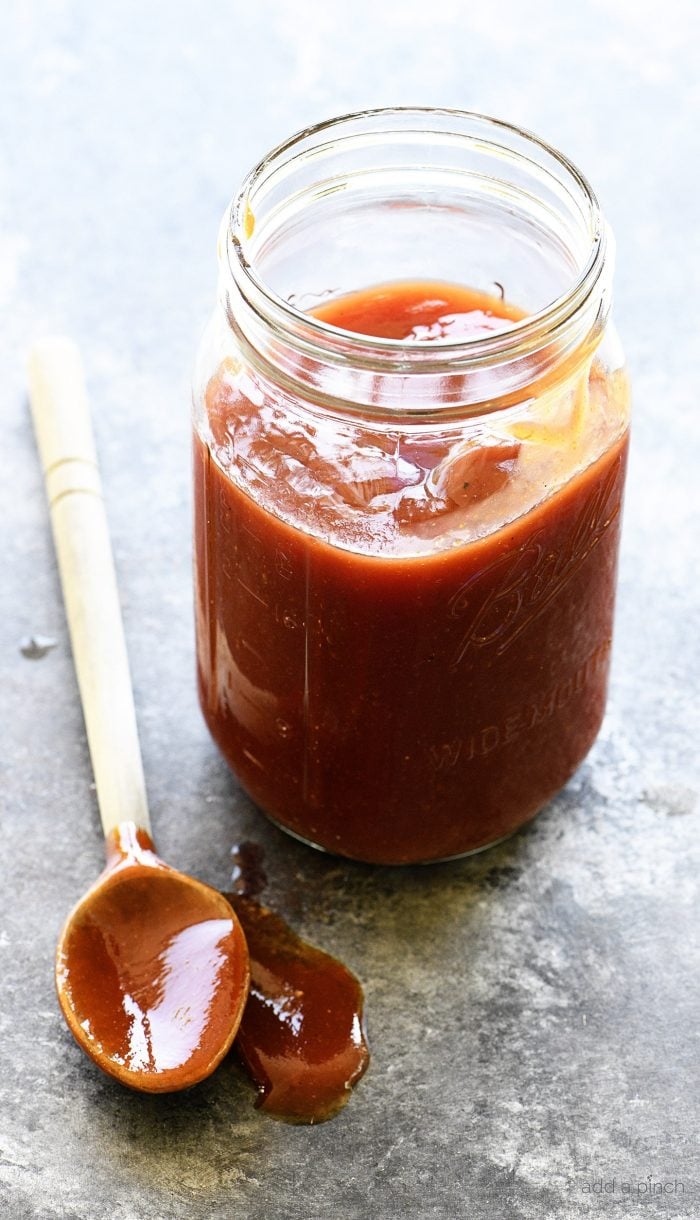 Homemade BBQ Sauce Video
Here's my best Homemade BBQ Sauce recipe. I hope you love it as much as we do!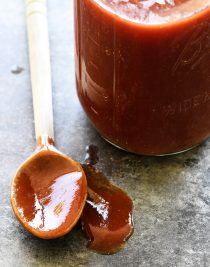 Yield: 8 servings (about 2 cups)
Homemade BBQ Sauce Recipe
Total Time 15 minutes
Prep Time 5 minutes
Cook Time 10 minutes
Homemade BBQ Sauce Recipe - Ready in 15 minutes, you'll have the best Homemade Barbecue Sauce that is sweet and tangy and made from scratch!

Ingredients
2 cups ketchup
1/2 cup apple cider vinegar
1/4 cup packed brown sugar
2 tablespoons honey
1 tablespoon Worcestershire sauce or coconut aminos
1 tablespoon lemon juice
1 teaspoon Stone House Seasoning
1/4 teaspoon hot sauce optional
Directions
Whisk together all ingredients in a medium saucepan situated over medium heat. Allow to come to a bubble and then reduce the heat to low. Allow to simmer until thickened, about 10 minutes.

Serve immediately or allow to cool slightly and store in an airtight container in the refrigerator for up to a week.
Nutrition Facts
Homemade BBQ Sauce Recipe
Amount Per Serving (2 tablespoons)
Calories 114
% Daily Value*
Sodium 571mg 24%
Potassium 226mg 6%
Total Carbohydrates 27g 9%
Sugars 24g
Vitamin A 6.2%
Vitamin C 3.3%
Calcium 1.8%
Iron 2.4%
* Percent Daily Values are based on a 2000 calorie diet.
All images and text © Robyn Stone for Add a Pinch
Enjoy!
Robyn xo