Learn how to clean your cast iron quickly and easily so that it lasts generations.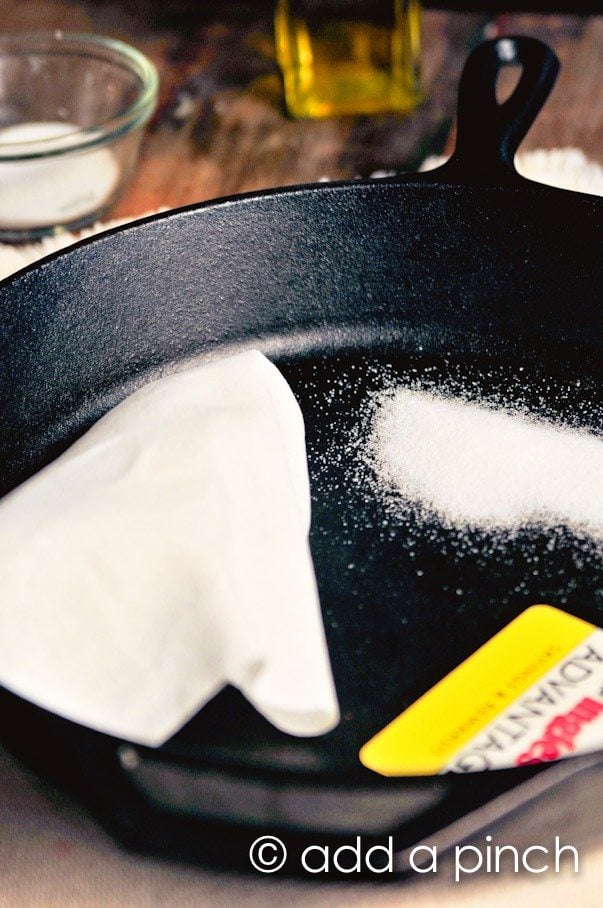 I frequently receive emails asking about cast iron – how to care for it, how to select the best size, the sizes of skillets that I use, etc. I love answering each one of these emails and thought that it might be helpful for even more people for me to write a series on the topic!
Properly cared for, cast iron cookware can last for generations and will become on of those prizes heirlooms handed down through your family. Cast iron cookware has long been a treasured tool for cooking for their weight, conductivity of heat, as well as the ability to cook just about anything in it! While there are definitely more expensive pieces of cookware available, there are few pieces that are as versatile as cast iron.
Since I use my cast iron cookware so frequently, I definitely want to make sure I am taking proper care of it – especially the skillets given to me from my Grandmothers as well as my husband's family.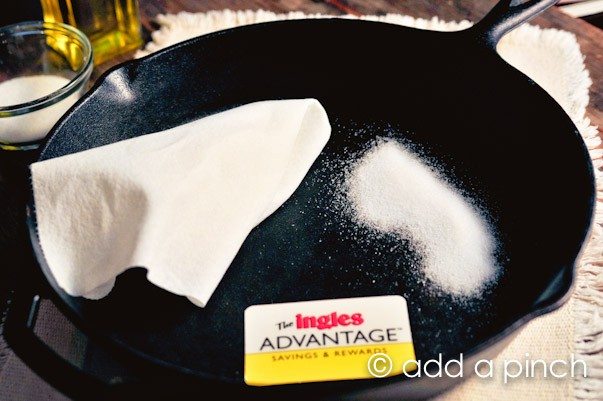 How to Clean Cast Iron

1. Once your cast iron has cooled to a slightly warm temperature after use, pour about 1/4 cup of Kosher salt onto the cooking surface

2. Use a paper towel and scrub the salt in a circular motion to remove the cooked on residue.

3. If the residue still does not release, pour about 1 tablespoon of oil onto the cookware, grab an old store rewards card or similar hard plastic card and scrap away the problem area.

4. Wipe clean with paper towel to remove all of the salt and residue you've removed from the cookware.

5. Rub a light coat of oil over the surface and place on the stove top over low heat for a few minutes to completely dry.
 Do you use cast iron cookware? What's your favorite thing to cook in it?