Beignets make a delicious sweet treat! Similar to a fritter, this simple beignets recipe will quickly become a family favorite!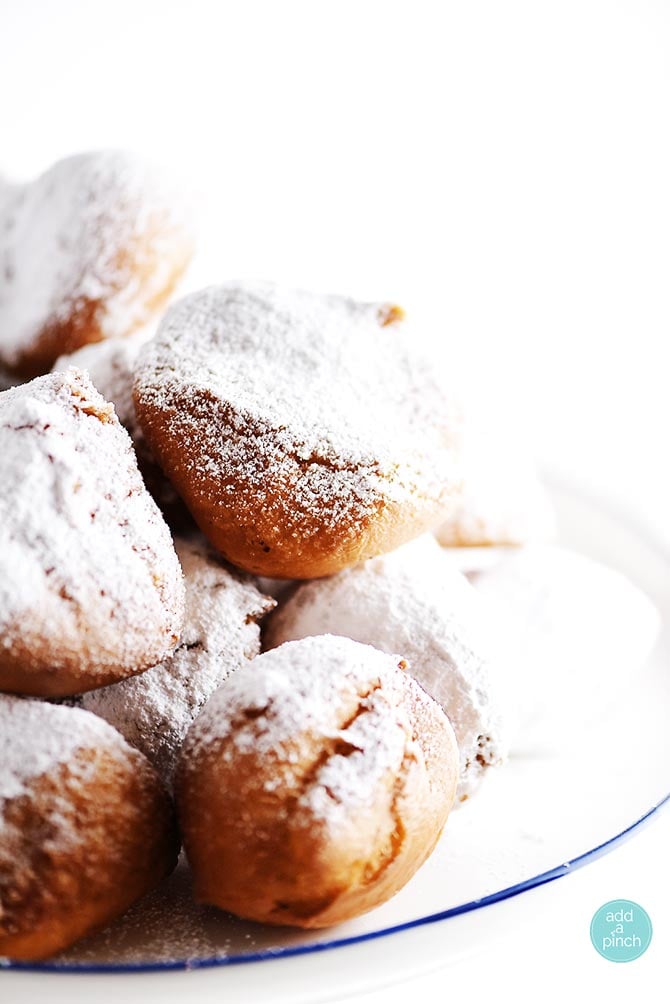 I'll never forget my first trip to New Orleans. The highlight of the trip? Beignets. Fresh ones with one of the best cups of cafe au lait I'd ever had in my life. It was during my "career world" life before our son was born. Back when I lived out of a suitcase and could run in a pair of heels. Let's just say, it sure seems like another lifetime ago.
We were staying near the conference center in New Orleans and stopped by the Cafe du Monde during our morning walk before the day's festivities and meetings were scheduled to begin. The smell drew us near and then we started seeing them. Beignets!
I won't even try to make out like I didn't inhale my first one. I totally did. It was gone in seconds, the only proof the dusting of confectioners' sugar on my black pants. I'd already licked my fingers clean!
The second one – I savored. A light and fluffy confection, I wasn't going to miss the enjoyment of one bite of it.
The crowds around us, the people watching that everyone says is so fabulous there, it was all a blur. It was just me and my beignet.
I've smuggled a few things from that other time in my life into this one. My love for beignets is one of them. It's just now, I can enjoy them while wearing my black yoga pants and there isn't a high heeled pair of shoes in sight.
Here's my favorite Beignet Recipe. I think you'll love them, too!
Beignets Recipe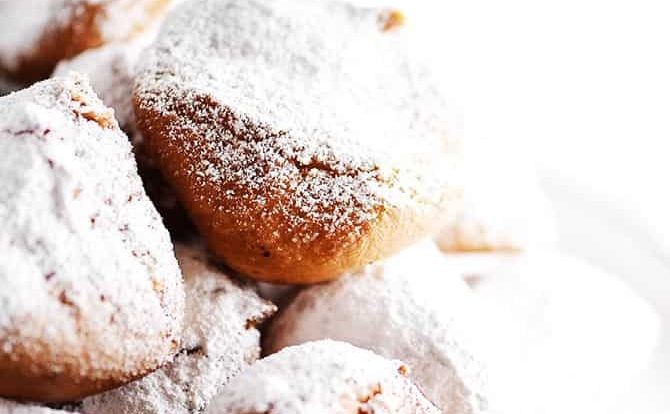 Beignets make a delicious sweet treat! Similar to a fritter, this simple beignets recipe will quickly become a family favorite!
Ingredients
1 1/4

cups

water

1/2

cup

granulated sugar

1 1/4

teaspoons

active dry yeast

2

eggs

1 1/2

teaspoons

salt

1

cup

evaporated milk

6 ½ – 7

cups

all-purpose flour

1/4

cup

vegetable shortening

oil

confectioners' sugar
Instructions
Heat water to 110º – 120º F in a in a medium glass bowl in the microwave. Stir in 1 tablespoon of the granulated sugar until it dissolves. Sprinkle the yeast into the water and sugar and allow to sit for about 5 -10 minutes to foam as it proofs.

While yeast is proofing, mix together remaining granulated sugar, eggs, salt, and evaporated milk together. Stir together the yeast mixture with the egg mixture. Then, stir in 3 cups of flour, one half cup at a time, into the yeast and egg mixture. Stir together until all the flour is well incorporated, being sure to get all of the flour incorporated from the bottom of the bowl. Add the shortening and continue to add the remaining flour until all of the flour is well combined.

Using the dough hook on your stand mixer, knead the dough, adding flour ¼ cup at a time until the the dough forms a ball and does not stick to the bottom of the bowl.

If using a stand mixer, fit the mixer with a dough hook and turn the mixer to medium speed and knead for 7-10 minutes. The dough should be tacky but not sticky.

If kneading by hand, place the dough onto a lightly floured surface and knead until smooth, about 10-15 minutes.

Spray a large bowl with nonstick spray. Put dough into the bowl and cover with plastic wrap or a towel. Let rise in a warm place until it has doubled in bulk.

Once dough is ready, preheat the oil in a deep-fryer to 350º F. You will need enough oil to fully submerse the beignets as they are frying.

Line a rimmed baking sheet with two layers of paper towels for the beignets to drain on once deep fried.

Roll the dough on a lightly floured surface to about 1/4-inch thick. Cut the dough into 1-inch squares. Carefully add a few beignets to the heated oil at a time to deep fry. Flip the beignets constantly while cooking until they become a nice golden color. Remove them with a slotted spoon to dry on the paper towel lined pan for a few seconds. Then place them on a plate or tray and dust both sides with confectioner's sugar.
Notes
Total time does not include inactive time for dough to double in bulk, about 1 – 2 hours.
Nutritional Information
Calories:
208
kcal
|
Carbohydrates:
39
g
|
Protein:
6
g
|
Fat:
3
g
|
Saturated Fat:
1
g
|
Polyunsaturated Fat:
1
g
|
Monounsaturated Fat:
1
g
|
Trans Fat:
1
g
|
Cholesterol:
11
mg
|
Sodium:
110
mg
|
Potassium:
79
mg
|
Fiber:
1
g
|
Sugar:
4
g
|
Vitamin A:
30
IU
|
Vitamin C:
1
mg
|
Calcium:
27
mg
|
Iron:
2
mg
Enjoy!
Robyn xo