Simple Eggs Benedict Recipe
Eggs Benedict is absolutely without a doubt one of my most favorite breakfasts in the entire world. But sometimes, it just hasn't been worth all the trouble to make it.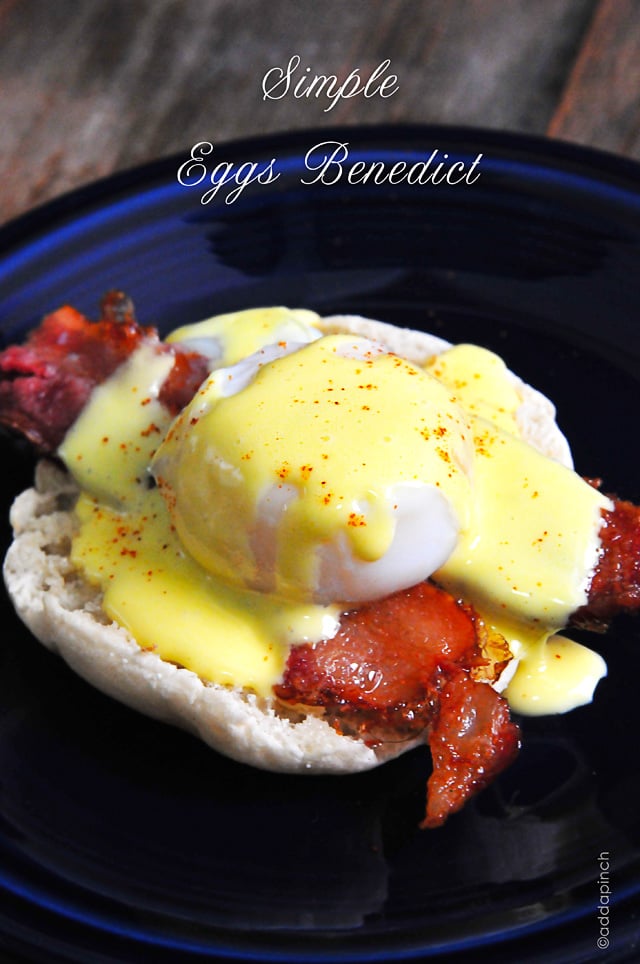 Do you ever feel like that? Love something so much, but have to wake up in the mood to labor through making it for your family?
No? Ummm, me either.
Ha, just kidding.
I totally do that.
Especially where poaching eggs over a low simmer and having a bain marie going for my hollandaise while toasting English muffins comes into play.
I guess you may think I'm totally lazy, but in reality, I just want things to be simple in the mornings. No fussing about for me until well past two cups of coffee, please.

That's why I'm declaring that this is the best way to make Eggs Benedict. Easy, peasy.
Since I'm over 40 now, I feel entitled to just declare it so.
Well, at least in my house. You are more than welcome to make it the classic way if that suits you.
But, if you are like me and are practically obsessed with a good Eggs Benedict, but detest all the fussing about with it, then this recipe is for you, too.
Ready?
Okay, this is going to rock your world.
Or at least it does mine.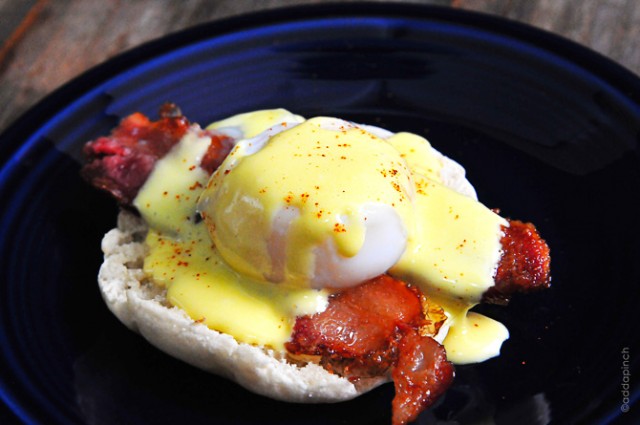 You'll find yourself whipping up this simple Eggs Benedict every weekend, or for Valentine's Day, or your husband's birthday.
Hey, what am I saying?
You'll decide to invent holidays and reasons to make these or just decide to make it on a random Tuesday just because you woke up with a hankering for it.
Or, if your like me, you may even decide that you want it for lunch or supper.
It's totally allowed.
Totally.
You are still going to have to make three different things and then assemble these babies, but your blender and your oven are going to do all the work for you.
Promise.
Here's the recipe for my Simple Eggs Benedict. It really is so simple that I feel like I'm cheating or something when I serve it.
Simple Eggs Benedict Recipe
This Eggs Benedict recipe is a simplified version of the well-loved, classic Eggs Benedict recipe. Ready in minutes without all the fuss!
Prep Time10 mins
Cook Time15 mins
Total Time25 mins
Servings: 4 -6
Ingredients
4-6 English Muffins cut in half
4-6 slices of thick cut bacon or Canadian Bacon
4-6 eggs
Instructions
Preheat oven to 400º F. Spray a muffin tin with nonstick cooking spray. Set aside.

Place bacon on a fully rimmed baking sheet (edges on all four sides) that has been topped with a cooling rack. Bake for 15-20 minutes.

Add 2 tablespoons of water to each indention of the muffin tin. Crack an egg into each individual indention, taking care not to break the yolk of the egg. Place in the oven along with the bacon the last 9-10 minutes of cooking.

Place English muffins on another baking sheet. Spread with butter and place in oven at the same time as adding eggs.

As your bacon, eggs, and muffins are baking, prepare your hollandaise sauce. Pour into a serving container.

To assemble Eggs Benedict, place English Muffins on each plate, top with one slice of bacon that has been folded in half to fit on the English Muffin. Using a silicon spatula, gently remove a poached egg from the muffin tin, draining on a thick kitchen towel before placing on top of the bacon.

Drizzle with hollandaise sauce and serve warm.
Enjoy!
Robyn xoxo