Southern Breakfast Casserole Recipe
This Southern Breakfast Casserole recipe is a delicious make ahead breakfast idea! So light and luscious, this breakfast casserole makes a family favorite meal!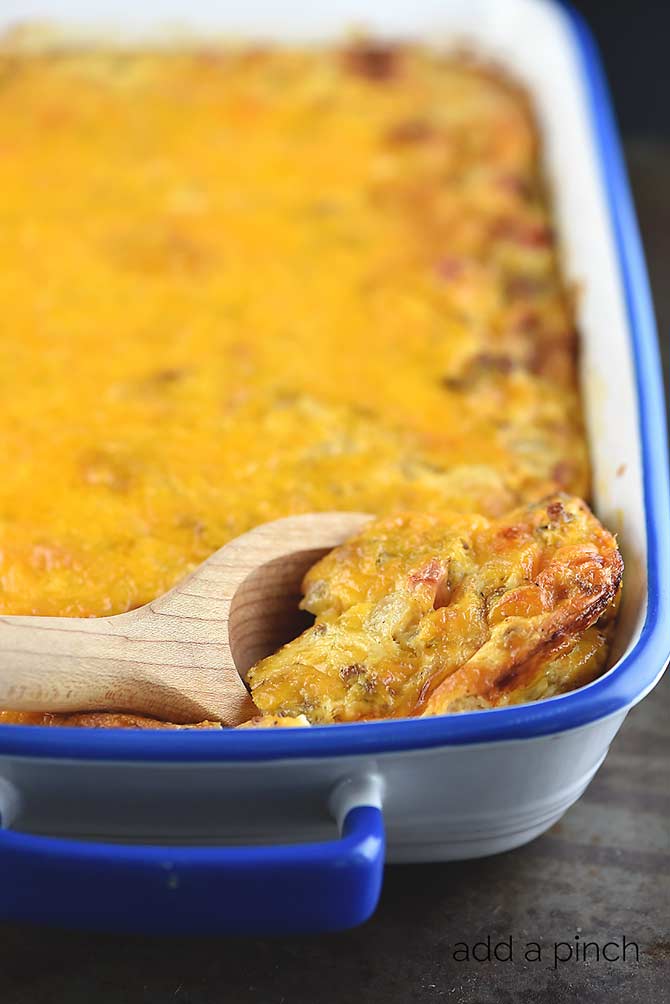 My mother has always been a wonderful hostess. She has the gift of welcoming guests and immediately making them feel right at home. Growing up, I was always amazed at how she could make every dinner party she hosted seem as if it was an everyday occurrence for her and having drop in guests was never an issue. She actually thrived on it. I also learned from her that by being prepared for such events in advance, she was calm, cool, and able to enjoy every minute of it. The same was true for weekends when we had friends stay over and even on holidays, such as Christmas.
I remember asking her the first Christmas after Sam was born how in the world she managed to have such a huge breakfast ready on Christmas morning when we were children. Even though Sam was just a month old, I was amazed at how the schedule I'd followed for years went right out the window that year. That's when Mama clued me in on the importance of keeping things simple, planning ahead for make-ahead items, and the beauty of enjoying the moment. 
That was 13 years ago this year and those make-ahead dishes are still some of our favorites. Take this breakfast casserole recipe. There have to be a million and one types of breakfast casseroles and it seems like every family has a favorite recipe of their own. This version came along one year when I realized that I didn't have bread on hand that my grandmother's recipe uses, so I improvised and baked biscuits to use instead. I haven't used anything but the biscuits since! Because, just like Mama's tips on how to enjoy Christmas morning without missing out on all the fun, when you learn something life-changing like that, you don't go back to the old ways!
For this breakfast casserole, I use my essential recipe for three ingredient buttermilk biscuits.
You can prepare this breakfast casserole two to three days in advance and keep it tightly wrapped in the refrigerator. Then, on the morning you are serving, just bake for about 40-45 minutes until the casserole is set. Remove it from the oven and allow it to stand at room temperature for a few minutes before serving. It is delicious served with fruit and juice or coffee.
Here's my Southern Breakfast Casserole recipe. I think you'll love it as much as we do!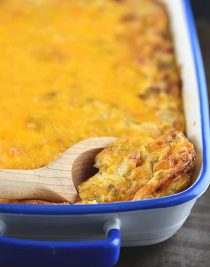 Southern Breakfast Casserole Recipe
Total Time 55 minutes
Prep Time 15 minutes
Cook Time 40 minutes
This Southern Breakfast Casserole recipe is a delicious make ahead breakfast idea! So light and luscious, this breakfast casserole makes a family favorite meal!
Ingredients
1 pound breakfast sausage
1/2 medium onion diced
1 clove garlic diced
4-6 baked buttermilk biscuits cubed
2 cups whole milk or half and half
8 large eggs beaten
1 cup shredded cheddar cheese
1/2 teaspoon salt
1/2 teaspoon black pepper
1/2 teaspoon dry mustard
Directions
Spray 9x13 casserole dish with nonstick cooking spray and set aside.

Crumble sausage in a medium skillet with onion and garlic. Cook over medium heat until the sausage is browned and cooked through and the onion is tender. Drain and set aside.

Arrange bread cubes in bottom of prepared casserole dish.

Stir together sausage mixture, milk, eggs, cheese, salt, pepper, and dry mustard and pour over cubed biscuits. Cover tightly and refrigerate overnight up to two days.

Preheat oven to 350º F and bake for 40-45 minutes, until center of casserole is just set. Allow to stand for about 10 minutes before serving.
All images and text © Robyn Stone for Add a Pinch
Enjoy!
Robyn xo