Jump to Recipe • Print Recipe
Blueberry Muffins make one of my favorite muffin recipes to make for a quick, easy breakfast, brunch or snack. They are always delicious and one of the things I can depend on my family devouring.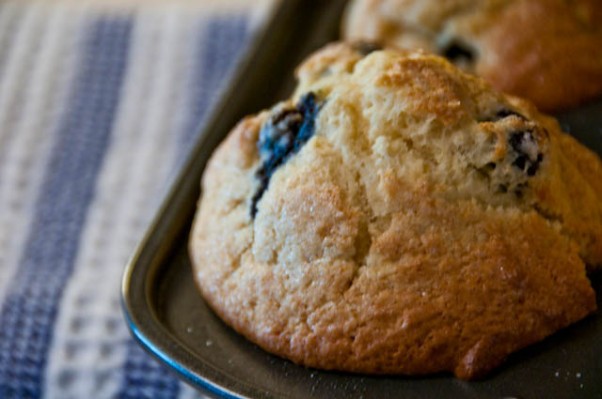 Filled with blueberries, these blueberry muffins are a classic muffin recipe that is great to make regardless of the weather. My family loves them during cool weather as a warm, comforting recipe and then in warm weather they always seem to be one of those grab and go items as well.
They are perfect for busy school mornings to make ahead and warm up for a super quick breakfast on the go. But, the best thing about these blueberry muffins is how perfect they are on the weekends to wake your family with the smells of warm, fresh bright blueberry muffins baking in the kitchen. The smell is always amazing.
You'll definitely want to make them again and again.
Here's my Blueberry Muffins recipe. I think you'll love it.

Blueberry Muffins
Blueberry Muffins make a favorite, classic breakfast or brunch recipe. Get this family favorite blueberry muffins recipe for simple mornings.
Ingredients
½ cup (1 stick) unsalted butter, room temperature, plus more for pan
2 cups all-purpose flour, plus more for pan
1½ teaspoons baking powder
½ teaspoon salt
2 cups fresh blueberries
1½ cups sugar, plus more for topping
2 large eggs
2 teaspoons pure vanilla extract
½ cup milk
2 tablespoons grated orange rind (optional)
Instructions
Preheat oven to 375º Fahrenheit.
Prepare muffin pan by buttering and lightly dusting with flour.
Whisk together flour, baking powder, and salt in a medium bowl. T
oss blueberries gently in 1 - 1½ teaspoons flour.
Set aside the flour mixture and blueberries.
Cream together butter and sugar on medium-high speed until light and fluffy, about 3 minutes. Add eggs, one at a time, beating until combined.
Add in vanilla.
Add in flour, mixing just until well-combined.
Add milk, mixing just until combined. Do not overmix.
Fold in the blueberries and orange zest.
Divide batter evenly among the prepared muffin cups.
Sprinkle tops of muffins with additional sugar for topping.
Bake until lightly golden brown and cake tester comes out clean when inserted in the middle. Allow to cool about 10 minutes before serving.
Served warm with a light spread of butter will bring big smiles and happy tummies.
Enjoy!
Robyn xo