Blueberry Muffins Recipe
Blueberry Muffins Recipe – This easy, one bowl recipe makes the best blueberry muffins! Bursting with blueberries under a sparkling sugar topping!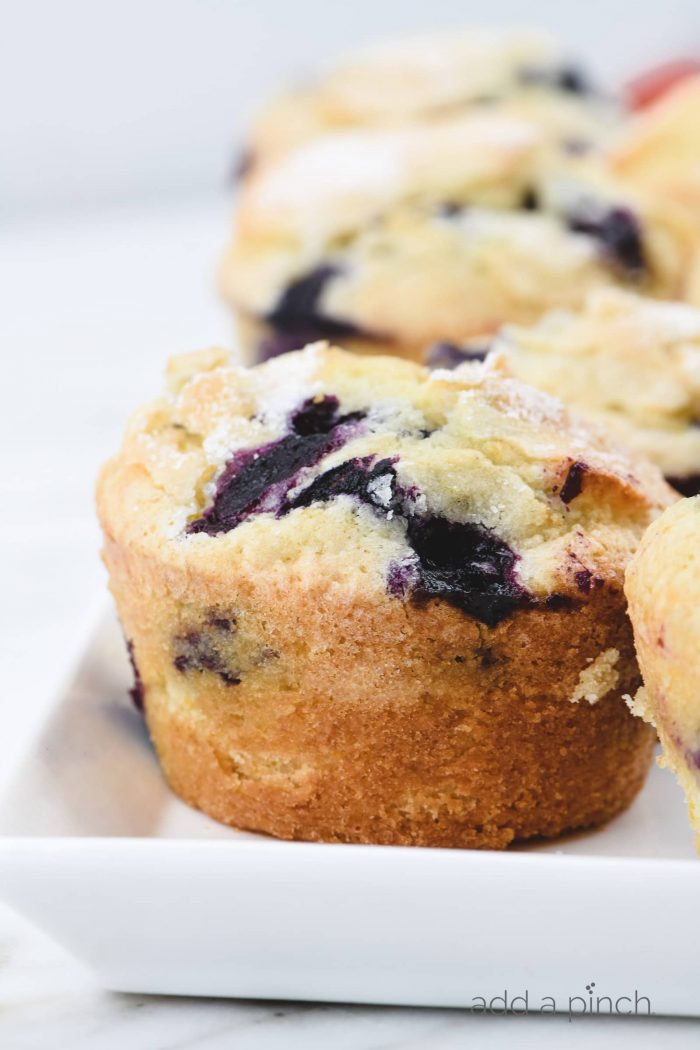 Blueberry Muffins have always been one of my family's favorite muffin recipes! And I love how quick and easy this recipe is to make for a breakfast, brunch or snack. They make the perfect grab and go item on busy mornings, but also make a wonderful treat for a more leisurely breakfast with a cup of coffee.
How to Make the Best Blueberry Muffins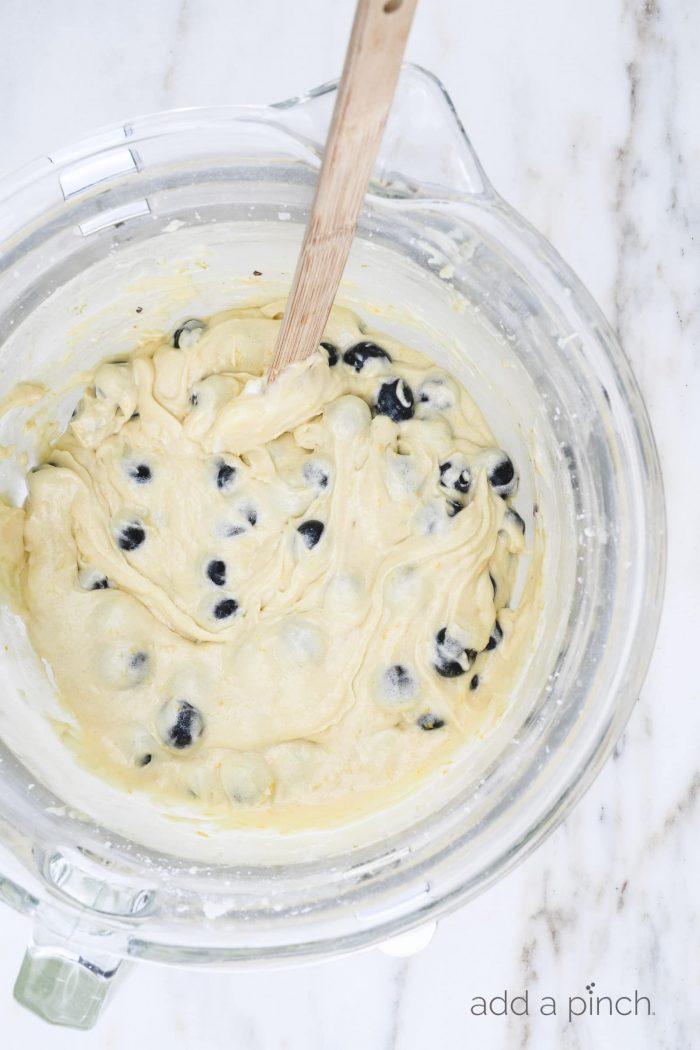 This easy recipe comes together quickly and bakes into a beautiful, bakery style blueberry muffin every time!
Preheat oven to 375º F. You'll want a well balanced heat in your oven so that your muffins rise rapidly and the inside is cooked perfectly when the outside of the muffin is golden brown.
Prep your muffin pan by spraying the cups of the pan with baking spray, such as Baker's Joy, or by buttering and lightly flouring each cup of the muffin pan.
Whisk together the dry ingredients: flour, baking powder, salt.
Toss blueberries in flour to coat them to prevent them from sinking as baking.
Cream together the butter and sugar. Add eggs, one at a time, followed by the vanilla extract. Stir in the flour mixture and then add the milk until just combined.
Fold in the blueberries and any optional mix-ins. Spoon muffin batter into prepared muffin pan. Top each with sugar.
Bake until golden brown. Allow to cool and then remove from the pan and serve.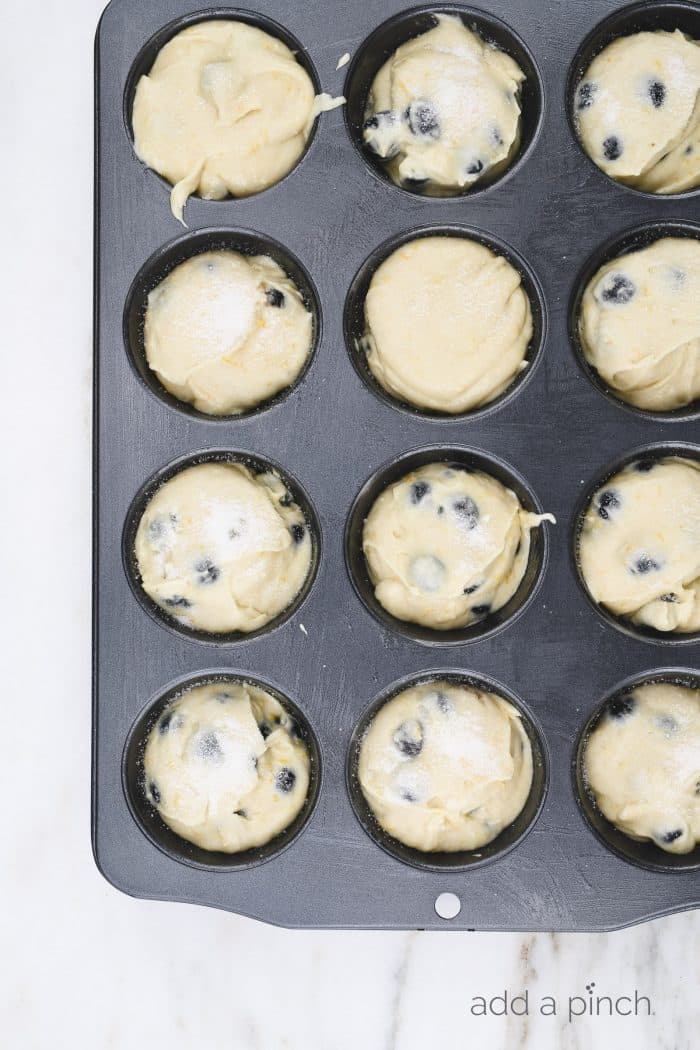 How to Keep Blueberries from Sinking?
To prevent your blueberries from sinking to the bottom of your blueberry muffins as they bake, simply toss the blueberries in a bit of all purpose flour to coat them. Then, gently fold them into your muffin batter. The muffin will then bake into a beautiful muffin with blueberries throughout.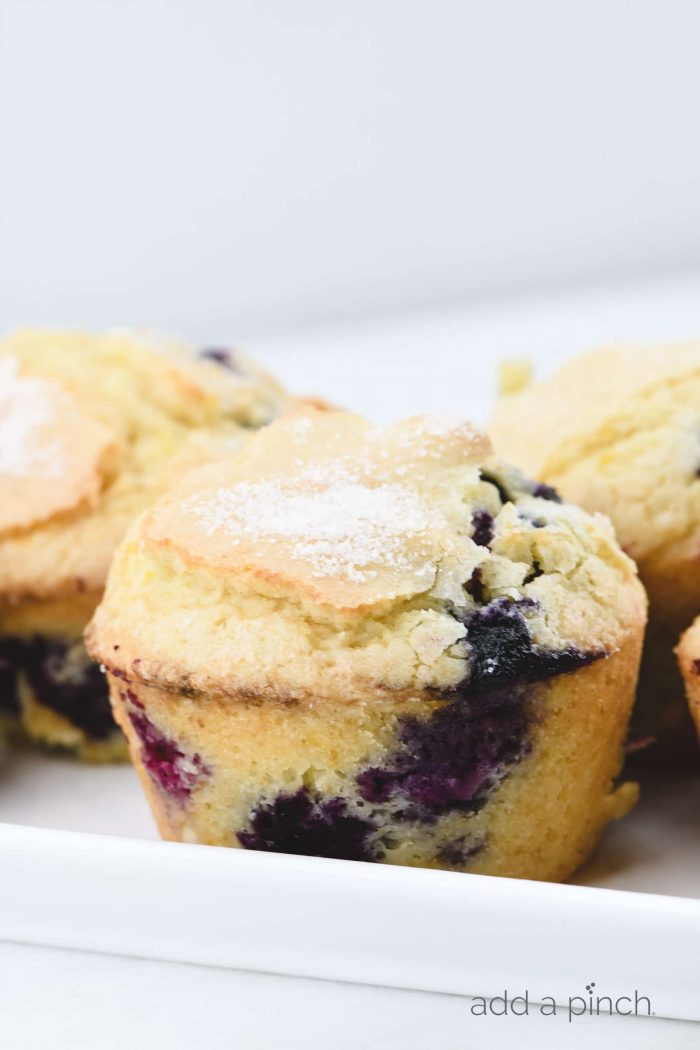 Can I Use Frozen Blueberries in My Blueberry Muffins?
When in season, I prefer to use sweet, fresh blueberries in this recipe. But I absolutely also love to use frozen blueberries when fresh blueberries are out of season. They have been frozen at the peak freshness, making this recipe perfect to use year round!
Optional Mix-Ins
For these blueberry muffins, I love to include freshly grated orange rind. The fresh citrus pairs perfectly with the blueberries and makes the flavors of the muffin even more delicious! I've included a short list of optional mix-ins that you might like to include:
2 tablespoons lemon zest
1/2 teaspoon ground cinnamon
1/4 cup slivered almonds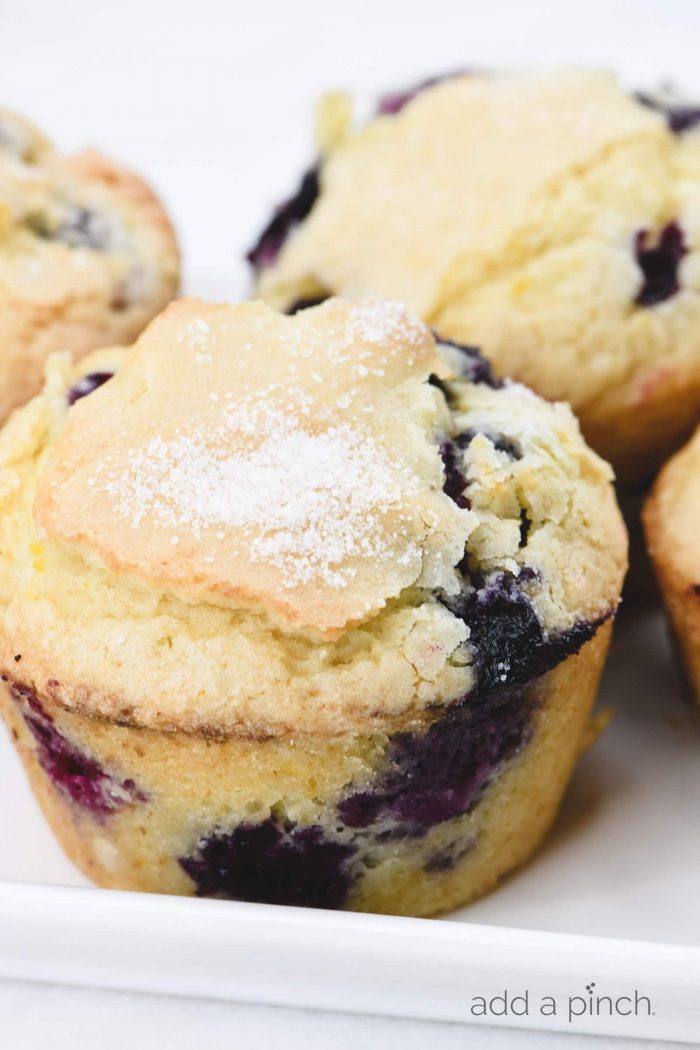 How to Store Blueberry Muffins
Once your muffins have cooled completely, they should be stored at room temperature underneath a cake dome for 3 to 4 days.
Can You Freeze Blueberry Muffins?
You can also freeze your muffins by placing the cooled muffins into freezer safe containers and then freezing for up to 3 months. To serve, simply remove from the freezer and allow to thaw completely before freezing.
More Muffin Recipes We Love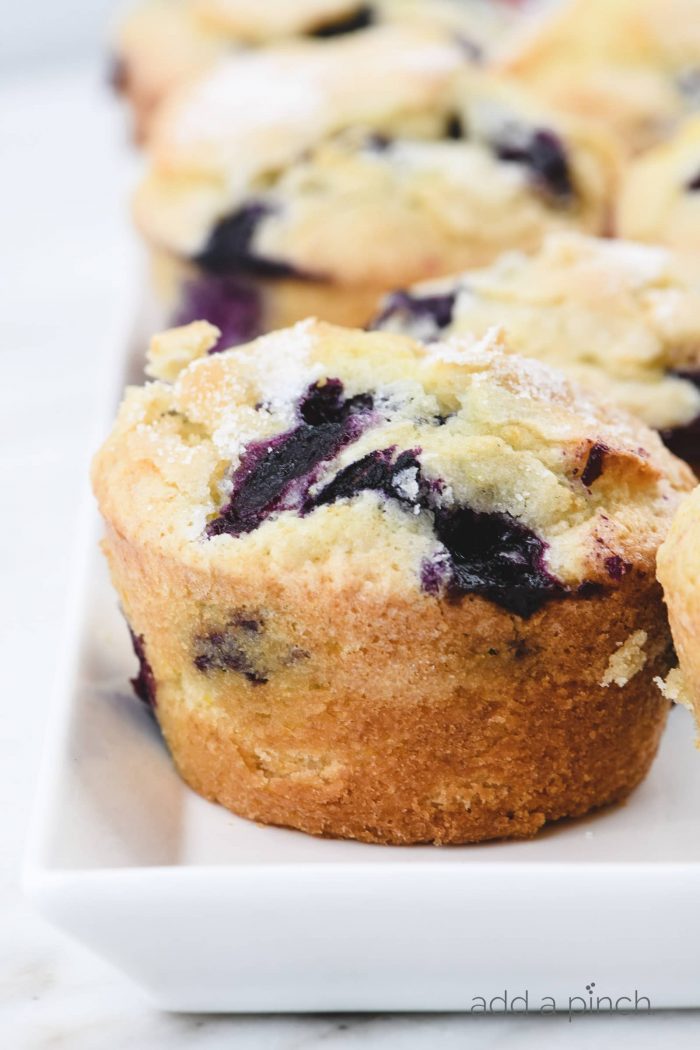 Here's my Blueberry Muffins recipe. I think you'll love it.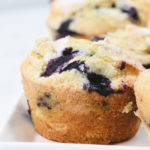 Print Recipe
Blueberry Muffins
Blueberry Muffins Recipe - This easy, one bowl recipe makes the best blueberry muffins! Bursting with blueberries under a sparkling sugar topping!
Prep Time5 mins
Cook Time25 mins
Total Time30 mins
Servings: 12
Calories: 276kcal
Ingredients
1/2 cup butter room temperature, plus more for pan
2 cups all-purpose flour plus more for pan
1 1/2 teaspoons baking powder
1/2 teaspoon salt
2 cups fresh blueberries
1 1/2 cups sugar plus more for topping
2 large eggs
2 teaspoons vanilla extract
1/2 cup milk
2 tablespoons grated orange rind optional
Instructions
Preheat oven to 375º F. Prepare muffin pan by buttering and lightly dusting with flour or by coating the cup of the muffin pan with a baking spray, such as Baker's Joy.

Whisk together flour, baking powder, and salt in a medium bowl. Set aside.Toss blueberries gently in 1 - 1 1/2 teaspoons flour. Set aside.

Cream together butter and sugar on medium-high speed until light and fluffy, about 3 minutes. Add eggs, one at a time, beating until combined. Add in vanilla extract.

Mix in the flour, mixing just until well-combined. Add the milk, mixing until just combined. Be careful not to overmix.

Fold in the blueberries and orange zest. Divide batter evenly among the prepared muffin cups.

Sprinkle tops of muffins with additional sugar for topping.

Bake until lightly golden brown and cake tester comes out clean when inserted in the middle, about 25 minutes. Allow to cool about 10 minutes before serving.
Nutrition
Serving: 1muffin | Calories: 276kcal | Carbohydrates: 45g | Protein: 3g | Fat: 9g | Saturated Fat: 5g | Cholesterol: 56mg | Sodium: 183mg | Potassium: 118mg | Fiber: 1g | Sugar: 28g | Vitamin A: 6.3% | Vitamin C: 2.9% | Calcium: 4.5% | Iron: 6.9%
Enjoy!
Robyn xo