Lemon Blueberry Scones Recipe
Scones make such a delicious treat for breakfast or brunch, I think. Especially these Lemon Blueberry Scones that taste just out of this world! But let me get one thing straight right from the start, these aren't traditional scones by any means. They are just a bit more moist and tender than a traditional scone and definitely sweeter than a biscuit.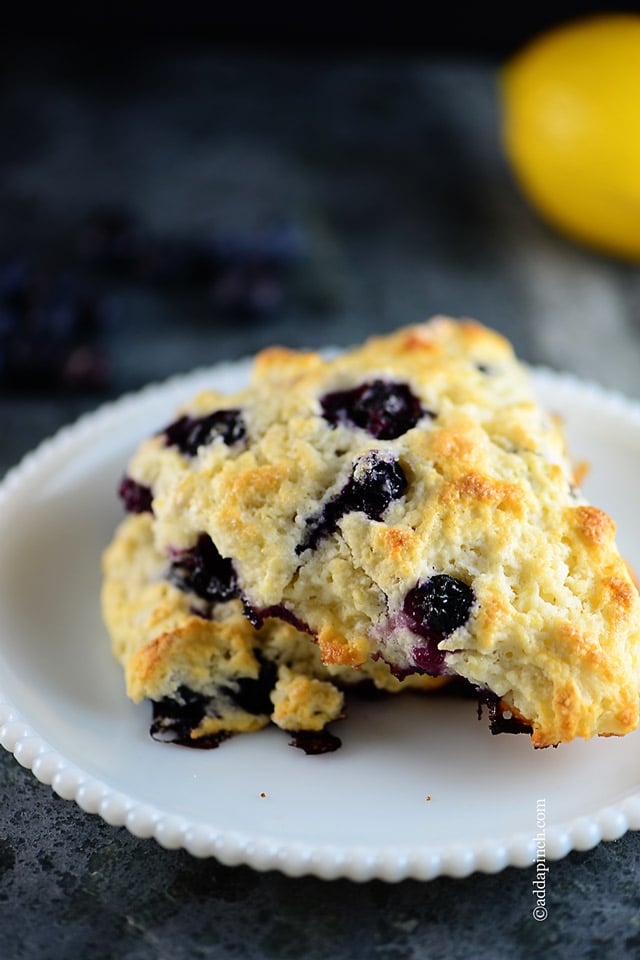 You know how much I love the flavor combination of lemon and blueberry. It has just the right amount of sweet from the blueberries and crisp citrus tang from the lemon. So, when I had a lemon blueberry scone on our honeymoon many, many, many, many moons ago during an afternoon tea time, I fell in love. Okay, yes, I said tea time. That is definitely not an everyday occurrence around here, but now that I think about it, I might consider starting it!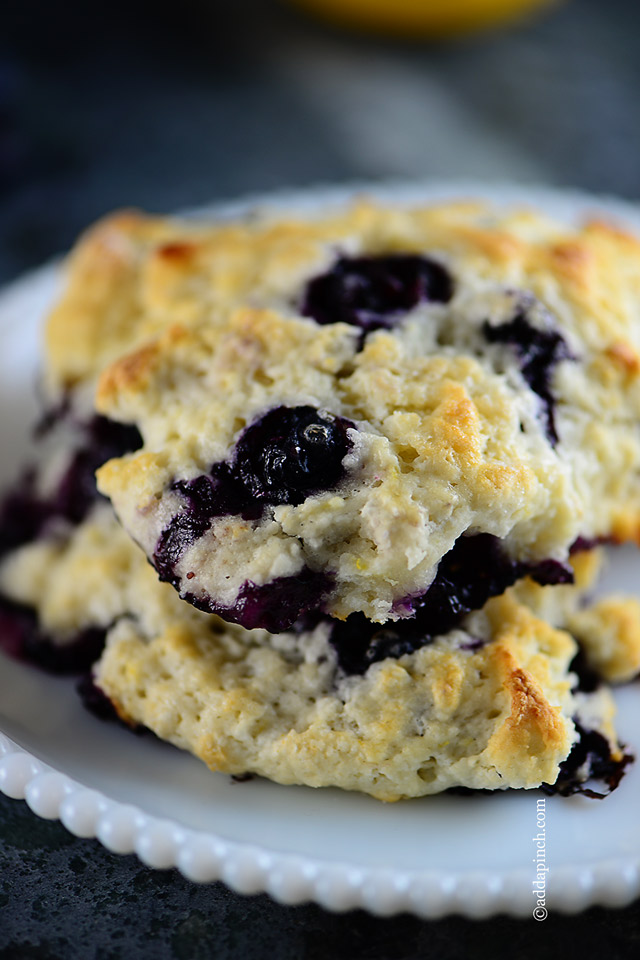 The lemon blueberry scones served on our honeymoon were a bit drier and more crumbly than these scones and the pastry chef had used dried blueberries where I've used fresh. I love using dried fruits in baking, but just felt like the pop of the blueberry in these would be extra special. I'm a sucker for a blueberry that bursts and melds into the dough as it bakes. It just looks so delectable to me!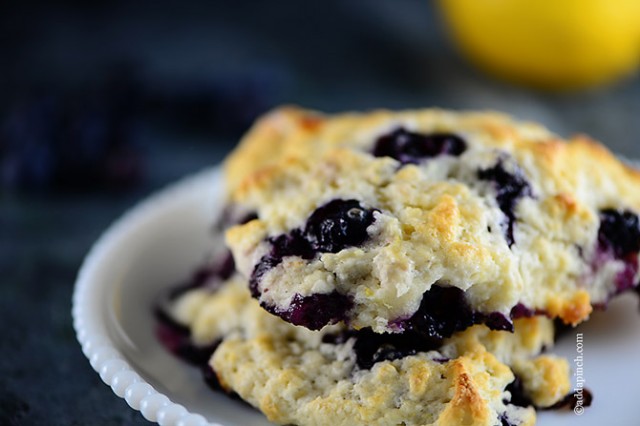 Here's my Lemon Blueberry Scones recipe. I hope you love them!

Lemon Blueberry Scones Recipe
Scones make a delicious treat for breakfast, brunch or an afternoon treat. These lemon blueberry scones are full of flavor while being light and moist.
Author: Robyn Stone | Add a Pinch
Serves: 8
Ingredients
2 cups all-purpose flour
½ cup sugar + more for topping
3 teaspoons baking powder
½ teaspoon salt
½ cup (1 stick) cold butter + more for topping
zest and juice of one lemon
¾ - 1 cup heavy cream
1 cup fresh blueberries, tossed in 1 tablespoon flour
Optional Glaze
1 cup confectioner's sugar
1-2 tablespoons heavy cream
1 teaspoon vanilla extract
Instructions
Preheat oven to 400º F. Line a rimmed baking sheet pan with parchment paper or a nonstick baking sheet.
Whisk together flour, sugar, baking powder, and salt in a large bowl. Add butter to the bowl and cut into the flour with a pastry blender until the largest pieces of butter are about the size of a pea and the flour mixture resembles coarse meal. Add zest and juice of lemon. Stir in ¾ cup of heavy cream. Press dough together between the palms of your hands. If it doesn't just hold together, add more heavy cream until is just holds together. Fold blueberries into the dough.
Pour dough onto a lightly floured countertop or a pastry board. Pat dough into a large round disc, about an inch thick. Cut dough into equal sized wedges and place onto prepared baking sheet pan.
Bake scones for 20-25 minutes or until they are just beginning to turn lightly brown. Remove from the oven and serve warm. You can also drizzle a warm glaze on top of the scones, if you'd like. Just whisk all of the glaze ingredients together in a medium sized bowl and then drizzle on top of each scone.

Enjoy!
Robyn xo