Cranberry Orange Scones make a quick and easy scone recipe perfect for breakfast or brunch. A delicious combination of sweet and tart!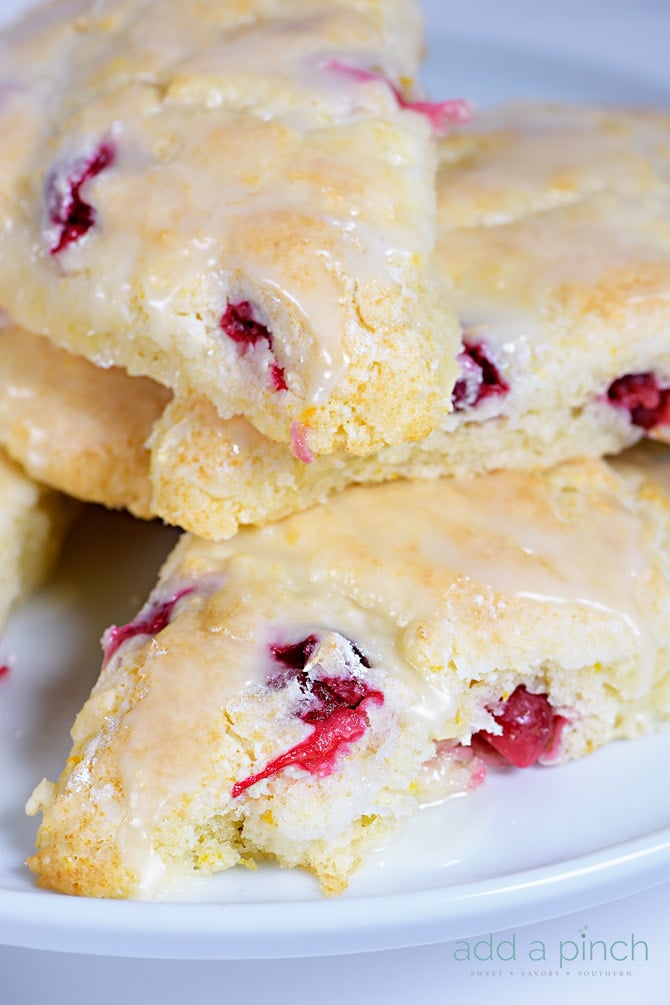 I love the combination of fresh, tart cranberries mixed with the brightness of oranges in this cranberry orange scones recipe. It makes for the perfect combination for anytime of year, but especially throughout the fall and winter when fresh cranberries are readily available and oranges are at their peak. 
I love them so much that I actually buy fresh cranberries now while they are in season and store them in my freezer so that I can use them anytime of the year for these scones and in other recipes. But, if for some reason I don't have them available, dried cranberries work well, too.
To make my cranberry orange scones, I included both orange zest as well as juice in the scone as well as in the glaze to really bring out the orange scent and flavor in these scones. You can adjust the amount to suit your preference by backing off the zest in the glaze if you like, but I can't even begin to tell you how much I love all that citrusy deliciousness in these!
The other secret to these tender scones is that I use use White Lily all-purpose flour, which I've been telling you about for a while now and that we've been using in my family for generations. Made of 100% soft winter wheat, it lends to a light, tender crumb in these scones that you will absolutely adore.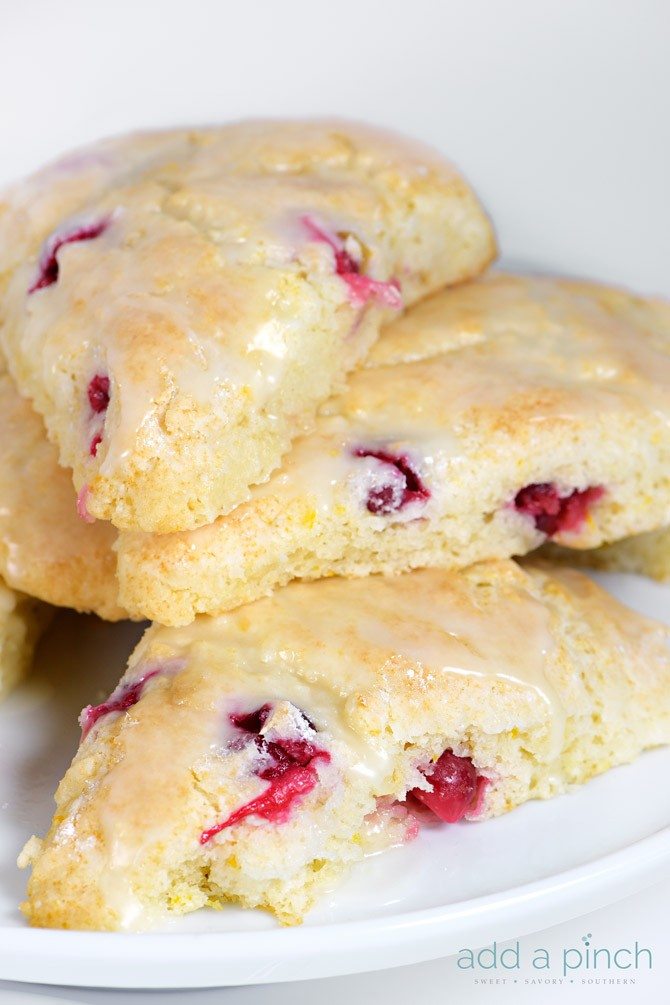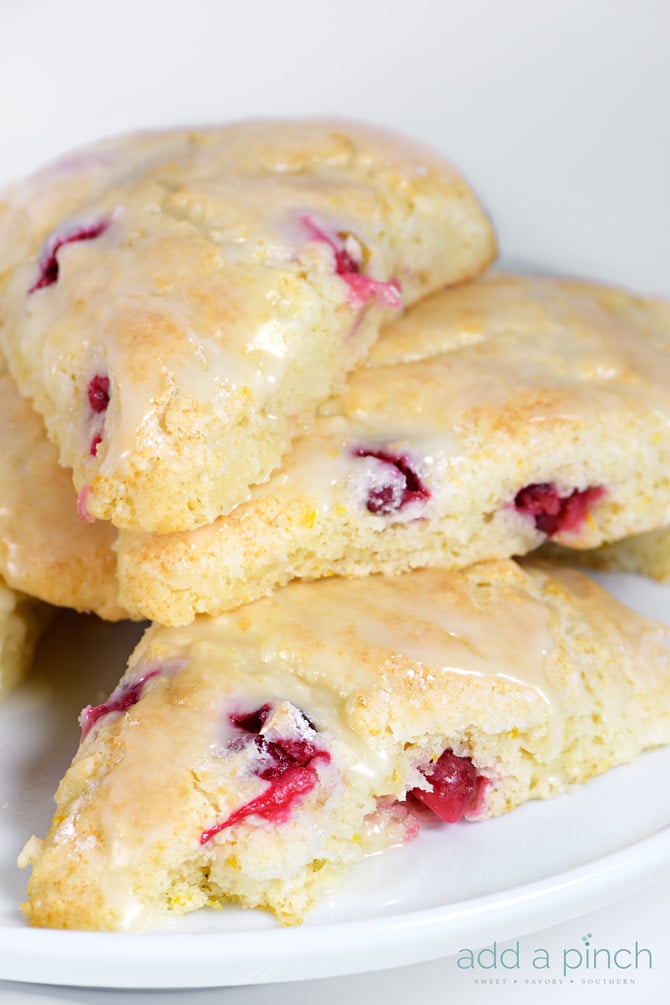 I spent some time recently filming in my home with White Lily and would love to share the video with you. You'll get a little peek into my kitchen and hear me drawl out every syllable of every word that I speak!
But the best part of the video is that you'll be able to see Read Smith, owner of Cherry Creek Ranch where the wheat for White Lily's premium flour blends are grown and see Chef Linton Hopkins in his famed Restaurant Eugene kitchen and hear about his love for White Lily, too.
The video is on the homepage of the new White Lily website. While you are there, I hope you'll spend a few minutes learning a bit more about White Lily and why it has been a Southern favorite since the 1800's.
Before you go though, here's my Cranberry Orange Scones recipe. I hope you enjoy them as much as we do!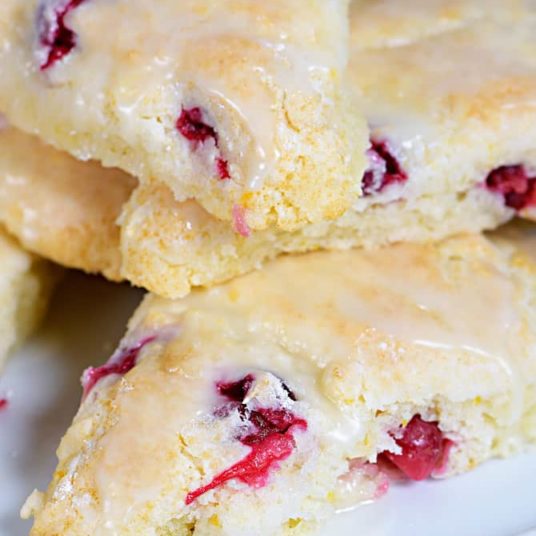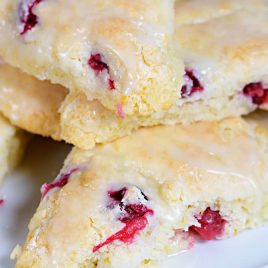 Cranberry Orange Scones Recipe
Cranberry Orange Scones make a quick and easy scone recipe perfect for breakfast or brunch. A delicious combination of sweet and tart!
Ingredients
Cranberry Orange Scone Recipe:
2

cups

all-purpose flour

1/2

cup

sugar + more for topping

3

teaspoons

baking powder

1/2

teaspoon

salt

1/2

cup

(1 stick) cold butter

1/2

cup

fresh cranberries

3/4 - 1

cup

heavy cream

1

tablespoon

orange juice

1

tablespoon

orange zest
Orange Glaze:
1

cup

confectioner's sugar

3-4

tablespoons

orange juice

1

tablespoon

orange zest
Instructions
Preheat oven to 400º F. Line a rimmed baking sheet pan with parchment paper or a nonstick baking sheet.
For the scones:
Whisk together flour, sugar, baking powder, and salt in a large bowl. Add butter to the bowl and cut into the flour with a pastry blender until the largest pieces of butter are about the size of a pea and the flour mixture resembles coarse meal. Stir in cranberries, 3/4 cup of heavy cream, orange juice, and orange zest. Press dough together between the palms of your hands. If it doesn't just hold together, add more heavy cream until is just holds together.

Pour dough onto a lightly floured countertop or a pastry board. Pat dough into a large round disc, about an inch thick. Cut dough into equal sized wedges and place onto prepared baking sheet pan. Melt about 2 tablespoons butter and brush on top of dough.

Bake scones for 20-25 minutes or until they are just beginning to turn lightly brown. Remove from the oven.
Orange Glaze:
Whisk all of the glaze ingredients together in a medium sized bowl until smooth and then drizzle on top of each scone after it has cooled for about five minutes.
Enjoy!
Robyn xo