Jump to Recipe • Print Recipe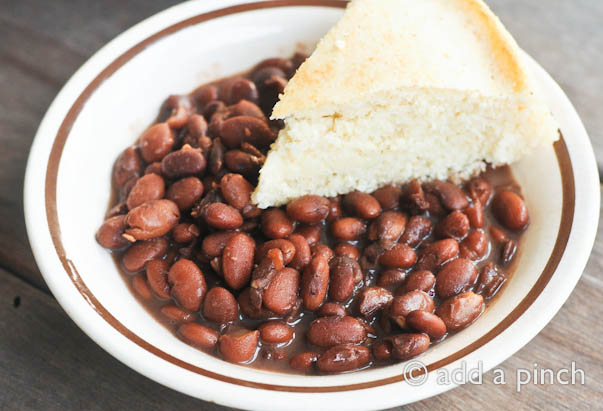 I got tickled the other morning when Little Buddy looked at me and said, "Mama, it looks like it's gonna come up a cloud."
All I could think of was, "Praise the Lord, I'm raising a Southerner!"
Daddy would be so proud to know his only grandson knew what the term "come up a cloud" meant and used it correctly in a sentence.
It made me start thinking of other "Southernisms" and giggling over them as Little Buddy and I shared some of our favorites. So I thought it would fun for us to share our favorite "Southernisms" with each other, too. Who knows, we may each learn a few new ones or it may jog our memories of some old-time family favorites that we haven't thought of in a long while.
Here are a few of my favorites:
finer than a frog hair split four ways
now, that dog will hunt!
living in high cotton
don't hold water
can't hold water
comin' up a cloud
fixin' to
mad as a wet hen
you better fish or cut bait
good Lord willin' and the creek don't rise
over yonder
well, I never!
busier than a one armed paper hanger
hold your horses
running around like a chicken with its head cut off
nervous as a long-tailed cat in a room full of rocking chairs
don't put the cart before the horse
don't count your chickens before the eggs hatch
it's like herding cats
that's a tough wagon to pull
well, butter my butt and call me a biscuit
hush your mouth or hush my mouth
bless your heart
dumb as a post
as happy as a dead pig in the sunshine
I heard they ate supper before they said grace
She could haunt a house
in a coon's age
like a bump on a log
sick as a dog
she could eat corn through a picket fence
Now, I know I had to have forgotten some, so please leave your favorites in the comments. I know you have to have heard some great ones, too.
And since we're talking about Southernisms, I couldn't think of anything that goes with them than a pinto bean supper!
A big bowl of pinto beans, a piece of cornbread, and a glass of a glass of "sweet milk" was one of my Granddaddy's favorite suppers. He'd actually request that my Grandmother make it on a regular basis for him. She'd wash the beans two or three times and then let them soak all night long. The next morning, she'd rinse them one last time and start them cooking over a low heat on her stove. She'd pull a ham bone from the freezer where she'd cooked a ham last and nestle it down into the pinto beans to make those beans even more delicious.
Her pinto beans would cook all day on the stove with her checking on them ever so often to make sure they didn't run out of water as they cooked down in her big pot.
Even though I love to cook them all day on the stove, I also love tossing them into my slow cooker and forgetting about them until supper time. It makes for a win-win that I bet both my Grandmother and Granddaddy would have loved!
Here's how I make them.
Pinto Bean Supper and Favorite Southernisms
A classic family recipe for pinto beans updated for the slow cooker. Ingredients
Author:
Robyn Stone | Add a Pinch
Ingredients
1 pound dried pinto beans
½ teaspoon oregano
½ teaspoon chili powder
½ teaspoon salt
½ teaspoon pepper
½ teaspoon garlic powder
1 onion, finely chopped
1 ham bone or ½ pound of fried bacon
Instructions
Rinse dried pinto beans and allow to soak overnight.
Drain dried beans and pour into crock of slow cooker.
Add in all other ingredients and combine well. Add water until fully covered.
Cook on high until beans are tender, about 5 hours.
Add a dash of pepper sauce to these and you've got yourself a delicious meal!
Don't forget to tell me about your favorite Southerisms to add to our list!