Southern Cornbread Dressing makes a comforting, classic dish for the holidays! Moist and delicious, cornbread dressing makes the perfect side dish!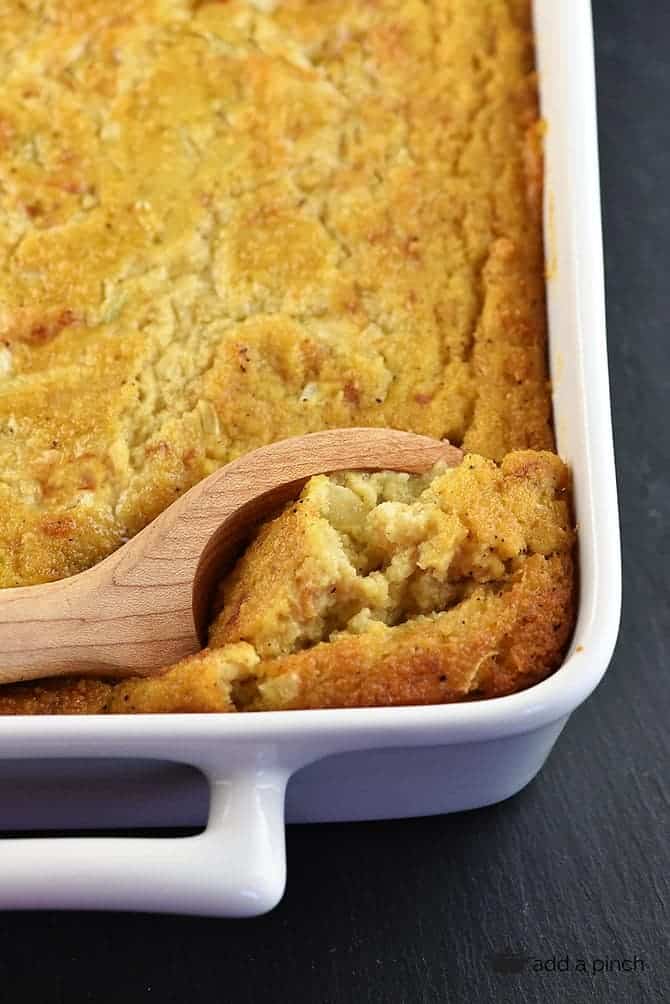 Cornbread dressing could easily take center stage at my family's table during the holidays, especially at Thanksgiving. On that special day, the cornbread dressing really rivals the turkey for attention.
There's just one rule.
No stuffing in this house, and no funny stuff in our dressing. I think I'd no longer be allowed to make it for my family if I "messed" with this traditional family recipe.
But you know, every family makes their recipes a little bit differently, and that's what makes family recipes so special, I think! The special touches to suit your family's taste preferences lets you know that those recipes were made with tons of love and care for each person who would gather at the table to enjoy them.
Southern Cornbread Dressing Recipe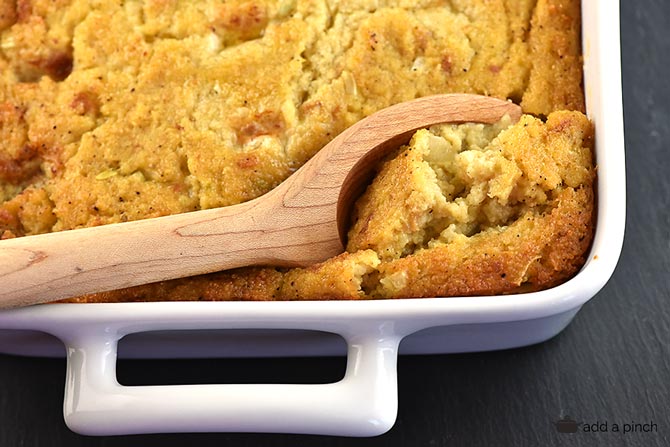 For our dressing, we use my Grandmother Verdie's recipe that she got from her own mother. It starts with a skillet of my southern buttermilk cornbread. You can prepare it the day ahead and cover tightly, if you'd like.
Likewise, we use leftover biscuits from the day before, but you can also use sliced white bread like my Grandmother showed me one day when Granddaddy had grabbed the last couple of biscuits she'd stashed away for her dressing as a "snack." The bread works perfectly, too!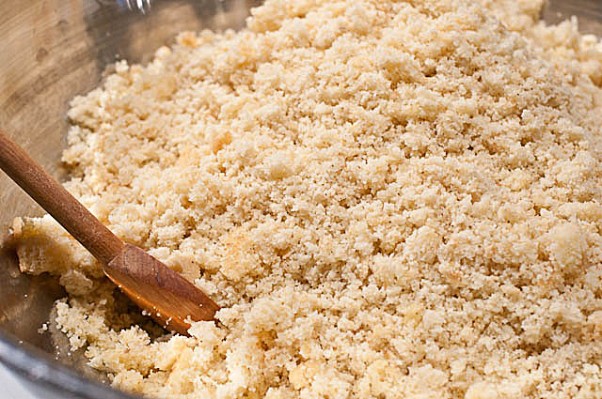 How to Make Southern Cornbread Dressing Recipe
Crumble up your cornbread in a large bowl. Go ahead and use the largest bowl you have. You'll want to really mix this up well. If you don't have a really large bowl, grab a stockpot. It works perfectly for when you need to mix large amounts but don't have a bowl big enough! Now, you'll crumble your leftover biscuits or bread into the cornbread crumbles. This is a good thing to get the kids to help you do. Making crumbles was always one of my favorite things to do to help for Thanksgiving. That and taste testing! Ha.
For the cream of chicken soup, I prefer to use my homemade recipe. If you'd rather use canned cream of chicken soup, by all means it works great as well.
Another tip is to make sure you use plenty of Chicken stock when you make your dressing. It makes for the most moist and tender dressing. If you don't use enough, you'll have dry dressing and nobody likes dry dressing. Well, at least no one that I know, anyway!
This recipe yields two 9×13 dishes of cornbread dressing and you may think that sounds like way too much dressing. But, since my sister doesn't care for onions, I always make one pan with and one without the onions.
Other Favorite Holiday Recipes
Here's the recipe for my family's Southern Cornbread Dressing. I sure hope you love it as much as we do. We always like to finish it off with a drizzle of giblet gravy or turkey gravy!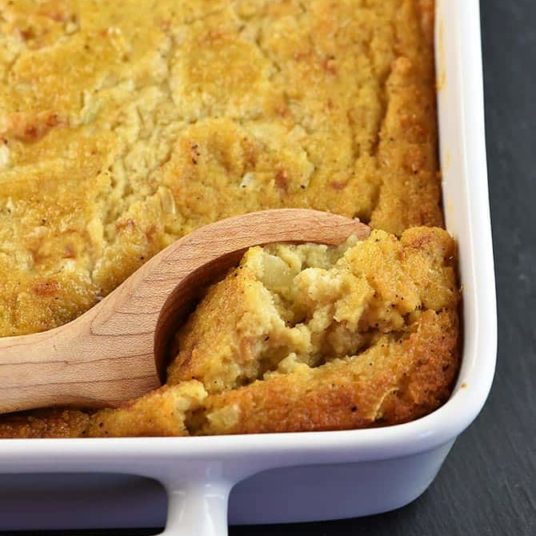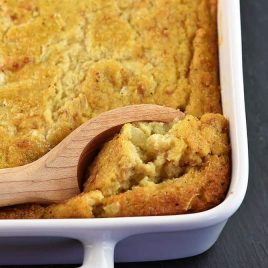 Southern Cornbread Dressing
Cornbread Dressing is a classic southern dish served especially during the holiday season. Moist and delicious, cornbread dressing makes the perfect side dish!
Instructions
Preheat oven to 350º F.

Crumble all of the cornbread and biscuits (or white bread slices) into a large bowl. Add salt, pepper, eggs, onion, celery, butter, cream of chicken soup, and chicken stock. Stir until well-combined.

Pour dressing into two 9×13 baking dishes and bake until lightly browned, about 30 – 45 minutes. To test doneness, shake casserole dish lightly. If the center of the dressing moves, then the dressing is not cooked through in the center. Continue to bake until the dressing is set throughout.
Notes
You can pour dressing into two smaller casserole dishes to reduce cooking time to about 35 minutes. I like to do this for one pan with onions and the other without for those who do not like onions.
Each 9×13 pan serves 12. If you only need enough to serve 12, you can either half the recipe for one 9×13 pan or make the full recipe, pour into 2 9×13 pans and freeze one to bake later. 
Nutrition Information
Calories:
226
kcal
|
Carbohydrates:
14
g
|
Protein:
7
g
|
Fat:
15
g
|
Saturated Fat:
7
g
|
Cholesterol:
77
mg
|
Sodium:
1077
mg
|
Potassium:
222
mg
|
Sugar:
3
g
|
Vitamin A:
485
IU
|
Vitamin C:
1.2
mg
|
Calcium:
46
mg
|
Iron:
1.6
mg
Make-ahead Cornbread Dressing Tips:
– Make cornbread for your dressing the day before. Wrap it up tightly until ready to mix your dressing.
– Mix up all of your dressing up to two days ahead of the big day. Wrap it up tightly and place in your refrigerator.
– Freezer-Friendly – prepare without baking up to two weeks in advance, wrap tightly and freeze. Thaw in refrigerator two days in advance and bake on Thanksgiving Day.
Day of tips:
– Bake your dressing early in the morning and then place in the refrigerator. While your turkey is resting, place your dressing back in the oven to thoroughly reheat.
Enjoy!
Robyn xo


From the Add a Pinch recipe archives, originally published 2010.