This roast turkey recipe makes a juicy, moist, delicious and beautiful turkey every time! This easy recipe is perfect for a slow roasted Thanksgiving turkey!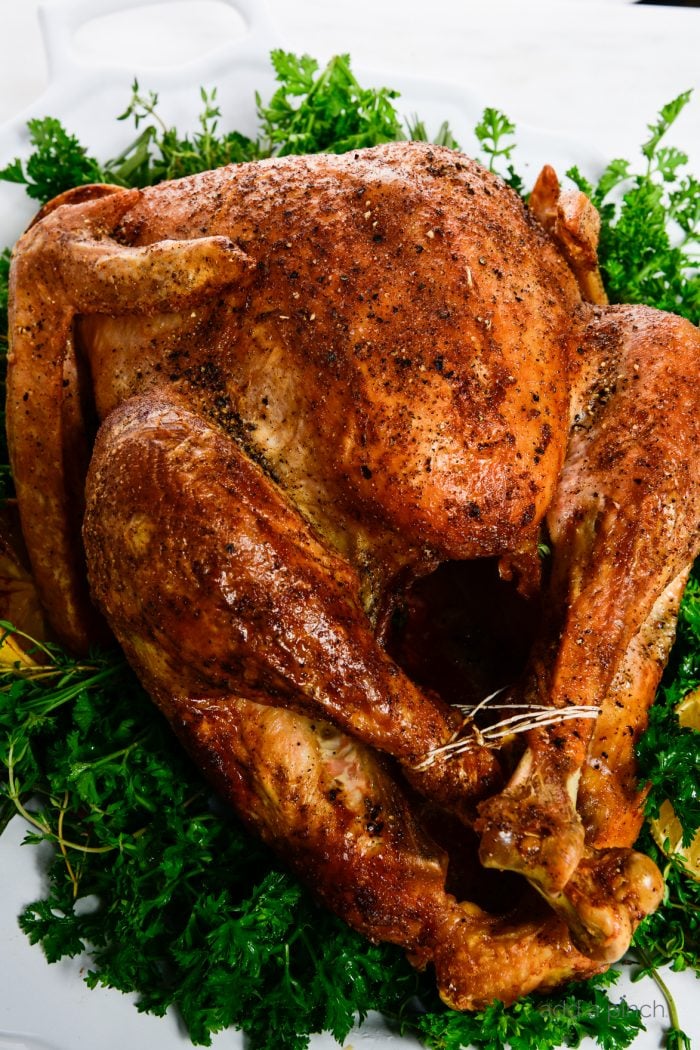 There are few things that seem to stress people out more over than their Thanksgiving Turkey! I understand completely, I was the same way until I spent time really watching my Mama to learn all of her tips and tricks for cooking the most perfectly moist, tender, and juicy Roast Turkey every Thanksgiving. She always has served the most beautiful turkey as the centerpiece of our Thanksgiving meal that wowed all of our family and guests.
Roast Turkey
Before we dig in to the recipe, let's start with a few of her tips, must-dos, and things she told me to just ignore to make sure for an easy, foolproof turkey every time. It all begins with just a little planning.
How to Cook a Thanksgiving Turkey
What Size Turkey to Buy for Thanksgiving?
You will want to select a turkey based on the number of guests you plan to serve. I like to plan 1 1/2 pounds per person for my Thanksgiving Turkey. An easy rule of thumb to help is, plan at least:
9 pounds for 6 guests
12 pounds for 8 guests
18 pounds for 12 guests
If you are serving more than 12 guests, I always like to prepare separate turkey breast(s) or another whole for the additional servings. Anything larger than an 18 pound turkey will not cook as evenly.
How to Thaw a Turkey
If you can buy a fresh turkey, I highly recommend it. Most grocery stores, in my area at least, only carry frozen turkey, so you'll want to plan to purchase your turkey in advance to allow it to properly thaw before cooking. Cooking a frozen or partially frozen turkey increases the cooking time by up to 50%. Depending on the size of the turkey, thawing the turkey can take anywhere from one to a couple days.
Plan on 24 hours per 5 pounds for the turkey to completely thaw.
Place your turkey on a rimmed baking sheet in the refrigerator. As it thaws, juices may drain from the turkey that will be caught in the rimmed baking sheet.
How to Prep a Turkey for Roasting
My family's method for roasting turkey is so easy and low stress! In our recipe, you won't rinse or brine the turkey or even worry if you don't have a special roasting pan!
Remove the turkey from any packaging, making sure to remove the neck and any giblets from the inner cavity. Arrange the turkey on a roasting pan fitted with a v-shaped rack. You can also use a disposable roasting pan from the store. Add halved garlic bulbs, onions, and other vegetables to lift the turkey and create a "rack" within the pan.
Pat the turkey dry with paper towels and then carefully insert your finger between the skin and the turkey breast. Take care not to rip the skin of the turkey as this is where you'll later add a butter mixture.
Tie the legs of the turkey together to help the turkey cook evenly. You will want to make sure that you are using an oven-safe baker's twine. Trim away any excess twine once tied.
Do Not Baste the Turkey
Through the years, we have tried it both ways: basting and not basting. Here's why we prefer not to baste the turkey. Each time that you open the oven, it reduces the temperature inside the oven, which causes you to have adjust the baking time. By leaving the oven closed throughout the baking time, your oven holds a steady temperature resulting in a moist, tender turkey.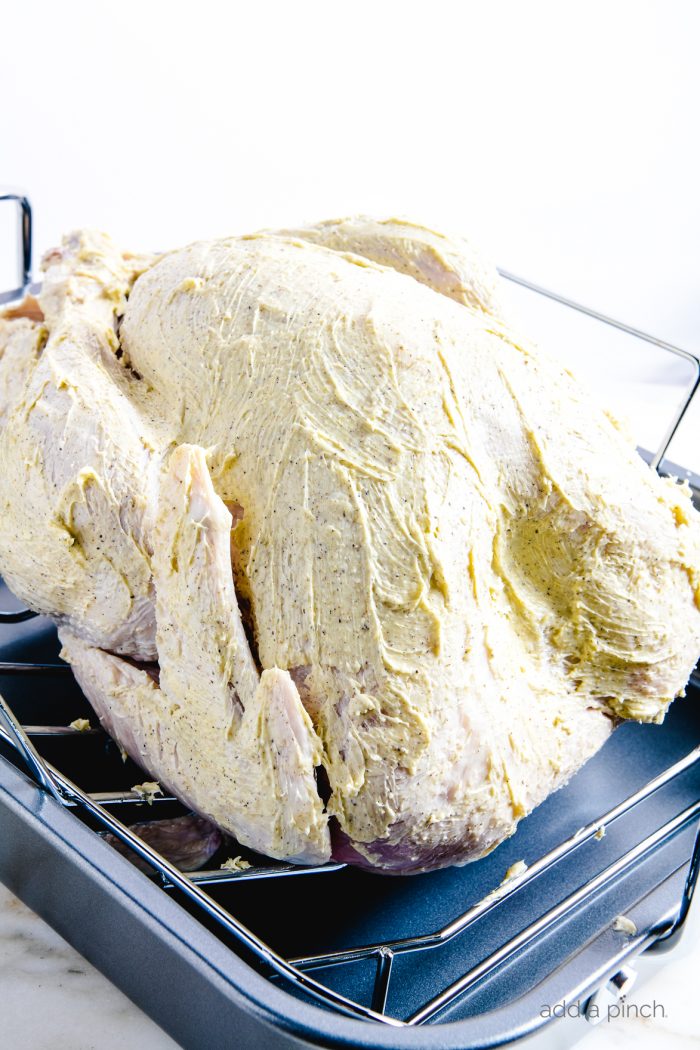 How to Have a Beautiful Browned Moist Turkey
Many believe that basting is the secret to a beautiful browned, moist and juicy turkey. I have found a better way. Butter.
Stir together softened butter along with salt and pepper and any preferred herbs and seasonings. Then, place about a tablespoon of the seasoned butter underneath the skin of the turkey breast. Carefully massage the butter to make sure that it is distributed evenly underneath the skin to cover the breast. Then, spread the remaining seasoned butter over the exterior of the turkey.
Should You Add Stuffing to a Turkey?
My family is pretty adamant. Do not add stuffing to your turkey! We prefer to serve my Grandmother's Southern Cornbread Dressing which is the quintessential Southern dressing so many love! If your family prefers stuffing, I recommend cooking it separate from the turkey in a casserole dish to make sure that it is cooked properly.
If you would like to add seasoning and aromatics to the inside of your turkey, by all means do so. From time to time, I will add halved garlic bulbs, lemons, herbs that I've also included in my seasoned butter, and salt and pepper. You'll want to be sure that your seasonings are the same or at least complimentary.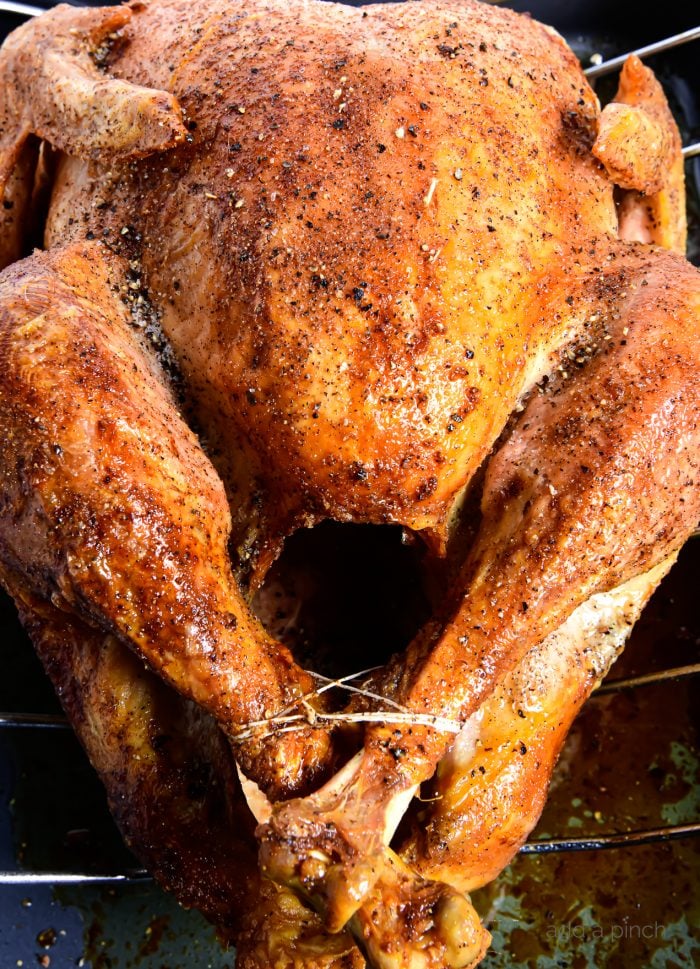 How to Know if Your Turkey is Done
The best way to know if your turkey is done is to use an internal thermometer.
Many ovens include a thermometer that you can insert into the turkey as it roasts. You can also use a digital wireless remote thermometer that you insert into the turkey. I prefer both of these for roast turkey since you do not have to open the oven to check the temperature and it alerts you once the turkey reaches your preset temp and is done.
You can also use an instant read digital thermometer that you insert into the turkey to check for doneness. Simply open the oven door and quickly slip the thermometer into the turkey breast at the thickest part. If it registers the correct temperature, remove it from the oven. If not, continue to cook, checking often to prevent it from overcooking.
Your turkey should register 165º F at the thickest part of the breast. Additionally, prick the skin between the thigh and the breast of the turkey. The juices should run clear. Remove it from the oven and tent it with foil. Allow it to rest for 20 minutes.
How Long Do You Roast a Turkey?
Here are general cooking times for your turkey at 325º F, without stuffing. Check the internal temperature of your turkey about 15 minutes before you believe that it should be done. If you are using a thermometer with an alerting feature, set it to alert you once the turkey reaches about 155º F so that you are close by and do not allow your turkey to overcook.
The most important information to know is the proper temperature for your turkey. However, for planning purposes, it is great to also know approximate time it will take for your turkey to be done and cooked safely. The following time guide is included from the USDA Food Safety for planning purposes.
UNSTUFFED at 325º F
4 – 6 pound turkey breast for 1 1/2 – 2 1/4 hours
6 – 8 pound turkey breast for 2 1/4 – 3 1/4 hours
8 – 12 pounds for 2 1/2 – 3 hours
12 – 14 pounds for 3 – 3 3/4 hours
14 – 18 pounds for 3 3/4 – 4 1/4 hours
18 – 20 pounds for 4 1/4 – 4 1/2 hours
20 – 24 pounds for 4 1/2 – 5 hours
Tip: I like to include an additional hour as I am planning to provide for the resting time of the turkey and any additional roasting time that may be needed.
Allow Your Turkey to Rest
Remove your turkey from the oven once the breast temperature reaches 165º F, transfer it to your carving board, and tent it loosely with foil. Allow the turkey to rest for 20 to 30 minutes.
Carve and Serve
Your roast turkey is now ready to serve!
If you like to carve at the table, it makes for the prettiest presentation on a large platter that has fresh herbs and maybe even lemons or grapes on it for the turkey.
If you like to carve your turkey before serving at the table, remove the twine from the turkey and carve it. I like to first remove the legs, then the wings, and then cut away the breast of the turkey. I then cut the breast into about 1 1/2 inch slices and arrange all of the pieces onto a platter. It is just perfect served with a delicious turkey gravy or even just a bit of the pan juices.
Make Ahead Roast Turkey
Cook and slice the turkey according to directions. Arrange on an oven-safe serving platter or on a rimmed baking sheet. Cover and leave at room temperature for up to 1 hour before reheating in the oven. Be sure to reheat until the temperature reaches 165º F.
What to Serve with Roast Turkey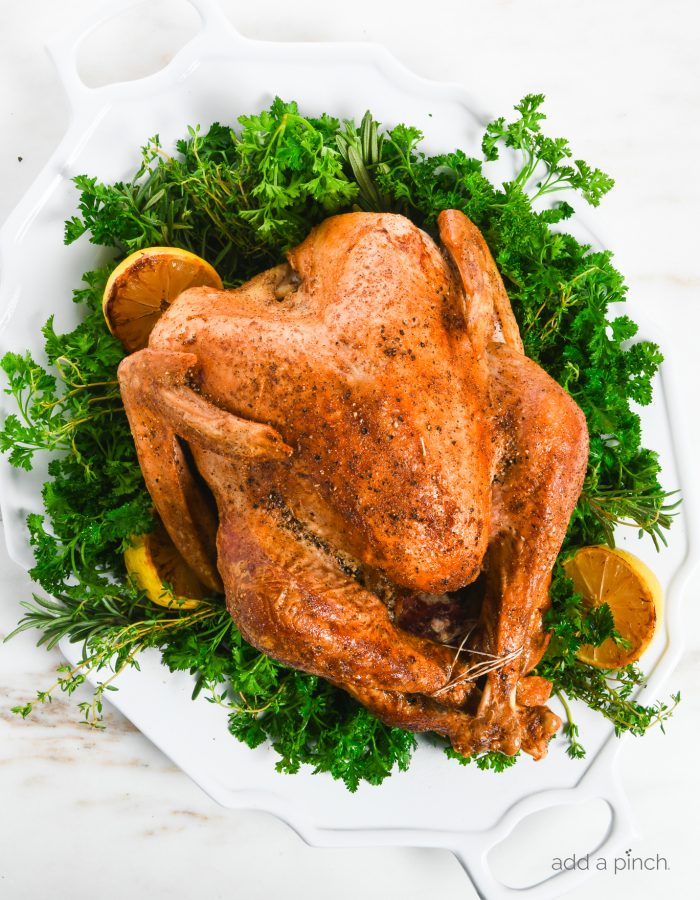 Here is my family's Roast Turkey recipe. I hope your family enjoys it as much as mine always has.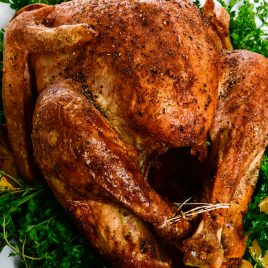 Roasted Turkey Recipe
This Roast Turkey recipe makes a juicy, moist, delicious and beautiful turkey every time! This easy recipe is perfect for a slow roasted turkey!
Ingredients
1

(12-pound)

turkey

8

tablespoons

butter

softened

1 1/2

teaspoons

kosher salt

1

teaspoon

freshly ground black pepper
Instructions
Preheat oven to 325º F. Mix softened butter, salt and pepper together until well combined. Set aside.
Prepare the turkey for roasting
Remove neck and any other items from the inside cavity of the fully thawed turkey. Pat the turkey dry with paper towels and arrange the turkey on rack in roasting pan, breast side up. Carefully separate the skin at the breast of the turkey away from the meat, taking care not to tear the skin.

Spoon one tablespoon of the butter mixture under the skin at each breast. Carefully massage the butter to completely cover the breast of the turkey and make sure that the skin covers the breast completely. Spread the remaining butter mixture onto the outside of the turkey.

Tie the legs of the turkey to help the turkey roast more evenly.
Roast Turkey
Bake the turkey until juices run clear when pricked between the leg and breast of the turkey and the internal temperature reaches 165º F when checked at the thickest part of the breast, about 2 1/2 to 3 hours.

Remove from the oven. Cover turkey with foil and allow to rest for 20 – 30 minutes.
Nutrition Information
Calories:
782
kcal
|
Carbohydrates:
1
g
|
Protein:
105
g
|
Fat:
39
g
|
Saturated Fat:
14
g
|
Cholesterol:
378
mg
|
Sodium:
1513
mg
|
Potassium:
1082
mg
|
Sugar:
1
g
|
Vitamin A:
620
IU
|
Calcium:
56
mg
|
Iron:
4
mg
Enjoy!
Robyn xo